#ThrowbackThursday: An old blog about Pablo at 5
Note: Our Pablo is turning 8 in less than 2 weeks and it was just timely for me to have found this from my old blog site.  It's true what they say that the dynamics change as our children get older. 
This old blog just reminds me how fast days go by. I miss our 5-year old Pablo but parenting a would-be-8 years old is a thrill on its own.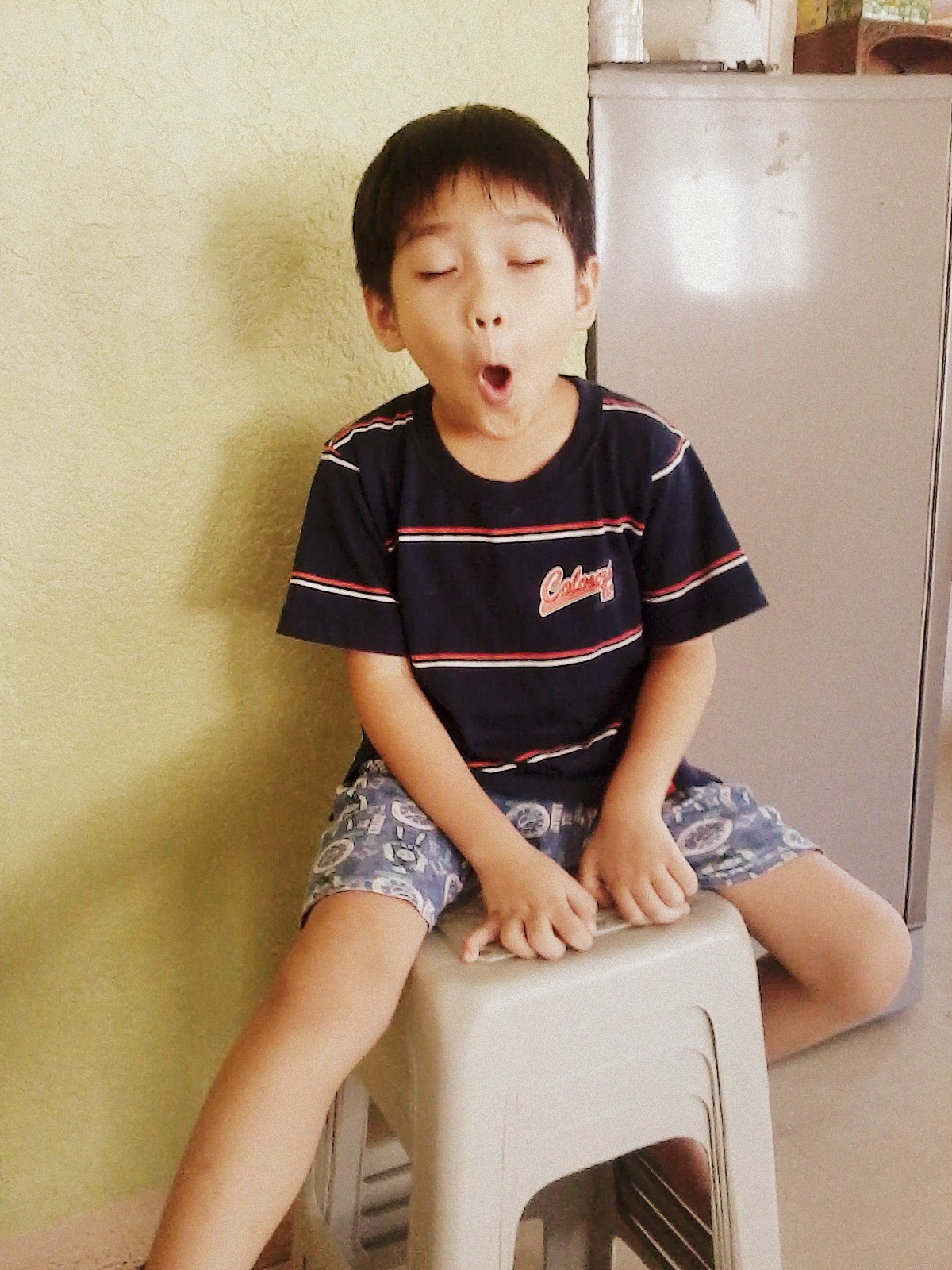 Turning 5
He's been waiting almost the whole year to turn 5! Here's what I know: When Pablo turns 5, he expects to be bigger like his favorite kuyas Chuck, Joaqx and his other older friends. He once dreamed of being a "growed- up" like his beloved tito Dex, but he's set that dream aside for now.
He keeps telling me that when he's 5, he'd be more obedient. I'm guessing that he's associating being a 5 year old to being more responsible.
And more independent, too, as he has been preparing himself for the regular tasks such as getting his own drinks from the ref, putting on his own clothes and choosing what shoes to wear, insisting on taking a bath by himself (which takes him forever to finish, by the way) and brushing his teeth.
He's wincing at the thought of having to really clean up his toys and his art materials by himself, now that he's "bigger", but he's up to it somehow. He's ready.
The little boy whose eyes once lit up when asked to hold his fork with a hotdog on it for the first time is growing up too fast! On Saturday, he'll be 5.
Faith of a 5-year old
Pablo is our biggest reminder that when God blesses, He adds no trouble to it (Proverbs 10:22). And that God meets all our needs in His own perfect time.
With Pablo, it's hard not to believe.
We taught him to pray for everything that he desires or thinks of, or feel, and now, he just blurts out prayers to God just like that and we're glad that as early as now, he has learned to put his trust in God.
Many times, even his simplest of prayers are answered such as getting a vcd player to work, and I thank the LORD for helping us continue to build his faith on Him, and our faith because of our son.
Dealing with character issues
Now about to turn 5, Pablo has been showing some character issues that we need to deal with, but it's so minimal because he's naturally gentle and teachable and has proven to us that he listens to our corrections.
Once, I got stressed over a "lying" issue. Over and over, I kept telling him that lying is not a good thing and that our tongues are meant to give praise to God and should not be used for anything that does not give Him glory, such as lying, blah blah blah.
I wasn't sure if he understood anything I said because I was yakking so much, I had to  restrain myself!
The next day, while jumping up and down our bed, he said, "Mom, I will not lie. Lying is not good." That moment, I knew that he listened and he understood.
Recently, we've also witnessed him learn how to give. We've prayed to God for opportunities to teach him to give, and there he was, without our prodding, giving to someone else. It was a joyful and proud moment for us as parents!
Talent Discoveries
This year, too, he's exhibited a gift in the arts.
Because of it, we let him join the Homeschoolers' Art Class with the big kids and so far, has received good reviews from different artists (all our friends, of course) for his works, including his mentor, Teacher tita Anj, whom we thank for taking time to patiently teach him how to use the oil pastels on his drawings.
The Natural Kuya
Pablo continues to be a loving kuya to Lukas. When I got pregnant with Lukas, I was so worried that he'll find it hard to adjust  to another baby, but Pablo so loved having Lukas around that when I unexpectedly got pregnant again this year, he's the most expectant of all of us.
He says he wants another baby brother but doesn't mind an "Ava" to come along. He was worried for a while, though, because he thought that if the baby is a girl, she'll have to go to the Luceros where the baby girls are! Hahaha!
Of course, I told him that it doesn't work that way at all and that we can keep the baby girl.
Just to make sure we got everything covered, I also told him not to expect Ninong King and tita Chy (Lucero) to give us the baby if they have a boy soon.
Just like his dad
Pablo is so simple at heart. I told him once that we'll need to buy a new box of crayons because the ones he's using now are from his old, left-over crayons that we've all put together in a chocolate tin box. He said he doesn't need new crayons and that he still has a lot to use. So, he's asking us for a PSP, instead!!! (Nyaaaaa!!!)
No longer a baby
Pablo doesn't smell like a newborn anymore.  And I can't kiss the soles of his feet like I used to without having to check if there's a bug squished under there somewhere; but I'm looking at the years ahead and expectant of what God has in store for our little man.
I look at him and I am breath-taken, just as I was the first time I've ever laid eyes on him.
With that, I know, whatever circumstances may come, that his future is set and prepared for by his Maker.
Jer 29:11 (NIV) "For I know the plans I have for you," declares the Lord, "plans to prosper you and not to harm you, plans to give you hope and a future."