Date night at Texas Roadhouse Grill
It wasn't our first time to eat at Texas Roadhouse Grill in Bonifacio High Street. Last year, we were invited by our friends who were celebrating a milestone in their career. We loved it. When it comes to country dishes, steak houses and grilling stations, Jay and I are ultimate suckers!
We've been planning to go back for some time now but it was only last Wednesday that we decided to go there to enjoy one of the rare nights we're not with the kids.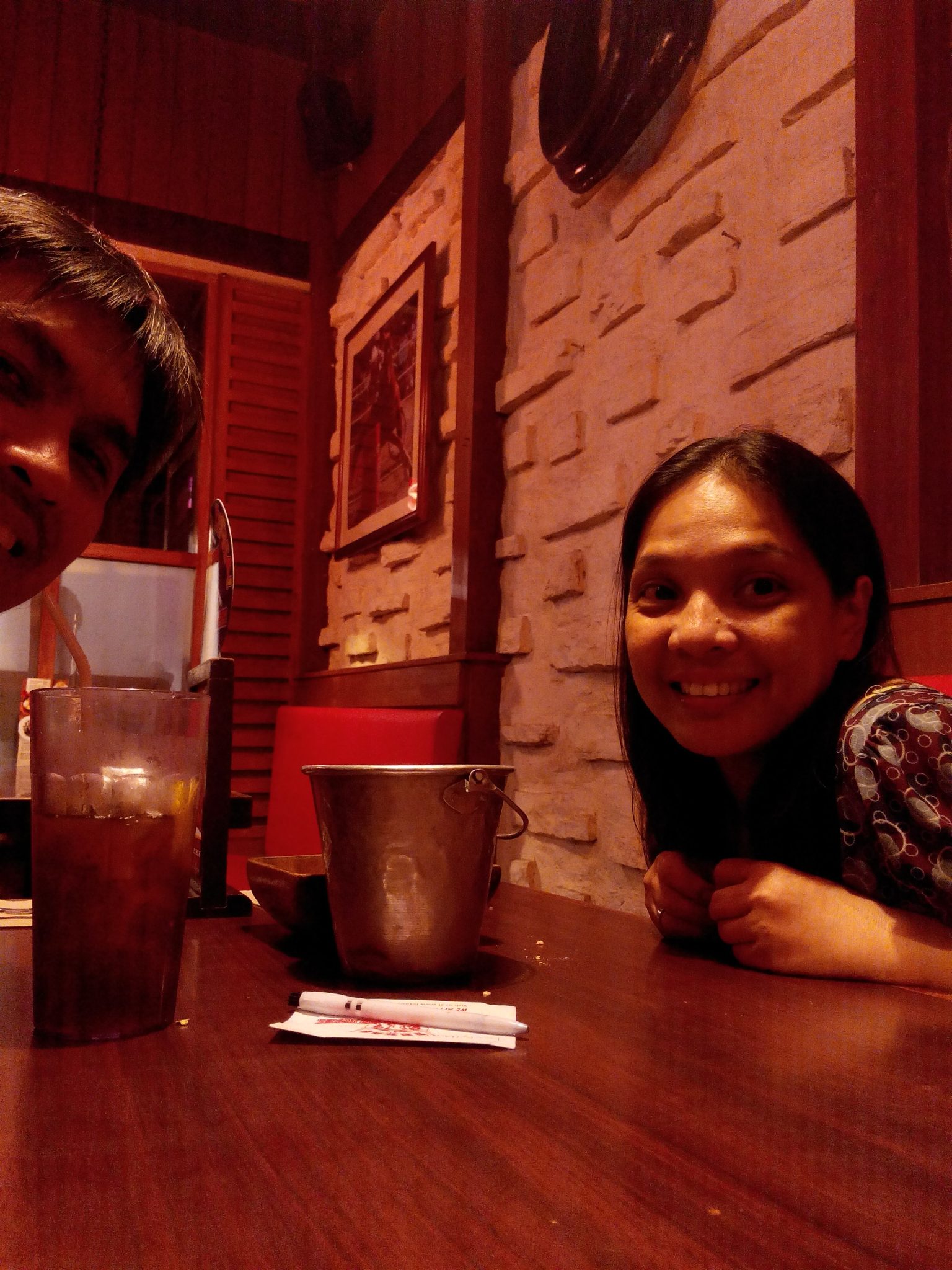 Pricey as they come
It took us a long time to choose what to order. Jay and I don't like spending so much on food we'll regret paying for later on. It's not that we're cheapskates, we just really want value for our money.  Prices of the entrees at the Roadhouse range from Php 375 to 1,700++. Unless Jay and I are celebrating our anniversary or something along that line, we are not going to shell out that much money for a slab of meat. Not for ourselves anyway.
Jay decided to get the Wrangler's Pork Steak . The menu reads "Two grilled pork steak topped with melted Swiss cheese and drizzled with au jus. Served with Texas rice and fresh veggies."
Here's how it looks: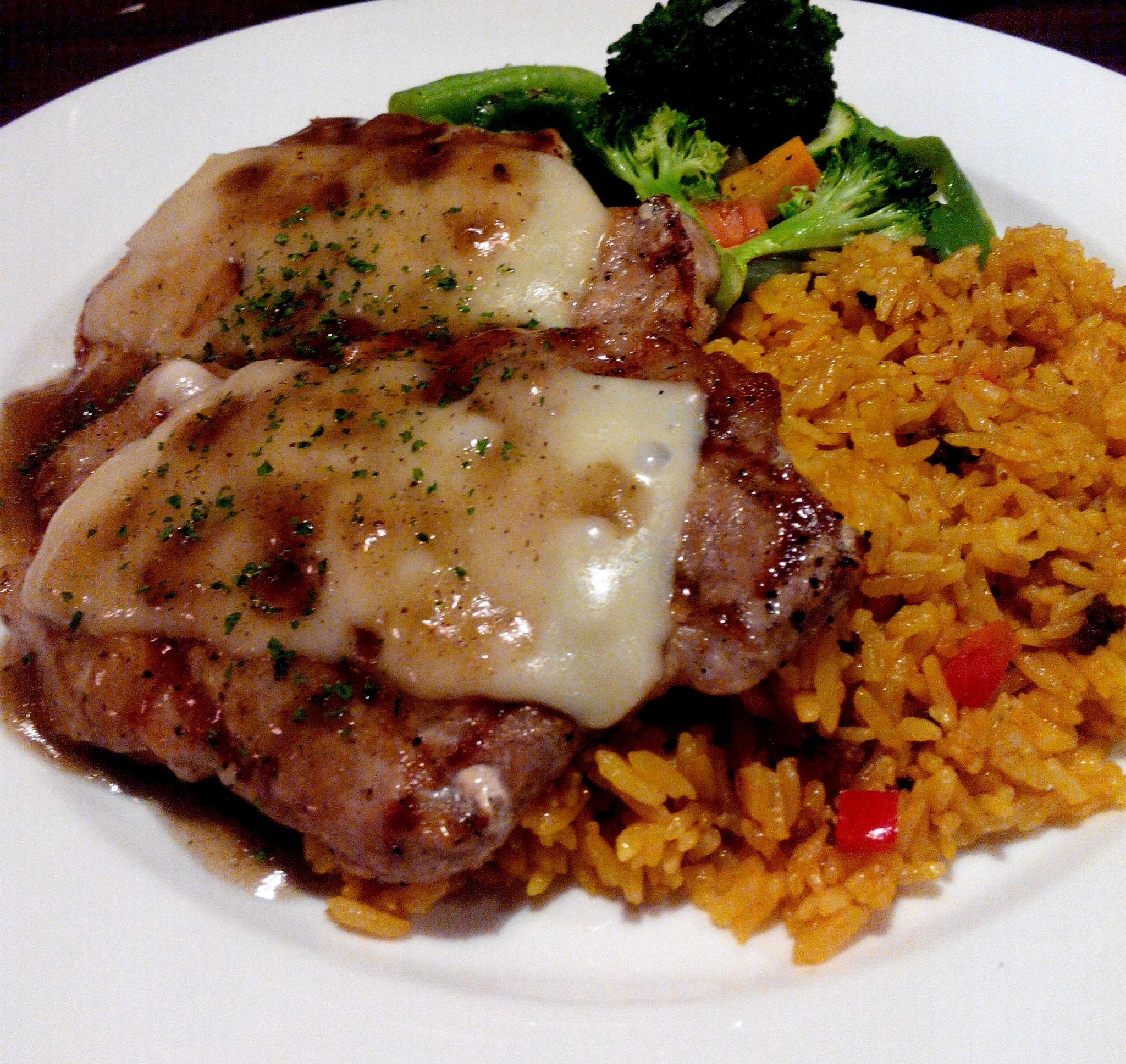 While I ordered the Pan Grilled Cajun Fish Fillet which was described as Fish fillet with Cajun seasoning topped with creamy alfredo sauce and tangy pico de gallo. Served with Texas rice and fresh veggies.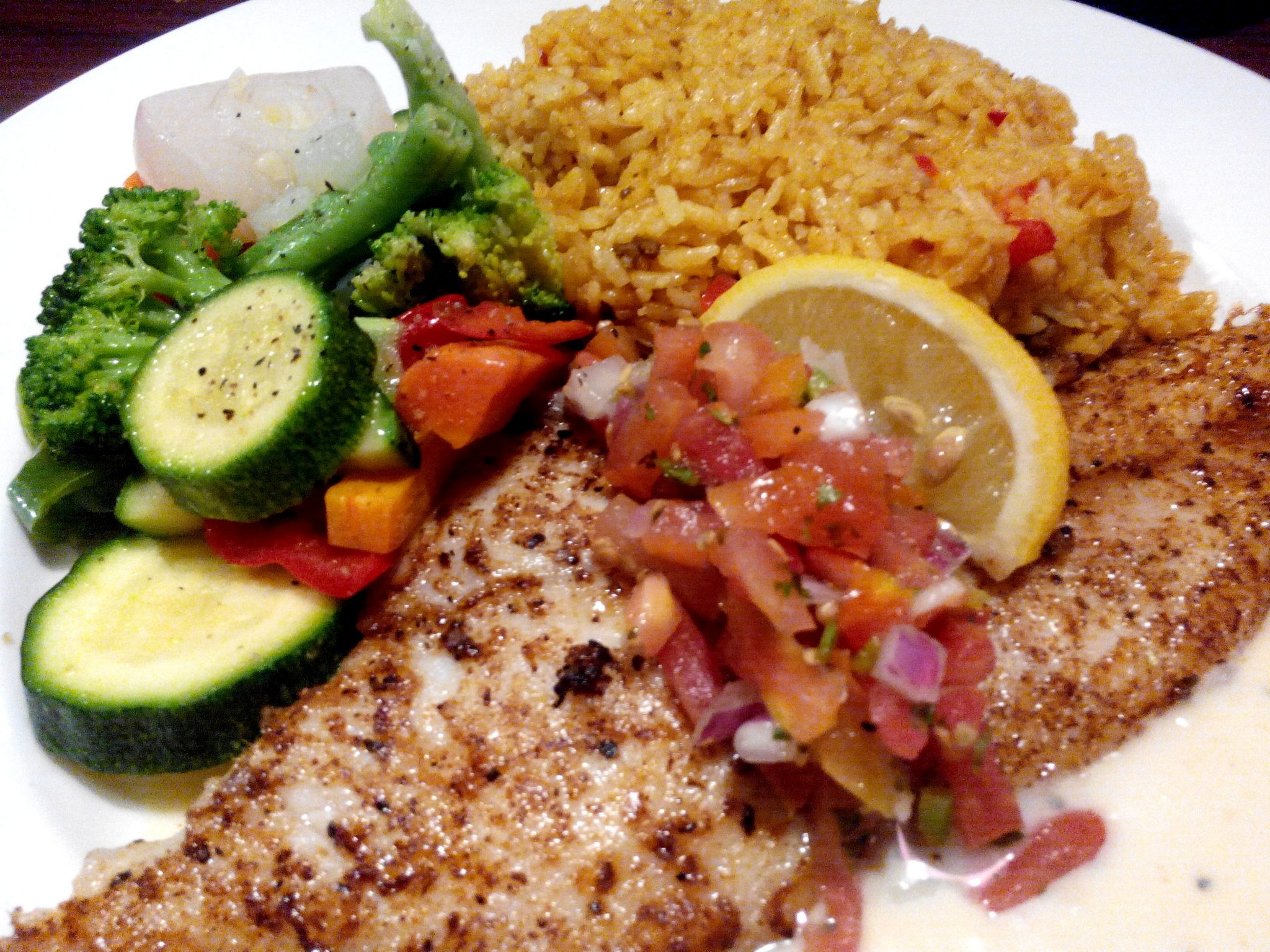 The alfredo sauce almost threw me off as I'm not really much into creamy white sauces but the salsa beckoned to me. I'm a die-hard for tomatoes!
My Cajun fish fillet was priced at Php 375.
The food did not disappoint. I thought the pork chops were good but not extraordinary, but my fish was mmmm mmmm superb! It was spicy and tangy at the same time, just as they say it is. I even like the Alfredo sauce. That, the fish, the pico de gallo  melted in my mouth like heaven!  I'm craving for it right now just writing about it. It's that good.
The portions were generous. I could barely finish the food on my plate! And I'm not a stingy eater, mind you, I eat like a manual laborer! Do I think we paid our money's worth? Heck yeah!
We checked the menu for desserts and the photos of the oreo cake and all that vanilla ice cream toppers were mouth-watering but we were too full to get desserts so we decided not to order anything more.
Jay and the mosquitoes
We sat at the corner-most booth at the non-smoking section. It was somewhat dim, Jay says it felt like we were at a bar and I agree, and I kinda like it. I just didn't feel comfortable with the seat, it felt too sunk for the table's height. I also had to push the table a bit towards Jay cause it felt a bit cramped.
I would've asked to move to another table if I wasn't so desperate to have some lone time with my hubby. These moments don't come often, you know. So I just zipped it and got over myself on the seat issue.
Jay, though, wasn't very happy with the mosquitoes he said stung him. I hope he didn't catch dengue!
Awkward staff
I thought that customer relation thing they have going at Texas Roadhouse Grill makes for an awkward staff. The waiter kept asking us what our orders were when we were still trying to go through the menu and later on, the manager came to ask how our food was which was kind of weird because he seemed to only do it because they were required to do it. We were given a feedback card to fill out even before we got our food and it's indicated there that a manager was going to come by our table to check on us.
Look, I've had my hand in the food industry several years back and I understand that these are just S.O.P., but timing and discernment are also factors. There are different types of customers and I'm the type who, if I don't need anything else, would rather to be left to myself.
Would I come back?
Yes. I've already said this – your product will speak for itself. Sure, the customer relation part made me feel uncomfortable but the quality of the food is great and that's what restaurants are really about — food. For that I shall be back.
The only thing that would delay another visit would be cost. Although the cost is still within reasonable range, a Php 300 total bill in a Chinese fast food can satisfy Jay and I as well.  Steaks are great but we're a practical couple who can enjoy the simpler things in life. So maybe when we find a good reason for another night of steaks, why not?