Why drink milk? (Just Chill, Shake & Gulp! Be Happily Healthy with Goody Gulp! Giveaway)
(Scroll down for 'Just Chill, Shake & Gulp! Be Happily Healthy with Goody Gulp!' Giveaway mechanics)
If there's anything we're making sure our kids take everyday, it's milk.
Even milk skeptics agree that milk is the number one source of calcium that children need for bone growth. Milk is also fortified with Vitamin D which is also crucial to having healthy bones, along with other vital nutrients like Protein, Phosphorous and Vitamin A.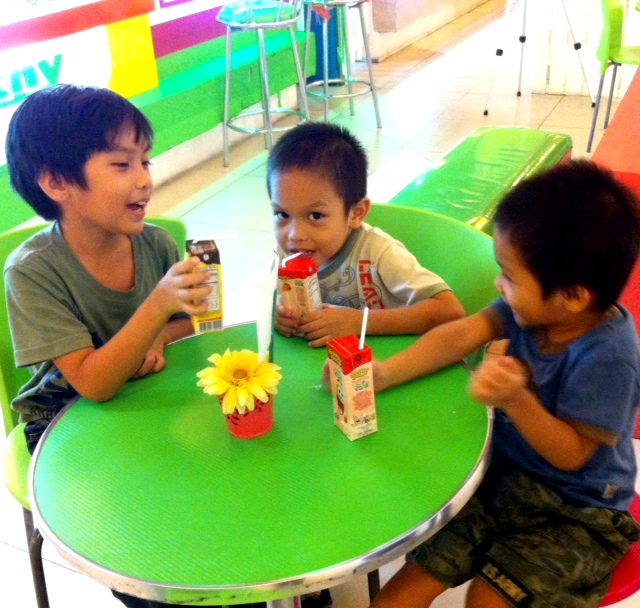 I'm not discounting the fact that genes and physical activity has a lot to do with bone health and growth, but it's good that we provide them with what we can.
We don't have control over the kind of genes we've passed on to them, we leave that up to faith, but we walk with them, run with them, sign them up for dance classes and soccer classes and we supply them with milk.
Milk-tired
(Scroll down for 'Just Chill, Shake & Gulp! Be Happily Healthy with Goody Gulp!' Giveaway mechanics)
I dont' know if it's the same with other families, but one of the things that we encountered after taking out the feeding bottle is that our two older kids refused to take milk in cups or glasses. (So for those who are thinking about transitioning your kids from breastfeeding to bottle-feeding, you might want to consider going straight to cups and glasses instead of going for bottle-feeding)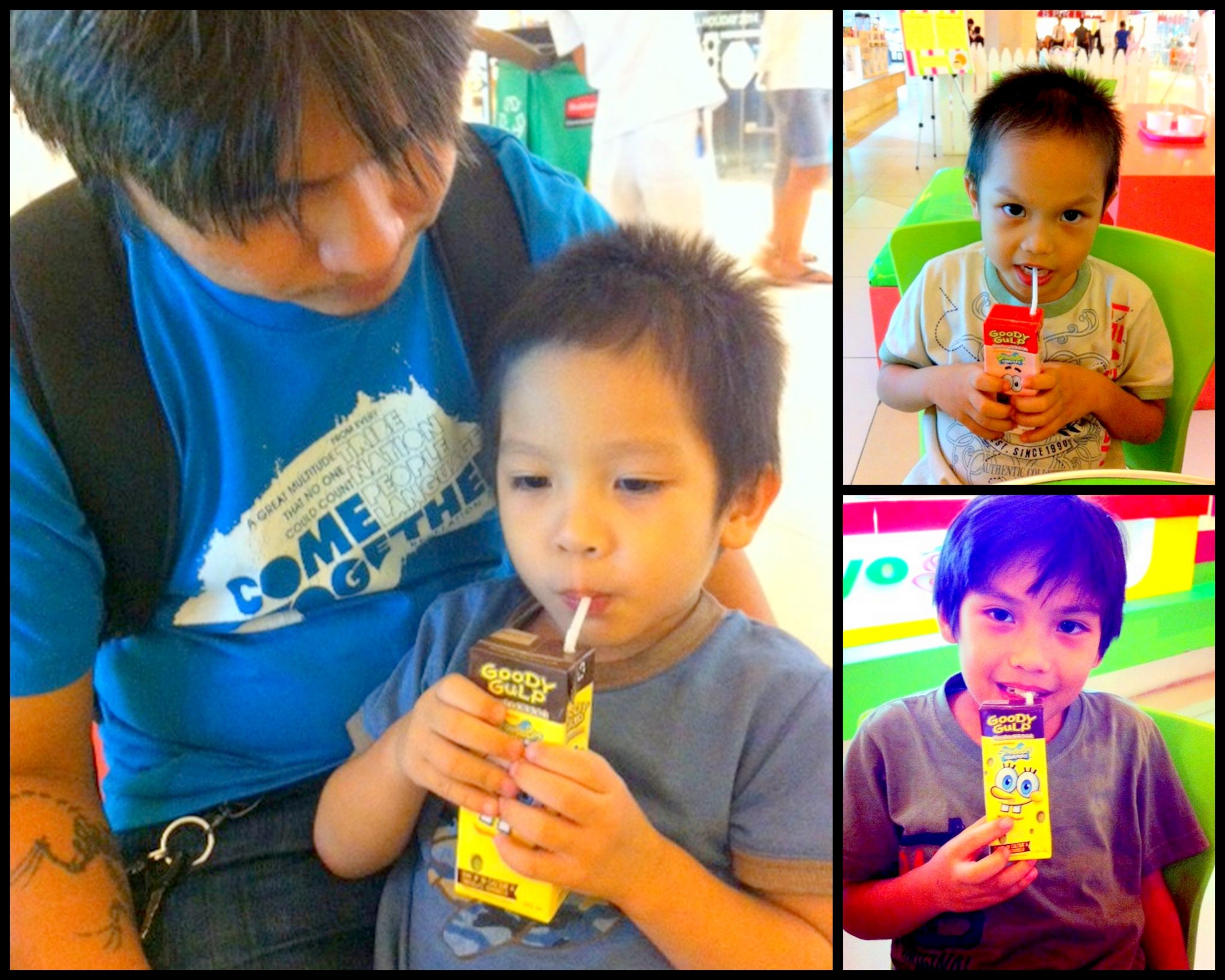 Other parents might say that we should just force our kids to take milk if we think it's so important and I guess, to an extent, I get that. But we choose our battles and drinking regular milk in cups is not one of those we choose to fight over.
So we provide them with options – we buy flavored milk drinks for them, and colorful and attractive designs help, too. But of course, taste is the number one criteria.
That's why Goody Gulp is great because it features Nickelodeon's Spongebob  and Patrick, characters they recognize. Most importantly, they love the tastes of both the chocolate and the strawberry variants.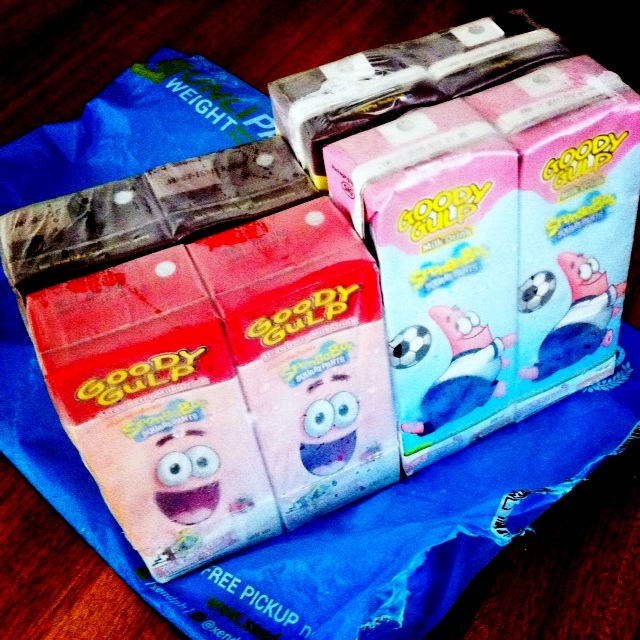 As a mom who cares about what my kids put into their bodies, I appreciate that Goody Gulp has no preservatives. You read that right, Goody Gulp has NO PRESERVATIVES.
Just Chill, Shake & Gulp! Be Happily Healthy with Goody Gulp! Giveaway Mechanics:

Fully Housewifed is one of the blogs commissioned to give away 2 packs of Goody Gulp Milk drinks and 1 Limited Edition SpongeBob mini speaker to three lucky winners!

Here's how you can join the giveaway:

a) Make sure that you've read the blog completely.

b.) Click this link and fill up the form. 

c.) Once done, email me at [email protected] with your full name and the date you've completed the survey form.

That's it! Go ahead and get yourself a Goody Gulp Milk drink and join the Great Goody Gulp Giveaway!
Just Chill, Shake & Gulp! Be Happily Healthy with Goody Gulp! Giveaway is open to Philippines residents only. Promo ends on October 30, 2014. Announcement of winners will be on October 31, 2014. 
Goody Gulp now comes in 230ml!
Goody Gulp now comes in 180ml and 230ml sizes.  It is made from New Zealand Milk and Premium Cocoa from Holland and manufactured by one of the leading dairy manufacturers in the region.
Locally, it is available at SM Supermarkets, Save More, Robinsons, Pure Gold, Landmark, Shopwise, Waltermart, and Super 8.
Goody Gulp is a product of Character Product Concept Philippines, Inc. (CPCPI). CPCPI is committed to providing high quality products beneficial to consumers' health, wellness and and happiness.
Goody Gulp milk drinks must not be considered substitute to breast milk.
Many thanks to SpongeBob Goody Gulp Chocolate Milk Drink and Mommy Bloggers Philippines.
_________________________________________
Announcing the winners of this Goody Gulp Giveaway!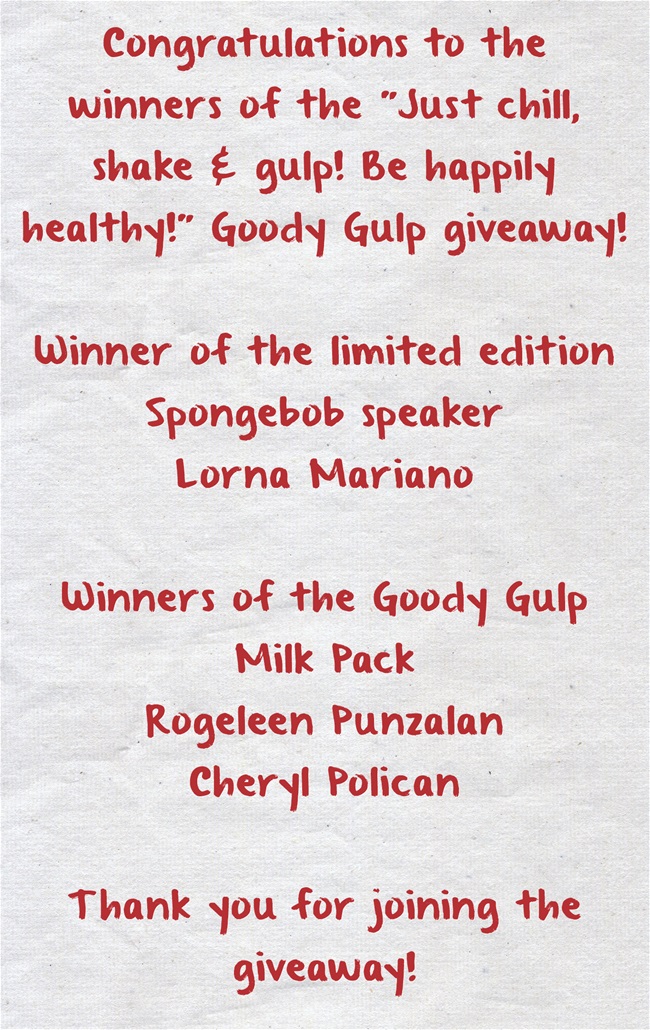 To raffle off the winners, I have assigned each entry a number, 1 for the first entry, and 27 for the last one. Then, I used Random.org to generate the three numbers of the three winners.
I raffled off the two winners of the Goody Gulp Milk pack first, then raffled off the grand prize winner for the Nickelodeon Limited Edition Spongebob Speaker.
Update: Please be informed that all Goody Gulp blog giveaways run on the same period are one and the same promo. I have been informed that participants can only win once to give others a chance to also win the gift packs or the Sponge bob speaker. 
To all those who joined, maraming salamat po! I'll see you on my next giveaway!