The housewife tries Maracuja oil by Nature Essentials
I've never heard of Pure Maracuja oil until recently when I received a sample bottle from Nature Essentials. I was raving about their other product, Happy pores, which was such an effective toner for me that I did not hesitate to say yes when I was asked if I would like to try Maracuja oil.
First of all, there's really nothing scary about trying Nature Essentials products because they do not contain any ingredients that may harm your skin or your health, for that matter.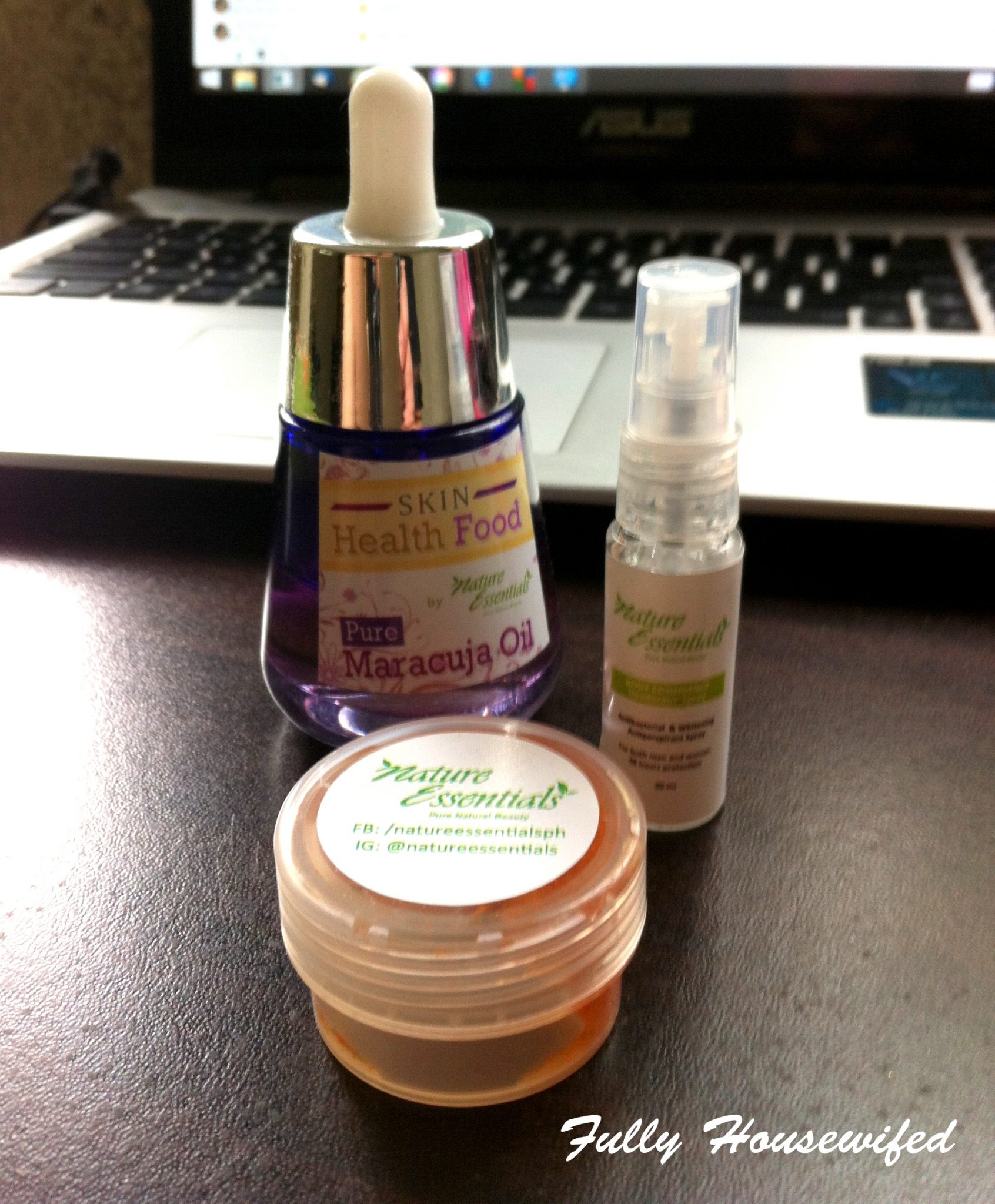 What is Maracuja oil?
Maracuja oil is a treatment oil for skin concerns. It balances moisture in your skin to make it firm, bright and smooth. At least that's what I've been told.
It has Vitamin C and has been dermatologist-tested. This was surprising for me because not all all-natural skin products outside mainstream collections can boast that.
How I used Maracuja oil
You're supposed to apply 2-3 drops of the Maracuja oil in your hands, and apply it to your face and areas in your body where there's dryness of skin.
I have a lot of dry skin happening in my elbows because of hours on my work desk and I don't know what's causing it, but the round bone on my feet near my ankles have also been drying out lately.
Then there's also my eternal dry skin problem around my nails, making it almost impossible for me to last a week without having a pedicure. Otherwise, my toes are a horrible sight to see.
Nope, I'm not showing you any pictures. I don't have the guts to show the world my ginger toes!
Anyway, I also rubbed it on my hands where I have areas of concern in the pointing and middle fingers of my right hand. You see, I'm allergic to the new formulation of our dish washing soap. The skin of those two fingers have dried and chipped and the skin creams prescribed by a doctor I consulted is not working.
And since Nature Essentials also included a tiny container of facial scrub in my package, I decided to use it once prior to rubbing Maracuja oil on my face before sleeping.
What I like about Maracuja Oil
1. I like that it's not greasy. It may seem so upon applying, but seconds later, the greasiness is gone.
2. I like the faint, sweet smell of the oil. My kids say it smells like fresh flowers, the kind you see planted, not the artificial scents.
3.  After using it for seven days, I noticed that the skin on my fingers have started to turn pinkish, as if the skin is being re-birthed. In short, they're starting to look like they belong to the same hand as the other fingers!
4. The dry skin on my elbows and feet responded to the treatment. The skin softened.
Update: 14 days later, after I published this blog, I checked on my elbows and the dark spots caused by too much leaning on my work desk has lightened considerably. 
5. Creases around my eyes were gone the morning after I tried it on my face. My face also felt plumped and refreshed.
6. It's Gluten-free.
What more do I want from a skin product?
I want quicker results, but considering how long I've been grappling with some of my problematic areas, that would be too much to ask.
I saw great improvement in my skin after seven days, but I have some really problematic areas that need longer time to heal, such as the skin around my nails and my fingers need more than just oil. I need a dermatologist.
I guess faster results can only expected from products with a lot of chemicals that may be hazardous to your health.
All in all, Nature Essentials Pure Maracuja oil is a must-try product. It's both safe and effective, for you and your children.
Disclaimer: I received a sample of Pure Maracuja Oil from Nature Essentials but the views and opinions expressed here are my own.
Nature Essentials
Facebook: https://www.facebook.com/natureessentialsph
Instagram: https://instagram.com/natureessentials/
SMS/Viber: sms/viber 09166272545
——————————————————
Looking for a great book to read? Read this: