Product Review: Bubble Man Dishwashing Liquid
I had the opportunity to try Bubble Man Dish washing liquid over the last two weeks. I looked forward to it because the leading brand has become too harsh that it caused an allergic reaction on my hands. According to a friend doctor, the medication I'm putting on it will not be effective if I will keep using the same dish washing brand.
I've been trying to look for something to replace it and the ones I find most effective are the eco-friendly ones which are usually not that easy on the pocket. That's why I'm glad that I got to try Bubble Man because Bubble Man is both eco-friendly AND affordable, at only Php 32.50 for the regular sized bottle and Php 120 for its 880  ml bottle.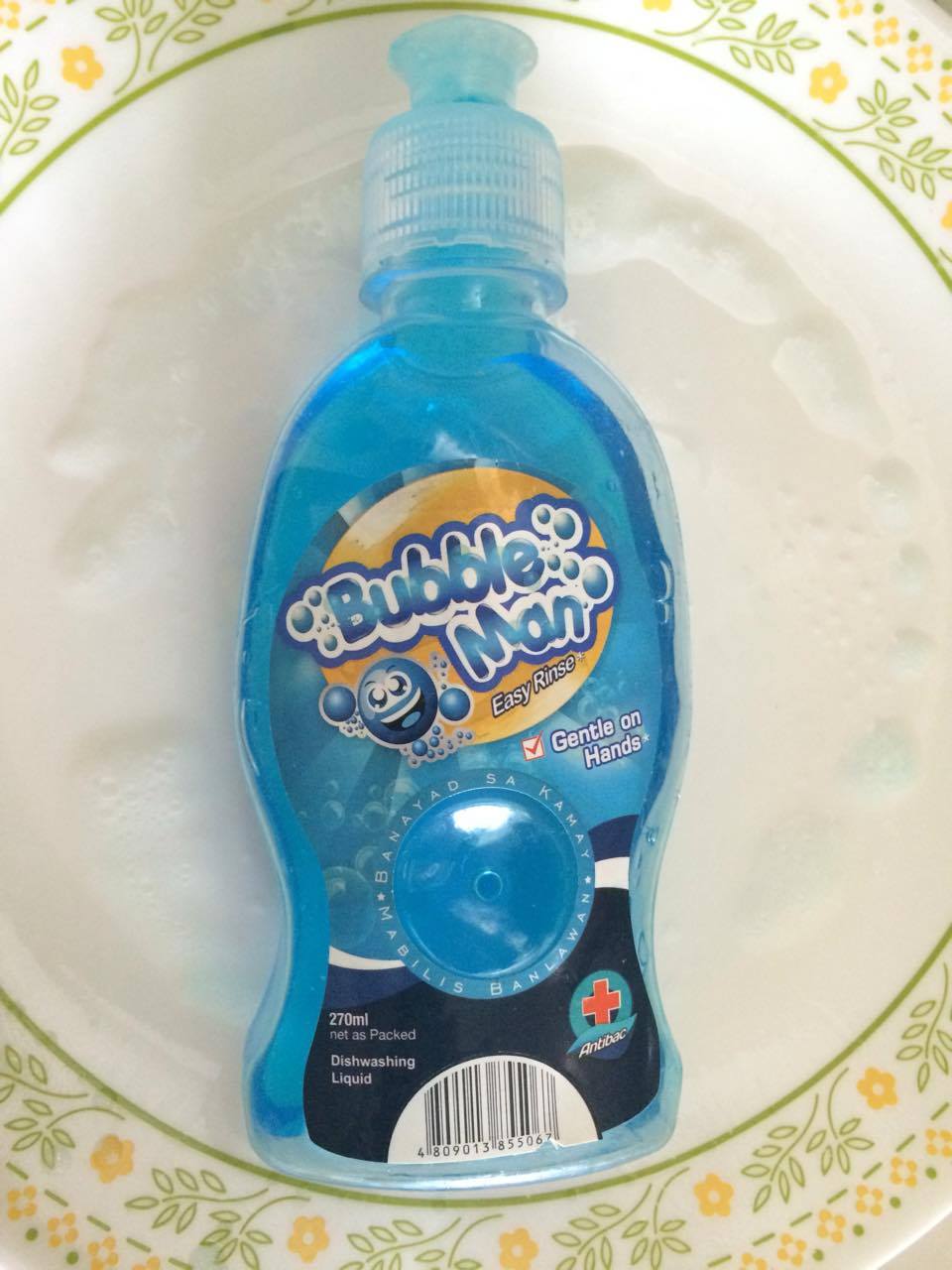 It's not that I'm too cheap to invest on eco-friendly goods because I'm not, but dish washing liquid is something you use everyday. It's not that easy to shell out so much money for something that will quickly run out. It is only practical to go for an alternative buy if it's just as good, safe and effective as the costly one, you know what I mean?
Anyway, we tried it and so far, my fingers have not been reacting badly to it. It actually got me excited to washing dishes often because I know that I won't get painful cuts after washing as I did with the leading brand.
I also like how it smells…sort of citrus-y. I received three bottles – The blue one which is the anti-bacterial one, then the green one which is the Calamansi one, and the yellow one or Lemon. I gave the Lemon to my friend downstairs and she says that she directly put the dish washing liquid on the sponge instead of diluting it in water.
She's one of those who likes to have a lot of suds and bubbles when she washes her dishes, along with my husband.
Since my husband has no problem with the leading brand, he says Bubble Man is just okay, but for me, I like that it's easy to wash off the plates. I don't have a problem with suds since I'm aware that suds are a product of marketing but I did find the mixture less concentrated and preferred applying it directly to the sponge, too, instead of diluting 3% of it in water as advised by the product makers.
Maybe the lack of suds and bubbles is because they took out certain chemicals common in many commercial brands, such as Sodium Hydroxide and Sodium Tripolyphosphate?
Sodium Hydroxide is the content that most likely dried the skin of my fingers and caused irritation. Sodium Tripolyphosphate harms our planet.
Bubble Man being eco-friendly means that it's sustainable and safe to use for our family and safe for the environment. It's perfect for the eco-friendly lifestyle that we're trying to adapt as a family.
Bubble Man Dishwashing Liquid is a product of Mikewell World of Household Products Company. To purchase, please visit their Facebook page.
Bubble Man Dishwashing Liquid is also available in various local supermarkets nationwide.
Thank you Jennifer Dizon and Mikewell World of Household Products Company for sending me the products for review.