It's not really boredom per se, but my kids and I have been staying at my parents' home for almost two weeks since Jay left for Singapore and Malaysia to serve in the Kids Camp there. It's his first time to not be home for more than a week so we thought it best that I get help with the kids.
I would have gotten a babysitter, but we figured it would be much too costly to do so, so Jay took us to the South for our short vacation the day before he met his team at the airport.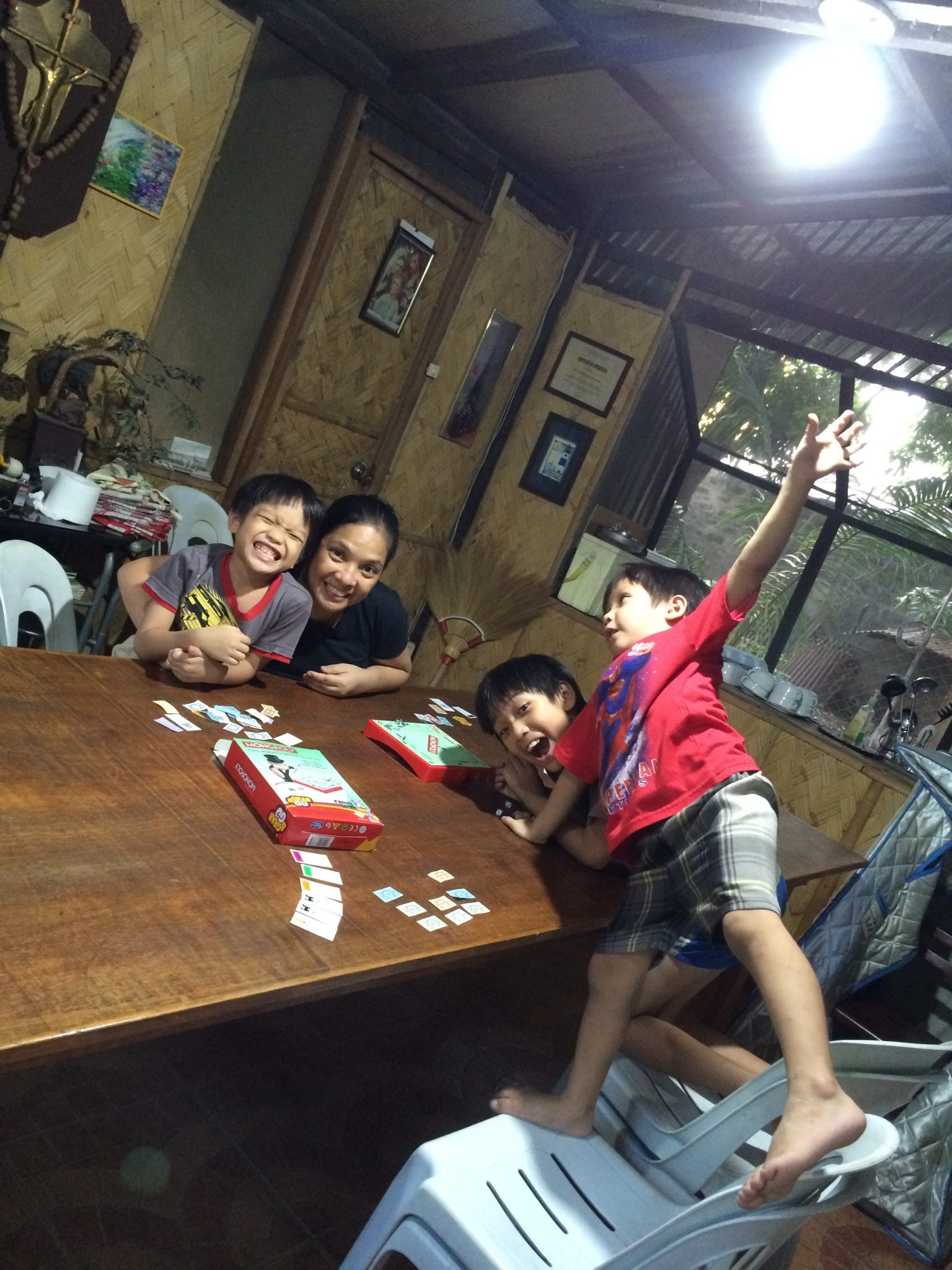 For most days, our stay was going well. I was able to work without distraction because my mom's helpers (a stay in and a stay out) were taking care of everything else – from running after the kids in the yard, breaking in our dog Max who's moving in with my parents and their other dogs, to our meals and our laundry.
However, the house isn't exactly completely child-friendly, with piles of wood everywhere and a non-landscaped yard, so it wasn't ideal to let the kids loose all the time. I have to admit, I resorted to letting them play with the gadgets for long hours because they kept them in one spot and everyone was able to relax and go about with their routines.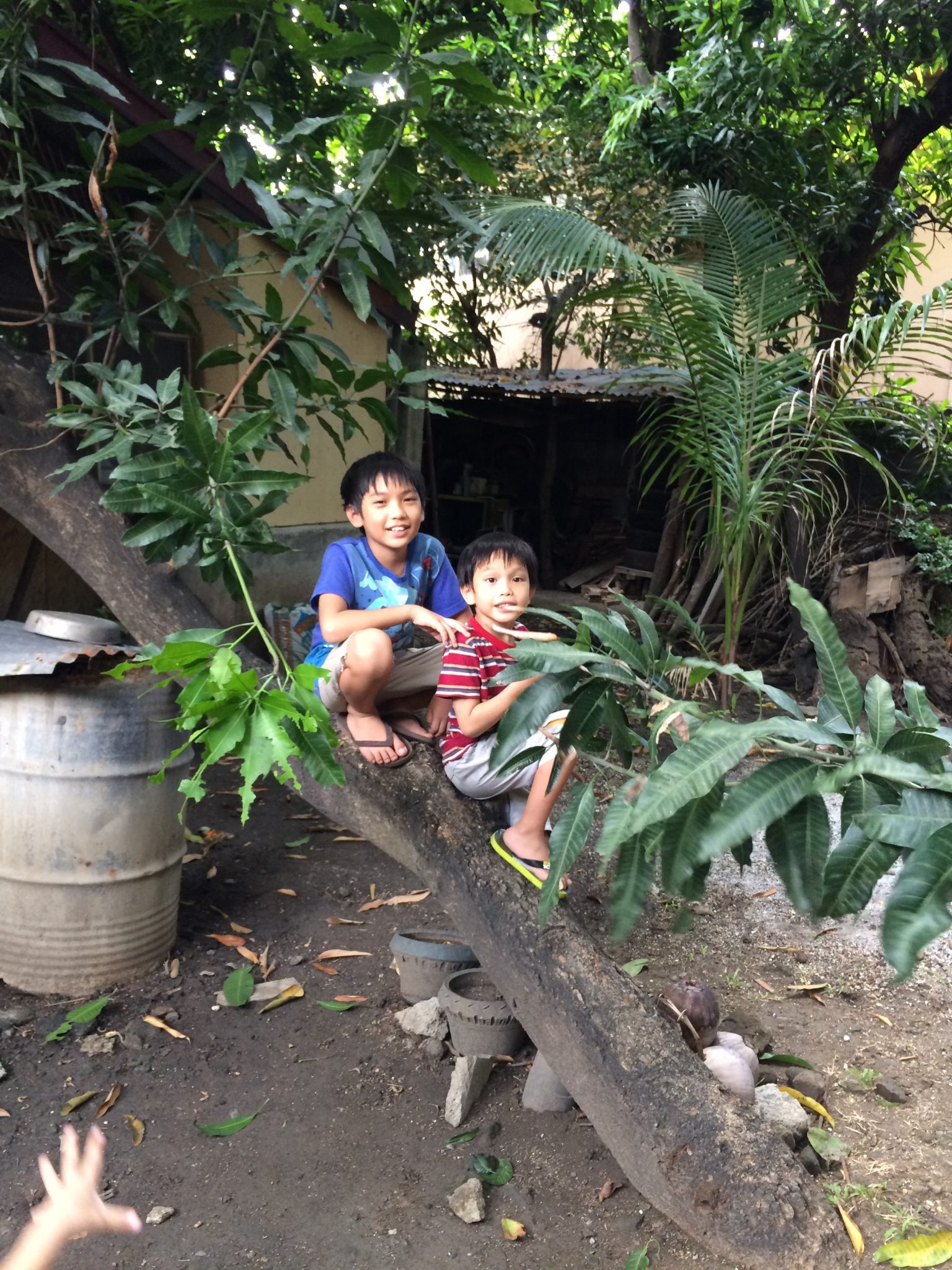 They didn't bring too many toys and we didn't have books with us except for one that we're returning to the lender, so without the gadgets, the kids easily get bored. I originally planned to take the kids to the malls with me but after taking out my eldest on our first day, I learned it wasn't as easy as when we go around BGC, so that plan was ditched. That's when I decided to get the mini monopoly set from the toy store to get their eyes off the gadgets.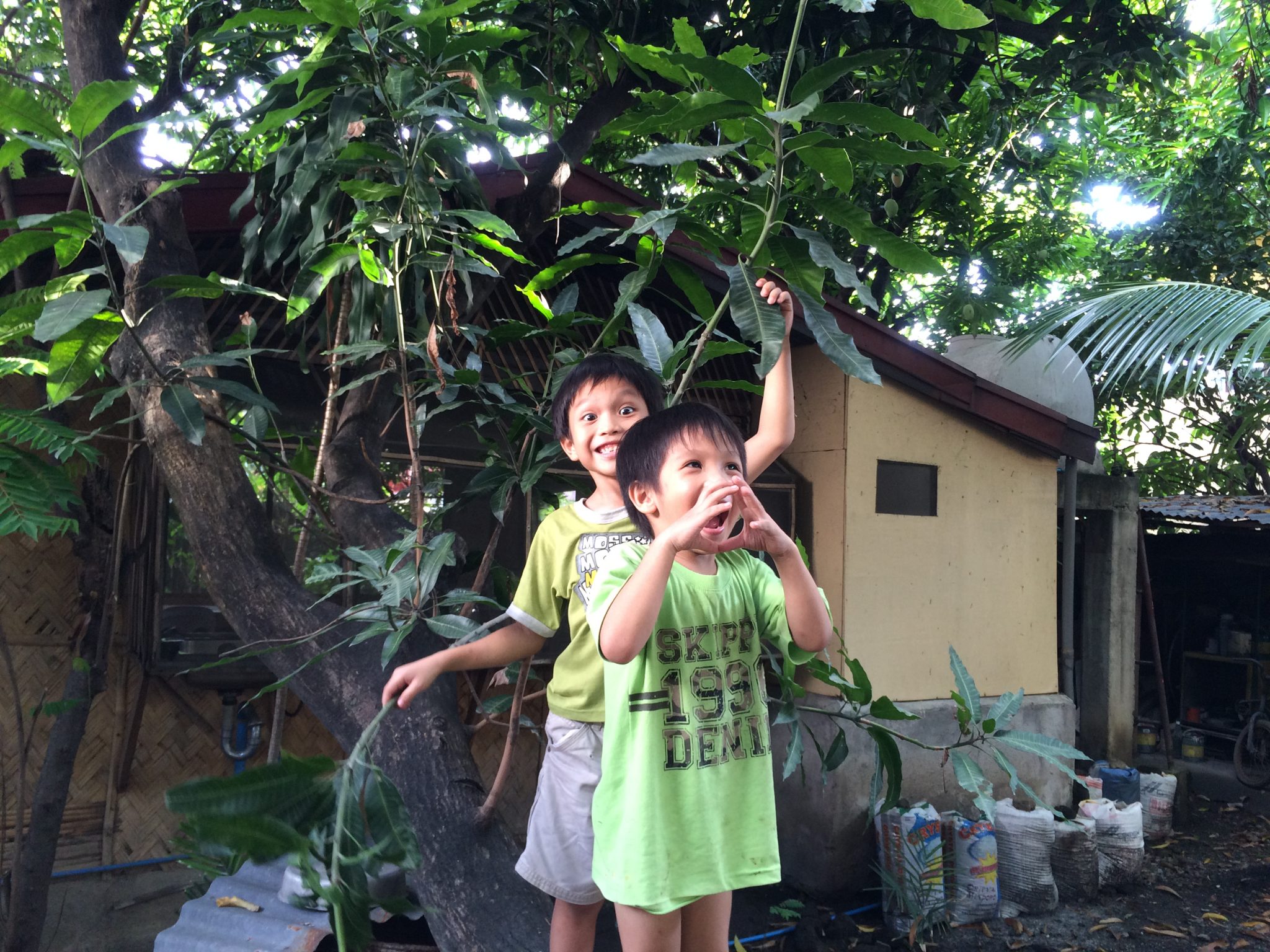 Less than 300
The set only costs Php 299.75 which made it very affordable considering how pricey monopoly sets are. We have two sets at home, actually. One is a fake one given to us as a gift but that gave us so many fun times and the Millionaire's Monopoly set which I bought from a fellow homeschooler on Facebook.
I knew it was going to be tiny, but thought, "hey, it's still Monopoly!" You know what I mean?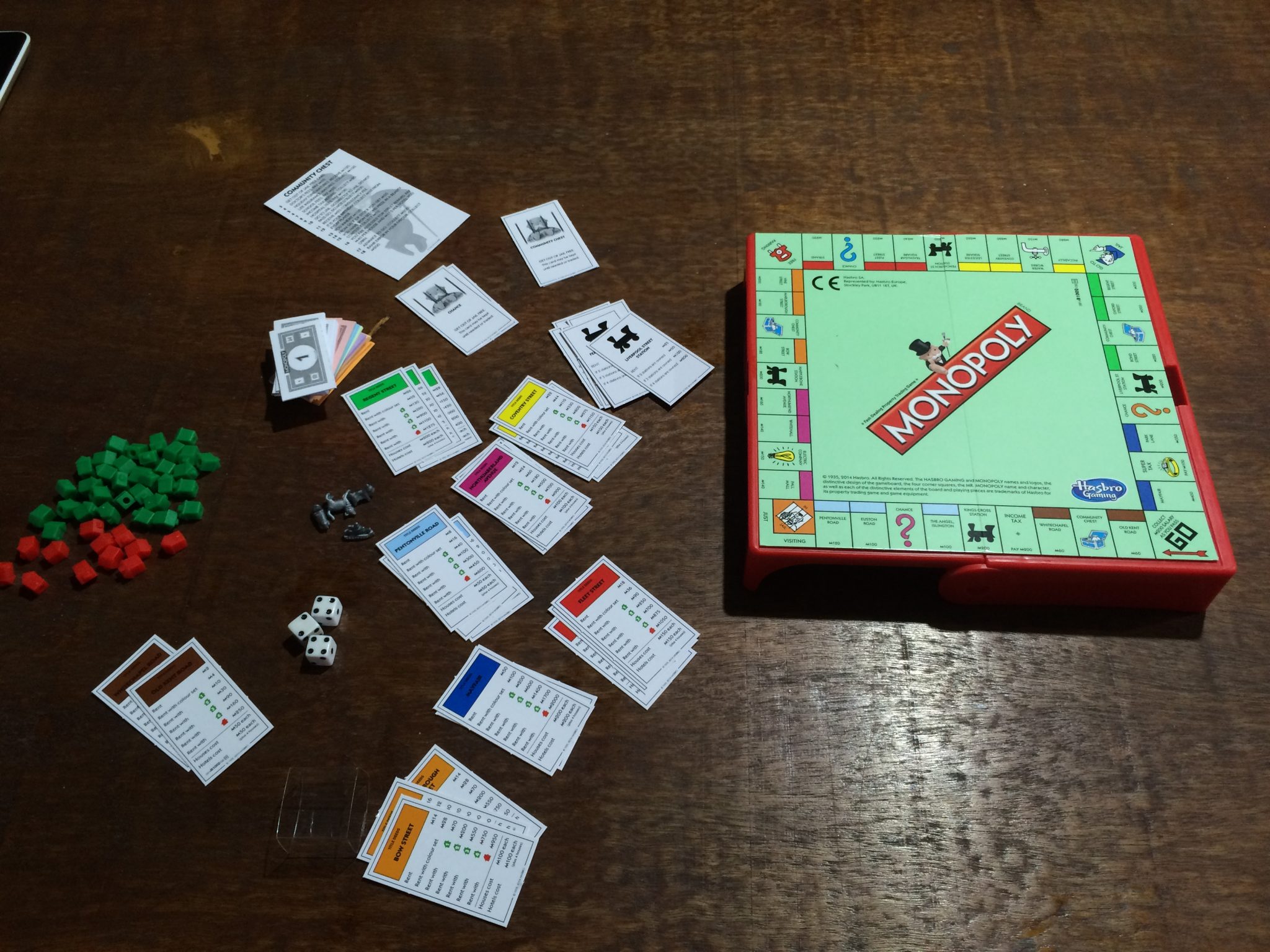 Everything was tiny
Well, it's a mini after all. The houses were way too tiny, so were the tokens and the dice; the bills were no longer than my thumb and it only had 4 Chance cards, which was the bummer thing about it. In our games, the Chance cards provide some of the highlights when we play.
I do understand it's a travel toy, you know, keep them as compact as you can, but at the same time, it was just too small for us.  When we played, it wasn't long before I was getting weary of it. The only thing that kept me going was that my 5 year old was doing extremely well (it was his first time to join us in Monopoly) at waiting for his turn, rolling the dice, counting the steps for his token and with a lot of help, purchasing properties. In fact, he had the most earning properties by the third time we passed "Go".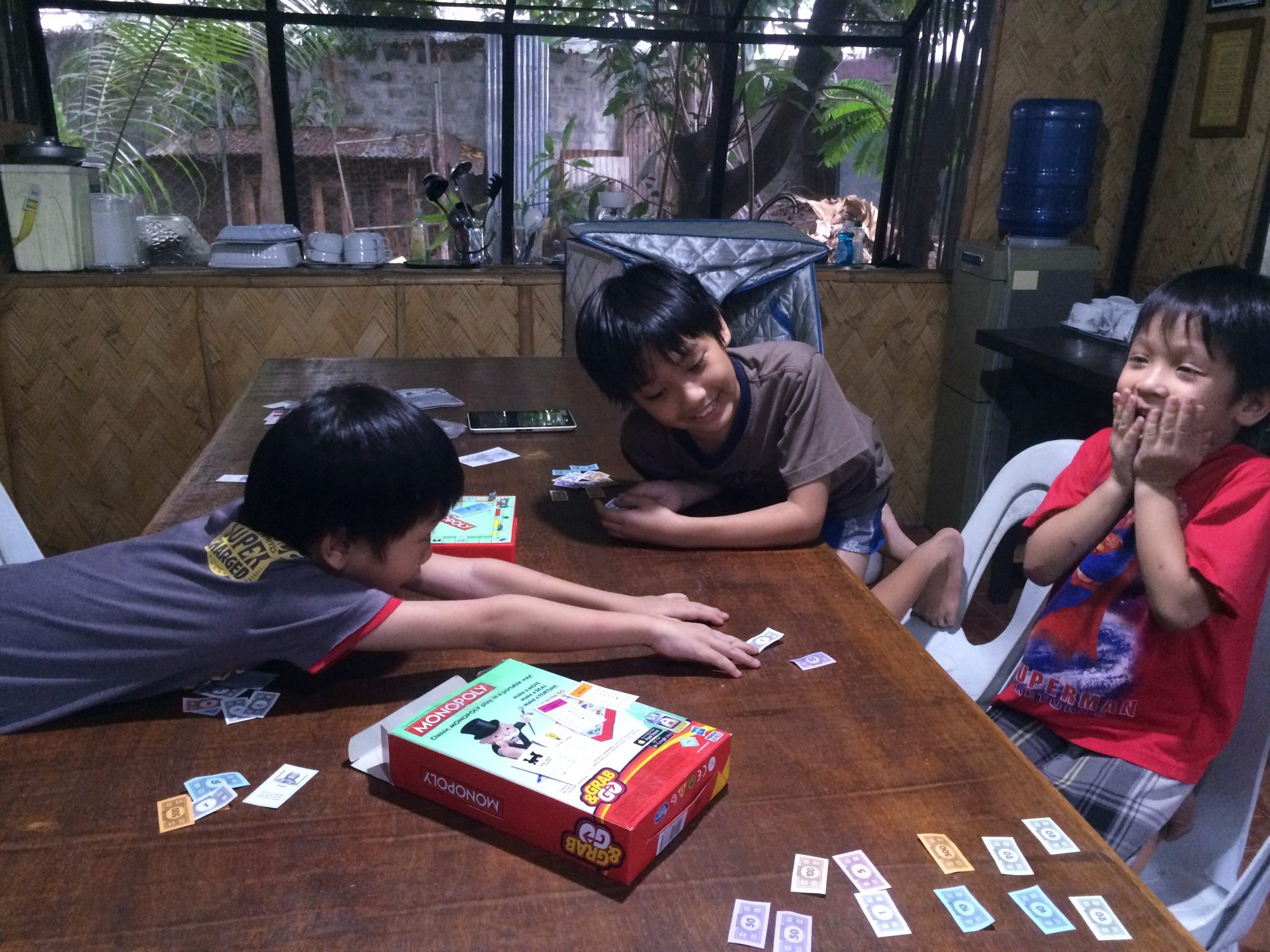 My 7 year old was also enjoying himself, having fixed his eye on a couple of properties on the board, but my 10-year old was feeling the same way I was and was vocal about it after the fourth round. We decided to wrap up the game then without that much protest from the younger two who resumed playing with the gadgets.
Monopoly is a fun game, really. I love that we get to teach our kids basic Math through it, and also teach them about accumulating properties and the principles of salary and entrepreneurship through it.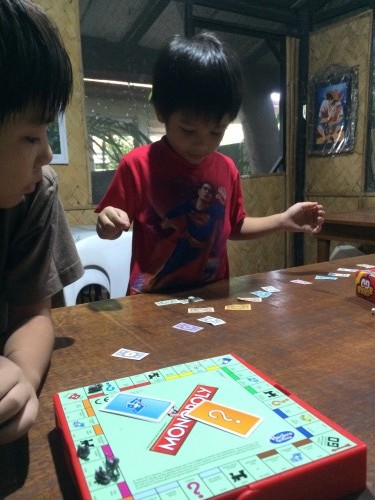 I think, though, that a travel toy like this is more suitable for older players, because it's just too exhausting to try to keep the game together while struggling with the tiny objects that are being used in the game while entertaining the small ones.
I'm usually very particular in how you return the items of a board game in its box, with this one, though, I have yet to separate the toy bills and put the same ones back together in the pile. Maybe when I find time when we get back home. The size of the pieces just made me feel too lazy to be meticulous about it.
Speaking of Grab & Go Monopoly, we made a video of the unboxing that you can find here. Enjoy!
.