Dinosaurs Island and Holy Land in Baguio
Dinosaurs Island didn't really make it on top of my list when I was planning our Baguio trip. I was prioritizing places that can only be found in Baguio and thought that if we run out of time, it's one of those we can set aside for another trip.
But the kids expressed interest in seeing the place, especially Pablo who learned that animatronics are involved. So we decided to go when we couldn't find a ride to Ben Cab from Tam-Awan.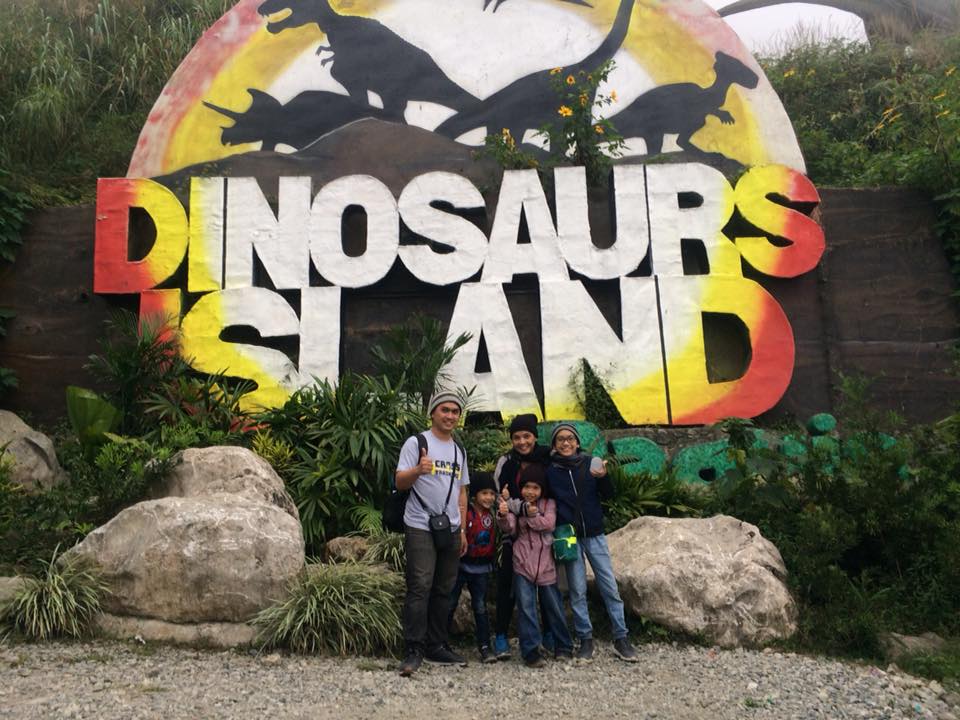 Baguio Eco Park rates
We were informed beforehand that it would be difficult to get a ride back from Dinosaurs Island since it's located at Baguio Eco Park along Marcos Highway in Tuba. It's where the buses pass on your way up to the Pine city. So we made a deal with the cab driver to wait for us to bring us back to our hotel afterwards.
The driver gave us a rate of Php 300 which turned out to be a much better deal because cab drivers are given a 20% discount at any of the packages in Baguio Eco Park which he used for us. We were supposed to pay Php 3,000 for all five of us to see both Dinosaurs Island and Holy Land, but we only paid Php 2,400.
The rate per head is Php 350 for both Dinosaurs Island and Holy Land. (We thought to include Holy Land since it was already there at the Eco Park). You pay the package rate of Php 600 per head.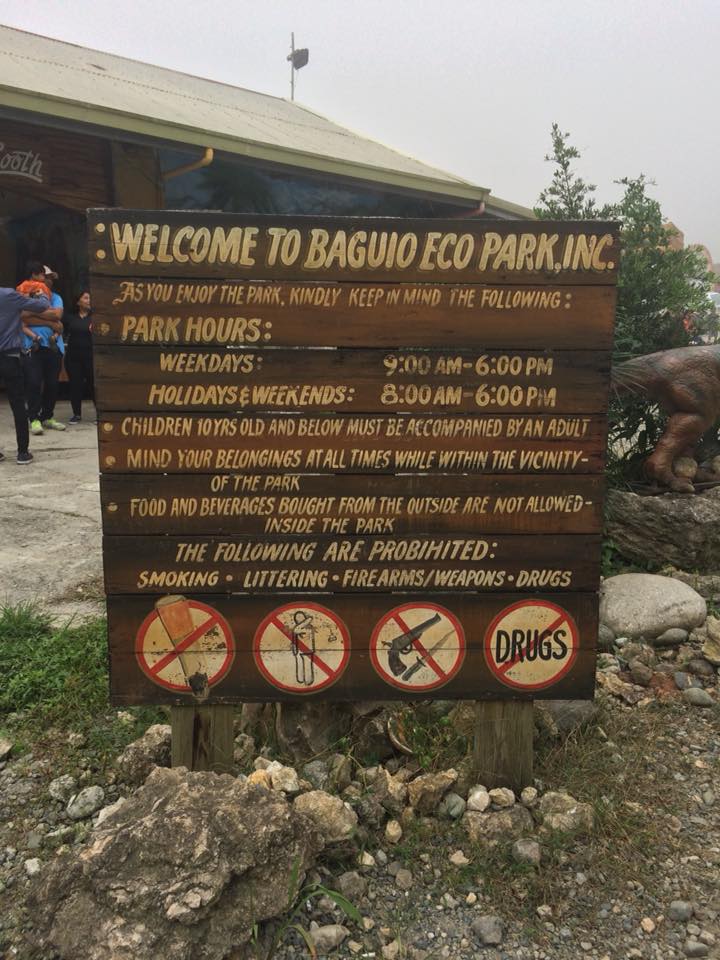 Gene and the tour
We were assigned a tour guide named Gene. Another group joined us, but they didn't seem to be as interested in the tour as we were. They mostly just trudged along as we went from one model to another.
The kids were very excited about the moving Dinosaurs. We climbed a high flight of steps before we reached them. Gene discussed each type of Dinosaur and "fossil" at each stop which was generally very interesting.
It helped that Gene is actually an educated guide. Well, he's a SPED teacher, but he has a clear fascination for Ancient history and Paleontology.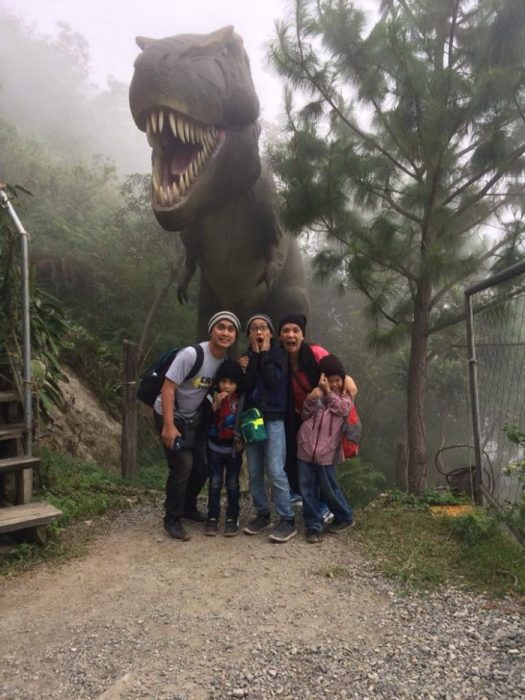 Do you know that male T-Rex's are smaller than their female counterparts because after they mate, the females have to eat the male? It's their cycle of life.
Learned that from Gene.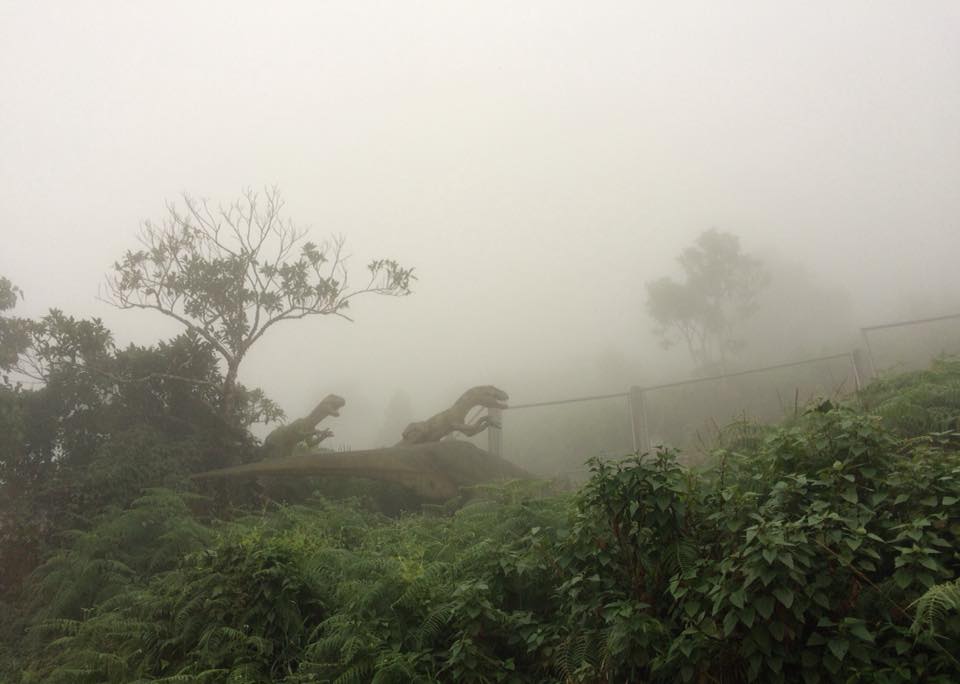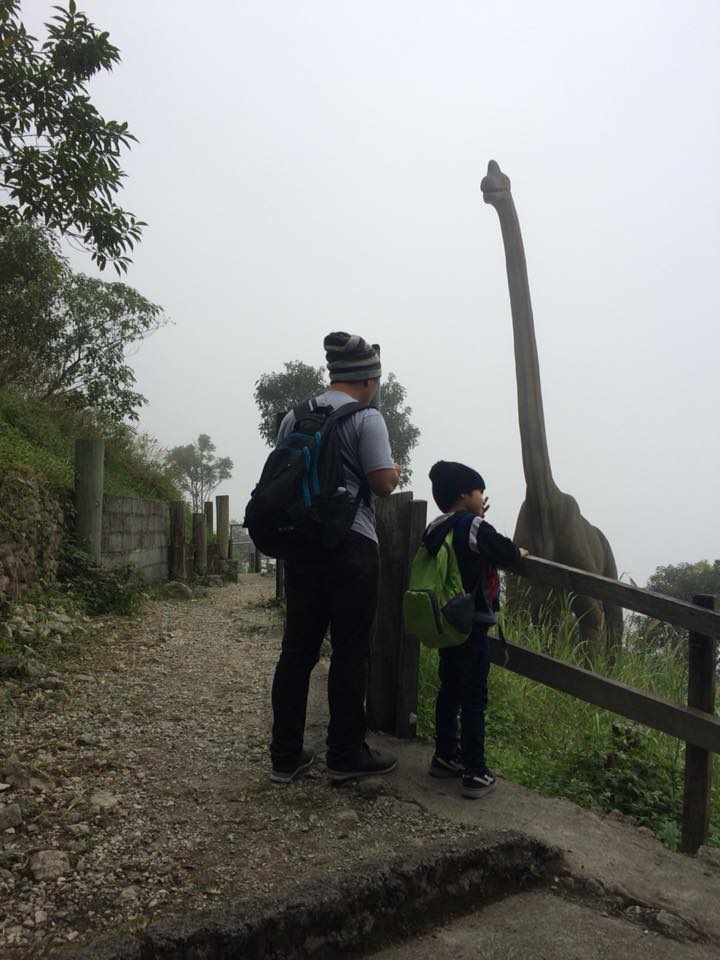 Met a few new Dinosaurs, too. Like that that had wings but doesn't fly, among others. I'm sorry, I can remember how they look but I can't remember their exact names, haha! There were too many of them to remember and I wasn't taking notes.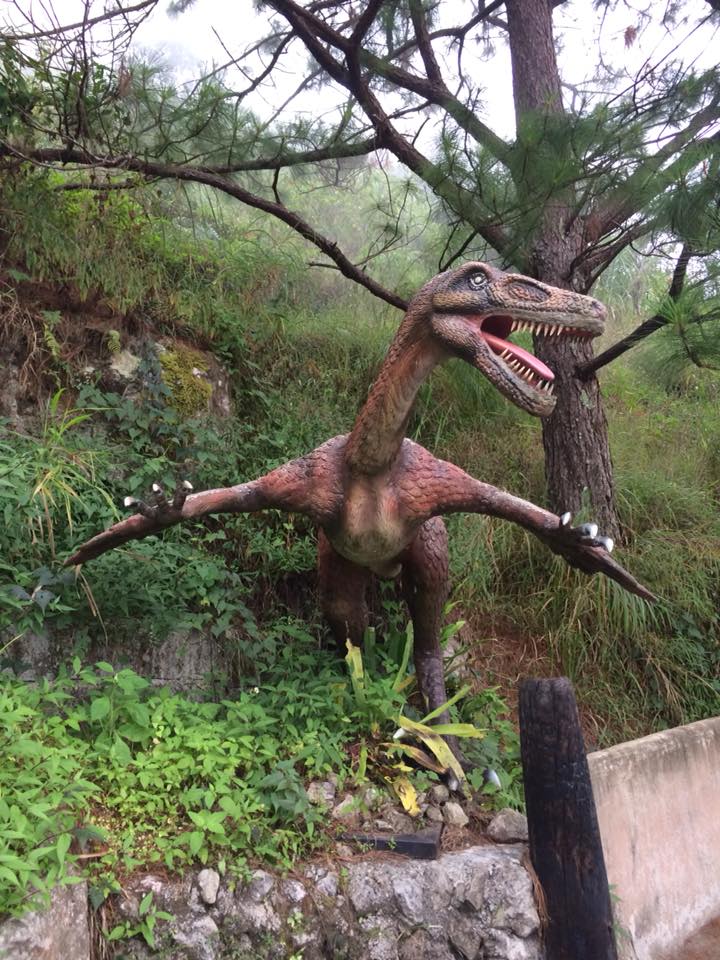 Only the big Dinosaurs moved and made sounds. That disappointed Pablo a little, but the Dinosaur Island is still his favorite among all the attractions we visited in Baguio.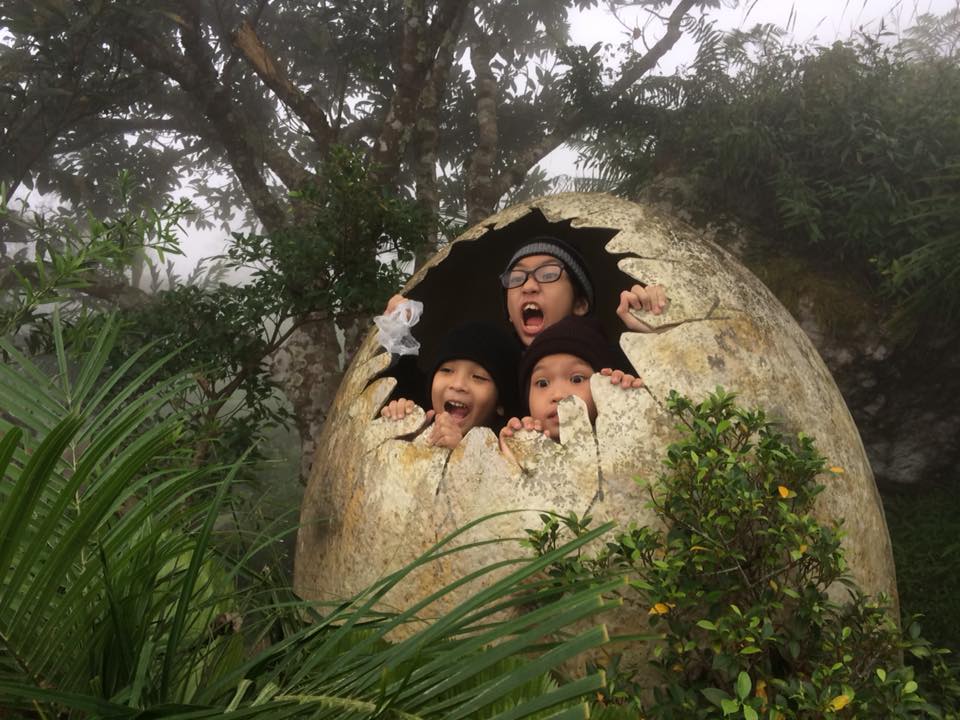 We came in mid-afternoon and we caught the fog setting in near dusk, and it gave our pictures a Jurassic park effect. We had so much fun with our photos!
And the animatronics, though limited to the bigger Dinosaurs, is still pretty awesome. Check this out!
The tour ended with a dancing Dinosaur which was actually a woman in costume. I know because of the shape of the hips, haha!
You know those Japanese Dinosaur pranks you see on YouTube? Something like that, although this one didn't impress. We could see the human legs beside the Dinosaur legs and there was no effort to disguise them.
There were supposed to be two dancing dinos, I don't know why only one came out. That part of the tour sucks. They can make do without it.
Holy Land
I have mixed emotions about Holy Land.
On one hand, I like the life-sized dioramas they set up, like the Israelites' houses and Christ's tomb (with the dead Jesus in it, haha! That part was creepy, but the tomb structure was super cool). The kids wanted to go into the tomb, but I was afraid that there might be a snake in there. The place is grassy and stands beside a virgin forest, after all.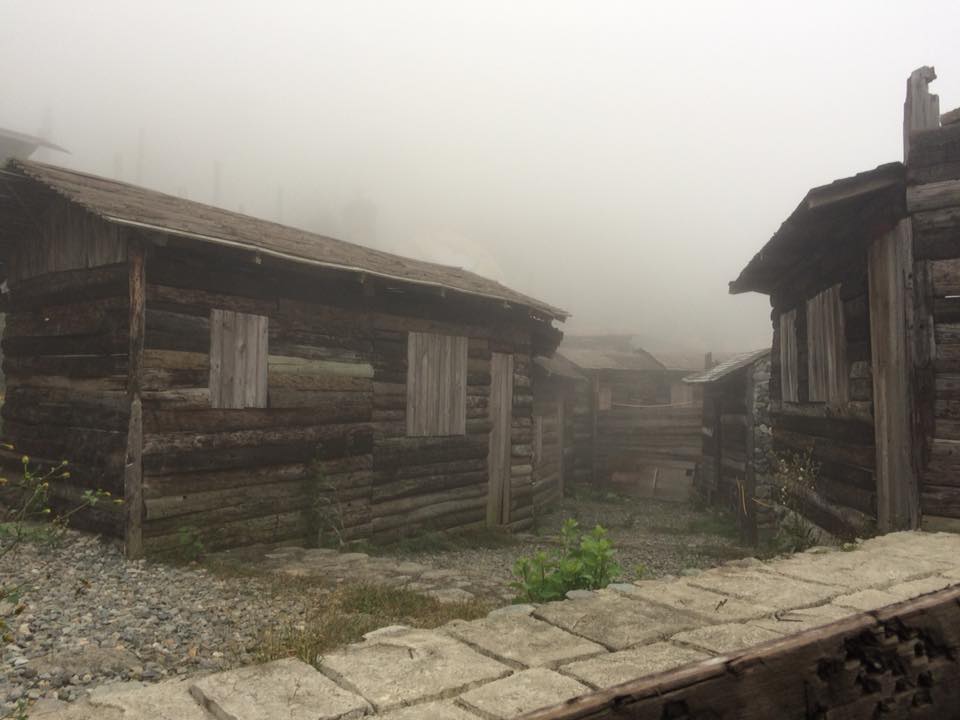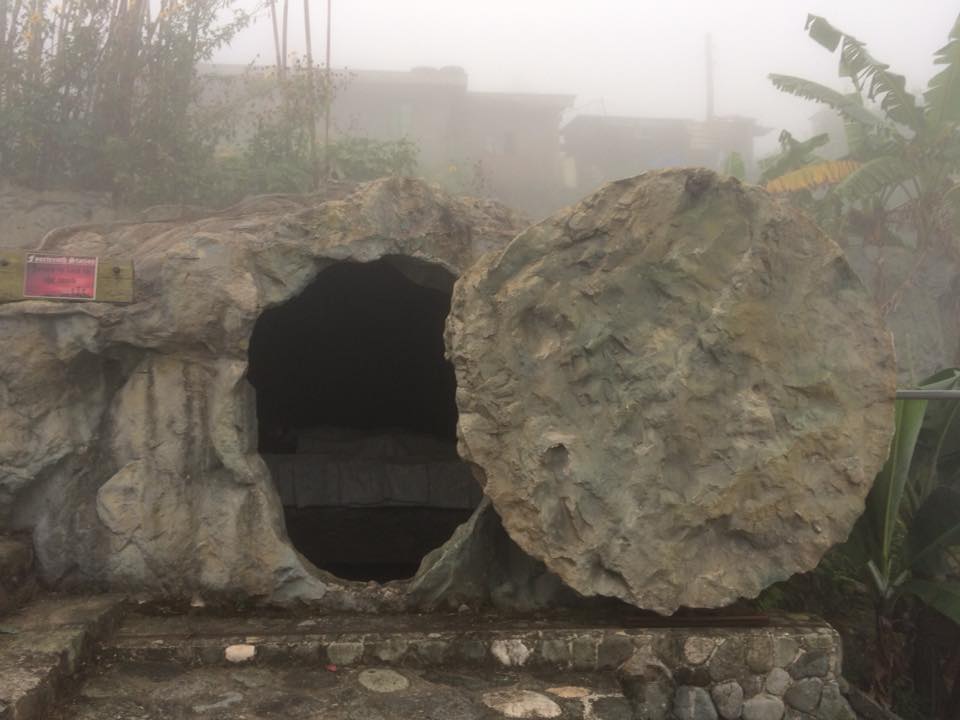 Some of my other favorites were mostly in the Old Testament, such as the Egyptian Tomb, Moses at Mount Sinai and the scene from Exodus.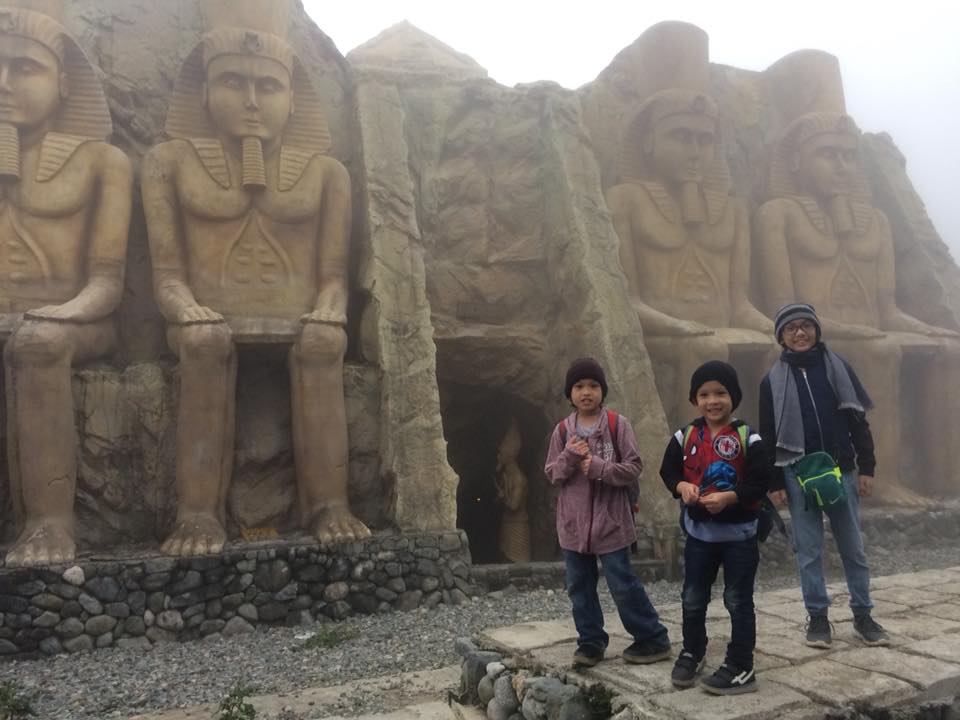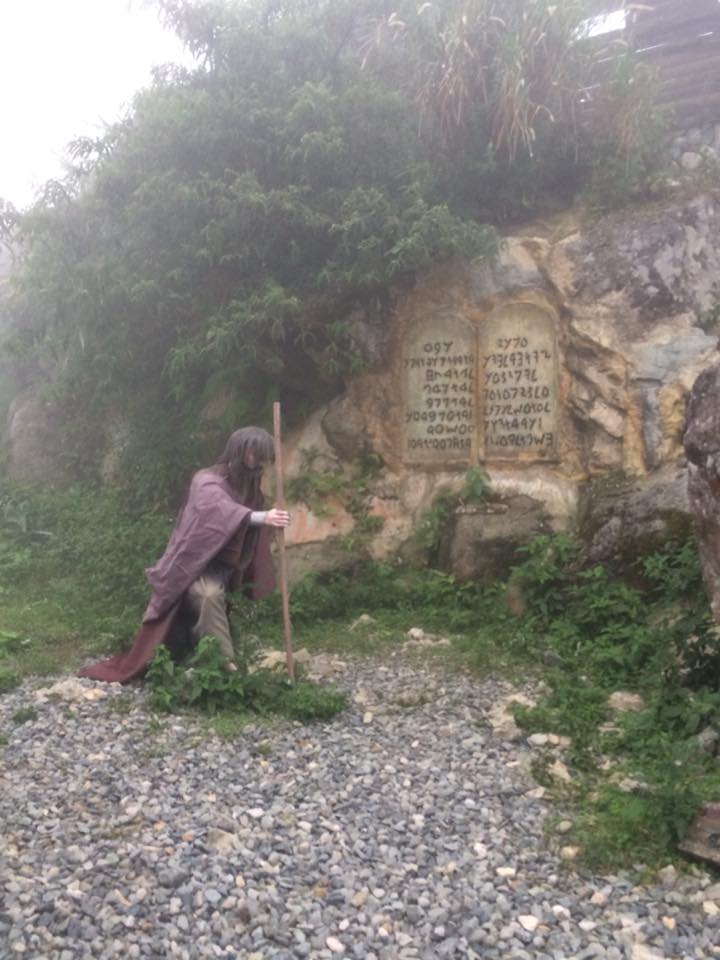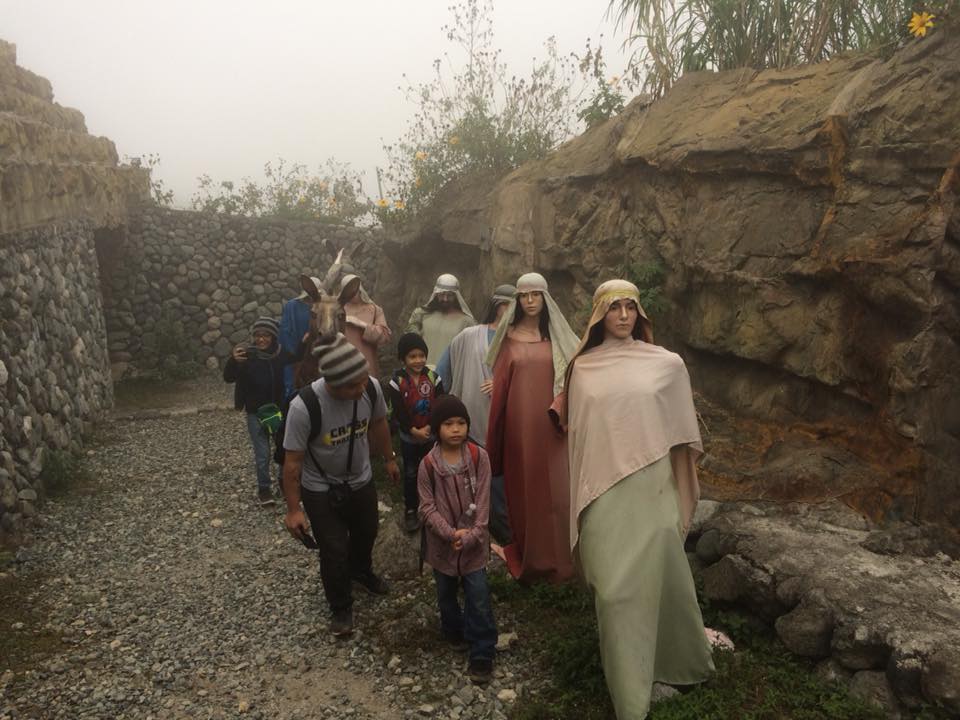 On the other hand, Gene didn't accompany us in all stops. He left us to ourselves right before the dioramas on Jesus' sufferings. I think the purpose was for reflection. I get that, but I didn't like the idea of being left to ourselves with our kids to find our way out of the park that side of the mountain, if you know what I mean.
Plus, being the only living ones surrounded by so many life-sized statues on a lonely mountainside as the sun was going down and as the fog gathered was downright eerie.
Anyway, Jay and I filled in the kids on every stop. Jay knows more about the culture of the times which he discussed with his sons. For example, he told them that the crosses during those times were within eye level so the people crucified could be spat on.
I noticed that  our 6-year old Judah was looking at each one of Jesus' intently. He knows Jesus died for us, he just had a better picture of his suffering at the Holy Land. And I could sense in his silence his shock but also that his very young heart was moved.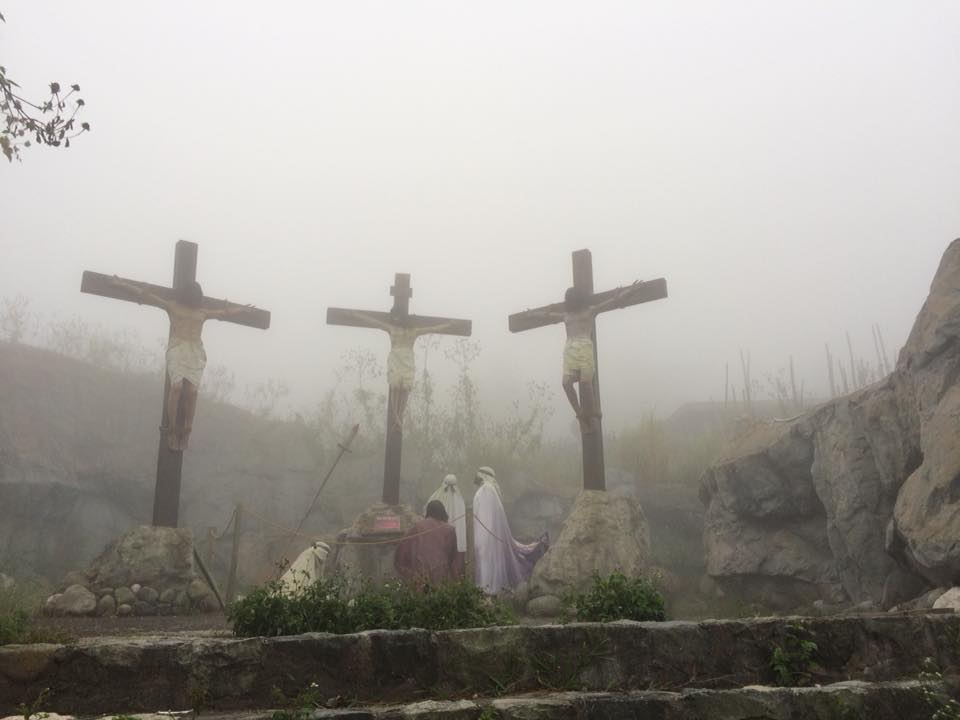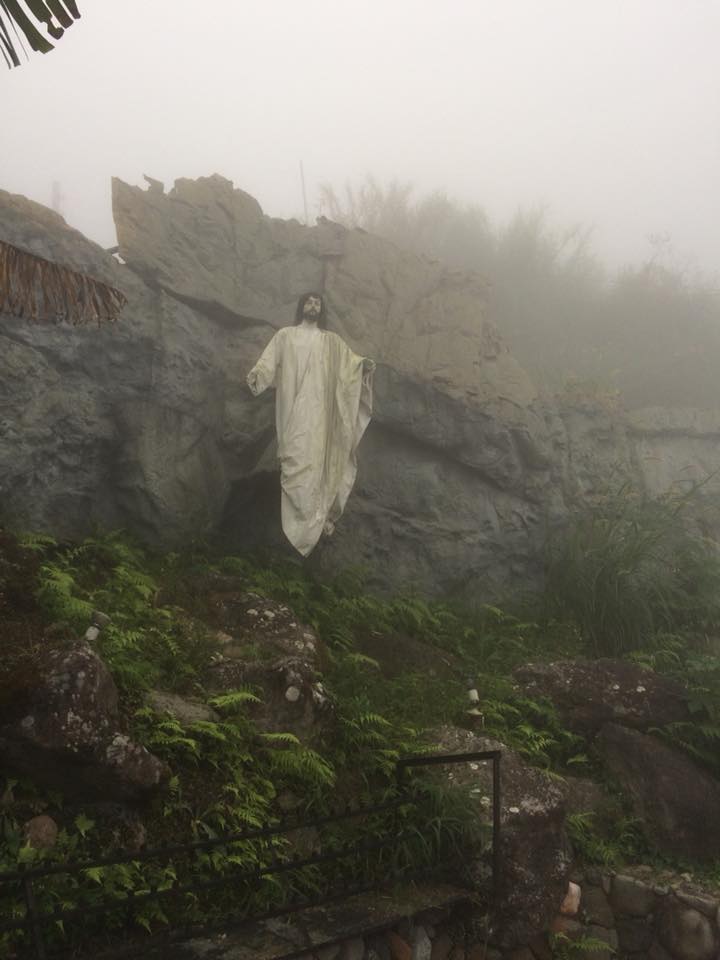 Coffee Shop
Since we had a cab driver waiting for us and the fog has really thickened, so we no longer stayed after we finished making the rounds of the Holy Land, even if I wanted to sit at the humble coffee shop near the entrance. Would've been nice.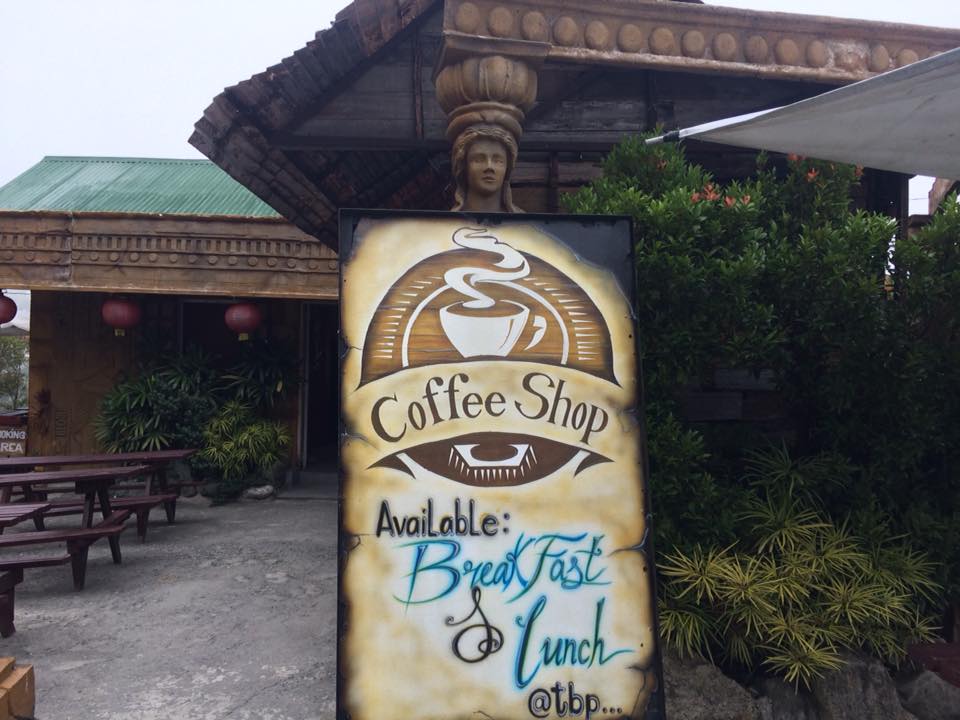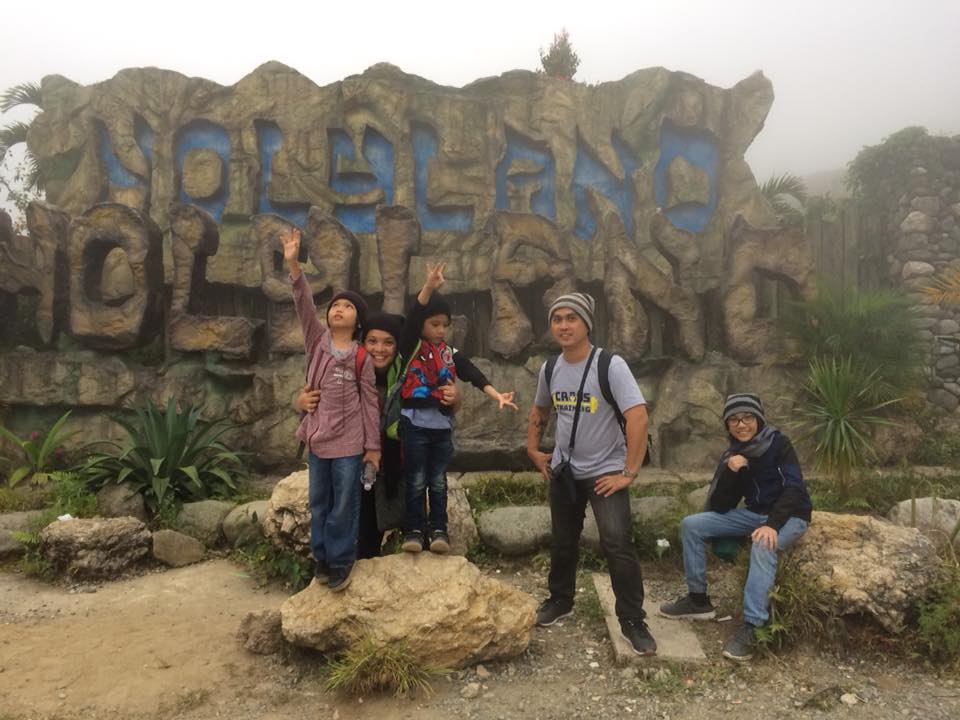 We may not revisit the place for a while since I think we've gotten everything we could from the place. They do have the Renaissance and Era museums that we didn't go to anymore, but I think we can let that pass for now.
I find the rates a bit high especially if you have to pay for 5 people, like we did.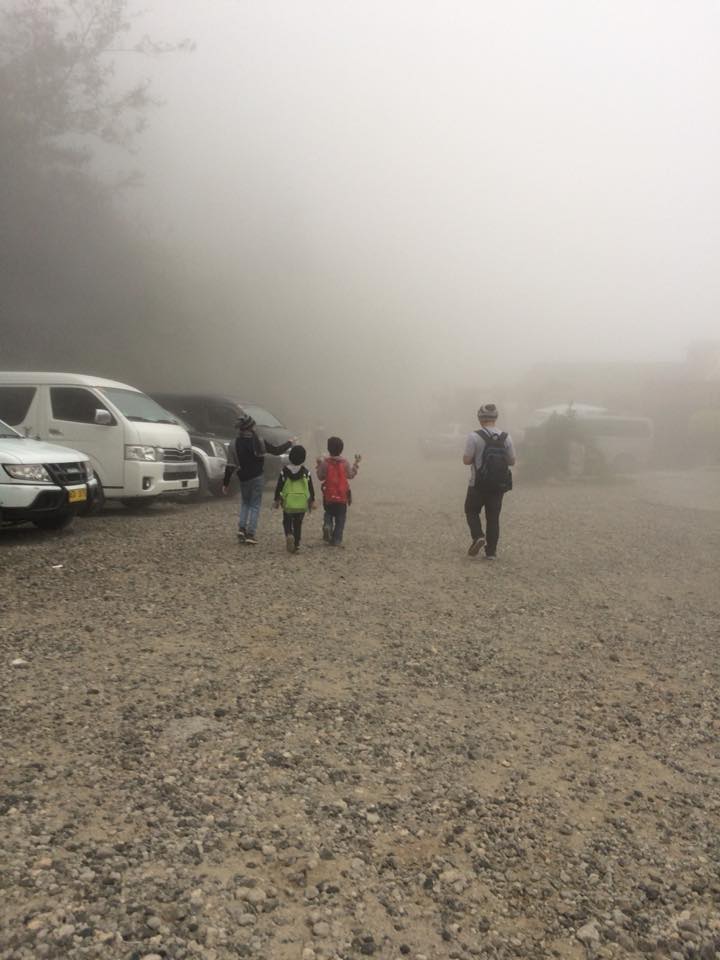 Gene said they're planning to transfer the park at the city proper for better tourist access, which is also why some of the dioramas were no longer completed or repaired. I was anxious for my kids with so many nails sticking out of wood lying around.
Moving would be a good idea because it's current location is really far and inaccessible, and risky for those who aren't used to driving back to the city through thick fogs.
I think that the place has a lot of potential. I hope that when they finally move locations, they will have smoothen the rough edges to make the park one of the most must-see attractions in Baguio.
For more on rates and other details, you may check out Baguio Eco Park's official website.