Workout Home Moms during the Quarantine Season
It all started when one of the girls in our Victory group asked how she can jumpstart her fitness journey, and since I've been aiming to get back in shape after slacking for months, I volunteered to be her accountability partner.
So we started on our workout journey together by sending each other photos of our sweaty selves after each workout every day. A couple of weeks later, two others joined and we started a new challenge of sending time lapse videos of our workouts in our private group chat.
Before the month ended, the rest of the women in our group jumped in the CG. Every morning, at 7AM, someone will post a funny exercise gif in our GC – usually me – which is the cue for all of us to start rolling out our time lapse videos and smiling photos throughout the day.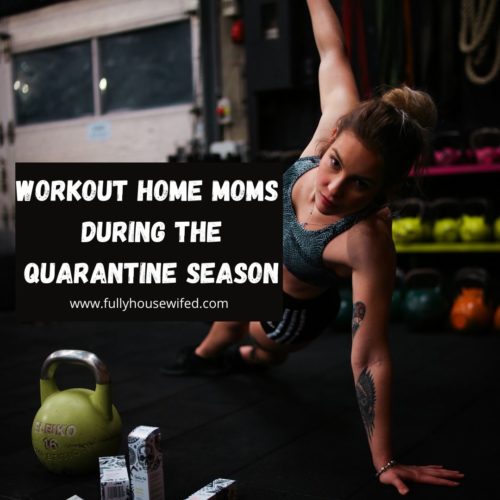 BeFit Workout Programs
While we don't make it compulsory for everyone, five of us are following the BeFit program calendars. We started out with the BeFit 30 Day Fat Burn Program which is probably the easiest BeFit Circuit program there is.
Here's how the calendar looks: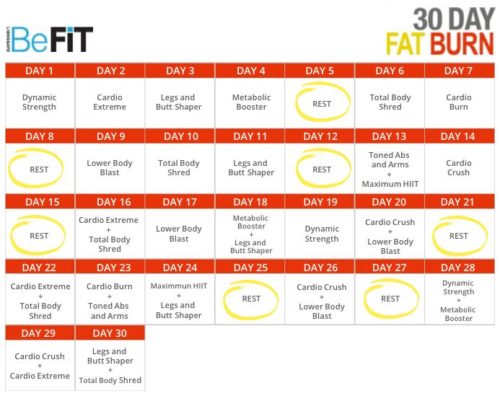 You can find all the BeFit Workouts on YouTube.
When we completed the workouts in the Fat Burn calendar, we decided to do the BeFit GO Summer Shape Up Challenge next. It took us a while to decide on what program to do next because we wanted to keep the workouts fun, and not punishing, for us.
The BeFit workouts are fun but they can get difficult to execute at times, but I think my friends would agree with me when I say that it always feels rewarding at the end of each workout.
Finding the right workout accountability partners
Although the success of this team is somewhat unplanned, I am so grateful to finally find the right people to be accountable with in my fitness journey. I've tried the BeFit 30 Day Fat Burn Program four times already, and it was only on the fifth that I finally completed it. Having the right workout accountability partners is key!
I have been sharing lives with these women for a while now. Before the pandemic, we would meet on two Sundays a month to study the Word of God. Naturally, friendships grew within the group, with some of the girls getting together from time to time outside church events for coffee, shopping, homeschool events and birthday celebrations.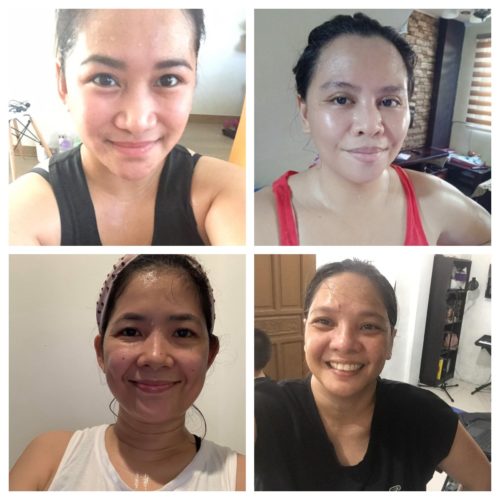 And now, here we are, not only meeting on Zoom on Monday evenings for our regular Bible study, we're also doing workouts together and updating each other on our progress, sharing tips and links to online products, laughing about our food fails, and keeping each other in the loop.
At times when one or two would feel like giving up, we would cheer each other on, motivate each other to continue, even if it means being your lonesome in posting a workout vid in the CG. We gently call each other out when necessary. If I may characterise the group, it would be a forgiving, BUT firm one. And it works, praise God! We're midway the second month and we're still going.
At the end of the day, we all want to get fit, we want to be strong – for ourselves, for our families. And we want to honour God with our bodies by taking good care of it. (1 Corinthians 6: 19-20)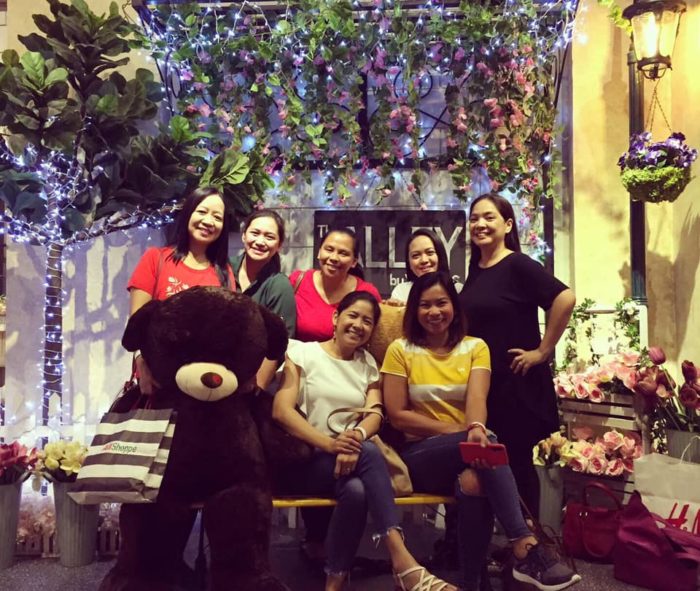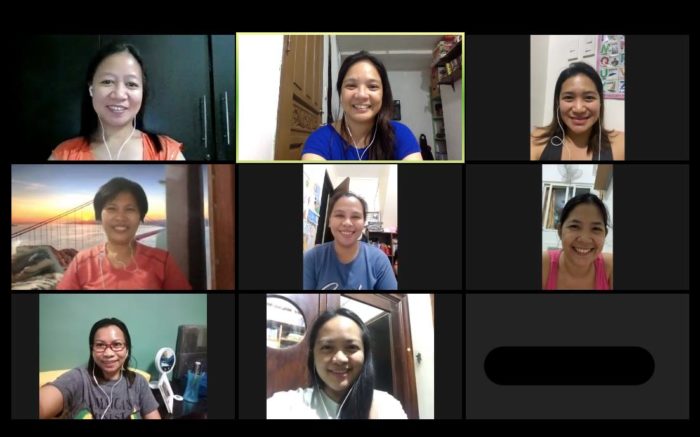 In our church, we're always talking about shared lives. I've been facilitating Victory groups for years, but in this season, I can truly say that God has brought me to a different level of sharing lives with the women He sent me to grow with in faith.
Any mom can join our Victory Group by the way! What it is, is that we study the word of God together regularly and learn how to apply it into our motherhood, marriage, and other areas in our lives in practical ways. We're all imperfect humans who need Jesus in our lives. So if you're looking for a group to grow with in faith, join us!  Just like workouts, it's always better to have people to walk with as we continue to grow in our relationship with Christ.
What I love about BeFit programs
Here are the reasons why I love BeFit workouts:
1. They're free!
You can find all of the workouts in your calendar on YouTube. You can do it at home or you can take it with you wherever you go, as long as you have strong internet connection. I remember doing a workout when we were in Tagaytay once.
2. They have a calendar!
I don't know about you, but it helps that I have a schedule to follow. It also excites me to find out what I'll be doing next in my workouts. Plus, it indicates the rest days, which are very much necessary when a person is trying to get fit.
3. The progress is gradual and the schedule is doable.
What's 10 to 20 minutes of your day, right? BeFit 30 Day Fat Burn Program starts with 10-minute workouts on the first two weeks, then progresses to 20 minute workouts from the third week, onwards, which is perfect for people who've been out of action for a while.
4. It challenges me both physically and mentally.
I love a good challenge. There are times when I would feel too lazy to get off my bum to work out, and it's especially hard to pick up right after a rest day, but I love the thrill that comes after.
I still cannot do the planks in BeFit GO's Summer Shape Up Challenge all the way, but there are other things I'm now better at, like sit ups and the modified push up.
I've been drinking more water nowadays, too!
4. I feel stronger!
I've done a lot of workouts before. Maybe it's because I'm taking this a bit more seriously now and because I'm more aware of my body, that I feel that I'm stronger everyday.
I also feel more energised nowadays and able to accomplish all that I've set to do for the day.
5. It makes me happy!
The first month of this quarantine wasn't too bad, but towards the end of the second month, I was starting to get cabin fever. I love being in wide open spaces, which is why we live so near BGC. I walk a lot and tend to spend a lot of time out in the open. I don't like being cooped for this long, and it's only God's grace that is keeping me from losing my sanity.
The workouts are giving me something to be happy about. It's helping me manage my negative emotions. Must be the endorphins at work!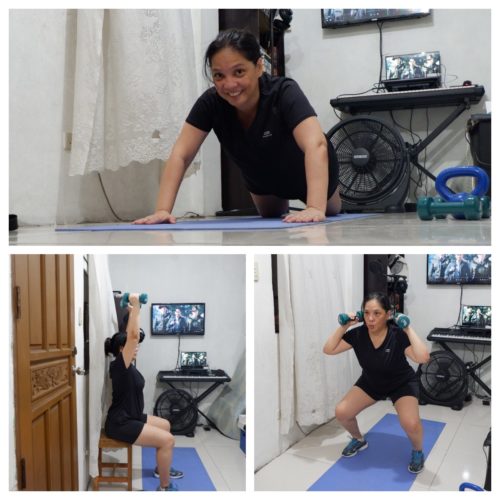 It's more than just weight loss
Now, whether or not I'm losing weight, I really have no idea. Let's be honest, without discipline in food, there really shouldn't be much expectations on losing weight no matter how much we kill ourselves with workouts, right? So I'm working on that.
I know that for some, it may be discouraging to keep at it when you're not shedding the excess weight that much, but you see, it's already good that we're moving and doing something about our health, considering we are moms and we tend to put our needs last. We just really need to push more on the food part, yeah?
Besides, exercising is not just about weight loss, it's also good for the your heart, your skin, your memory and your immune system. Plus, it helps boost your sex life! Our son, Lukas, is proof of that, haha!
So, that's all I have to say about this. I am enjoying the workouts and I hope that I will move forward even after I've completed the BeFit programs. My old mat's still useful, but I've invested on a kettle bell, a couple of heavier dumbbells, and a roller foam which are all well-used in BeFit.
I've also ordered a new weighing scale. I know how big I still am, but I'm ready to see my numbers, haha! How about you? How have you been keeping fit during this prolonged quarantine season?
"You are not your own; you were bought at a price. Therefore honor God with your bodies" 1 Corinthians 6:20
"One who has unreliable friends soon comes to ruin, but there is a friend who sticks closer than a brother" Proverbs 18:24.