Hello and welcome to my blog, Fully Housewifed.
My name is May and I'm wife to Jay, who is and always will be the best lead guitarist in my book — and the love of my life. We have three active boys – a preteen kid (God help us!) and two other boys below 9 years old whom we fondly nicknamed our Tornadoes.
All three drive me crazy but I love them to bits. My life is bliss – kids running around our tiny space and me asking out a little too loudly, "WHO PUT MY SHOES IN THE REFRIGERATOR????"
In our home, it's not unusual for me to see my husband chase after the tornadoes to find out what they're planning to throw over the balcony for experiment or him wrestling with his three sons. Yep, I can't ask for any more action in my life. Seriously.
My husband serves in full time ministry, handling Music and Multi-Media for the Kids Ministry in our church for seven years now; while my top priority is making sure my kids are still alive when he gets home, haha!
I once received a compliment that I have 4 beautiful sons. Let me make it clear: That's my husband's head on the farthest left, that's not my eldest, haha!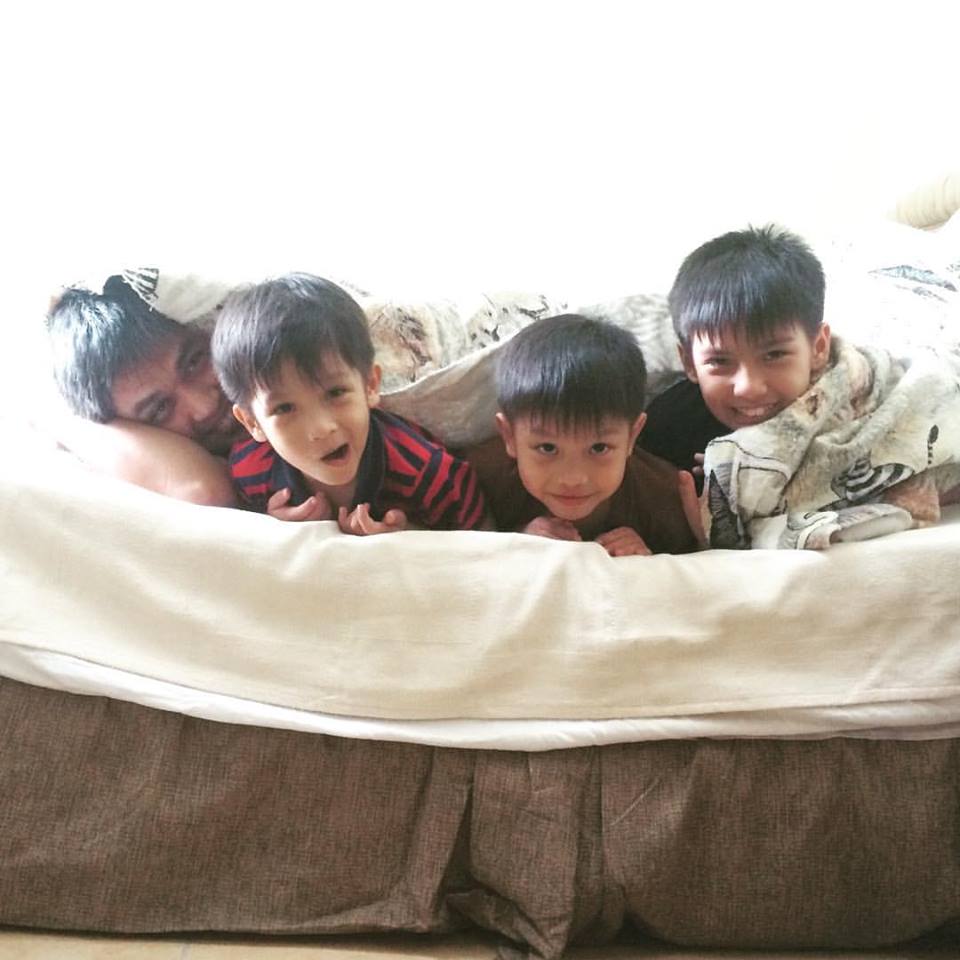 We're a homeschooling family. In our academic set-up, I handle all the English subjects, do a bit of Science and Civics with them, but I leave their Math, Computer Programming and other brain-draining lessons to my husband. For years, we've been on DIY homeschooling, but we've taken a step towards a more structured format and will be trying out the A.C.E. (Accelerated Christian Education) curriculum this year.
In my blog, you get raves, rants and rambles on Marriage & Family, Parenting & Homeschooling, Tiny Living & Money Matters, and Working from Home. I also share the easiest recipes on the planet — seriously!
We start on a new journey in homeschooling this November, so you'll get a peek of that part of our lives for sure.
This 2017 is all about writing from my heart. You'll get to know us more as a family as I take you with us in some of our journeys this year and the next, and the next ones after that.
I promise you real and no-nonsense stories in the hope that you will be inspired, motivated and raring to live your life to the full — as God has intended it for you.
I talk a lot but I would love to hear your stories too. Connecting with other wives and moms all over the world is the best part about this! So don't hesitate to leave comments or shoot me an email at fullyhousewifed@gmail.com.
And in case you missed the subscription button, there's one on the right sidebar of my homepage.
You can also find me on Facebook, Twitter and Instagram. Let's connect there too. I thought of starting a YouTube channel, but you know what, I've decided that YT is for the millennials and I'm better off writings my thoughts away.
So my virtual home stays right here. Feel free to look around. And welcome to my life!