Parenting: Long Story Short, Ten-Minute Devotions for kids (and you!)
I first came upon Long Story Short: Ten-Minute Devotions to Draw Your Family to God
 in Bible-based homeschooling website, one of my favorite blogs on home schooling.  It was on free download last year which was great because we were looking for a devotional to use for the kids that time.
I browsed through it in my Kindle and was pretty much happy by what I initially read. I showed it to Jay who agreed to try it out with our 9-year old Pablo whom we graduated from reading children's story bibles to reading the real thing.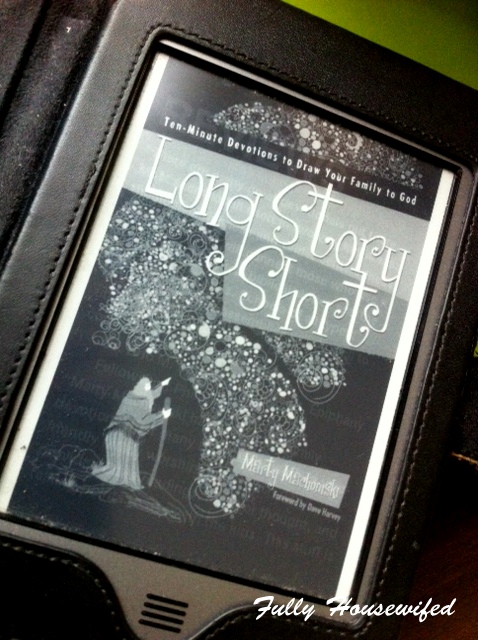 It's been 9 months since we started him on it and so far, it's going pretty well. We've also downloaded the next devotional, Old Story New: Ten-Minute Devotions to Draw Your Family to God
Typical devotions time with our 9-year old
Here's how our typical conversations during devotions time go…
"Mom, why did Rebecca want Jacob to get Isaac's blessing for the firstborn?"
I look at my son and smile, "why do you think so?"
"Hmmm…" Pablo drums his fingers on his chin, pondering, his eyes lights up, "Oh yeah! God already told Rebecca that the older will serve the younger!"
I nod, "let's talk about Esau…"
Pablo interrupts, "he's mad at Jacob!"
I agree, "yes, he was. Was it okay for him to get angry?"
Pablo, unsure, "ahm, no?"
"It's okay if you feel angry, luv, it's normal to feel angry at times. But how did Esau sin in his anger?"
Pablo answers with more certainty, "because he wants to kill Jacob."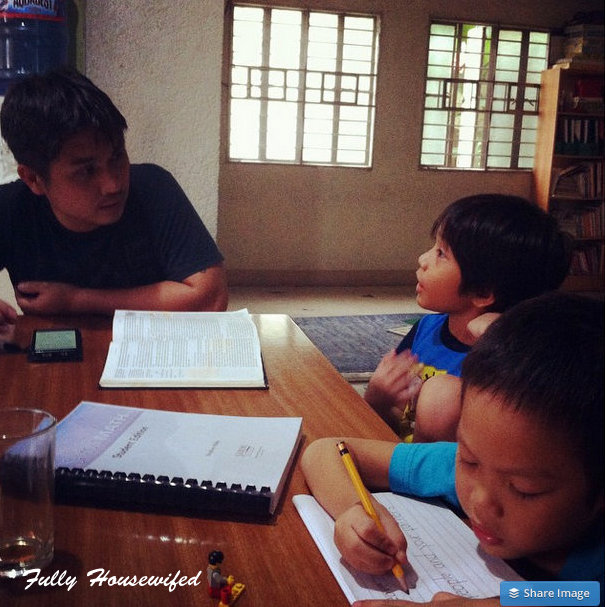 We both agreed that anger becomes sin when we choose to dwell on it and allow it to define our actions.
We talked about how the two of us have been handling our anger and promised to pray for each other. Pablo proceeds to pray by writing on his prayer notebook, a practice I taught him so he will understand that his prayers are between him and God.
So far, we've been blown away by our son's insights and how much it has been helping him know the character of God more and more each day. I can't stop raving about the book.
Brings you back to Jesus
Are you familiar with The Jesus Storybook Bible: Every Story Whispers His Name
? Long Story Short is along the same concept – where the author of the devotionals tie up the verses to Jesus and what he has done for us on the cross.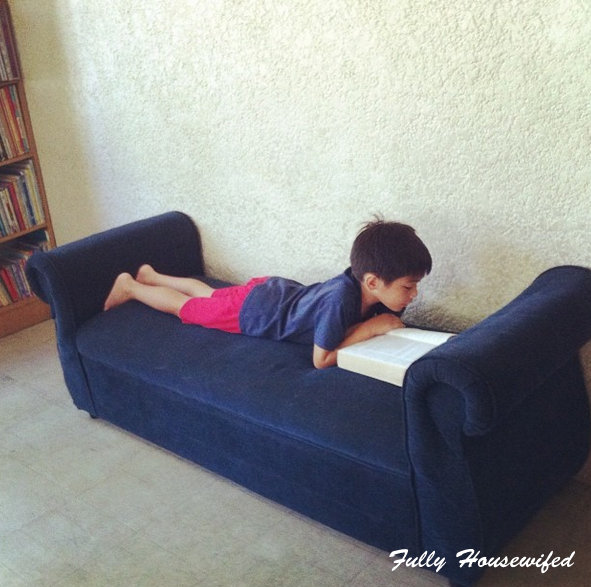 The difference is that your child is already reading your bible and instead of suggestive texts, it provides questions that encourages him to reflect, not just about what the verses mean, but on how he can apply the verses in his life.
Jay and I are very careful that our children learn the scriptures in the right context. We believe that this is the time to start teaching them, while they're still young. It's so much harder to correct an adult, truth be told.
We read the discussion points before we talk about them with our kids. So far, everything's been biblically sound and we're so encouraged at how much it has brought out of our children.
But more than that, our relationship improved. There's considerably less friction between me and Pablo and I can really see the changes in the way he relates to us and to other people.
Last year, we were too focused on keeping up with the required syllabus and in beefing up the portfolio, we didn't realise that our spiritual growth as a family, our relationship, had been strained. I'm really happy about Long Story Short because it really helped us teach our children about the word more than impose our rules on them.
How about the smaller kids?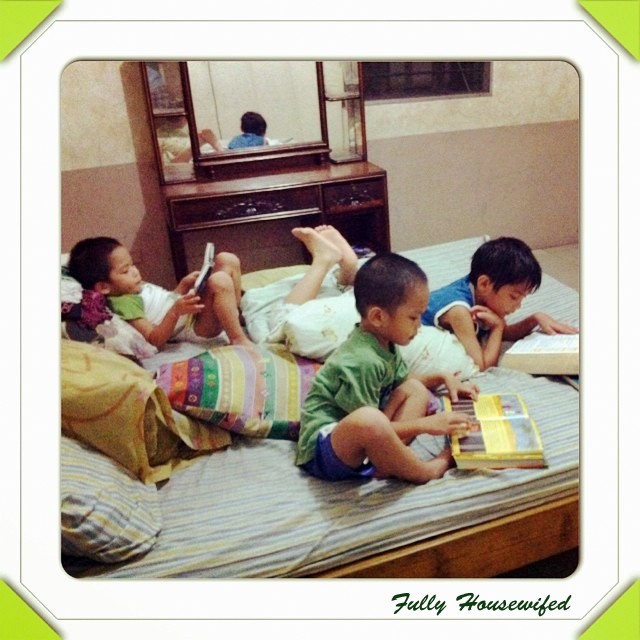 Lukas only listens in, once in a while sharing his own input, like "Mom! Esau and Jacob are brothers just like me and Pablo and Judah!" And that's alright. We put him on copy work with a verse from the same chapter that we read for the day to get him familiar with the scriptures.
Judah, on the other hand, still enjoys the Jesus story book bible (the other two still listen in, hehe)
If you're interested to purchase an E-book copy of Long Story Short for your Kindle, you can find it in my bookstore HERE under parenting books category.
—————————————————————————
"Train up a child in the way he should go; even when he is old he will not depart from it." Proverbs 22:6.
"but Jesus said, "Let the little children come to me and do not hinder them, for to such belongs the kingdom of heaven" Matthew 19:14.
"For the word of God is alive and active. Sharper than any double-edged sword, it penetrates even to dividing soul and spirit, joints and marrow; it judges the thoughts and attitudes of the heart" Hebrews 4:12.