I love bacon! It's one of those foods they tell you to avoid that I just can't resist when they're served to me. I'm aware that there are warnings on how bad bacon is for health, saturated fats, cholesterol, and all — oh my heart!!!
So let's get the elephant out of the way, shall we? If you're a steadfast diet and fitness freak, then perhaps it is wise to avoid all types of bacon at all cost.
As for us, we enjoy an occasional bacon on the breakfast table (and even on our dinner table, haha!).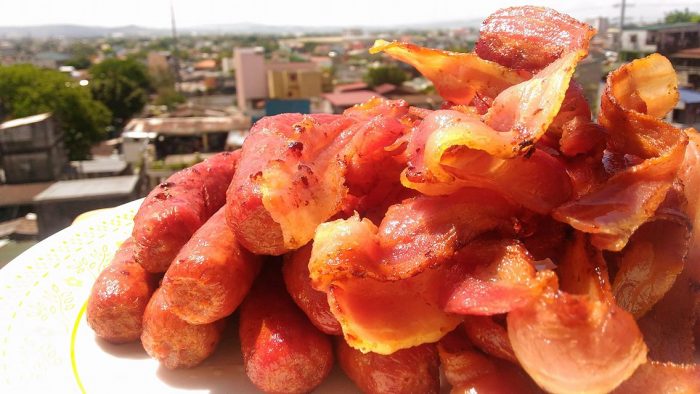 I read somewhere that roasting, caramelizing, microwaving and broiling bacon can lessen the health risks. And there are healthier ways to enjoy your bacon (and sausages). For instance, you can put lots of veggies in there, like lettuce, fresh tomatoes, onions and arugula. And choose the type of bread you'll eat them with.
So anyway, when my friend, Anna Viray, a distributor of Harvest Circle freshly baked breads and all-natural breakfast items, offered to let us try her products, we were thrilled!
Healthy bacon?
We already love Anna's milk products. We've been ordering the Badaco brand from her every week and the kids are already looking forward to the milk deliveries every Sunday. We decided to get Bodaco because the milk is produced from grass-fed cows.
Anna's products — sausages, bacon, and bread, lean more on the healthy side. The food products she sells are quality, all-natural meat products that are free of nitrates and MSG, and other health hazardous ingredients; while their bread products are always freshly-baked and margarine-free.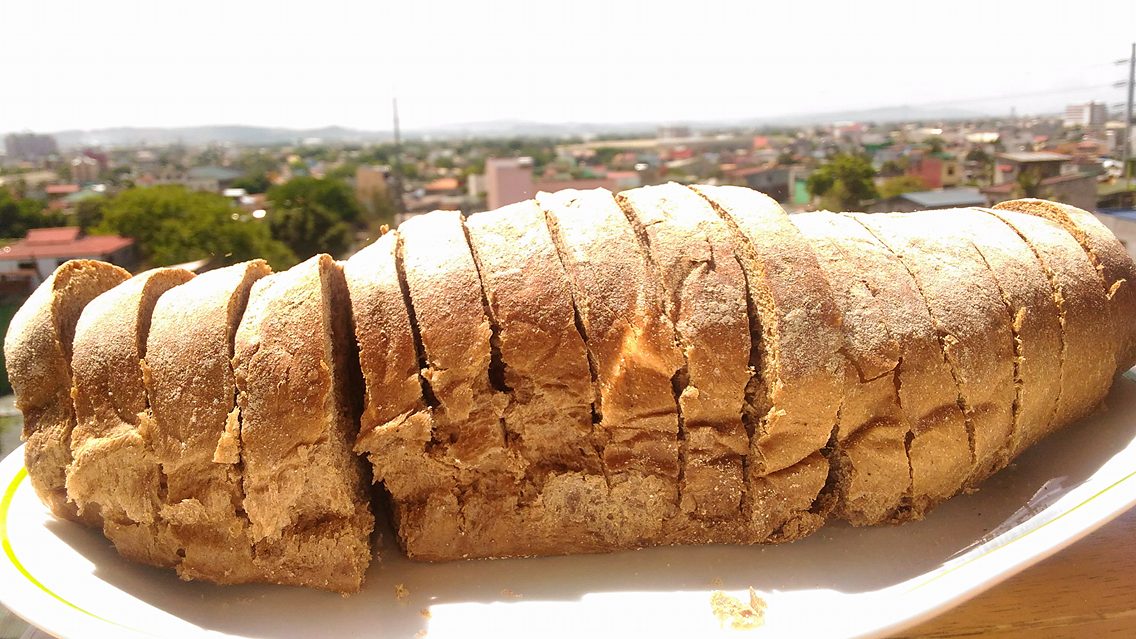 In case you don't know yet, margarine is bad for the heart. The best chefs I've talked to always advise against using margarine as a butter-substitute.
I share a love for gourmet bread with my good friend and church mate, Edz, who lives in the floor below ours. So when I saw Anna's list of bread products, I drooled!
More than a simple Sourdough
Now I want you to note how special her sourdough bread product is. It has probiotics! My favorite Chef, Len Santos-Ding of Feed 5000, recommends that I give my eldest son, Pablo, probiotics which is the same thing she does for her youngest son.
Growing up, I only hear about probiotics in Yakult, so I knew it had something to do with digestion.
According to Anna's post on Facebook, Harvest Circle Sourdough bread contains more minerals, particularly Potassium, bioflavinoids, Magnesium, and Zinc, and is low-glycemic.

Interestingly, it also carries antioxidants and Cancer-preventive peptide lunasin, and anti allergenic substances that help treat auto-immune disease.
All that in a humble sourdough bread!
Trying out the treats!
We got to try the All-Meat Hotdogs, Rye Bread and of course, the glorious honeycured bacon, yum! I wanted to have a picnic at The Oval but our eldest son, Pablo, had a workshop to go to that afternoon and we felt that we wouldn't have enough time to really enjoy family time.
So we just had a breakfast feast here at home that morning. We served the hotdogs, the bacon and the rye bread and watched as our kids gobbled all the bacon and bread down. There were a couple of hotdogs left, an indication that they like bacon more.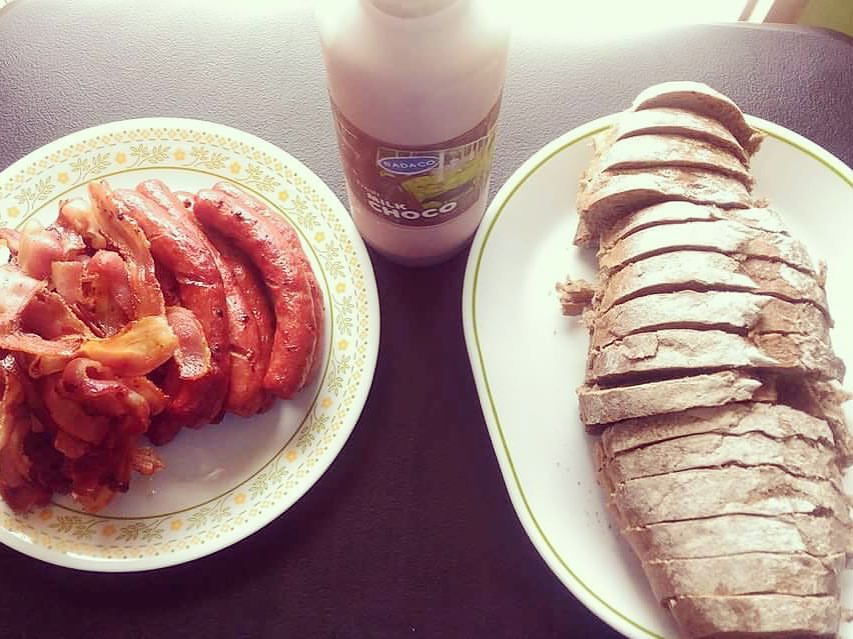 What surprised me was how my kids love the rye bread! They're avid eaters of commercial tasty bread and don't really ask for other types of bread unless they have no other options. Like when I bake artisan bread here and refuse to buy white bread from the store, hahaha!
Anna delivers!
If you're wondering what other breakfast products Anna sells, here's her price list: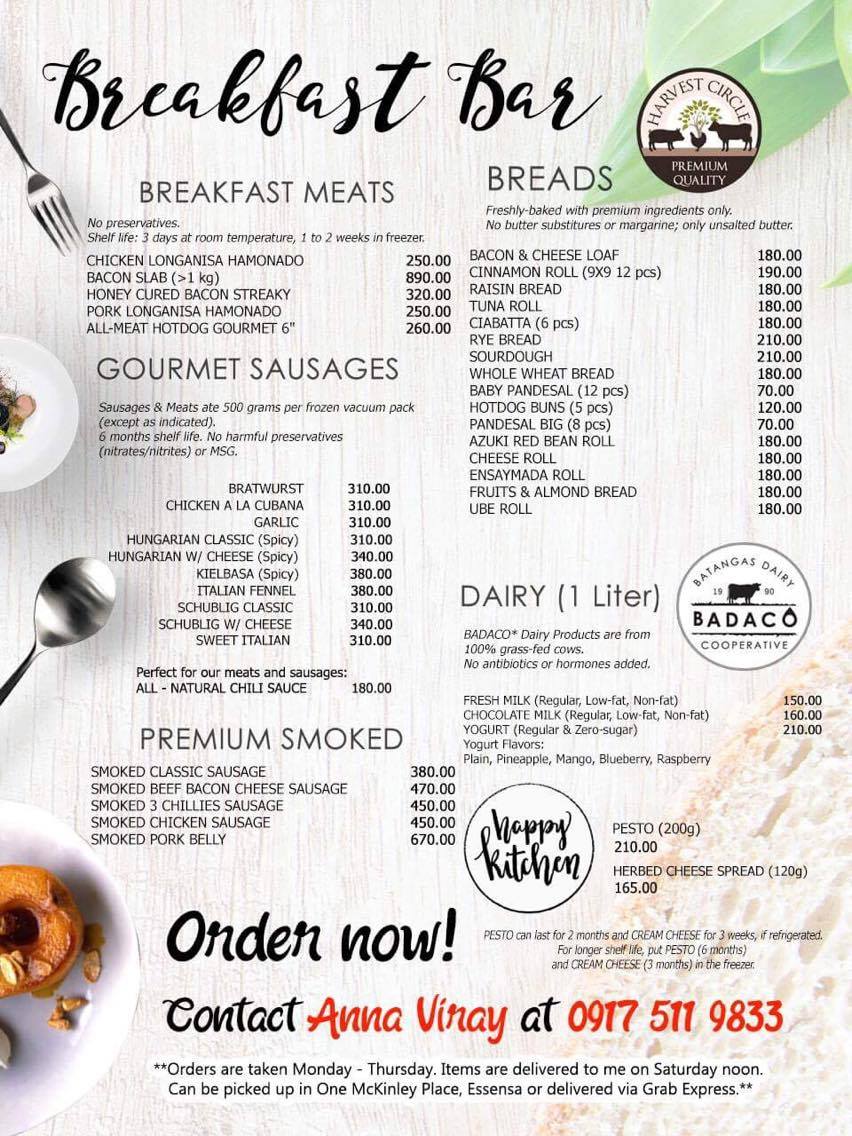 You see that bread? Do you now understand what I mean? Haha! Gobble-gobble, yeah?
Anna accepts orders for pick-up or delivery. Cut off is every Thursdays, so be sure to order before then. To order, you can send her a message via O9l7-511-9833 (SMS or Viber).
Enjoy your breakfast!