I had very little idea of what Tales of the Manuvu was about before we came to see it, except that I learned that it was originally staged in 1977, which featured the incomparable Ms. Celeste Legaspi on vocals, and that it was about the story of creation, as told by the tribe of Manobo.
As a child, I read different folk stories on creation in my older siblings' text books. The one I remember the most was Si Malakas (strong/man) at si Maganda (beauty/woman). I remember it so well because of the art work on the page that drew me to read it. It was a picture of a bamboo tree split into two, revealing a man and a woman.
But the Manobo version was something I didn't know about.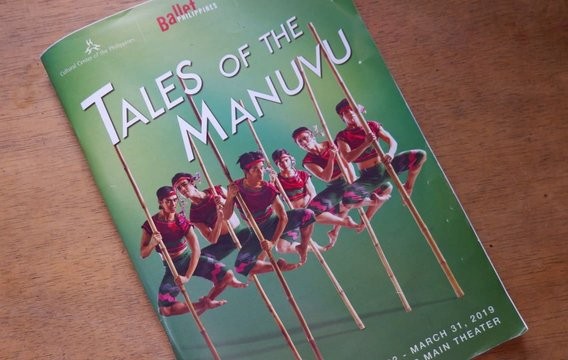 Restaging included Radioactive Sago Project!
Anyway, I also read that aside from Celeste Legaspi, Radioactive Sago Project was going to be part of the new production, along with Aicelle Santos, who recently played Gigi in Ms. Saigon in UK, and some familiar names in the theater industry, such as Lorenz Martinez and Sheila Valderrama, and an OPM great, Awit Awardee, Reuben Laurente, who was once part of the country's leading vocal group, The CompanY.
Seeing the lineup made me really excited to see the show. I made sure to free up March 31 for me and the kids who are my constant companions in watching these fabulous ballet shows.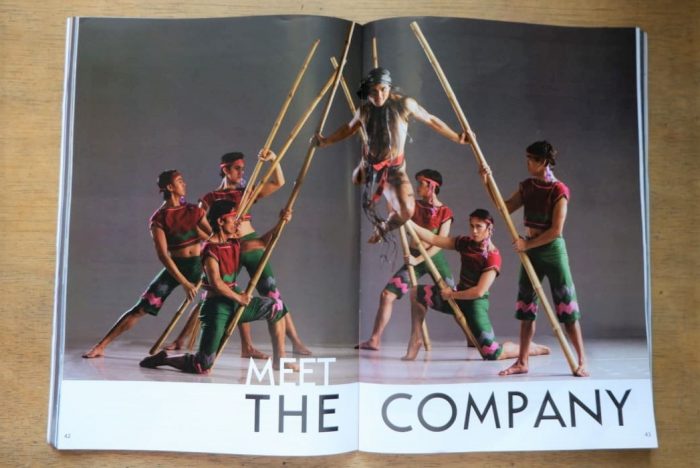 Tales of the Manuvu
The story goes that there were two gods competing against each other – the god of good, Manama, performed by Al Frederick Abraham, and the god of evil, Ogassi, performed by Earl John Arisola.
Ogassi accused Manama of stealing fruits from his kingdom and launched into a series of schemes to thwart Manama and his creation, the first man.
The first man was lonely and questioned his existence as the only creature that didn't have a pair. Manama was afraid that the man would lose his dependence on him and found a solution – creating a woman for him.
Ogassi, on the other hand, put a worm in the man that caused him to discover the pleasures of sex. Man multiplied and created so much noise that disturbed Manama in his slumber and made him very angry. He decided to rise to the heaven so the people can no longer disturb his peace.
Without his protection, the townspeople was open for Ogassi to attack and sow fear on the people, but the people fought back together and drove Ogassi and his cohorts away.
The story ends with the people realizing that they are capable of taking care of themselves.
Rock Classic at its best
Tales of the Manuvu was such an amazing show. I knew the dancers were not going to disappoint, after having watched the company again in Romeo & Juliet after a very long time, but I had no idea how the singers and the band were going to figure into the production. It was still a ballet show, with the dancers taking center stage.
The first vocal treat was seeing THE Jai Sabas-Aracama sing the Filipino classic, Ugoy ng Duyan as dancers Sarah Alejandro, Gia Geguinto, Danilo Dayo and Erl Sorilla rendered a heart-tugging choreography about a mother and her three children which I later learned was choreographed by Ronelson Yadao.
Ronelson Yadao was the Romeo we watched in BP's Romeo & Juliet last February 24. He also happens to be the Associate Artistic Director of Ballet Philippines 2.
At this point, my youngest whispered  to me, ''Mom, is that a costume? Are they in their underwear?'' While my 9-year old leaned towards me and asked, ''Mom, are they supposed to be naked?"
The dancers were wearing nude colors and only the red, skirt-like prop stood as the scene's visual highlight.
Ms. Jai Aracama also sang alongside the UP Concert Chorus, as the powerful voices of Reuben Laurente, as Manama, and hands down, my favorite vocals in the show, Nar Cabico, as Ogassi, delivered the narrative.
The first four numbers were only accompanied by a pianist and a flutist who stayed at a safe corner farther back. The music was bare and beautiful.
The main singers and UP Concert Chorus were placed downstage but on each side.
OMG! I have never heard of Nar Cabico before, but I don't think I will ever forget the voice after this. His vocal range and calisthenics are simply out of this world. I was totally floored!
Francis de Veyra and Radioactive Sago Project stayed at the orchestra section, blaring their instruments with so much soul, I could see Nar Cabico unable to keep himself from rocking it out with the music, bobbing his head to the beat almost the entire time, haha!
Reuben Laurente's pipes was as expected – divinely honed through years of experience. And listening to Aicelle Santos as the first woman is a gift.
Music and Relevance
Since I was not able to see the original staging of the production in 1977, I have no idea how much of the music had been changed, or if it has been changed at all. All I can tell you is that the sound is both exciting and relevant. It was a perfect fusion of classical and rock and everything else splendid.
Not only did I enjoy it, the kids could relate so well to it. My 8-year old was banging his head during the show, so cute!
And I think the audience understood better what was going on in the story because it was being sung to us.
There was also a small screen atop the stage that told the narrative in English, which helped my kids decipher the scenes with their younger eyes.
At one point in the show, though, during the worm scene, my 8-year old blurted, ''Mom, what is sex?'' Waaah! Haha!

I was taken by surprise and realized that the words were written on the screen above. The context was procreation.

All's good, I explained it to him when we got home. We always process out with the kids what we watch with them. We do this to check how much they understood of the story and to build in them a healthy perspective of the arts.
Al Abraham was fit for the role of Manama, but I thought EJ Arisola's Ogassi takes the cake on this one. He was as menacing and as vile as his evil character. And he casts such a strong presence onstage. I noticed this already in BP's Romeo & Juliet where he took on the role of Mercutio (?)
Monica Gana has the same effect. She stands out even among the townspeople, she wasn't even lead.
The choreography was exquisite and electrical. It was a rock opera ballet, after all. It definitely isn't your everyday kind of ballet. The dancers' energies were electrifying. I feel extremely privileged to have seen it.
And if you missed it, dude, you missed big!
What I loved most about this production is that it presents Philippine literature so beautifully. I truly enjoyed discussing the story with my kids and comparing the Manobo story to the biblical story on creation.
It's comprehensible enough to be appreciated by kids as young as mine.
National Artist for Dance and Ballet Philippines' Artistic Director, Alice Reyes, was the choreographer and director of Tales of Manuvu, in collaboration with Librettist Bienvenido Lumbera and music composer, Dero Pedero.
Here are some of the photos we took with the cast. Click > to see more.
Tingnan ang post na ito sa Instagram
Ballet Philippines' 50th Summer Dance Workshop
Registration for Ballet Philippines Summer Dance Workshop 2019 is now open!
Classes include Pre-Beginners, Baby Ballet,  Levels I and II, Modern Ballet, Play Dance and Hip Hop. Classes are from Tuesdays to Sundays.
Summer Dance Workshop rate is PHP 18,600, inclusive of Registration, Tuition, Costumes, Recital fees, 2 Recital Tickets, Recital video and Souvenir Program Yearbook.
For uniforms, you can purchase from the BP Aura – Dance Shop.
Make sure that you bring with you 1×1 ID picture, a medical certificate, and a photocopy of birth certificate upon registration.
All our three boys have been attending BP's regular ballet classes in their SM Aura branch since January of this year. They will be performing with their classes for the first time on April 7, Sunday, 4 PM at the SM Aura Activity Center.
If your sons have a desire to express themselves in dance, let them join this summer. You just might be pleasantly surprised at how much they will learn from the discipline.
To inquire, you may visit Ballet Philippines' official website or visit Ballet Philippines' official Facebook page.
See you soon!