Learning to paint with The Virtual Instructor
Last year was a year of learning for me. I took the opportunity to register for some online classes, including The Watercolour Workshop by The Virtual Instructor, Matthew Fussel, on Udemy.
I fell in love with watercolour four years ago, but my progress has been slow. I started with brush lettering, but later on felt more inclined to paint pictures.
I'll always be thankful to my friend, Alelie, who first taught me how to paint watercolours. I never thought I'd ever be able to paint, but here I am.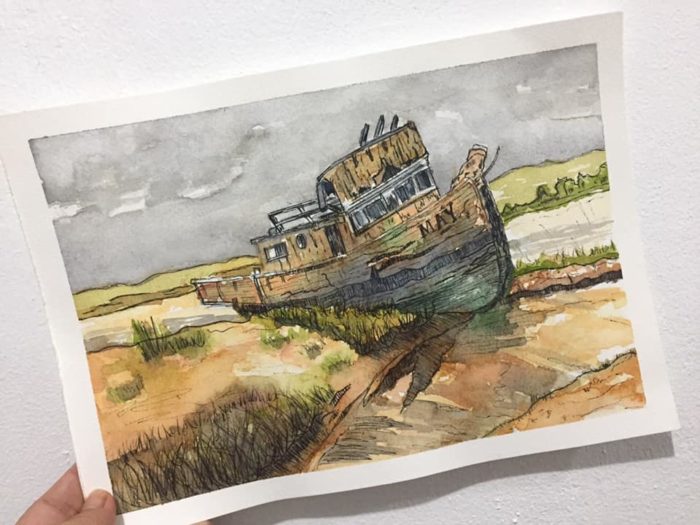 The Watercolour Workshop on Udemy
The Watercolour Workshop cost me $11.99 on Udemy. The workshop includes lessons on different brushes, watercolour papers, and the basics you need to learn about watercolour painting.
I painted fruits, did landscape and cityscape paintings, tried portrait painting – which I was terrible at, haha – and watercolour pencils, learned mixed media, the Line and Wash technique, and how to use gouache, which was probably the most detailed painting I've done at that time.
The Watercolour Workshop introduces you to different styles and techniques, and takes you from one level to the next, which was helpful for me. I wanted to build strong foundations in art so that one day, I can paint my own masterpiece.
The whole workshop was timed at 4.5 hours, but it took me longer to complete each piece. The longest it took me was 6 hours with the mixed media one (Vintage car). But what a joy to complete them all. I proudly keep my certificate on it!
View this post on Instagram

I came out of that workshop feeling so accomplished and hungry to learn more even though I struggled with the first two exercises because of the speed. But when I got the hang of it, I started to truly enjoy each session and appreciate Matthew's teaching style.
View this post on Instagram
I've been wanting to register for another of Mr. Fussel's online program in watercolour painting, but I was still registered for another Art class in Coursera – Museum of Modern Art's (MOMA) Modern Art & Ideas, and was planning on finishing it (which I haven't done yet). I was also burned out before 2020 ended and couldn't do anything but prepare for the holidays and watch movies on my back. Seriously.
View this post on Instagram
View this post on Instagram

I did paint a nativity scene to hang on our wall as one of our Christmas decors for the year, but didn't have any more strength or muse left to touch my paint brushes for weeks.
Until the day before I went back to work on the 7th, I went searching for Matt Fussel's channel on YouTube where I knew he uploaded a handful of free watercolour tutorials. I was due to log in for work at 6AM the next day, it was 1AM, but I went through with it and completed the "cow" three hours later.
View this post on Instagram

I was happy with my output, so I went through the next line and wash tutorial. That's the old boat you see at the beginning of this blog.
I'm considering registering for Matt Fussel's Line and Wash workshop on Udemy, but it may take me a while before I can do so. The boys are back in ballet and their other classes, and those takes precedence on our funds, haha! So I may have to stick to the free tutorials on YouTube for a while.
Before you follow suit, let me say this – I've tried several YouTube tutorials and attended a couple of other watercolour workshops, but this one is, by far, my favourite. I learned so much more from his classes than the numerous  YT tutorials I've tried combined. So yeah, when I find a window, I will definitely sign up for Mr. Fussel's other workshops. I can honestly say I find it worth investing in.
If you're interested in checking out his online art programs, you may visit his official website at The Virtual Instructor. He offers, not just watercolour painting, but also drawing, pastel, acrylic painting and oil painting workshops.
Go ahead and create! Bring out the artist in you.