I was first told about the local Health Center by our beloved pediatrician.
Pablo was getting his first set of shots then as an infant and the good doctor was orienting me with all there was to know about caring for babies and other health-related issues.
He told me that should there be a problem with finances, I can go to any local health center and get the shots for free. He added that that's okay with him as long as the baby gets his shots on time.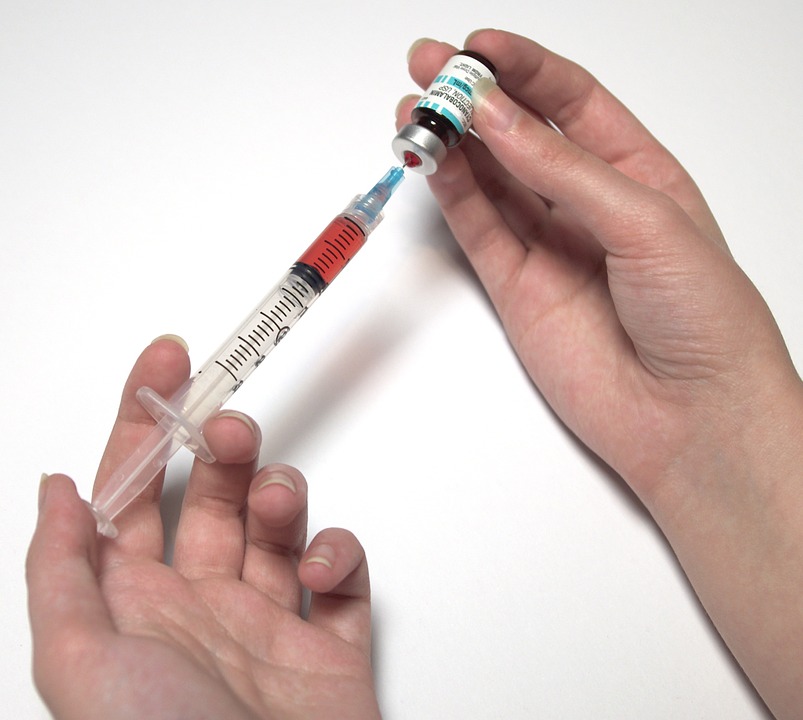 Don't skip the vaccines for your child's sake!
It was only after we failed to be consistent in bringing Lukas in for his shots and witnessing him suffer the consequences (2 serious hospitalizations, 3 illnesses in a row) of not having availed of the needed vaccines that I started considering the local health center.
I mentioned the idea to my husband in passing, hoping that we could still have other alternatives.
When I gave birth to Judah even before Lukas was even 2 years old, the Health Center became the best option. We just moved to a new apartment, we're raising 3 kids. . . . we simply had to to be wise with our expenses and still look after the best interest of the family, especially our children.
We were hesitant at first, simply because we were afraid to encounter hostility.
We've seen the long lines of moms and their babies outside the village health center and we were afraid that we might be questioned for availing the free vaccines.
You see, we do have some financial strains as any regular family does, but we do not exactly fit the bill of an impoverished family. These fears are borne out of ignorance, though.
The week that Judah was born (he was born in January 2, 2011), we braved our first trip to the Health Center in Pilar Village, Las Pinas where we have lived for a full 6 years.
We dressed down as we possibly can and advised our eldest to whisper when he needed to say anything. After all, he's more comfortable conversing in English that we didn't want heads to turn our direction because of it.
The trip turned out to be an eye-opener.
The Social Workers were very kind and helpful to us.
We did get some curious stares but most of the time, we received a smile for a smile.
Pablo drew some attention to himself whenever he forgets to whisper which was a bit awkward for us, but thank God, though most of the patients who came were from the squatters area in the village, there were a couple of homeowners who came to have their babies vaccinated and another homeowner who came for a check up. She came with her grandson about Pablo's age, and praise God, his medium is English, too. That gave us more assurance that it was okay for us to be there.
I'm glad that we decided to bring our children to the Health Center for their vaccines.
Health is wealth, so they say, and if finances are tight, the free vaccines are indeed a blessing! All you need to pay for are the needles that they use on you which is about P10-20 each.
However, the free vaccines are just the basic ones that are required by the Department of Health that every child must have before they reach 1 year old. These are as follows:
BCG
DPT
OPV
HEP B
MEASLES
VITAMIN A (I'm not sure if this is a shot)
DPT, OPV, AND HEP B vaccinations include booster shots. You can also avail of free newborn screening, deworming, dental check ups, family planning (meds, methods, ligation, etc.).
Lukas was also given an oral vaccine, I think it was the new rotavirus thing, and I was given Vitamin K (oral) and a tetanus shot (waaaah! The things you go through for the love of your children!).
You'll have to pay for the other vaccines that are not in the list.
The prices are significantly lower than how you'll be charged at private hospitals & clinics and it will be administered in the comforts of your own home as the social worker/volunteer nurse will bring it to your house.
Our good pedia was kind enough to inform us which shots are necessary and which ones are optional. Of course, your child will benefit with every shot, but if you can't afford it yet, you can make do with the basics and still have peace about your child's health.
Also, it is important to note that the local Health Centers do not have combination vaccines, meaning those 4-in-1, 5-in-1 or 6-in-1. The vaccines are administered individually which can get a bit heartbreaking to watch.
You just need to remember that it's better this way than losing your child to an illness that you can protect him from.
Since it is a government facility, expect a lot of people when you come.
It's definitely not a posh place. But in Pilar, I appreciate that they have organization going on. You get a number and they call your number when it's your turn.
In my observation, they have enough seats for everyone. They also have a poster that reminds the sick who come in for check ups to separate themselves from the children who come for vaccinations.
Vaccination schedules are on Wednesdays & Fridays as far as Metro Manila Health Centers are concerned. BCGs are administered on Wednesdays only, we came on a Friday so Judah only got his Hep B shot.
We came back today for his BCG and it was much easier for us today because we were immediately ushered to the nurse. The vaccination was done in just a few minutes.
There were also student volunteers who helped the volunteer nurses and social workers. There were those who were assigned to help find files.
I noticed that the homeowners' files had its own steel cabinet. I peeked and saw files that goes back as far as 2007 and even the 90s.
I think that the Health Centers are one of God's way of providing for His children. I am very grateful.
Many times, we complain and compare our country to other countries that boast of free health care and hospitalizations. We may not be there yet, but we do have these and I think that as Filipinos, we should be thankful that there are things like these for us. After all, big things come from small beginnings.
Kudos to the Department of Health (DOH)! I don't know much about their whattabouts and this has been quite educational for me, and a good one at that!
"For you bless the righteous, O LORD; you cover him with favor as with a shield" Psalm 5:12 (ESV).