Vacation Bible Camp 2011
VACATION BIBLE CAMP
Pablo had to wake up early so he can go with his dad to his workplace where VBC was held. He loved riding the UV Express van but didn't like having to take the jeepney. I'm sure he also got tired having to keep up with his dad's pace so they wouldn't be late. We live 3 hours away, after all.
And every night they come home, I could see how much he loved his day. I'd ask him about it and he would tick off all the activities that they've done. He knew the songs and the steps by heart and he had so much fun practicing it with the other regis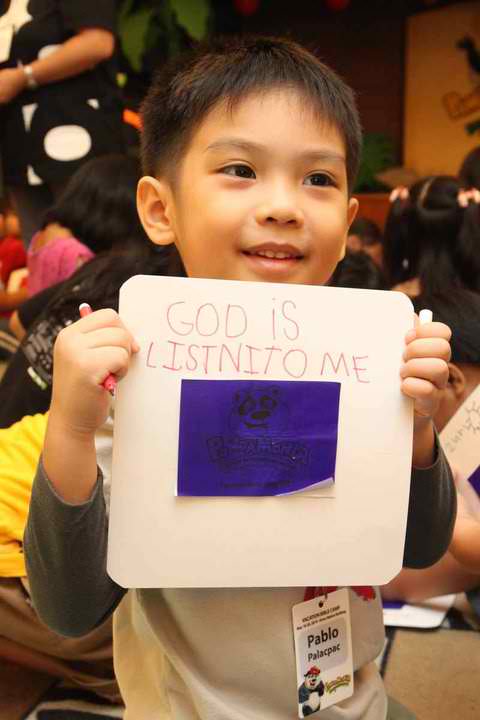 trants and his teachers. He loves his VBC teachers and from what we gather, they love him, too!
It was sad that I couldn't go to see him onstage with the other kids to sing the songs and do the steps for the finale on the last day. He asked me why and I gave him a good explanation, I think. Hopefully, next year, I'd be there for him. His dad was there to take videos and pictures to show me when they got home. I sorted through his loot bag and saw all the crafts that they did. On one craft, he wrote: "God islistni to me" (God is listening to me), how cute is that? Jay said that Pablo accidentally drenched the take-home paper that has something for him to discuss with us at home. It's okay, I saw the tag that had a list of the topics and verses they had for the three days, I can take it from there.
2 days later, he asked to sing the songs again. "Let's worship!" was what he said. And he did, with Lukas, right here in our home. Lukas was so happy. He missed Pablo so much!
ENRICHMENT: Super enjoyable way of learning about Jesus and who God is in his life; Learning new songs that help him remember the lessons and share with his younger brothers; Making new friends; Building memorable childhood moments.