Manny Pacquiao: Who stands behind the fallen hero?
What happens when the lights dim and the glory fades away? One of the greatest boxers ever to have lived, fallen face down on the canvas on a fight that will go down in boxing history – that's a fact. How do you think Manny Pacquiao feels?
I think the answer is what everyone but his wife, Jinky Pacquiao is afraid to say out loud. In an interview, she said that she stayed in the side and didn't push the topic of his boxing future much because it hurt her so much to see him down. "Hindi s'ya makapaniwala" (He can't believe it) was the most she could say of his state.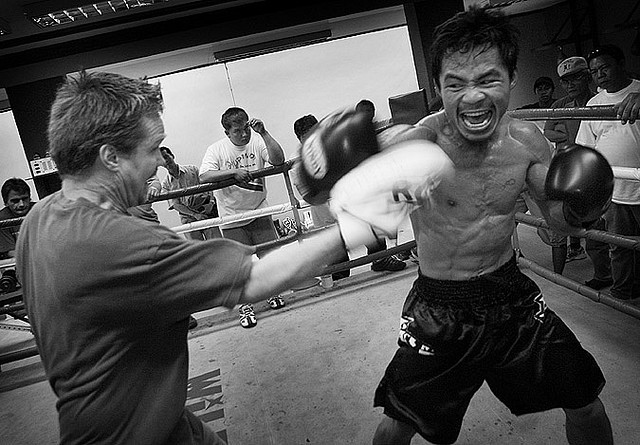 So, to dimwitted fans out there, if you think that you are crushed by his defeat in the ring, set aside your egos and care about the man just a little bit more. He is, after all, only human.
He'll pick up his pieces and rise again from where he's fallen, I have no doubts about that. Manny Pacquiao is certainly made of much stronger material.
But right now, he needs more than just people giving him shallow pats in the back or self-serving assurances that he will win another bout with Marquez.
Is Manny coming home to a swarm of reporters dwelling on his defeat or to an airport empty of the usual welcome party? Either way, it'll be painful. What words of a mere mortal would make it better for him? There are none. Manny Pacquiao is not a machine devoid of feelings of disappointment, sadness or hurt.
Listen to the pleas of the mother, who in her despair, flings her anger towards well-meaning pastors and her son's newfound faith in Jesus. Aling Dionisia begs Pacquiao's managers and promoters to stop egging her son back to the ring. She states, "tao ang anak ko, hindi hayup" (my son is a person, not an animal), she couldn't have said it any truer than that.
Maybe Manny's defeat should be a reminder to us, Filipinos, that he is a human being just like any of us, just giving his best to bring our country pride and to help his countrymen. But he's not God. He is not the source of provisions for our storm-devastated valleys, nor is he the source of the restoration of our reputation and honor as a people to other nations.
Who can say if Manny's career is over or not? Not us. And who stands behind him now at this hour?  His mom would be there, his wife, his children, his family and friends who genuinely care about the man. They were with him when he was a nobody; they were with him at the prime of his career; and chances are, they will still be there tomorrow when the lights die out.**
"I lift up my eyes to the mountains, where does my help come from?
My help comes from the Lord,the Maker of heaven and earth" Psalm 121:1-2 
"A friend loves at all times, and a brother is born for adversity" Proverbs 17:17
"The sacrifices of God are a broken spirit; a broken and contrite heart, O God, you will not despise" Psalm 51:17.
"The horse is made ready for the day of battle, but victory rests with the LORD" Proverbs 21:31.