LUNETA PARK, MANILA- MAKING ME EVEN PROUDER TO BE PINOY!
I've always wanted to see Luneta park for as long as I can remember. I guess I just never had the chance to go. It was easier for my siblings when they were young because my folks used to rent a house closer to it. I've seen the snapshots but what really got me curious was the story in one of my sister's elementary textbooks. I remember that it described how Luneta had a huge map of the Philippine Islands made out in some sort of pond and that there's this restaurant that only have mute servers.
I had my chance last holiday season. Jay and I took our kids for a day-out in two historical landmarks in the Philippines — Manila Zoo, which happens to be the oldest zoo in Asia and Luneta Park where our national hero, Jose Rizal was executed by the spanish soldiers.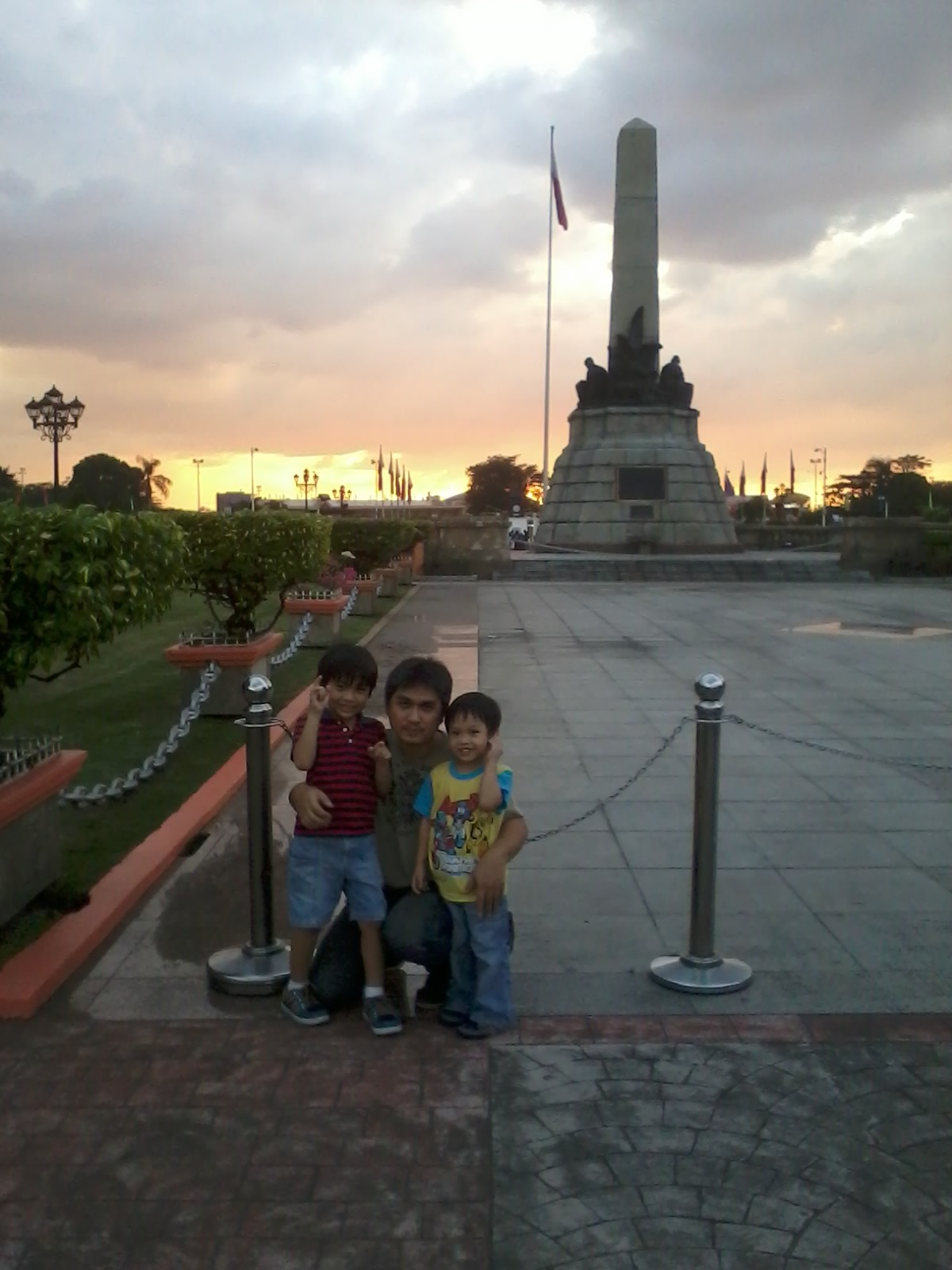 We've been to Manila Zoo 5 years ago. It wasn't spectacular back then but I thought it exhibited so much potential. I was disappointed to find that some of the animals I so wanted to show our little boys weren't there this year. Luneta Park, on the other hand, was more than I expected.
First of all, there were police posted in certain points. That made me feel safe especially that our kids are still young and small. I'm not sure if it was only because of the holiday season, but there was a lot of people there. Kids were happily playing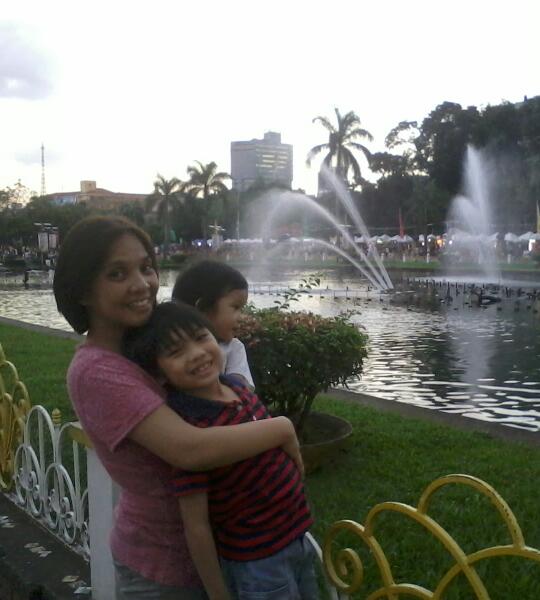 and flying lighted elysees; there were teenagers sprawled on the grass, discussing their gadgets; there were families with picnic baskets and those that were trying out the Calesas (Spanish style horse-drawn carriages); more or less, it was how a park should look like.
The grounds were clean and the statues and monuments were well-maintained. We did a bit of a walk in history, stopping by as many of these monuments and statues as we can and reading out loud to Pablo and Lukas the words on the marble stones. Did you know that the Filipinos fought side by side with the Koreans for Freedom during the Korean War? Ah, that just lifted my chin up a bit higher. We walked all the way to the other end where the really huge statue of Lapu Lapu stood. It was a great way of instilling a sense of Filipino to our English-speaking grade school-er who's doing his best to improve his Filipino vocabulary. We want to encourage him more in that area by teaching him more about our identity as a people.
The biggest attraction at Luneta is the lights and fountain display in the middle. During the day, it only seems like a big fountain display that you may find in malls but at night, it becomes quite an attraction with spritzes of fire, a colorful play of lights and 4D effects. Not wanting to risk our little boys getting trampled by the huge crowd around it, we sat on one of the fences and watched it from a distance. It was just as great.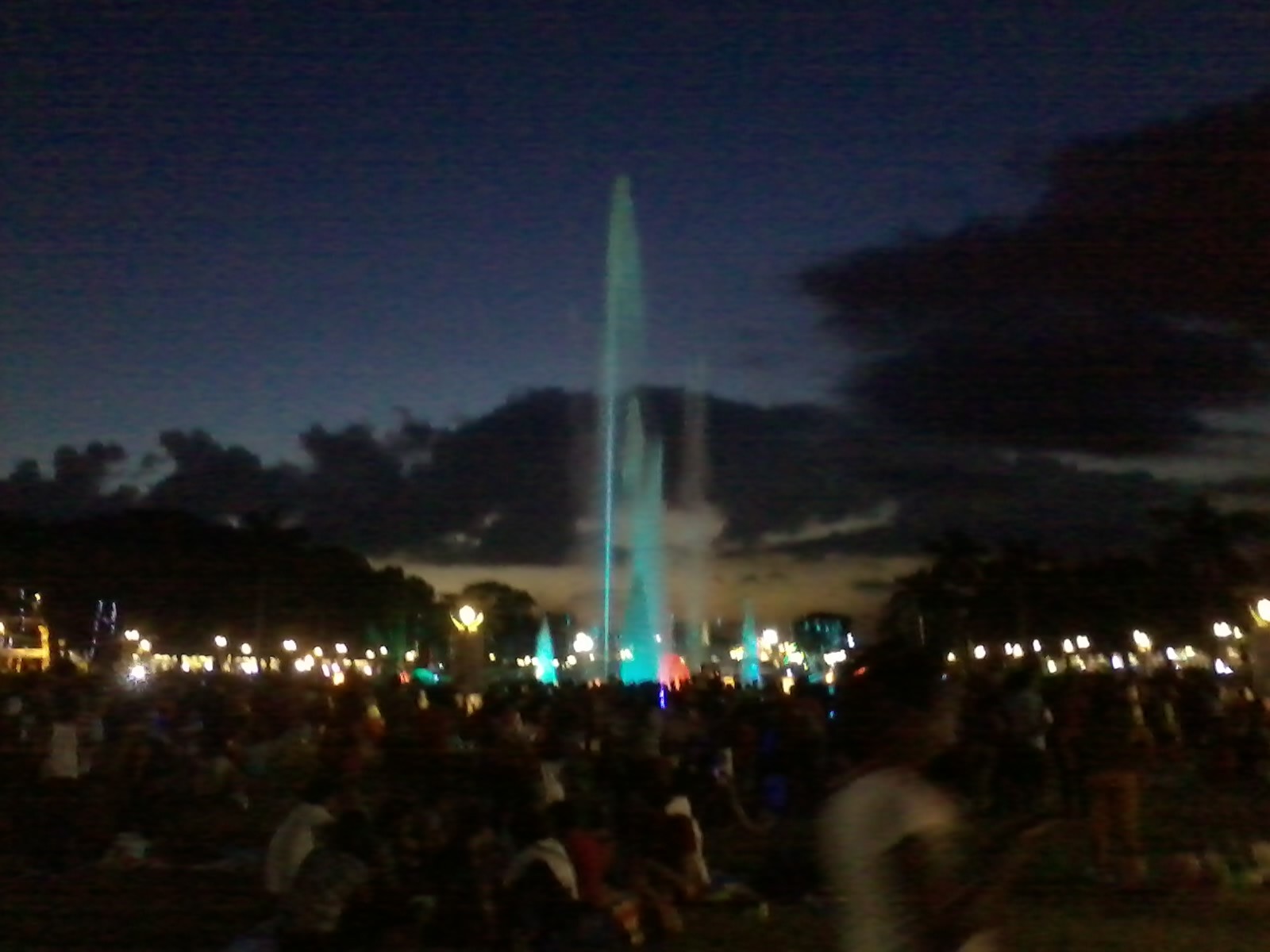 My favorite part of the day was letting the kids run and romp in the grassy areas. It just felt like childhood all over again when I've had the opportunity to climb trees, balance on benches, lay on the grass and watch the stars in the sky on my back, step on mud and roll down low, rough slopes. Nowadays, the city is more of a city, if you know what I mean. I've got boys and to me, they need to do those fun things as much as they can.
We didn't see the huge map nor were able to ask around for the restaurant with mute servers (it was pretty hard to keep up with our two younger kids) but I want to go back again. Next time, though, we'll come prepared with a picnic basket, kites and hopefully, a better camera. I just saw a viral video about our country moving forward in economy. It says there that the causes of our improvement includes how we, as individuals, are also taking part in the progress. Luneta Park exhibits that. It really is now "more fun in the Philippines!"