I wasn't home when it happened. I was 5 minutes away, waiting for Jay and the kids to come and pick me up at Bonifacio High Street where I had a meeting.
The only witness was Pablo. He said that Lukas jumped, spun in mid-air, and landed hard on his mouth!
If you know Lukas well, you'd know he's a climber and he's never met an accident before. He must've tripped on his own legs when he twisted. Poor baby!
I was hanging out at Fully Booked! when I received Jay's text message. I immediately dropped the book I was reading and rushed out to meet them at the corner. We drove straight to the E.R. of St. Luke's Medical Center in Bonifacio Global City.
Lukas was no longer bleeding after Jay iced his mouth but I was still completely freaked out.  You know how moms are, we get this way.
The General Anesthesia Moment

We were told he needed sutures. He also needed to be put on general anesthesia which was really frightening for me.
I asked the attending nurse what the risks were and she answered, "the usual risks, ma'am".
"Like what risk?" I asked.
The male nurse beside her responded, "his heart might stop".
His heart might stop?!?!?!?!?!  (faint)
The doctor who came to us right after was more assuring. There'll be tests taken to ensure Lukas' safety, he said. He told me not to worry as the best medical practitioners are found in that hospital. Lukas will be okay.
The Executive Suites

It was almost three o' clock in the morning and we were still at the E.R.
There were no rooms available that's within our insurance coverage. We were tired, the kids were tired.
Lukas was asleep. A needle was already inserted into a vein when they had his blood tested, we were just waiting for the IV.
Judah was getting restless and Pablo was already tempted to go around and explore.
I was starvin' like marvin, dude! I haven't had my dinner yet. My patience was wearing thin and it was all I could do to keep the acid tongue in check.
And I was worried that Jay would be too drowsy to drive back home to get our stuff. We didn't expect confinement. Pablo had stitches on his head before, but he was released soon after.
At first, they wanted to put us in a shared room but we told them it won't do. We are, after all, a noisy bunch.
We've been in this situation before and we said we'll be okay with that room they temporarily put us in a year ago or so.  The one where they stack up cribs that aren't being used on the other side of the room.
They decided to put us in the Executive Suites instead.
The day of the operation

Operation is such a big word, don't you think? But that's what our pediatrician, Dr. Jocelyn Bondoc, calls the procedure.
Lukas was taken to the operating room an hour before they administered the sutures. Jay accompanied him until he fell asleep and was at the recovery room when he woke up.
Originally, I was going, but I couldn't even look at the cut on his inner lip and the thought of seeing him being put to sleep just wasn't settling well with me. So Jay went.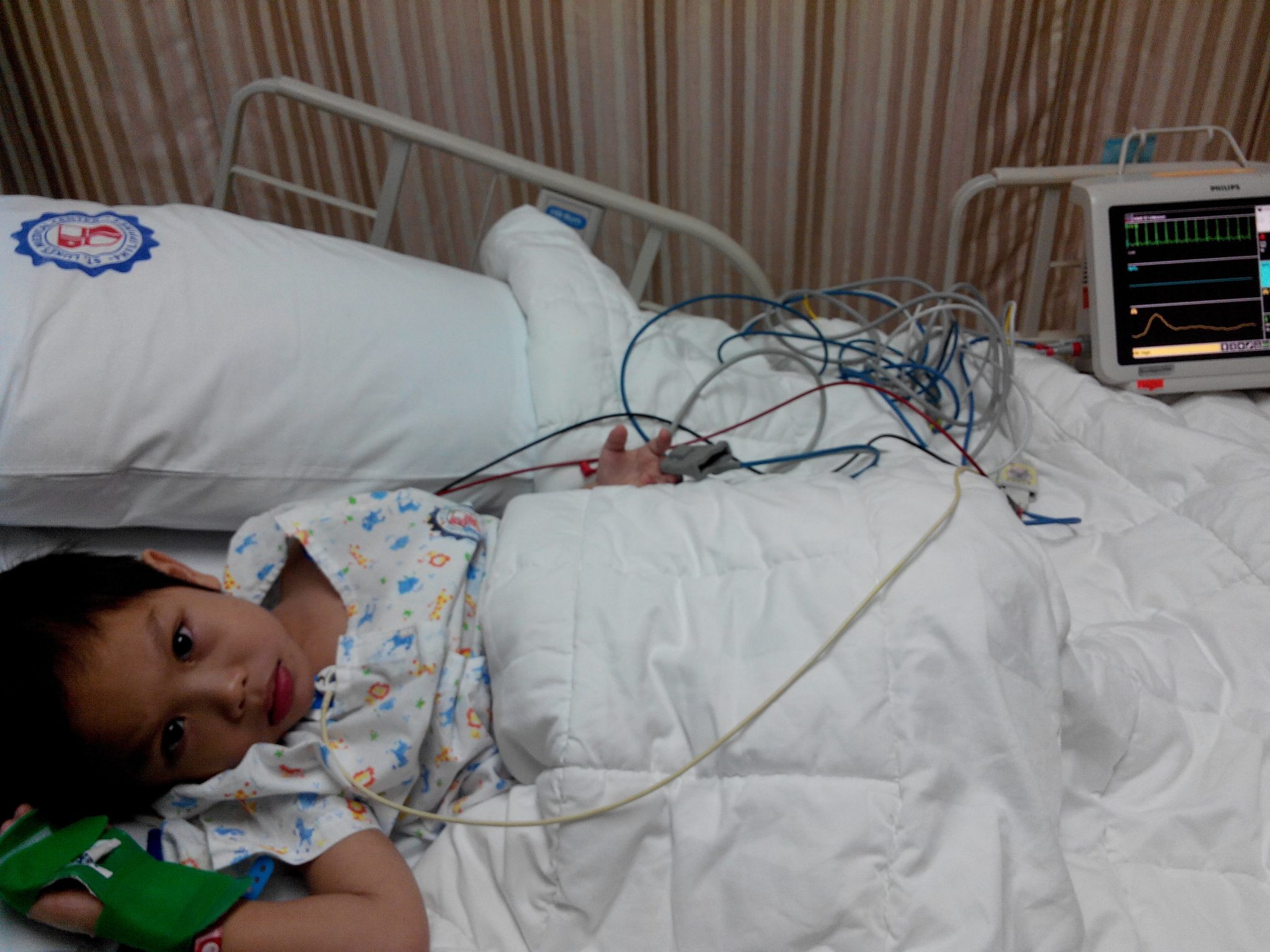 I was too anxious to focus.
I was praying for two things: For Lukas to experience no complication from the procedure and for the doctor not to discharge us under 24 hours of confinement.
Our insurance company representative called that morning to inform us that if the docs discharge him under 24 hours, we'll have to shoulder the entire bill.
The entire bill?!?!?!? (faint again)

At that point, much as I wanted to completely dote on my kid, part of me was worried about the bill.
By 11A.M. that morning, our bill was already at Php 30,000+, not including the procedure.
The nurse who received us told us we were going to be discharged right after which was what triggered my anxiety. If that happens, we were definitely signing a waiver. We can't afford to pay that amount in a single transaction.
Although we were told that we wouldn't be charged for the exceeding cost of the room, I was too afraid to touch the complementary fruit basket the hospital sent in. I was thinking of giving it back to them if that would mean cutting down on some of the costs.
After some mental calculations (I miraculously turn into a mathematician in times like this) and a lot of worrying (I'm an expert at this) , it turned out that our pediatrician had no plans of discharging us until Saturday.
Lukas would have to be observed within the next 24 hours, so going home was not possible.
We also realized that  our insurance company was prompted to give us the warning because of a little misunderstanding on the incident report that we submitted.
What a relief it was to learn that our pediatrician cleared that one up when the insurance representative went to visit her at her clinic downstairs!
As if nothing happened
Lukas was wheeled back in at around four o' clock in the afternoon.
He was wide awake and hungry. He hasn't eaten since the night before. We gave him ice cream as we promised and the kitchen was informed that he'd be on a soft diet.
He didn't like that. He asked for bread and fruits instead and devoured them, with his Angelina Jolie lips and all.
The next day, they took off his IV and he started walking around the room, eating a banana after another. As if there were no stitches inside in mouth!
By noon, he already upped his antics and gave us a scare by jumping off his bed to the couch!
Doctors said to expect him to be in pain when the anesthesia wears off but there was no sign of that at all.
He was climbing around the room and playing rough games with his brothers before 6 PM. We started packing our things. It was obviously time to leave the hotel-like accommodations and go home.
Trusting new doctors
Having medical insurance is really a huge blessing for us. If you were to ask me, I'd say it's wise to invest in one.
I've only been handled by one doctor practically my entire life. My good doctor, Dr. David Callejo, was my doctor since childhood. He was my father's client and his daughters studied with my mom for years and she was consultant to the school he put up. He was a family friend and was like a second father to me. I've never let any doctor take care of me, it always had to be him.I even gave birth to all our three boys under his care.
He was very significant during the rebellious years of my youth. I can't remember how many times I've showed up at his hospital at the most ungodly hours, needing medical help.  And he always…always patched me up.
I was totally devastated when he passed away of a heart attack early this year . I still cry sometimes when I feel sick and remember that I can't go to him anymore.
The only other doctor I trust was our former pediatrician, Dr. Rommel Yatco, but when we moved, his clinic was just too far to go to. We went searching for another pediatrician, following the trail of our three-year old medical insurance.
Dr. Jocelyn Bondoc took care of Lukas and Judah when they were confined for the first time two years ago and I'm so glad we found her. She's very thorough with her examination and explains everything to us clearly. Like Dr. Yatco, she was pretty spot on with her diagnosis on our kids.
She speaks kindly, too. Not motherly; very professional, but kind and reassuring.
We've yet to find a general medicine doctor but according to our insurance's consulting doctor in St. Luke's, the facility has a complete lineup of doctors of all specialization affiliated with our insurance company. So we'll be fine.
Big thanks to our family, friends & to the staff of SLMC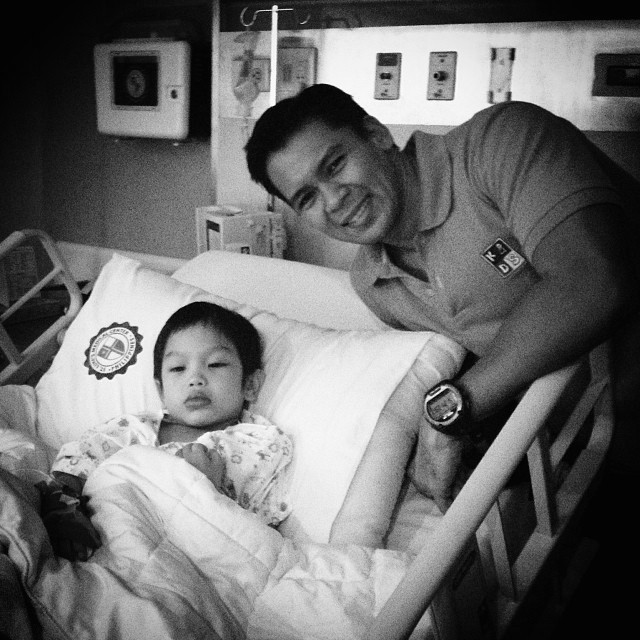 To my friends, Phoebe and Michelle, I can't imagine going through anything important in my life without texting the two of you and hearing from you. Thanks for putting up with my dramatics all the time.
A big hug to our Kids Ministry family, Pastor Mark, Ms. Gepay, and Jas. Thank you for taking time to drop by to check on Lukas. And to Ms. Weena, thanks for assisting us with Jay's PhilHealth documents.
To the wife of our head pastor, Ms. Jenn Punzalan, thank you for texting me about your own son's experience with mouth sutures. It helped calm me down.
To all our family and friends who prayed,  sent messages for our Lukas, or made us laugh the day Lukas was going into the operating room, thank you.
And I don't know if they'll even get to read this, but sending our love and appreciation to Dr. Jocelyn Bondoc (Pediatrician), Dr. Duran (EENT), Dr. Kuizon (Cardiologist) and to the other doctors and nurses who attended to our child.
St. Luke's BGC truly has a remarkable facility but it is you that makes the place special.
Lesson Learned:
It was a lesson well-learned for us. We've gone back to the drawing board and re-arranged our budget. We'll take our emergency fund more seriously now.
I know I say this a lot, but my lessons on humility are never-ending. I was a mess and could barely see the favor that the LORD was showering us.
I was too busy calculating our possible expenses and didn't take time to look up to see the LORD move.
Don't you just hate it when you realize everything you've missed when all is said and done? Praise God His mercy is new every morning (Lamentations 3:22-23).
[youtube=http://www.youtube.com/watch?v=PvZAoluMCSg&w=560&h=315]
__________________________________________________________________________________
"Do not be anxious about anything, but in every situation, by prayer and petition, with thanksgiving, present your requests to God. Philippians" 4:6-7
"For my thoughts are not your thoughts, neither are your ways my ways," declares the LORD. Isaiah 55:8.