Easy-to-prepare Taco Bowls on laid back Sundays
I love tomatoes which is probably why I fell in love with Tacos. Just the thought of those ripe tomatoes packed with white onions and beef is enough to make me drool.
I've been seeing a lot of recipes being shared by fellow mommies and WAHM-ies, and since I love preparing food for my family and friends, I thought I would share my own favorite recipes at least once a month starting with one of our favorite Sunday quick-to-prepare meals: Taco Bowls.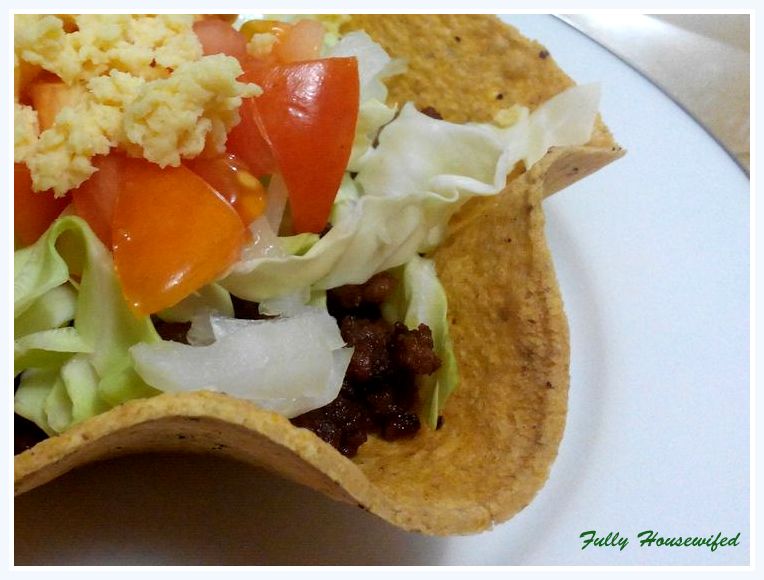 Sunday is special for me and Jay. It's not quite a completely free day as my hubby works full time for our church so the weekends are usually his busiest days in the week and we wait till Monday for our free day, but when he gets home, it marks the beginning of our time together – me and him, me and the kids.
What I'm trying to say here is that we're too lazy on Sunday evenings so we always choose food that's easiest to prepare. So it's either pizza, burgers, or tacos.
Without further ado, here are the ingredients:
Taco bowl ingredients:
1/2 kilo of beef
1/2 cabbage, grated or chopped into tiny pieces
White onions, chopped
Ripe, red and juicy tomatoes, chopped
Store-bought medium spicy taco mix
Store-bought Taco bowl shells
Seasoning (Optional)
Cooking oil
Cheddar cheese (Optional)
Preparing the Taco bowls:
1. Put the pan on medium heat, add oil.
2. Brown the beef in the pan.
3. Prepare the Taco mix as instructed in the packet, then pour into pan to mix with the brown beef.
4. Continue to mix the beef in the pan while waiting for the extra liquid mix to evaporate and to avoid burning the meat.
5. Add a little seasoning and mix thoroughly until the beef is ready.
6. Lay cooked beef in your Taco bowl shell.
7. Top with chopped cabbage, onions and tomatoes.
8. Sprinkle with grated cheddar cheese.
You can also use regular taco shells if you prefer those. I like Taco Bowls because I don't like getting messy when I'm eating so I eat it salad-style.
And…there you go, enjoy your tacos. Have a happy week everyone!