No fuss Spanish Sardines Pasta
I've been meaning to share something else these past two weeks in light of our 10th year anniversary this month but I haven't really had the time nor the sanity for my thoughts to come together and finish that particular blog. So instead, I've decided to share another one of my husband's favorite dishes.
I got this idea from a friend of mine, Deedee, who is currently serving as a missionary in Africa. She posted a picture of their simple dinner and mentioned "sardines" which got me thinking of how great it would be to rip off the idea and serve it for lunch here at home.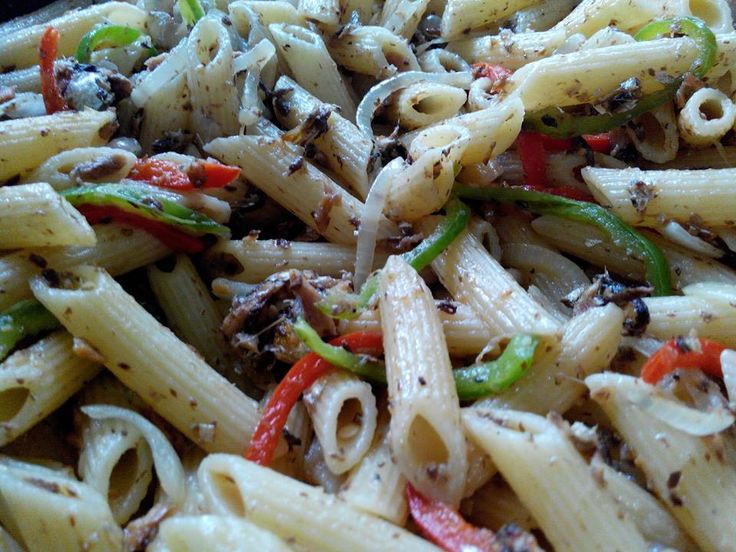 I have another friend who shared with me another sardines pasta dish and that was delicious too, I might share it here one of these days. But that one used the sardines on tomato sauce,  I'm a bigger fan of Spanish Sardines which is why I decided to experiment on using it instead of the tomato-based one.
Here are the ingredients I used:
200g Penne Pasta
1 Jar of Spanish Sardines in Corn Oil
1 large red Capsicum sliced thinly
1 large green Capsicum sliced thinly
1 large white onion sliced thinly
Olive oil
How to cook Spanish Sardines Pasta: 
1. Cook the Penne pasta according to instructions in the package. Drain in cold water and set aside.
2. Heat a spoonful of olive oil in pan, make sure it's spread out.
3, Saute the onions a bit then add both the red and the green capsicums
4. Add in the sardines, don't include the corn oil. You can crush it to bits as you saute it with the onions and capsicums.
5. Add in the pasta then mix well.
6. Serve.
The great thing about penne pasta dishes are that they are usually quick and easy to serve. You practically just mix them all in, place them in a classy ceramic ware and you're set. My husband l-o-o-o-o-ves it and none of my kids have ever complained about it just yet.  It's practical, especially when you're always pressed for time, and it's a lovely meal as well.
So go ahead and try it. Let me know how the Spanish Sardines pasta turns out for you. If you have any suggestions on how to improve it, let me know, I'm open to it.