5 Blockbuster reasons why you should go to Movie Stars Cafe
Update: I feel that it is my responsibility to inform my readers that in our last visit at Movie Stars Cafe a few years ago, I was not satisfied with the service and the food that I ordered. I will not elaborate, but my feelings for this restaurant has changed since.
I was so excited when I learned that I was given the opportunity to take my family for a night out at the Movie Stars Cafe at SM MOA by the bay on April 30. Friends of ours had a date there last year via a discount site but I didn't quite catch the idea of how amazing the place was.  But all's good because I like pleasant surprises, especially if it's the entertainment kind.
Having been in the live entertainment circuit for a big chunk of  our professional lives, Jay and I are very choosy with the kinds of entertainment that we go to. That,  and maybe age is starting to creep up on us? Our ears are no longer accustomed to blaring music and volumes up on decibels.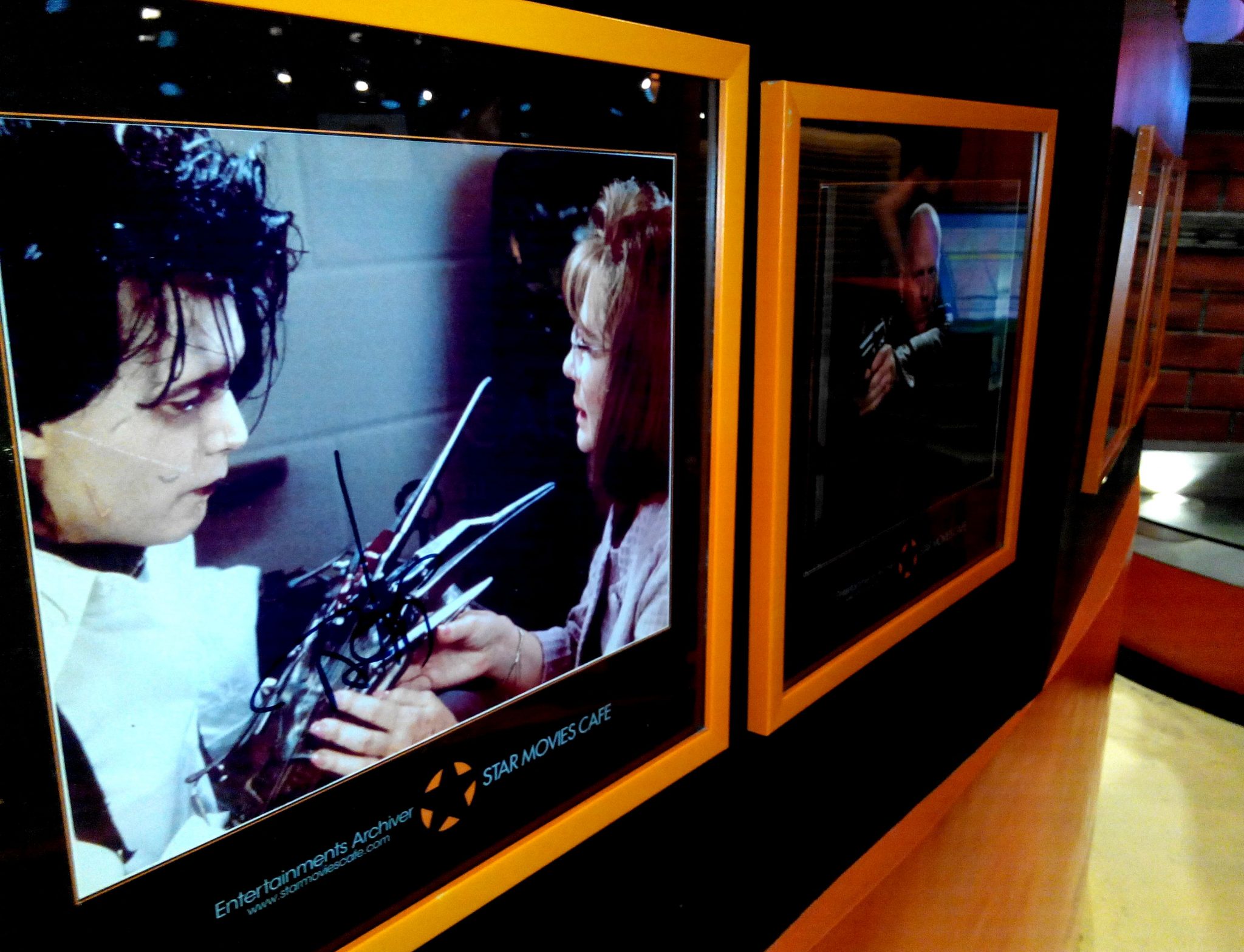 But like I said, Movie Stars Cafe is one of a kind, at least in this side of the world.  I'm telling you, go there and see for yourself. You won't regret it.
Here are 5 solid  reasons why going to Movie Stars Cafe is worth it:
1. Superb Musical Skits
I was glad that we went on a night that Lion King was on. I do like Beauty and the Beast which they also stage on other nights. If it were just me, I know I would have loved it just as much. It's just that my kids are more familiar with Disney's Lion King so I felt that it was perfect. And we were not disappointed.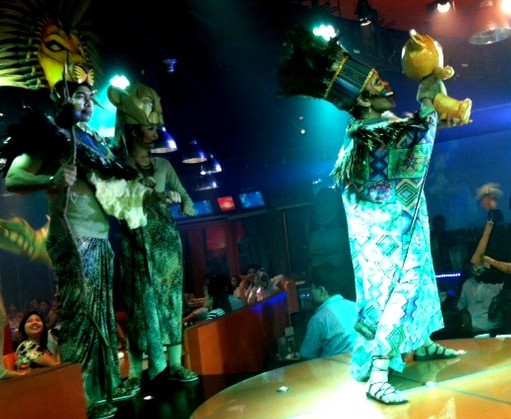 The script was tight and the lead actors can really sing!
But the woman playing Rafiki stood out with her splendid acting skills and her obvious command of the stage.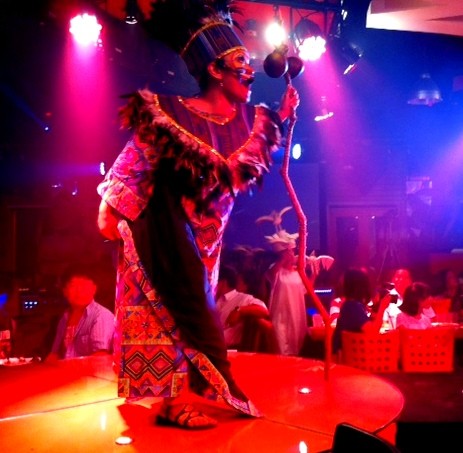 According to one of the staff, the lead actors with singing parts are professional singers while the rest are regular employees.
Even if we were seated in the middle of the venue, we saw the characters up close because the stage ran up to the aisle in the middle of the room. The cast were literally moving all over the place!
Our whole family ogled at every character that came out. There was an elephant which made Judah's eyes pop, Giraffes that wiggled their butts and zebras, too! You'd think you're in Noah's ark until you realize Timone and Pumba are also there.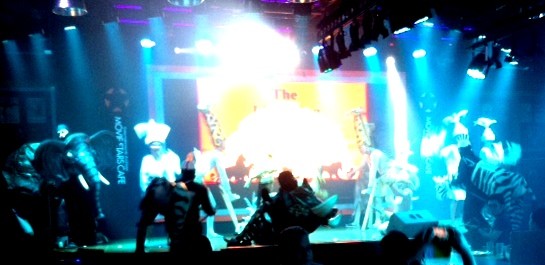 The management obviously spent for the costumes and the props.
I thought it was cute that the actors playing Simba and Nala wore leopard-printed slippers instead of going about barefooted.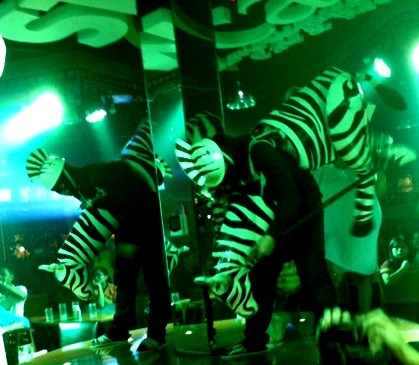 I've always wanted to take Jay to see a major musicale but I wasn't sure he'd last. When I asked him which of the numbers that night he enjoyed the most (there were others), he said it was Lion King . Now I'm excited to take him to see a real full-length production.
2. Impressive stunts and choreography
On our way to the venue, I told our kids they were going to see Spiderman and Venom. It was supposedly a surprise but it was hard prying them off SM Aura where we took a cab.  I figured Atom of Real Steel would be my surprise instead.
Pablo asked me if it would be the real Spiderman or Andrew Garfield they were going to meet and if this Spiderman could climb walls.  I shrugged, not really knowing how to answer his question. I didn't want to deflate my kid's excitement before we even get there thinking the Spiderman character would just be walking around.
I ended up squealing in delight as Spiderman leaped, swung on ropes, and did impressive somersaults on such narrow stages. My kids were on their feet the entire time and I was just as much of a fan as they are!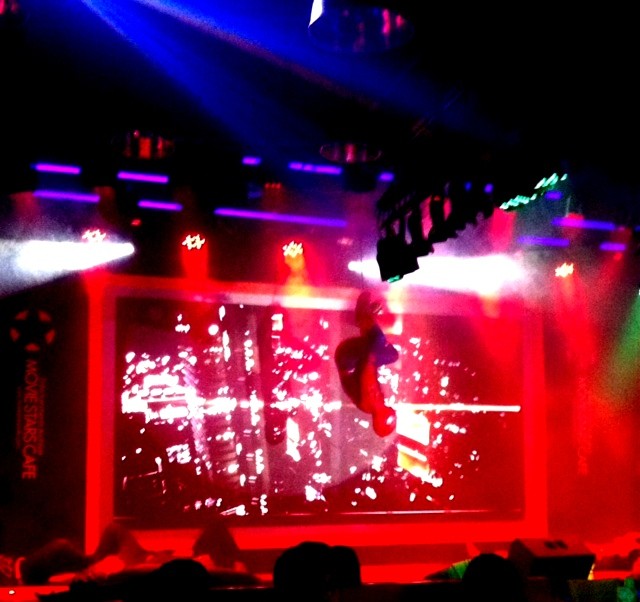 One thing we noticed during this part of the program were the sets and the lights. We especially love the LED screen that set the mood and the scenes. The energy of most of the performers was electrifying.
To the unsung heroes of this production – to those who acted as the stage manager, stage director, director of lights, set director, wardrobe coordinator, set director and choreographer, and even the people manning the sounds, well done!
3. Big food portions!
My hubby likes buffets so he availed it, but the kids and I ordered food a la carte. Here's what we had:
Overload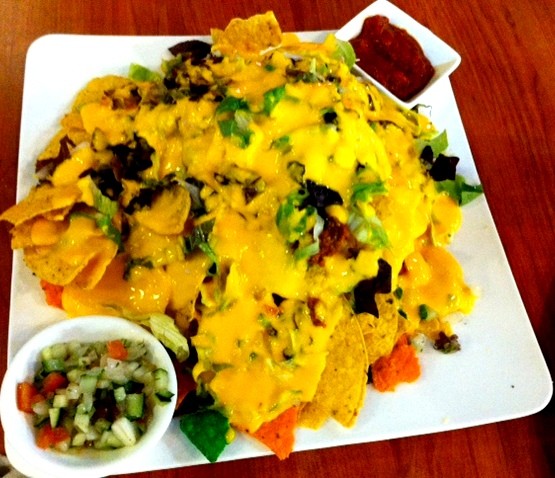 "Blue corn, yellow corn and red nachos combined, topped with chili corn carne, bacon bits, jalapeno, salsa, mushrooms, cheddar cheese, shredded lettuce, served with sour cream and salsa fresca."
Red River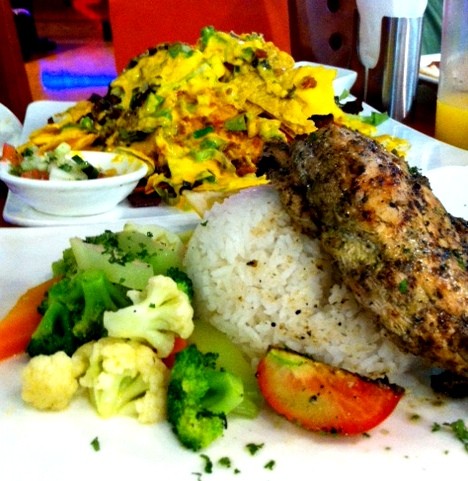 "Wood-fire lemon garlic chicken breast topped with oven-roasted tomatoes and basil pesto. Fresh with fresh blend of steamed vegetables, brown rice and grilled lemon."
Supremo (18″)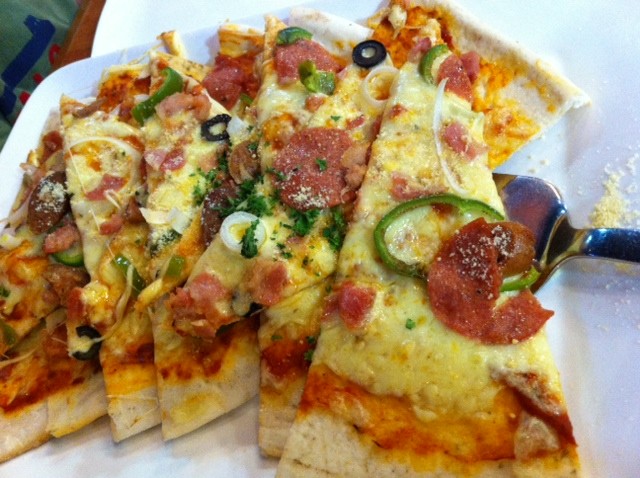 "18 inches pizza combination of meat and seafoods, mixed vegetable, sharp cheddar and mozzarella cheese."
And here's what we found on the buffet table though they changed the food and servings for the next batch later on that night: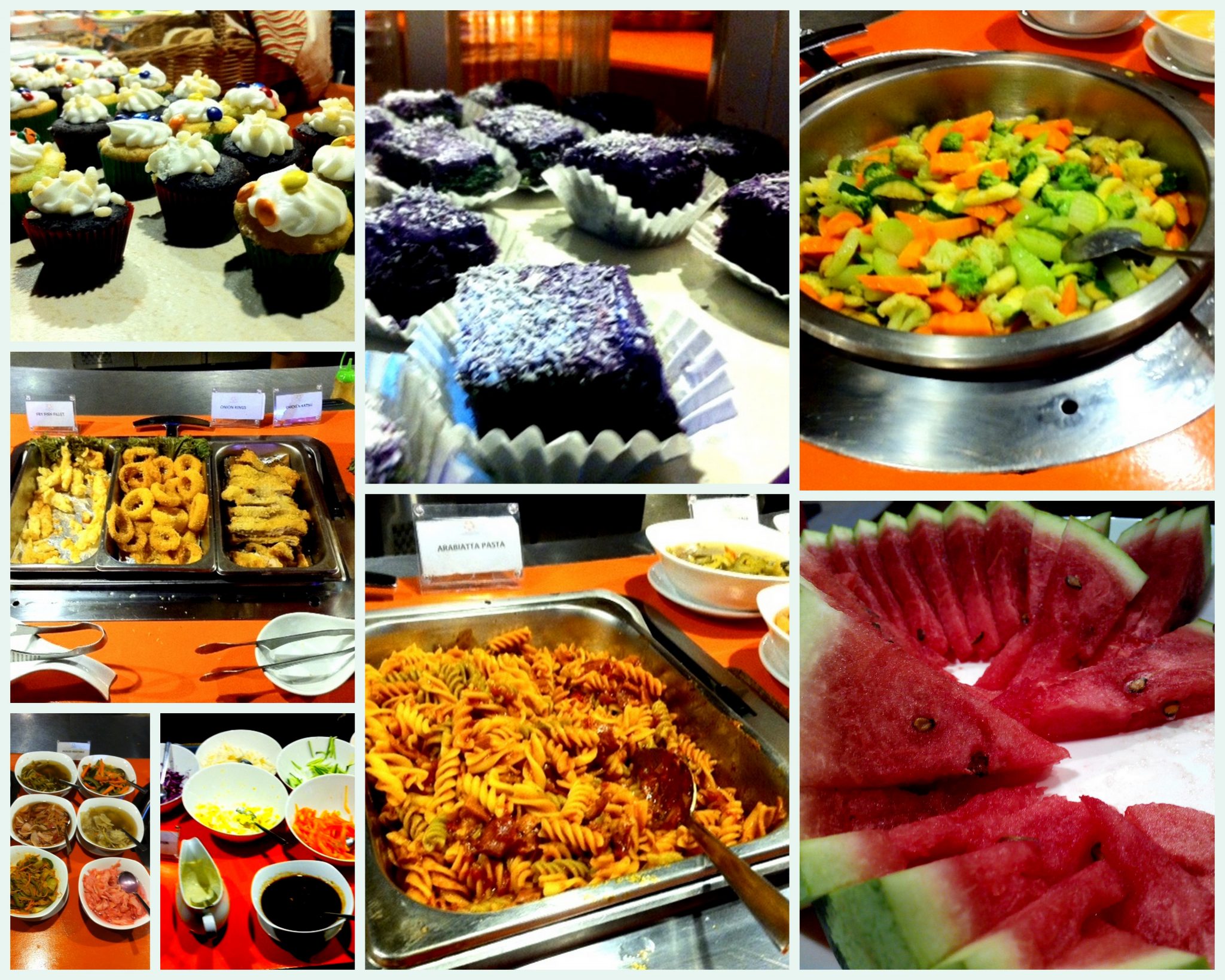 We also ordered a round of Mango shakes for all of us. Prices on the menu range between Php 490 – Php 700+ for food depending on the ingredients, I guess.  The portions were huge that even when we shared our food with each other, we had to have the rest packed to go because we couldn't finish them all.
I was extremely satisfied with my chicken and vegetables, I didn't touch the rice as I'm on a diet.
The kids seemed very happy with their pizza. We tasted it, it was okay. It appeals more to kids. Jay was okay with the buffet too but we both agreed that a la carte is the way to go.
4. Photo ops galore
Almost everything about Movie Stars Cafe is photo-worthy. There are life-sized figures all around, inside and outside, and all the staff are in costumes.
They can probably touch up on the costumes of Sailor Moon, Princess Leia and other characters to make them resemble the characters more and maybe patch up the Iron Man costumes a little, but I'm already happy that we have souvenir photos with the cast of Lion King and Spiderman.
It's not Disneyland but it's a wonderland for kids all the same.
Plus the staff are really accommodating and readily pose for pictures.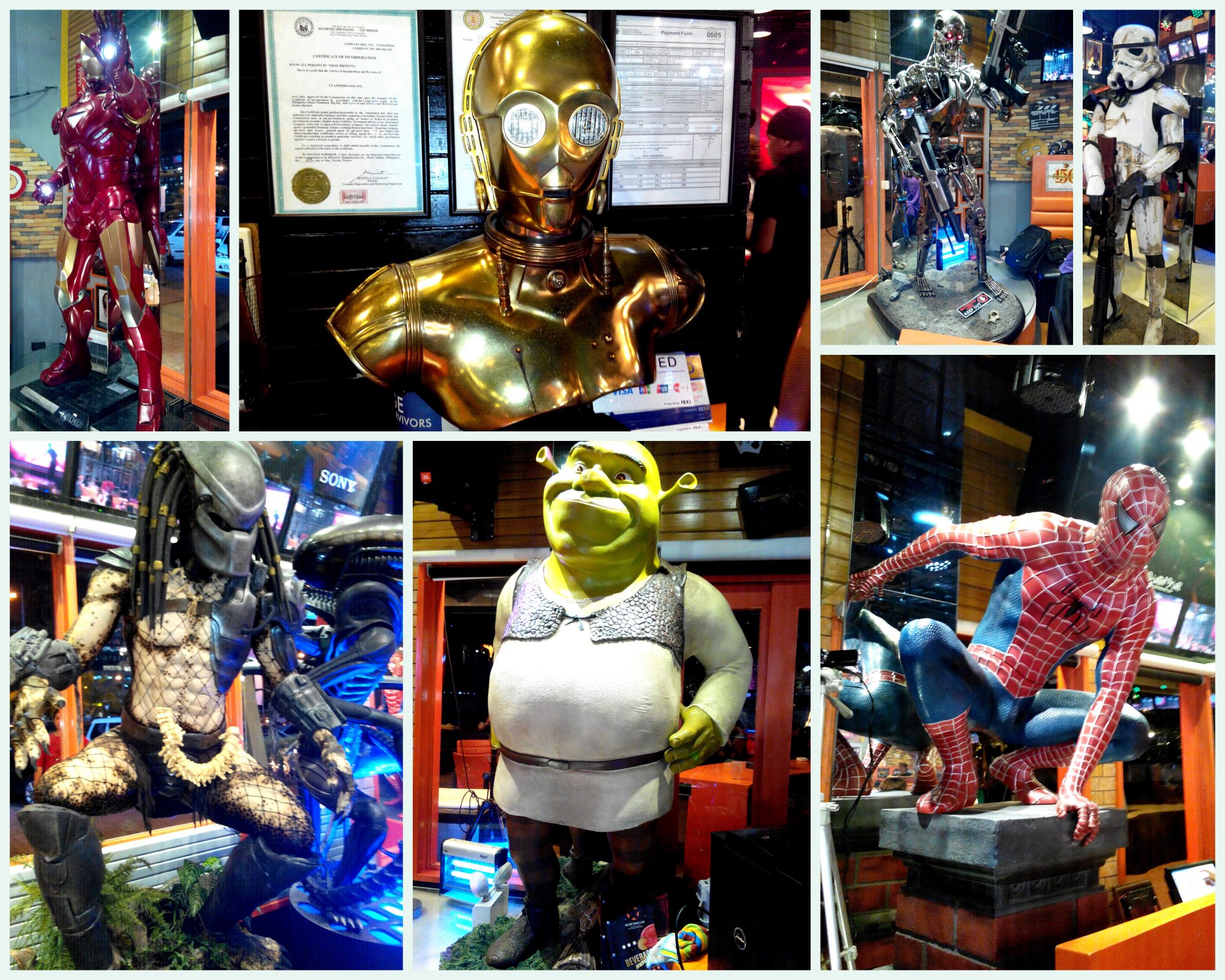 Our only disappointment that evening was that Atom (Real Steel) wasn't around. The kids are crazy over the boxing robot lately so I had to promise them that we'll find time to go back and see Atom another time.
We stayed until Iron Man showed up.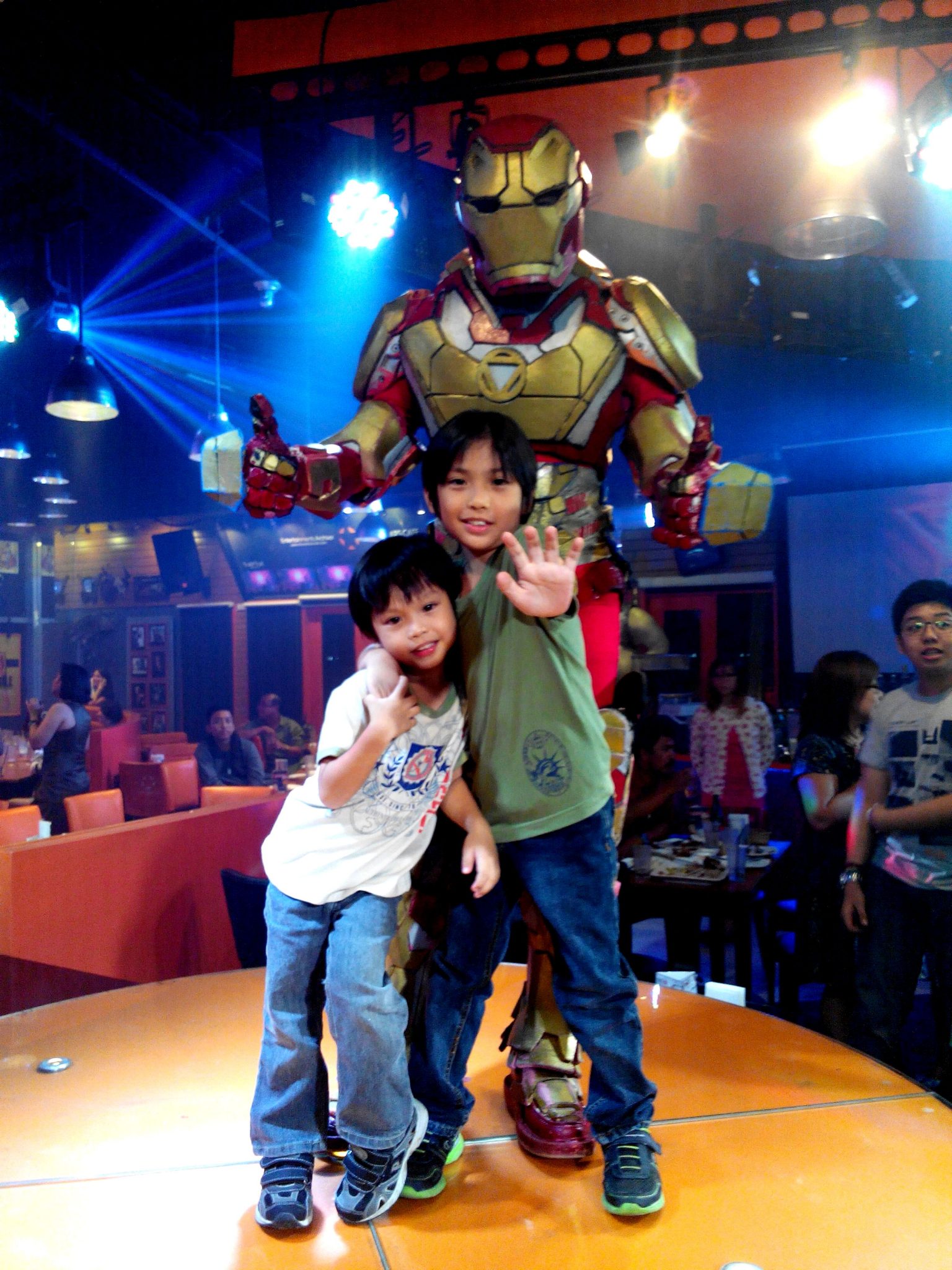 5. Movie Stars Cafe is for Family and Friends and the entire Barangay!
What I love most about Movie Stars Cafe at SM MOA by the bay is that you can take your young kids with you and still have an amazing night out!
Performances were staged every 30 minutes which drew everyone's attention towards the stage and during the breaks, the staff in costumes go up to tables to say hi to the guests, even playing with the kids when they can. The kids had a blast and Jay and I were very relaxed!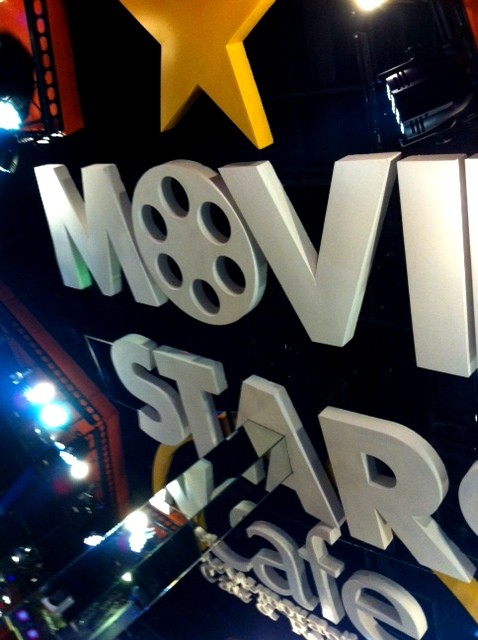 Okay so it's not really a kids' place through and through, it's for the entire barangay actually, that's why there are some characters there that may only be appreciated by adults like Jason, the Scream, V of Vendetta and Freddy Krueger.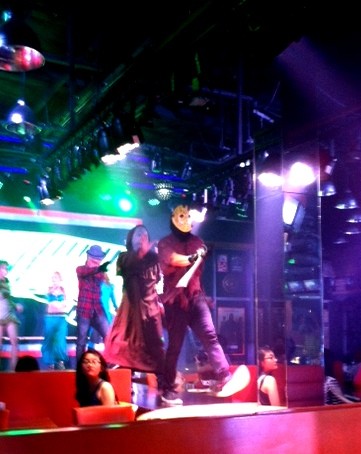 But I appreciate that the staff in these costumes were careful not to frighten the young guests. They had to dance onstage with the rest of the staff for the big finale and pose for pictures but that just about sum it all for them.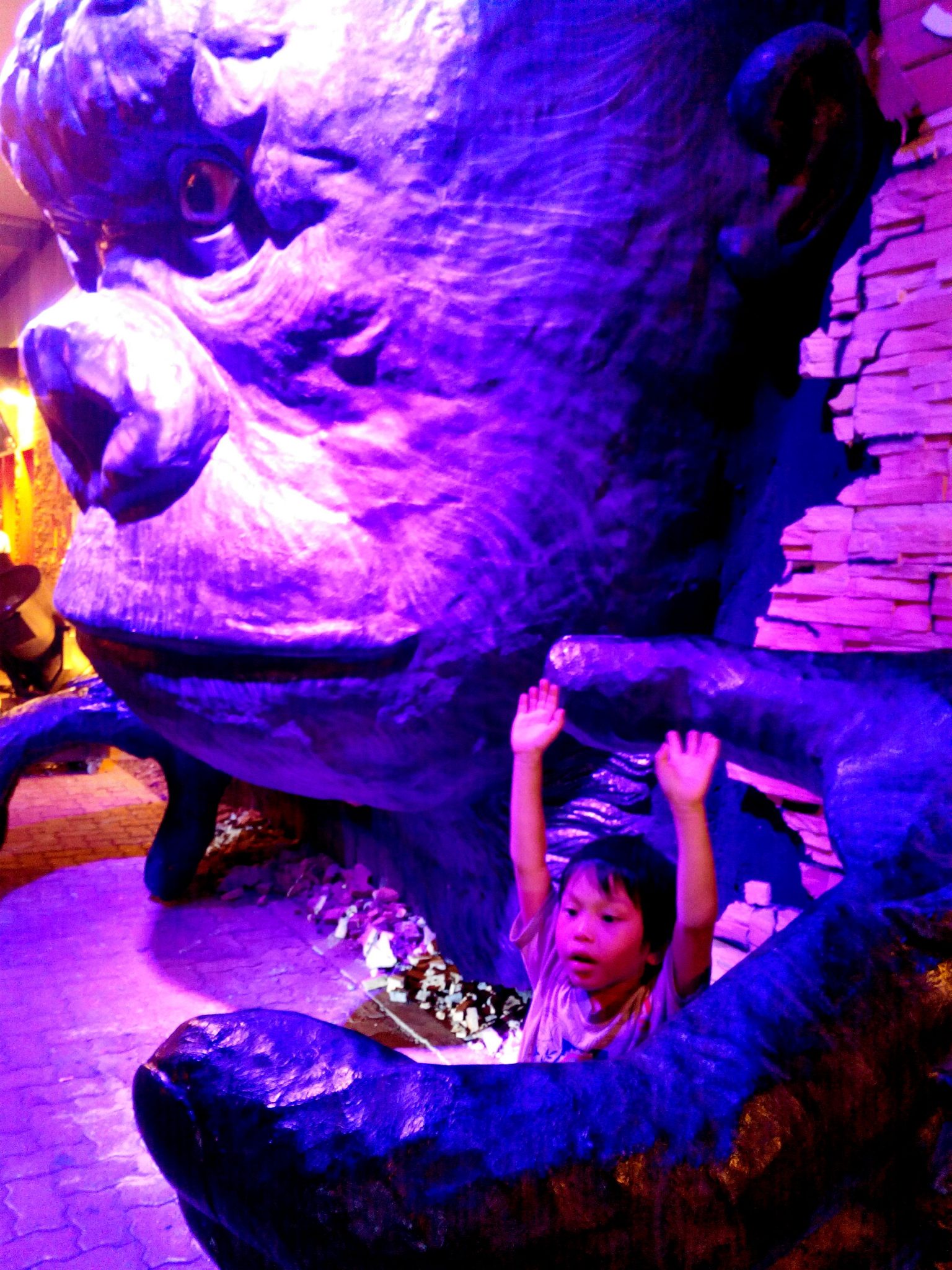 I couldn't wait to post the pictures I've taken and to tell everyone who awesome I think the place is. If you're planning to visit Movie Stars Cafe, they open at 4 PM but show starts at 7 PM.
You may also avail of a 10% discount on your total bill by giving them this code:
UBAC-7805
There's no limit to the use of the discount code. You can use it as often as you want!
Many thanks to the Management and Staff of Movie Stars Cafe and to Lani Lyutz of Mommy Bloggers Philippines for giving our family such a unforgettable night.
As experts say, if you want people to come back, give them an experience they'll never forget. That's what we had!