Intentional Blogging 4: The Story of Fully Housewifed
So I'm back to my Intentional Blogging exercises. I stopped blogging after my finance blog series because I was bidding goodbye to a client and was completing my last set of tasks whilst packing our belongings for our move.
For this one, I'm supposed to tell the story of how Fully Housewifed came about. I guess I haven't really considered telling that story because I was worried it might bore my readers to death. But that's the challenge in this one, actually — How to make your story capture the interest of your readers.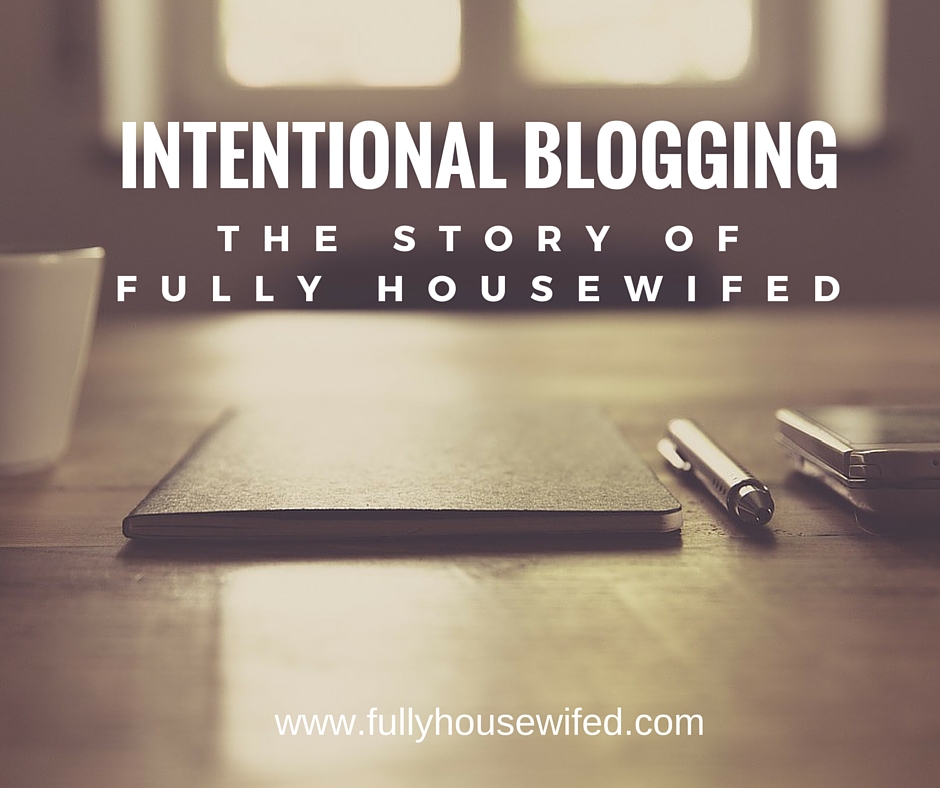 The beginnings of the Housewife
They say that the things that last are the ones that begin at the simplest, most quietest of circumstances (Remember Iza Calzado's line in the movie Starting Over Again?) And in that light, I'd like to think that Fully Housewifed will last for a long time.
I have been blogging for years prior to Fully Housewifed, but it was when I created this blog that I became part of  blogging communities and learned how to share my blog in such a way that I would reach more than just my circle of friends.
I know I've said so many times that I took Fully Housewifed a bit more seriously when I took on a marketing role for a previous client, but the story leading to that was that I started Fully Housewifed dot WordPress when I came into terms with my role as a wife and as a mom.
I was entering an entirely new season in my life wherein I was beginning to accept that I was no longer in the forefront, but was taking my place beside my husband as his partner and support, and at home with my kids as their primary caregiver and teacher. As you well know, we homeschool our children.
Having the sentimentality of an artist, the career shift embarked me on a rollercoaster of emotions. And I wanted to share my experiences, struggles and victories in my newfound role.
It was in blogging that I found a branch in my calling wherein I can use my blog as a way to encourage other moms and wives. I mostly wrote my experiences as a parent and as a homeschooling mom, and sometimes hinted about my relationship with my husband.
Blogging Events Season 2014
In 2014, I was able to participate in a lot of blogging events and product reviews, and I added reviews of kiddie venues, restaurants and products in my blog. I also experienced my first Blogapalooza and was able to meet and make friends with fellow mom bloggers in the Mommy Bloggers Philippines community that same year.
Last year, I made a conscious decision to be more intentional with my blog and bring it back to its roots. I was a wife and a mom who wanted to make a difference in other people's lives and felt that being more open and personal about my stories is the best way to accomplish that.
I learned to say no to invitations that were unrelated to my niche and blogged a bit more about our personal struggles and victories. I also signed up again for Jeff Goins' Intentional Blogging challenge to help myself get back on track with my blog.
I'm still on that challenge, as you can see.  Some good things need more time.
Blogging opportunities in 2015
2015 also opened  some special doors for me as a blogger.
I initially considered signing up to be a Vlogger under a popular network's digital arm, but realized that it wasn't something that I can do consistently. After weeks of discussing it with my husband, I emailed the network's representative, politely (and somewhat sadly) turned down the contract, and stuck to what I do best -writing.
2015 also ushered in other writing opportunities. One of which was that I was asked to  share our financial journey in Sun Life's Brighter Life's website. Eventually, I was invited to join Sinag Financial Literacy Digital Journalism Awards where I got to attend the Awarding Ceremony as one of the Top 5 Finalists.
While meeting and making friends among other mom bloggers was the highlight of my 2014 blogging year, Sinag was the highlight of my 2015.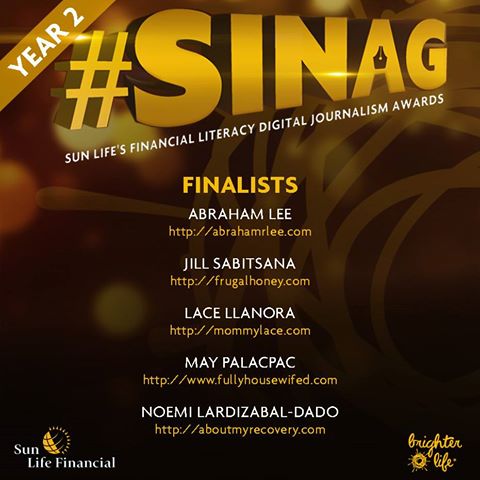 The story goes on in 2016 and beyond
I cannot say that I know exactly where my blog is going. I have plans for it, yes. I have already acted on these plans.
For instance, at the beginning of the year, I decided to narrow down my topics on the following: Marriage and Family, Parenting & Homeschooling, Tiny Living & Money Matters, Easy Recipes and Working from Home and Freelancing.
I already deleted posts that I felt did not fall into any of the categories above. Now, in the case of the category, Fitness, Health & Diet, I'm still trying to figure out why I am unable to delete that one!
Fully Housewifed will also sport a new look soon. Something I should have done last year. Perhaps the Fitness, Health & Diet category will disappear once I change my blog design.
I intend to stick to my plans but who knows what 2016 has in store for this housewife. I may have plans, but God seems to have other things in mind. Picture this: I made a decision to step out of the door, but I'm being pushed to take the road leading away from that house.
So far, that's how I feel about what's going on in my life right now.  The only thing I am sure of is that I want to be more intentional and more deliberate with my blogs.
After all these years, I have learned that the wisest thing to do is to ride towards the direction of the waves and not against it. I'm saying this in the context of faith and God's plans.
So stay close, will you? And let's take this journey together.
——————————————-
"Many are the plans in the mind of a man, but it is the purpose of the LORD that will stand" Proverbs 19:21.
"But, as it is written, "What no eye has seen, nor ear heard, nor the heart of man imagined, what God has prepared for those who love him" 1 Corinthians 2:9.