Money Matters: Of Educational Plans and Mutual Funds
I talked about jars of oil in my previous blog, Teaching kids how to manage their money. In the blog, I said there that God provides ways for us and we will see it if we focus on what we have instead of dwelling on what we do not have. Even for things like Educational plans and Mutual Funds.
Here's a little backstory for you.
In 2009, when my eldest son, Pablo, was four years old, I became anxious about his future and his education. I would pull my husband to go into banks to get a hold of flyers on educational insurances so we could go through them.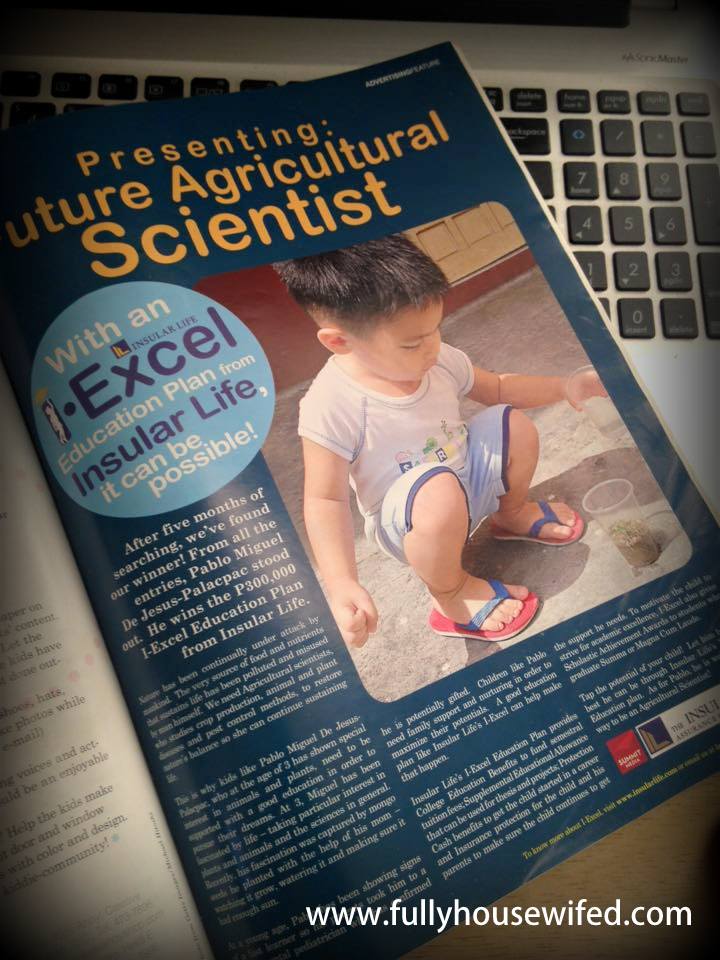 I was hoping to find a policy that was doable for us so we can to invest on a university fund for our child. (At that time, my limited knowledge on insurances had me thinking educational plans were the only insurance policies that actually matter)
I would pray everyday and every moment about it. And when I would feel desperate, I would cry my fears and anxieties to God.
At that time, I was also browsing through different magazines, looking for freelance writing opportunities. One time, while I was in National Bookstore in ATC , I chanced upon an Insular Life-sponsored Essay writing competition published on the cover of Smart Parenting.  The grand prize was an Insular Life I-Excel educational plan worth Php 300,000.
You can say that I grabbed that magazine and took it home with me.
At home, I read the mechanics. To join, you need to write an essay about the importance of education and submit a photo of your child exhibiting his "multiple intelligence."
I talked about joining with my husband. It was a writing competition after all and I'm a writer. It was something I could do.
But I didn't join right away. I think it took me a week to decide on whether I would give it a go. I had to make sure my heart was right. I didn't want to put my hopes for my child's education on the competition. It may be a way to achieve my goal, but God will always be my Source and Provider, with or without a win.
When I was finally at peace with myself and my husband pledged me his support, I went to work and poured my heart out in the essay.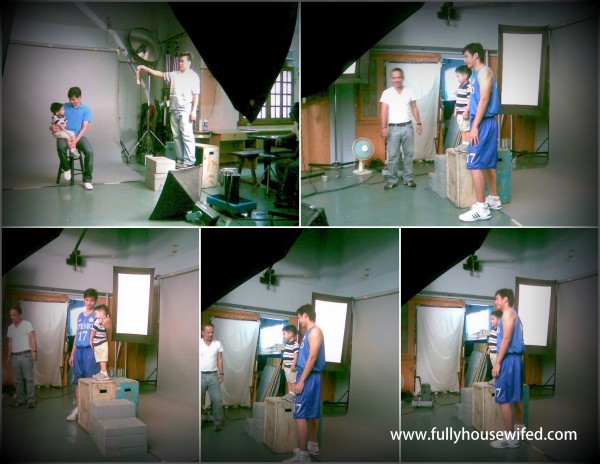 To make the long story short, I received a call from the magazine four months later informing me that I was the grand winner. I was beside myself with happiness. I squealed and screamed and hugged my husband in joy.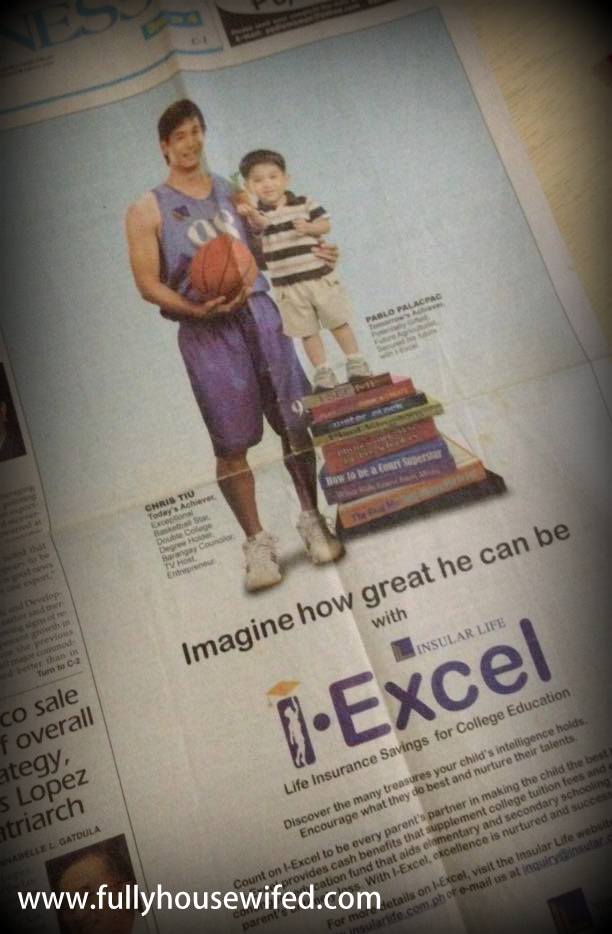 Jumpstarting our mutual fund
As you know, Jay and I have been seriously thinking about our retirement and investing on something for the children to start them off once they're ready to leave the nest. For the past three years, we had been working on finishing off our debts and preparing to invest in insurances.  Our decision to move into a tiny apartment with less rent was part of that plan.
(Read: Choosing Insurance Policies at 40)
Late last year, God gave me another opportunity to use my writing to earn funds that we can use to start our retirement fund. I was invited to join Sinag Financial Literacy Digital Journalism Awards and although I did not win the coveted grand prize and trophy, being one of Top 5 finalists earned me a prosperity card worth Php 5,000 and a 1-year accident insurance worth Php 25,000. Who am I to complain?
Originally, our plan was to start with mutual funds mid-2016 when we're finally done paying off our credit card debt, but we were given this opportunity to jumpstart it earlier. Personally, I take is as God's assurance that we are on the right track.
So yesterday, we sat with our Financial Advisor, Che Gernandizo, and invested the prosperity value into a mutual fund. It's super exciting! Just as it had been when we claimed the educational plan from Insular Life, we can't believe that this is actually happening. It all seemed so distant two years ago, now we have a Sun Life mutual fund. Wheeee! We look forward to adding to the fund in the coming months.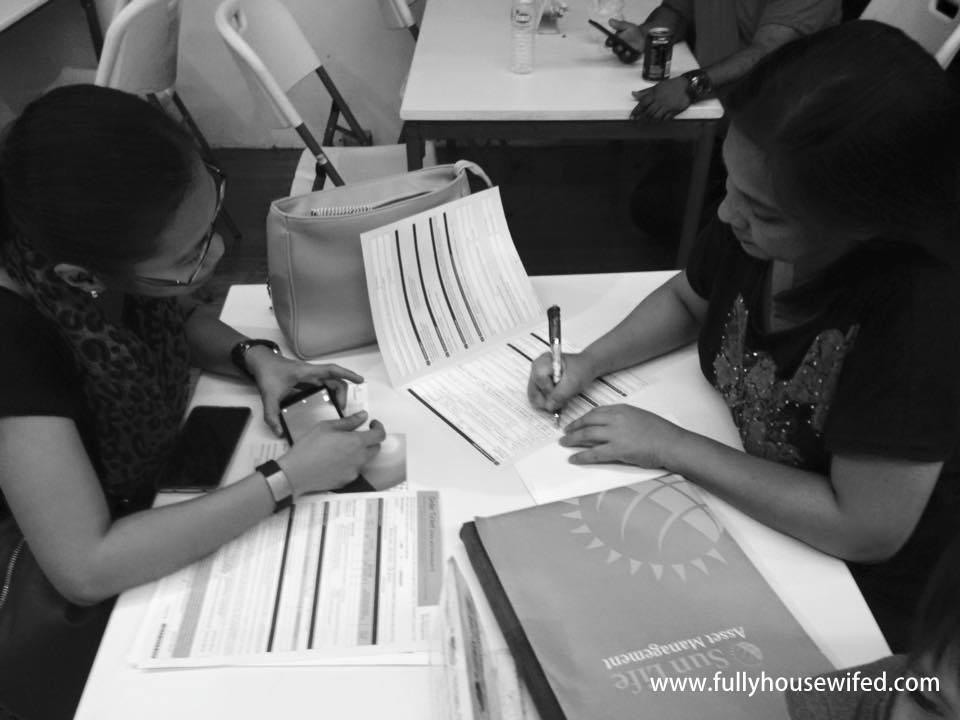 Co-investors and investment risks
Jay and I signed as co-investors. This way, both of us are allowed access to the funds and both of us can sign the forms every time we add to the fund.
Also, if one of us dies unexpectedly, the other can access the funds. I was told that it's a more complicated process to pass mutual funds on to beneficiaries because of taxes which is also why we opted for co-investing. We are, after all, husband and wife. What is mine is Jay's and what is Jay's is mine.
Of course there are risks and  there are no guarantees if our investment will earn, Che says there is a slim chance that we may lose all of our investment; but I always remind myself (and my husband) that we should just entrust our money to God and leave it to him to bless it.
And if we lose it?
Well then, God will provide some other way. That's my take on it. But I refuse to let my fear hinder me from doing my part in giving my children a chance at a better future and freeing them from the burden of having to fend for our needs when they grow up and have families of their own.
Che says that although our money is in good hands with Sun Life Financial, we should study and learn more about investments and the way they work. According to her, the company prefers that the investors get involved in their investment.
It's not really hard to do because Sun Life came up with Brighter Life Institute where you can educate yourself on finances and how to best manage it. Jay and I used to watch videos on homeschooling together, it will be fun to learn stuff with him again.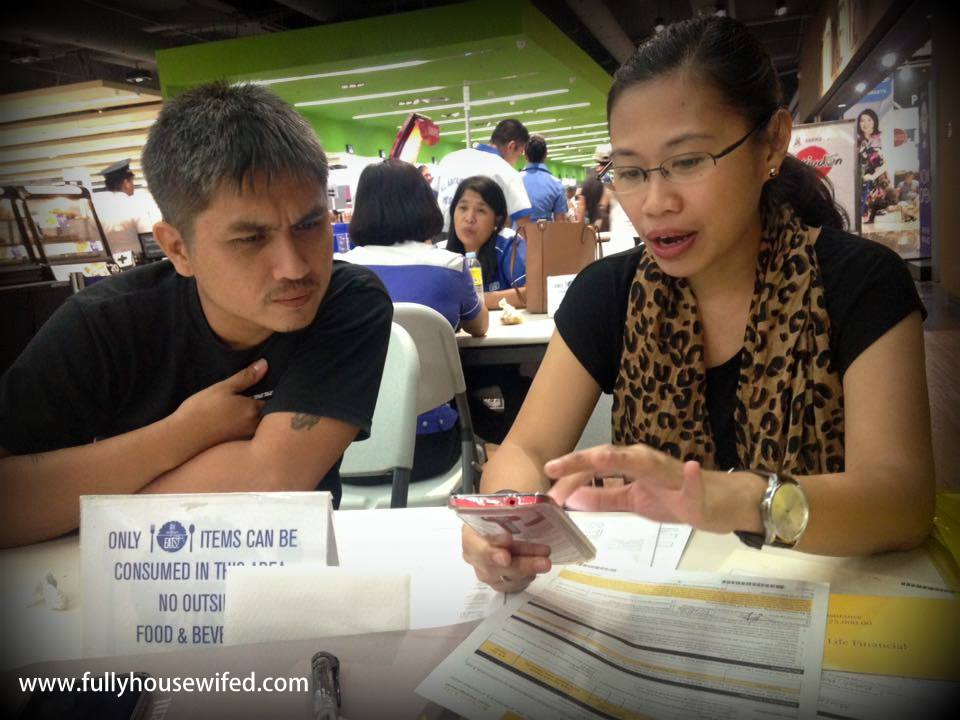 On choosing the right financial advisor
So why Che? Because my family's future is important to me. Che has been a friend for nearly 10 years. I know that I can trust her.  I also like her style.  She is honest and very patient. She's not pushy and especially not arrogant. She remains focused on helping us in our investment journey.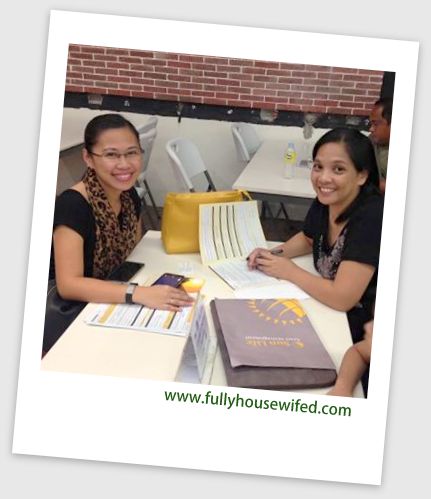 I really hope and pray that we will be able to invest on more insurance policies so that we can bless her too.
My advise to you is that you choose a partner who will be able to meet your expectations.
If you're like us who are anxious about the future and don't know how to start, start with spending less on luxuries and living below your means. There's a bit of a sacrifice in the process especially if you need to fix some errors you've committed in the past. But don't worry, it gets easier in time.
(Read: Moving our family of 5 into a tiny Home)
Living simply does not mean you cannot dream big. Or that you cannot believe God for bigger things. In some situations, it only means embracing your season and trusting that God knows what he's doing.
I'm really excited and I know I have so much to tell you in the days to come. Let me first go through Brighter Life Institute and I'll give you a feedback soon.
"And Jesus said to him, "'If you can! All things are possible for one who believes" Mark 9:23.

"Do not be anxious about anything, but in every situation, by prayer and petition, with thanksgiving, present your requests to God.  And the peace of God, which transcends all understanding, will guard your hearts and your minds in Christ Jesus" Philippians 4:6-7.