Chicken Soup with Kale & Chickpeas
We all woke up sick today. Our 5-year old had it since the other day and our 6-year old started coughing on our way home from the South last night. Our eldest also has the sniffles. My husband and I got it worse though, because we're the ones who actually caught the bug full force. In fact, it took my husbandy the whole day to get up from the bed to get his ass to his production meeting in the afternoon.
Anyway, we just got our orders of organic veggies and meat from The Green Grocer and I was excited to start cooking them as I didn't want to waste them, especially the leafy ones, starting with Kale.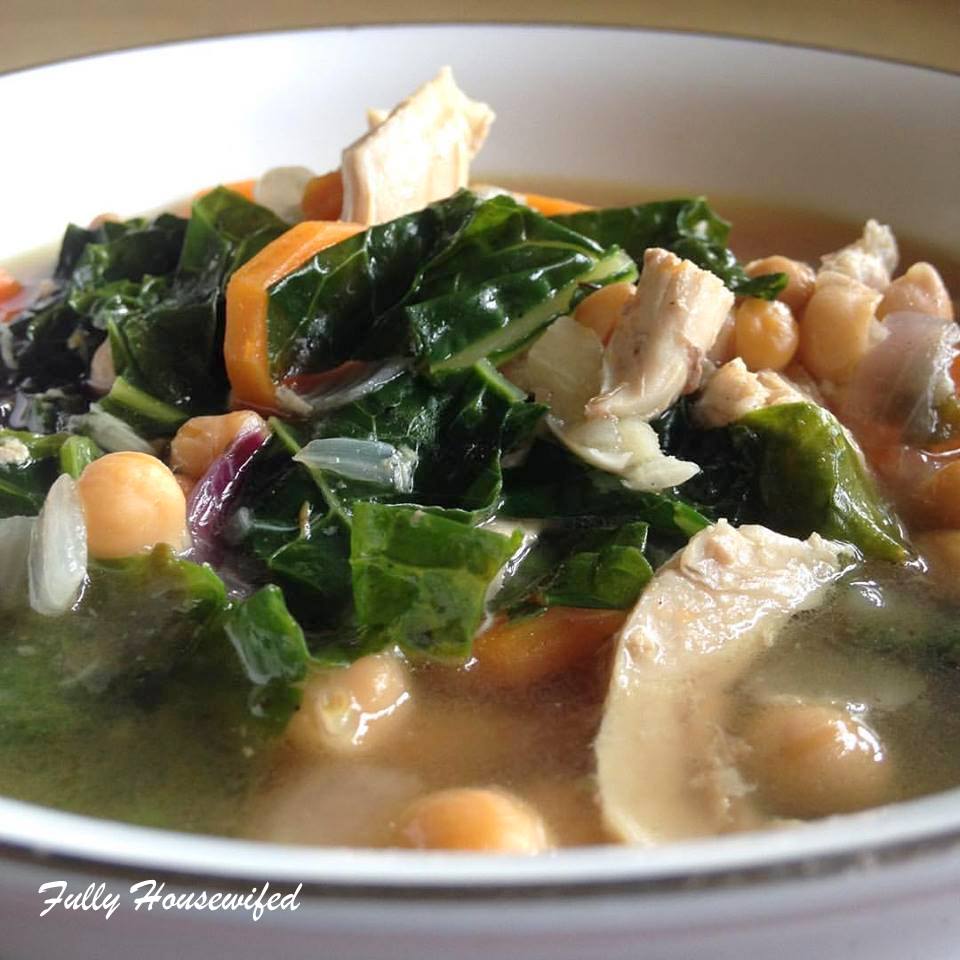 I've tried Kale in a store-bought green smoothie before and I may have had it when we ate at restos before, but I've not really bought Kale from the supermarket to use for cooking at home. I had to google for recipes that I can do with what stocks we have at home and I found one from myrecipes.com.
I wasn't able to follow the recipe to a T because there were a few items that I didn't have in my shelves such as the red pepper. The soup was a success, though, and I call it that because I got all my three young kids to finish their servings. I can't say they raved about it, but them eating every single veggie in their bowls is good enough for me.
This is an easy recipe to do but unlike the other recipes in my blog, this will take you a bit longer to accomplish if you decide to make chicken stock of your own like I did. But a chicken cube will do as well.
Ingredients:
25g Chicken, shredded
1 chopped Onion
2 diagonally cut carrots
Salt
Pepper
Olive oil
1/4 C chopped Oregano
5 cloves of Garlic
Thyme (fresh is better, but the McCormick dried ones are fine)
1 small can of Garbanzos or Chickpeas (drain)
2 C of chopped Kale
1 tsp Soy Sauce
Chicken Stock.
How to make Chicken Stock:
In a pot, boil your chicken in 4 cups of water. Add half the carrots, half the onion, a dash of pepper, oregano, 2 cloves of garlic, and thyme. I only boiled mine for an hour and a half, although the original recipe calls for 3 hours.  Set aside.
I boiled my chicken before shredding it.
How to cook:
1. In medium heat, put oil in the pot.
2. Put the rest of the onions, garlic, and carrots and stir for a few seconds. Don't let it burn.
3. Pour in the chicken stock and let it simmer.
Note: In the original recipe, it says to let the stock pass through a sieve. I just made sure that my stock soup was clear and clean. I also did not take out the thyme and the other ingredients I added to make the stock soup.
4. Add in the chickpeas, then the Kale. Continue to simmer, occasionally stirring the soup.
5. Put a dash of salt and add the light soy sauce. ( I didn't have light soy sauce, so I just used the regular one)
6. Bring to a boil.
7. Serve!
You don't have to follow my proportions as is. That's the fun in cooking, you can actually weigh your ingredients as you go. The measurement I provided is just a rough guide. You can change it up and add as your gut compels you, hehe.
So go ahead and enjoy your soup. Let me know how it goes for you.