Bowling with the family at SM Bowling Center
We decided to take the kids bowling yesterday. We were at SM Megamall last Monday for my appointment at the Department of Foreign Affairs (DFA) for my passport renewal and we had some time to go around and check out the new things they have at the mall.
We found out that the skating rink has been moved to the fifth floor and on the same floor, you will find other recreational facilities such as Gandiva Archery and SM Bowling Center.
Me and Bowling don't match
Jay had been asking me to go bowling for as long as I can remember, but I've only given in once and it was with a group of friends from our church. I thought it would be a good idea if he can introduce the kids to this sport.
Like most sports, I'm very bad at bowling. I've only done it for a total of four times in my lifetime, to be honest. But the kids were thrilled at the idea and couldn't wait to do it. So, to hell with my bowling skills! (or the lack of it, thereof) We told the kids we were going bowling after they work on their modules yesterday.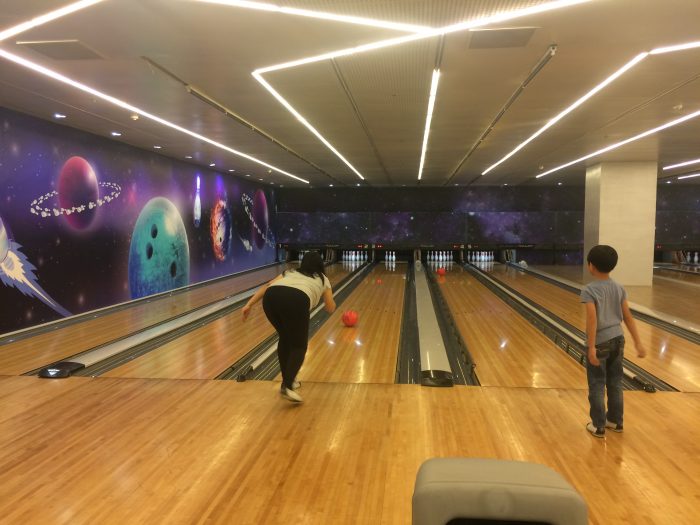 The traffic was horrendous! The original plan was to have snacks before proceeding to the bowling alley, then come back home for dinner, but because of all the drool-worthy billboards on food and restaurants in EDSA, we ended up eating out instead.
So congratulations to the brands that promote on billboards. You just made us spend our money unreasonably, haha!
Rates
We went to the bowling alley at around 7:30 PM and were glad to easily get lanes for our game. The rates on their table card says:
Php 165/head per game
Php 600/hour
According to the staff, the Php 600/hour rate is only for those who come between 10 AM to 2 PM. After 2 PM, the Php 165/head per game already applies.
We paid a total of Php 1,075 for one game and our shoes that cost Php 50 for each pair.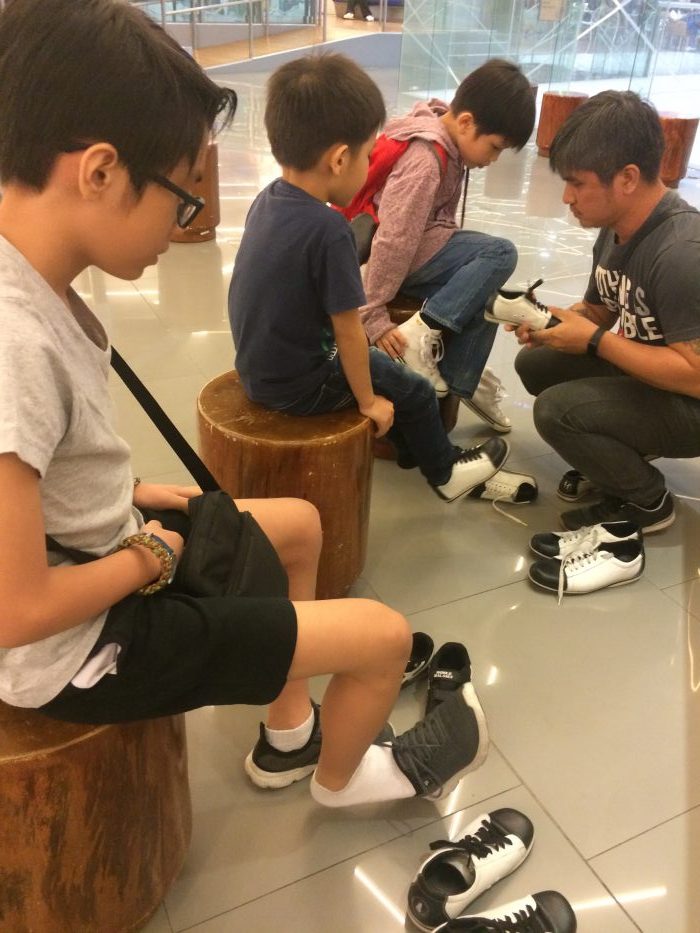 I didn't like the shoes very much. They looked old and worn out. Still usable, though, and did we really have a choice?
The staff asked if we would like rails on our kids' bowling lane.  Since it was their first time, we wanted them to have fun and see their pins fall, so we said 'yes."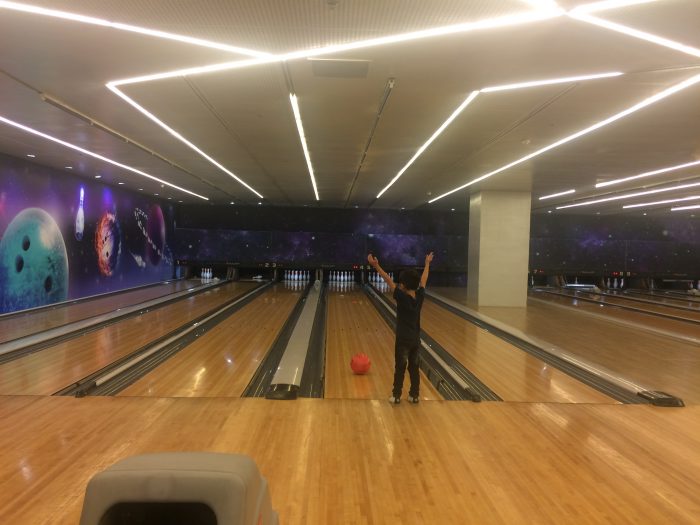 Strike for Pablo!
Pablo turned out to be a revelation at the sport. His score was higher than mine and Jay's combined, haha! He was giving instructions to Jay before our game ended. I don't know much about proper form but he looked like he had it.
And he would either earn a strike or hit most of the pins in his lane. His balls seldom hit the rails, they mostly went where he intended them to go.
I asked how he was doing it, and he answered, "you have to think!" Then later on shared with me his technique while we were having donuts at Krispy Kreme.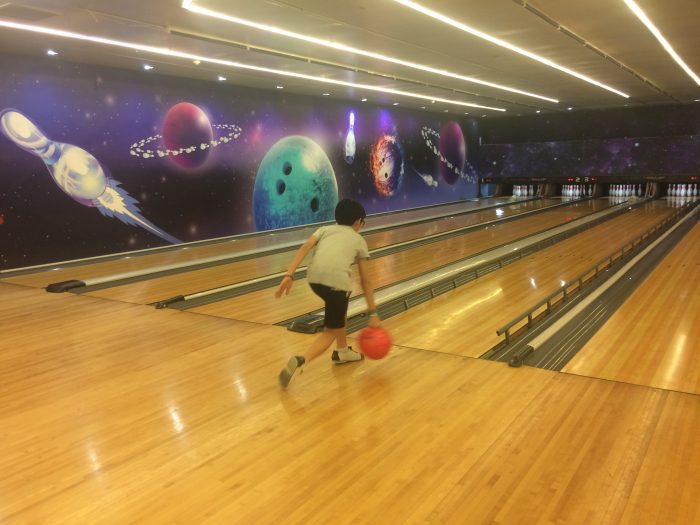 I was amazed that Pablo was able to calculate all factors to get strikes – from the weight of the ball, to the directions of his thumb, to the speed of the ball and his little run and the distance between the ball and the pins. It's Math in action!
He asked, though, why he would be able to figure that out (and other things) well while being unable to remember Filipino words as quickly. He's been practicing and trying to learn to speak our native language but progressing very slowly.
I explained to him that perhaps learning languages is just not one of his strong suits. And I assured him that it's okay that he's slow at it as long as he's learning.
Maybe Billiards, too?
I told him Bowling has basically the same principles as billiards, except with lighter balls and a stick.
Jay and I used to play a lot of billiards before we were married and I think it would be fun to introduce the kids to it, as well. Maybe Pablo first, then the two younger ones when they're tall enough to stretch out on the pool table.  Or maybe we can get one of those mini pool tables when we move to our new house, hmmm.
Speaking of billiards, I saw a couple of tables there at the bowling center, but I wasn't able to ask about the rates.
The Tornadoes score
Our Tornadoes, Lukas and Judah, didn't do bad either, although they relied more on the rails than Pablo did. The lightest ball was 7 kg which was still heavy for them. I was afraid Lukas would drop his on his foot because he was trying to roll the ball right; but he didn't, so thank heavens!
And he got pretty good scores, too. In fact, he was only 6 points behind Pablo.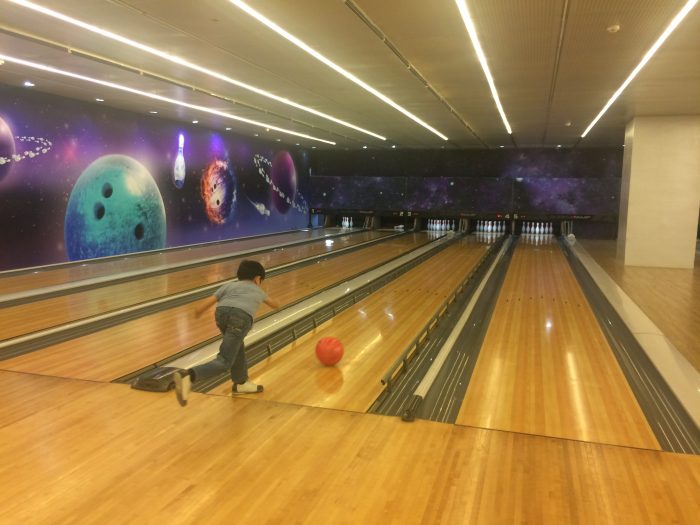 We taught Judah to roll the ball from between his legs. Cheering for him as his bowling balls slowly make their way  toward the pins was one of the highlights of our activity.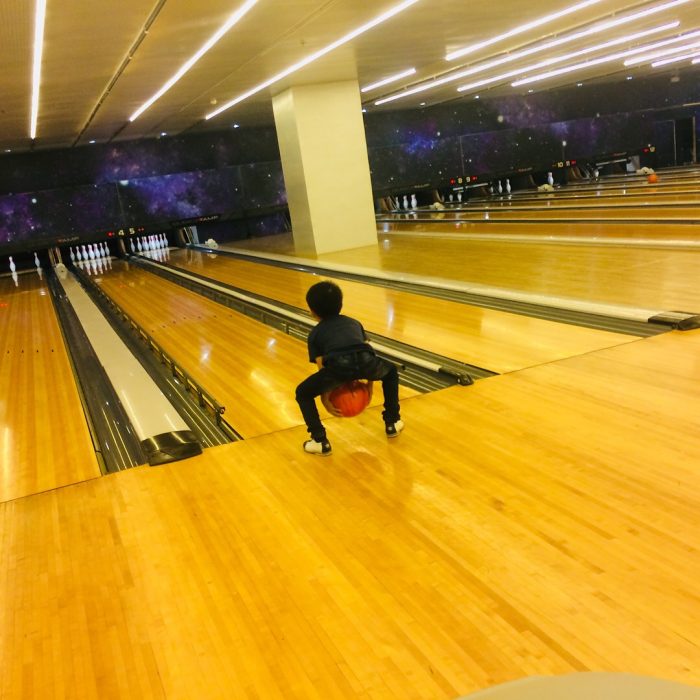 Jay has always loved the sport, so he did so much better than me.
His friends told me about his days as a valuable spiker in their volleyball team when they were in their teens and he's told me about growing up near a bowling alley, but because I've known him for years as a guitarist and my partner in crime, and I've never really seen him play anything before except for billiards, it took me some time to process the idea that he does sports, too, haha!
Lately, I'm starting to see that side of him and hey, it's not bad at all.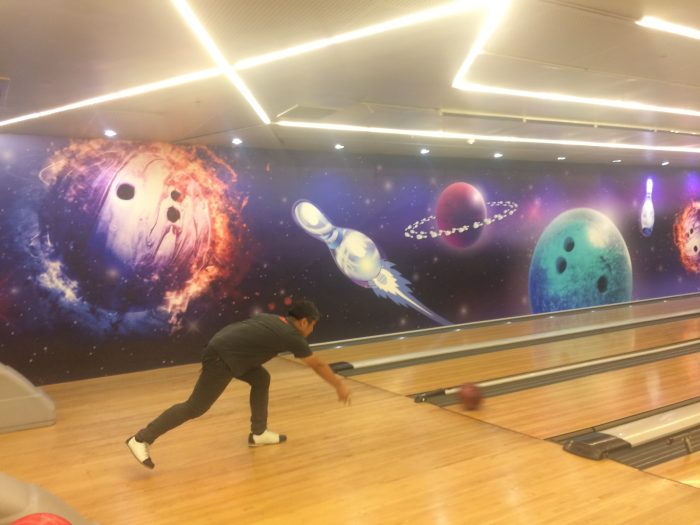 As for my scores, I was creamed. I had a lot of my bowling balls going straight to the gutter and at one instance, I even stepped over the foul line.
The only time I struck well was when I did what Judah was doing – the frog pose. Jay was doubled up with laughter at how lousy I was at it, but what does it matter, right? I just laughed along with him.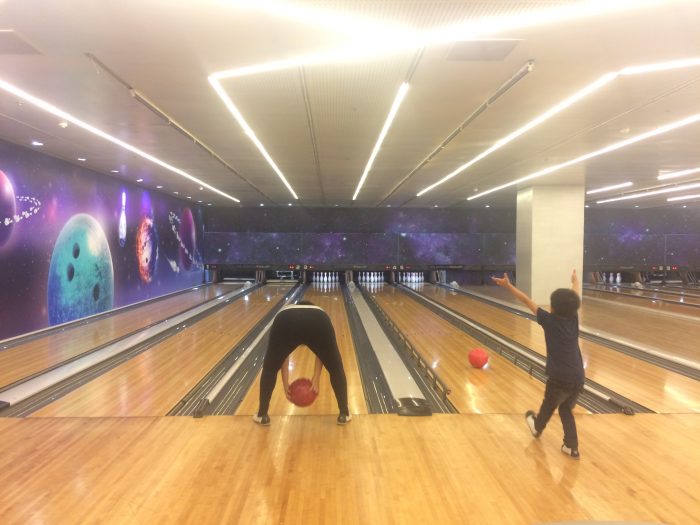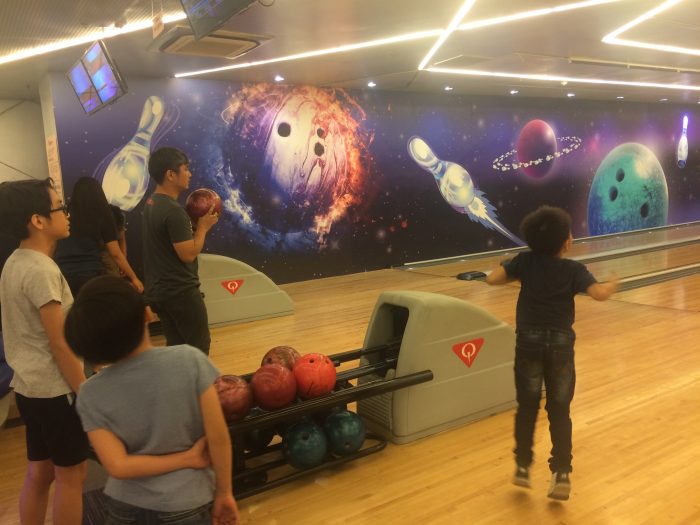 Family is always worth the time
As to whether we will go back to SM Bowling Center, perhaps during the day is a better idea so we can avail of the Php 600 per game rate. Although Jay says we'd probably end up paying the same since we're all amateurs and can't play at the same pace as pros do.
Jay said the rates work well for singles or teens that come in groups. Php 165 per head to pool with others would be affordable for them.
A friend suggested a bowling alley with lower rates in Makati, we might try that, too. But when we move to the South, which we are bound to do soon, SM Southmall's bowling center would be the closest one to us. So we'll most likely end up going there if the kids would really take to bowling.
I just wish they have more family-friendly rates so we can do it more often.
The kids also want to try Archery and Ice Skating, so we'll let them try them, too.
I had a really nice time last night at the bowling alley. As our 7-year old Judah summed it up, "it was a great day!" before resting his head on his pillow to fade off into dreamland.
Bowling has never been my thing, but when I see my children's triumphant faces when their balls hit the pins at the end of the lane; or seeing my husband in his element, it's just happiness, cheesy as that might sound.