How July saved our Marriage
It's a running joke between me and Jay that he put our marriage on the rocks because he lost our wedding photos, haha! And it all started when our old laptop conked out and we had to transfer files from the old laptop to the new.
To free up more space, Jay thought it would be best to temporarily store our wedding photos in an external hard drive which turned out to be a bad decision because the hard drive ceased working and Jay had to extract the files and transfer them again.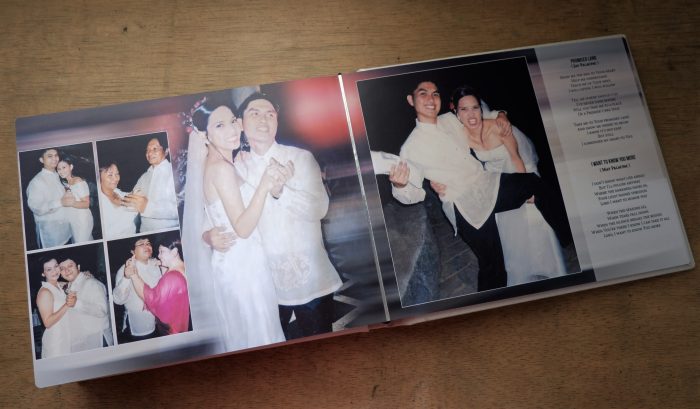 How we lost our wedding photos
There were two folders marked "wedding" – one had the beautiful photos taken by a friend from church, Maan Villanueva, who helped us document our wedding; and another folder with the photos gathered from guests who brought their own digital cameras.
Back then, phone cameras weren't a thing yet.
Apparently, Jay got confused and thought he had copied the file twice, so he decided to just transfer one and delete the other. That one he chose was the guests' photos.
The official photos taken by Maan were deleted. Gah!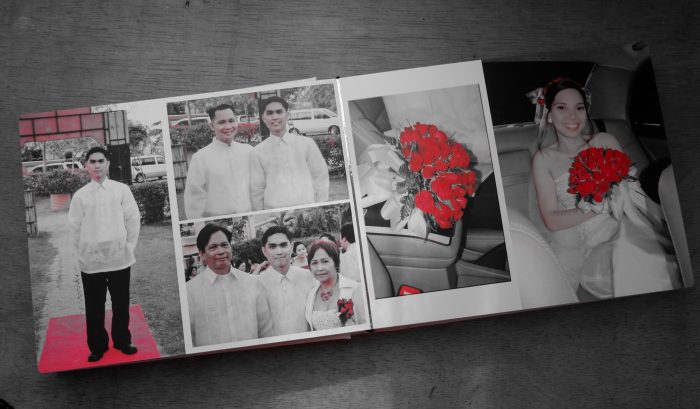 Saving what was left
I'm not sure if you saw my post on Facebook when I had our raw video salvaged and transferred into a flash drive. It took me years to find the right service to do it. We almost lost that, too, with all the moving we had to do. Thankfully, the files had been safely moved by Aurora Ubana Video Home Transfer and are just waiting for Jay to find the time to edit.
As for the lost photos, it made me very sad, but there was no use crying over spilled milk.
My sister-in-law, who acted as our wedding coordinator, had some of Maan's photos printed and placed in a red photo album on my birthday in 2004 (year of our wedding) as a gift.
She wasn't able to print all of them, just a handful, but at least we had some of them.
July to the rescue!
I gave these photos and the ones taken by our guests to July Carrasca of Photo Book at DotxPixelz who scanned the old photos and together with the digital copies, laid them all out in a photo book.
She made me choose the design for the cover and even accommodated my request to add lyrics to a couple of songs we wrote for our wedding.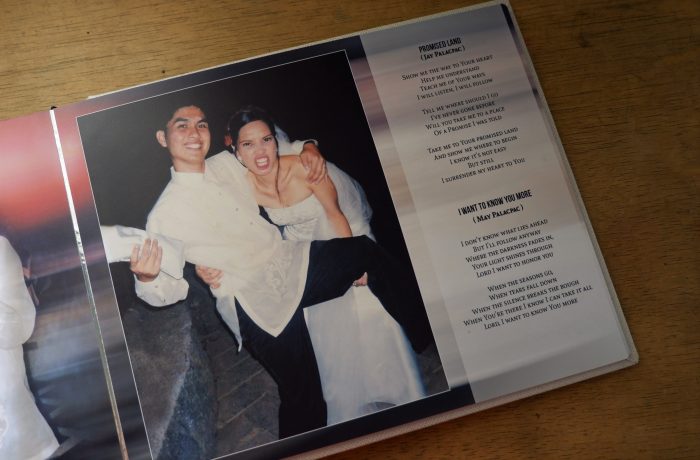 July, also, took the liberty to print out the text of the vows we took on the day of our wedding.
It was good to be reminded of the beginning of our journey and the direction we wanted to take as a couple and as a family.
How to order a photo book from July Carrasca:
Just to break down how the process works: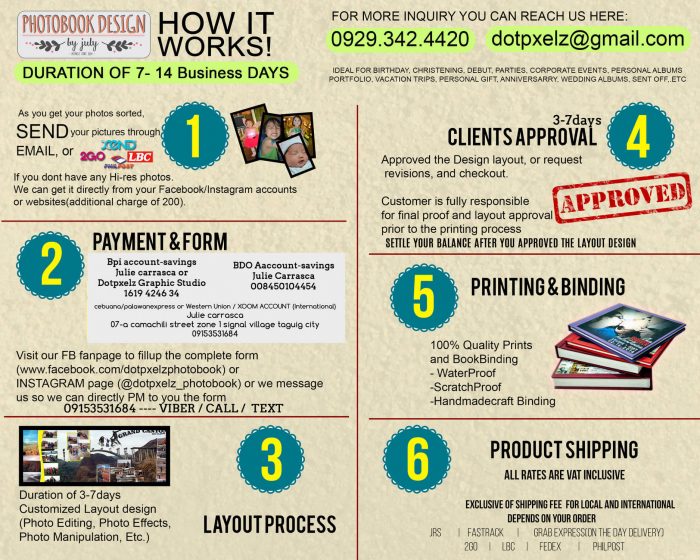 Save the photos, save the memories!
July sent our wedding photo book to us the day after Valentine's day. It was such a very thoughtful gesture. One for the books.
Just to clarify, July didn't have to save our marriage, haha! She saved the memories from our wedding.
Ours was not a fancy wedding. We don't have those emotional, cinematic videos to share on Facebook or Instagrammable photos to wow today's meticulous, overly critical social media audience.
But it matters so much to me to keep the photos we have, however faded, to keep the memory alive, for us, for our children, and our children's children, for them to see how God had orchestrated our marriage, our journey, and their existence.
I will treasure this photo book and the memories it holds for the rest of my life.
"Therefore what God has joined together, let no one separate" Mark 10:9.
Photo Book Design by July Carrasca
Email: [email protected]
Contact number: 0929-342-442-0
Facebook page: https://www.facebook.com/dotpxelzphotobook/