Easy Milk Puffs Recipe for the Holidays
I've been going through my recipe magazines and books the past two weeks because of my kids. Well, also because I want to get my eyes off the monitor as much as i can, so instead of looking through websites, I went old school. Since it looks like we're going to spend the holidays at home, I thought I'd get a head start on the holiday menu.
Anyway, i chanced upon a very interesting milk puff recipe on FOOD magazine that does not require any baking powder, but uses powdered milk and more eggs than usual. It's actually a recipe that recommends Alaska Powdered Filled Milk as one of its ingredients, but if you have another brand, you can probably try that, too.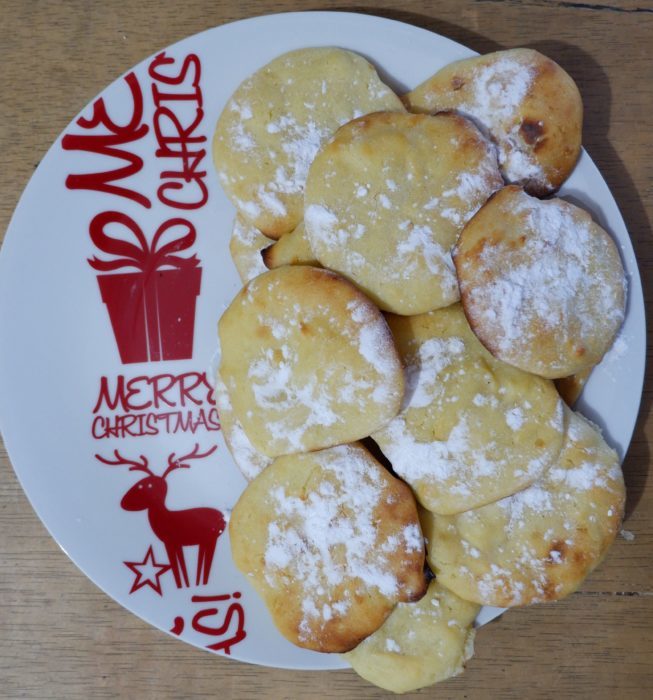 So off I went to All About Baking, a baking supply store at Uptown Mall in BGC. I got myself a couple of new bags of flour, white sugar, and some chocolate chips (for a totally different recipe). I completely forgot to buy confectioner's sugar, so I had to ask our kind next door neighbour and church mate, Edz, if they have some that I can borrow and replace tomorrow. Fortunately, she has some as she has been baking a lot lately, and gave me what's left of her stash (which was still a lot).
I didn't really check the steps on how to make the puffs, but only looked at the ingredients. I thought I already knew what I was going to do, but was surprised that I had to use a sauce pan for the first three steps in the original recipe! I was panicking a little because I haven't done this before and I thought I may have to be quick at it because… what if I took so long to lay out the baking sheet and the mixture would harden?
But I learned that the longer I make the mixture wait, the better the puffs are going to turn out. It's not really that hard to do, I was just caught off-guard by the sauce pan steps, haha!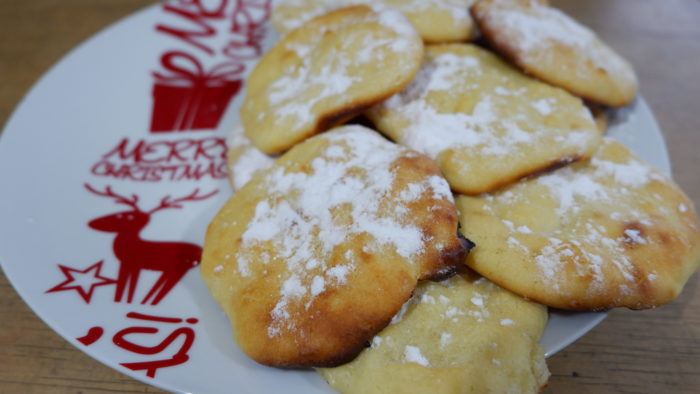 Anyway, here's how you do it.
How to make Milk Puffs:
Ingredients:
2C Water
1C Powdered Milk
1C Butter
1C White Sugar
3C All Purpose Flour
8pcs Large Eggs
Confectioner's Sugar
How to bake:
1. In a sauce pan under low fire, mix water, powdered milk, sugar and butter. Stir until melted.
2. Turn up the heat a little while continuously stirring, then once the mixture is boiling, start adding the flour and continue mixing until the mixture separates from the pan.
3. Turn off the heat, then in a mixing bowl, add the eggs and mix them in one by one. I used a hand mixer, which I found very helpful.
4. Scoop mixture using a spoon and put them on your baking sheet. I didn't grease my baking sheet, but check if you need to do so on yours.
5. Heat the oven at 350 F, then put the batch in to bake once the oven is warm enough. I waited about 2o minutes for each batch, but remember that different ovens have different temperature settings. Make sure you know yours.
6. Once the puffs turn slightly golden brown, take them out and let them cool.
7. Dust with confectioner's sugar, then serve.  Ideally makes 36 – 48 pieces, depending on size.
Must I add to our Christmas menu?
The texture is somewhat smooth and soft. Surprisingly, it's not that sweet, considering that there were two types of sugar added. And since it was my first time, the first batch was a bit too light-coloured. I was afraid to burn them. But I think I got it down on the last three batches.
The kids seem to like it, but I find it a bit heavy on the tummy, I was done after eating a couple of them. It's soft and chewy. Jay says it's like a soft doughnut.
I'm still trying to decide on whether I should serve them on Christmas morning when the kids have their hot cocoa with Jay, and if I should try adding some chocolate chips in. Sounds fun, doesn't it?
If you're going to try this recipe and you're posting it on social media, don't forget to tag @fullyhousewifed on Facebook or Instagram, okay? Enjoy!