Restaurant Review: Elephant Grounds in BGC
I don't hate the Pandemic season altogether. Sure, it has its restrictions, but I think that for many people, it has grounded us and helped us reflect on the things that truly matter in our lives and how we want to live our lives moving forward – including showing our appreciation for some of the people God has sent to us.
A friend of mine, Thania, celebrated her birthday a couple of weeks ago. We haven't seen each other in months, and I thought it would be nice to spend a day with her to celebrate her and our friendship, which is fairly new – about 2-3 years (?). I've known her for some time because I knew her brother back in the band circuit, then in church, but we never really got the chance to get to know each other until the past two years.
One of the things I like about Thania is her taste in food, so I told her to introduce me to something new this time. So off we went to Elephant Grounds in BGC for brunch.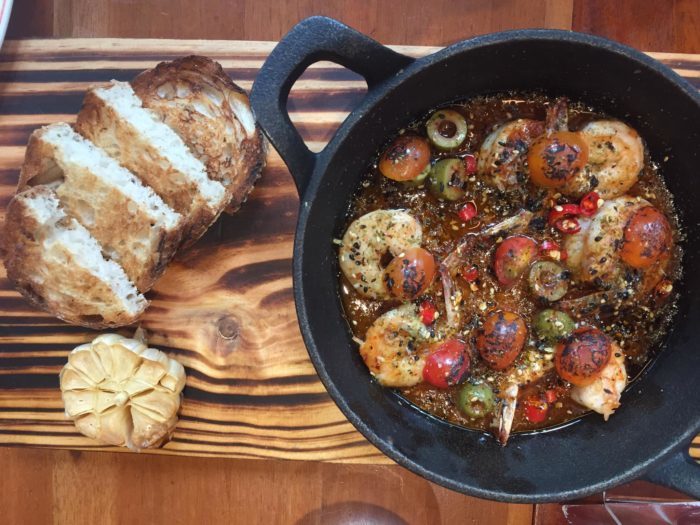 Food and Interiors
Elephant Grounds, according to my research, is originally an all-day brunch themed HK-based cafe. They serve a handful of Instagram-worthy toasts and sandwiches, as well as some rice bowls and designer coffee.
I'm not too sold on the interior design,  I felt that there weren't too many comfortable couches to stay at on a regular day, but I'm totally into the kind of food they serve. Thania sent me the link to their Facebook page before we went there, so I had an idea already on what to expect in their menu.
Each single served meal is actually good for sharing for 2-3 people, so Thania and I got a couple of dishes to share between us first – Layu Paprika Shrimp with Sourdough and Bacon-Steak and Eggs Waffle, and chatted the hour away.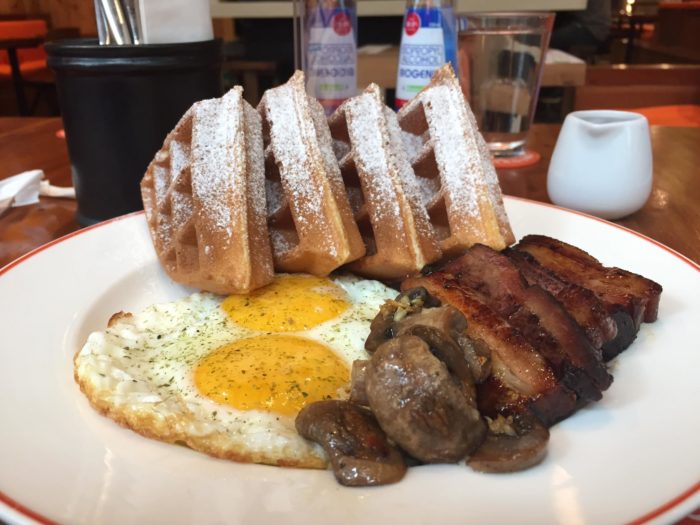 The food was superb! The bacon is not the thin, sliced bacon we are all familiar with. There's more to chew on and it didn't taste like they put honey on it, which is my thing. I totally love how the bacon, waffles, egg, and mushroom exploded in my palate — mmmmm…mmmm!
Now, the Layu Paprika Shrimp with Sourdough is pure delight! It's both spicy and tasty and I loved it. In fact, I loved it so much that I ordered another, haha!
What's interesting about it is how you can spread the softened garlic on top of the sourdough slice, and how it mixed well with the sauce. Thania has been to Elephant Grounds more than once before, so she was actually the one who told me to try it because I saw her doing it, and I found it strange at first. I was pleasantly surprised that it didn't leave a strong, garlicky taste in my mouth.  I'm going to teach it to Jay next, hehe!
We didn't get desserts, but we had Salted Caramel latte, which Thania said was her favourite. It's okay, I enjoyed it, but I think I should have ordered tea, instead, to loosen up the food that settled on my waist a little, haha!
Price and Sanitation
As for the price, it's just as you would expect from a cafe like it, so I wasn't exactly surprised. It's definitely not fast food rate. The average rate per entree is more or less PHP 500, so  it's not bad, really, besides, each serving is a lot anyway, and the quality of the food is really good. It's really worth your buck, if you ask me. Neither Thania nor I ate any more for the rest of the day, haha! Obviously, I plan to go back and try out more in their menu.
If you're wondering if they have social distancing and sanitation protocols in place, the answer is yes.  You can log in, check their menu and order using the QR codes, they have a paper bag for you to keep your mask, they have alcohol gels at the entrance, etcetera, etcetera.
But just to be safe, bring your own small bottles of alcohol with you, and you can wash your hands on the sink in the restroom.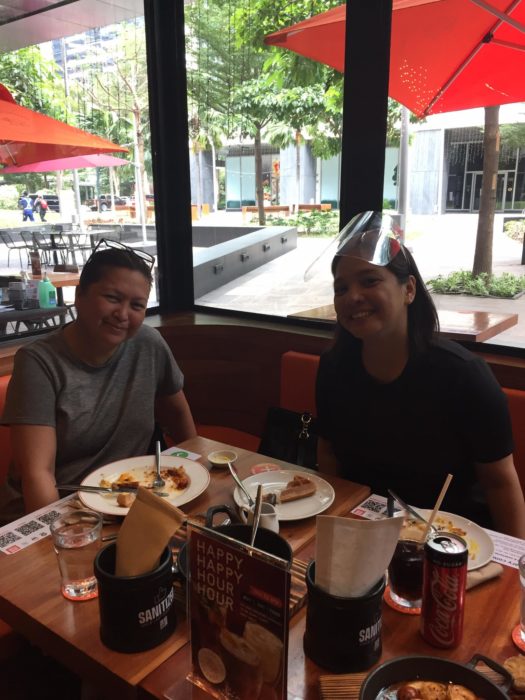 I think that spending intimate time with a friend in a good place is a must. You want to be comfortable enough to sit back and talk, while enjoying good food. Thania and I chatted away, laughed and caught up with each other's happenings, and she couldn't have chosen a better place to do that.
Happy Birthday, Thania! May God prosper your plans, bless your family even more, and grant you your heart's desires. May God also bless our friendship and may we both grow together in Christ. Love ya!
Elephant Grounds is at LG/F One Bonifacio High Street Mall, Bonifacio Global City. It's open daily at 8AM to 9PM daily.