I've recently hosted a giveaway on Facebook where 8 moms will receive a copy of Frances A. Sales' Not Invisible, A Memoir book each. Four of these books, I bought from the author herself, and the other four were donated by a good friend of mine, Thania.
I bought my first copy of the book for two reasons: Firstly, because I enjoy Frances' writing a lot. She writes in a very relaxing, stress-free tone that it seems like she's just having a conversation with you over a cup of coffee.
Secondly, I've made a promise to myself to be more supportive of people within the industries I roll in, in this instance, the blogging industry. I want to be genuinely happy for those who are making progress and are achieving great things as writers and as content creators. So yes, Not Invisible isn't the only blogger-written book I bought, but it is my favourite, so far.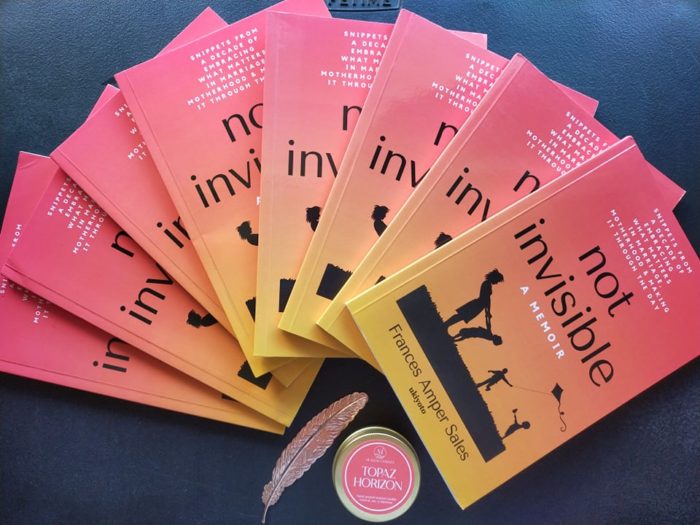 The book opens with stories on Frances' marriage, a few snippets on their courtship, why marriage was far from her mind, and how Vince managed to earn her trust and win her in marriage — building up to the beautiful life she now shares with him and their three adorable sons, and the challenges they face together.
My favourite chapter would have to be the one where she audaciously tells off people who say her sons would be future heartbreakers. "My sons are gentlemen, " she says. "They will never be heartbreakers."
I thought that was powerful.
I'm not in the business of raising heartbreakers, myself. I want all my boys to fall in love, take their relationships seriously, respect and honour women, and be faithful to their wives and children.
When you read Not Invisible, you get Frances' fresh perspective on married life. For me, the book took me back to the early years of family when I would declare that marriage is bliss despite the walls we consistently run into.
It brought me back to those days when my toddlers drove me nuts with their antics, when harried me would rush to get dinner ready and the house tidied up before my husband enters the door, tired from work; those mundane days when my kids and I would enjoy a book, or slump together watching a movie….the unexpected laughter, the wiping off of tears, both the restful and stressful days…Oh, the joys of it all!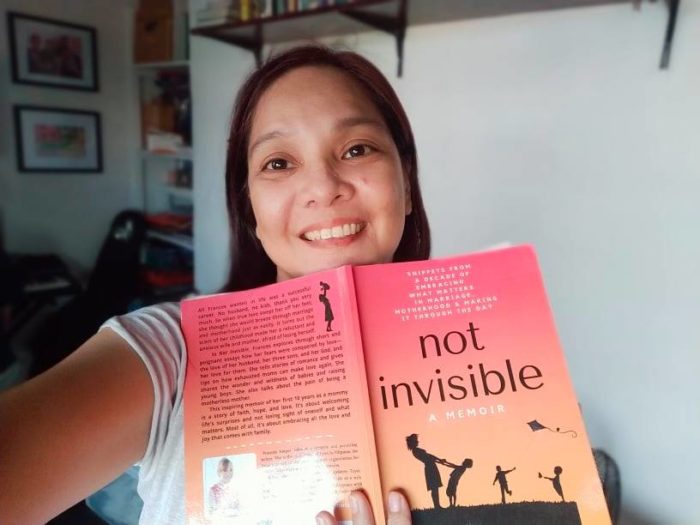 Frances, through her book, gives you a picture of her life, which, in turn, makes you look back on your own journey. She un-romanticizes notions on motherhood and marriage, sharing imperfect days while teaching the readers to embrace these imperfect moments and factor them into personal growth.
There may be moments when you'll wonder if it all sounds too good to be true, but here's the thing — I've met Frances and I got to experience a bit of her in one of my watercolour classes. And as I get to know her more through her posts, our group chats and from working with her in a campaign, I get to appreciate her person more and more.
She always seem to be smiling, she's bright and light to be around with. I'm not sure if she remembers but I first met her at a bloggers' event, and the impression I got from her was that despite her already successful status as a blogger and Editor of popular magazines, YES! and OK!, she wasn't snobbish, which is common to most people with the same level of accomplishments (sometimes, even less, hahaha! )
She had no air of superciliousness at all. She's approachable and has a genuine way about her, which, to me, tells me that all of what I've read in her book is authentically her.
And I want to be like that.
I want to go back to the blushing, younger me and see my marriage and my motherhood, and our family the same way she sees hers, because truth is, that part of me needs a bit of work nowadays.
It's why I also gave a few copies of her book away. I think we all need to see our families the way she does, because I believe that family is where it all starts and the impact wives have on their husbands and moms have on their children help define the next days of society.
No, we are certainly and absolutely not invisible.
Not Invisible, A Memoir by Frances A. Sales is available to purchase on Amazon and Shopee.