I had second thoughts about sharing about the Saliva Antigen Rapid Test Kit because our results were negative when we used it, but I took the RT PCR the afternoon after that day and I tested positive for COVID-19. As of this writing, I am on my 11th day since my first symptom and in my recovery period.
We didn't really suspect it for COVID-19, to be honest. I have always been paranoid when it comes to our health, especially of our children's, so I'm really watchful of symptoms and monitor consistently when one of us is sick. During this time when the virus you may catch may be fatal, a bit of paranoia is necessary, correct?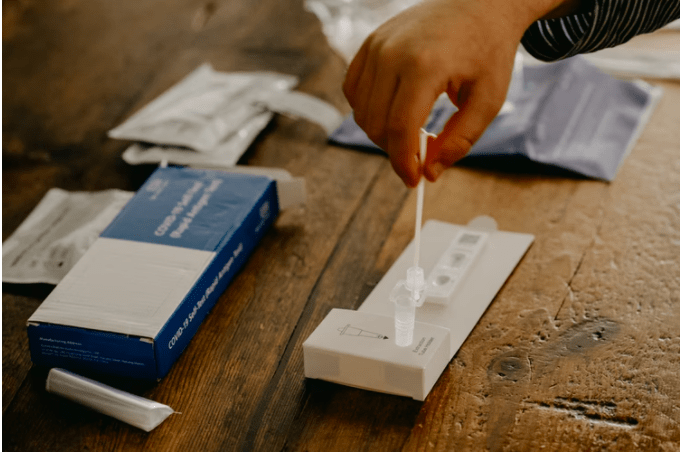 But it was quite a nasty flu that hit our home (or so we thought it was flu). Relieved that we tested negative using the saliva antigen kits, I posted excitedly only stories, and since there've been over a hundred people who've seen my post and I've gotten some questions and reactions about it in my inbox, I thought I'd blog about it to clarify some things.
We decided to get the Saliva Antigen Test for COVID 19 to determine whether we need to schedule a swab test.  It's a bit difficult for us to go out and visit a clinic unless it's really necessary because of our location. Plus, we don't own a car, so it would mean shuttling our kids off by Grab car, which also increases the risk of catching COVID more since our immune systems are down.
The Saliva Antigen Test for COVID 19 has already been approved by the Department of Health. Ideally, you may avail of it at the Philippine Red Cross. You can book your Saliva Antigen test with them on their website.
Difference between Red Cross Saliva Antigen test and a Saliva Antigen Home test kit (DIY)
I would still recommend that you do that, especially if you are highly suspecting that you have COVID-19 and if your symptoms are indicative that you have it because they have healthcare workers present to guide and assist you. They know better what to do.
Plus, I think they will provide you with the necessary documents to prove that you tested negative (providing that tested negative), if you need it for work, travel or bookings.
According the the site, the cost of a Saliva Antigen test is around PHP 3,800 to Php 5,000.
However, what we did was purchase a DIY Saliva Antigen test kit for Php 450/kit and have it delivered to our home. It's simple to use but you don't get assisted by healthcare workers, nor will you get an official document for it. In short, it is not considered an official test, unless monitored by a doctor.
For us, it was simply to find out if we need to go through all the trouble to get an RT PCR, which, apparently didn't help any because I went from bad to worse the day later, prompting us to call a home service swab service so I can get properly tested.
The family of a friend of ours took the same saliva test and one of them tested positive, so they scheduled for an RT PCR. They all tested negative in their RT PCR tests a few days later.
According to the doctor we consulted afterwards, he said that there is a possibility that we tested too early, hence, the negative results.
This test kit has a 96.67 percent accuracy and is FDA APPROVED, according to the FB seller where we bought it from.
How to use a Saliva Antigen Rapid Test Kit:
Here's a video that shows you how to use the saliva antigen rapid test kit (please note that the brand we got is different from the video, but it's basically the same materials in our kit):
Important things to remember when use the Saliva Antigen Kit:
1. Do not put anything in your mouth at least 30 minutes before you conduct test.
2. Make sure you wash and sanitise your hands and the area where you will conduct the test.
3. The test is time-restricted. You need to use a reliable timer.
4. Results after 12 minutes incubation may change. If you missed reading it prior, throw it out and do the test again.
Do I recommend it?
Because of our experience, I would recommend that you get tested via RT PCR if you have flu-like symptoms because it was how I learned I had COVID-19 and I needed help.
To be honest, the RT PCR was difficult and painful for me, but when it comes to your health and with COVID-19, time is of essence. There's no room to play around. You just have to get yourself tested so the doctors can help you.
Could we have made mistakes in using it? Possibly. After all, we are not experts. Another friend, a medical graduate, says these antigen saliva tests are actually as accurate as the RT PCR results. So what could have gone wrong with our tests? Your guess is as good as mine.