I received a few books from CSM Publishing, a non-profit organisation that produces excellent, but affordable and accessible resources on faith and building our relationship with God. They aim to reach people from all parts of the world with these materials.
The books I received (which I chose from among their titles!) were 5 Things to Pray for your Heart by Rachel Jones, Growing in Gratitude by Mary K. Mohler, and Making the Best of a Bad Decision by Erwin W. Lutzer.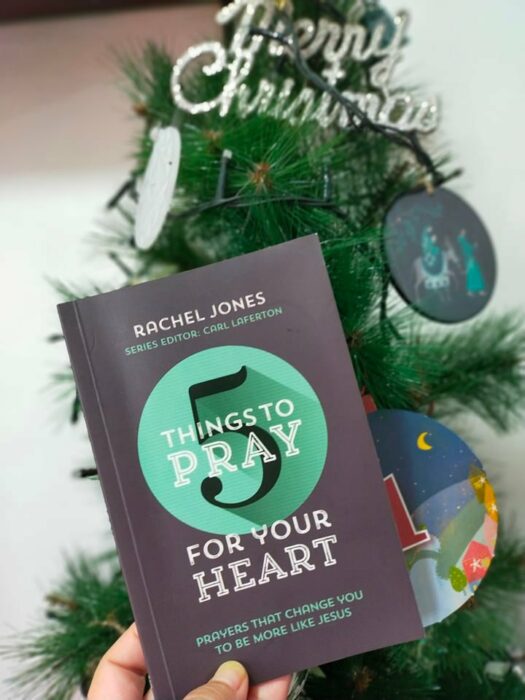 I also received a new Bible with a cover design of my own choosing, as well.
Among the three, I decided to start with "5 Things to Pray for your Heart" by Rachel Jones.  With all the books I'm currently reading, it's the easiest and most practical to start with.
5 Things to Pray for your Heart by Rachel Jones is just one of the books in "5 Things to pray" series. There's 5 Things to pray for your kids, and 5 Things to pray for the people you love, both of which I plan to purchase once I'm done with this one.
The 5 Things to Pray series teaches you to pray with God's desires in mind and aligning your heart to His. If we know how to pray to Him, He will reveal Himself to us in ways we have not known Him before.
What makes this book really nice is that each chapter deals with an area in our lives that we need to pray for, broken down in 5 bite-sizes.
The verses to use, and a short one-paragraph guide on what to pray for using the verses, are provided for each point.
There are not too many sugarcoating or frills, it's just a straightforward guide that gives you a lot of room to speak your heart to God. The priority is for you to be in communion with Jesus.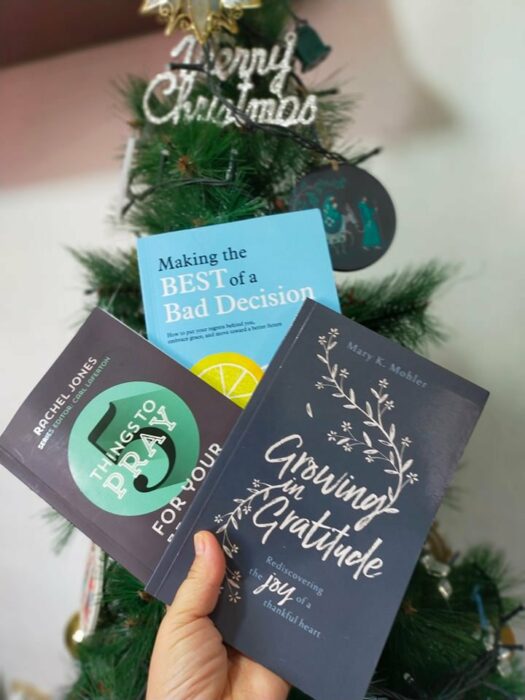 And because each chapter is short and concise, it makes it a great tool for people who think they don't have much time in their lives for prayer. You'd be surprised at how much time you can really spend with Jesus when you consider him a part of everything you're doing  — not just in an hour of the day.
Plus, the book is small, too, so you can carry it around with you and use it when you're on a train or bus, or if you find yourself alone at lunch time or at the park. It's very convenient and very easy to use. You can read it anywhere and at any time.
5 Things to pray for Your Heart topics are divided into three categories: Praying for Spiritual fruit (Love, Joy, Peace, Patience, Kindness, Goodness, Faithfulness, Gentleness, Self-control), Praying that I would be…(worshipper, learner, teacher, ambassador, friend, worker), and Praying for growth when I am…(doubting, discontent, overwhelmed, suffering, celebrating and getting older).
I would have naturally picked the one where I would pray for kids, it would have been a great material for my blog since I'm mostly known for being a mum, but I opted to pray for my heart as I am currently in disillusion and need God to put my pieces back together.  I'm not sure if the pandemic has anything to do with it, but I need to realign my desires with the desires of God so that I can minister to my children and to other people better.
If there's anything I do know is that when you know the heart of God, nothing is ever too great to shake you. I miss that about my relationship with Him and if I have to start all over again just to get to know Him all over again, I will.
At the moment, CSM Publishing is having an onsite book sale called Readjoice! at CSM Building in Pascor Drive, Sto. Niño, Parañaque City. The event was launched last November 29 and will go on until December 4, 2021.
CSM books are also available on Shopee, but not all titles are uploaded on these online stores. There are so many other books to see at the onsite event, and these books are sold for as low as Php 100 only!
If you're looking for great gifts to give this Christmas season, consider giving books that speak life. You might be in for a surprise in the lives of the people you care for. Or if you're preparing your tools and materials to help you face the new year, come to Readjoice!

"You will seek me and find me, when you seek me with all your heart" Jeremiah 29:13.