Exploring Binondo, Manila's Chinatown
I've always wanted to explore Binondo since we took a tour of Intramuros a few years back. History connects the two and I thought it would be a good way to get to know the place where our Chinese friends were forced to camp when the Spaniards colonised our country and enslaved our people to build the walls of Intramuros.  I've mentioned this in two of my past blogs: Bahay Tsinoy in Intramuros and History Homeschooling in Intramuros.
Since we don't have a car, it's clear that we were not going anywhere outside the metro this holiday season, not when we have a still unvaxxed kid with us, so we decided it would be a good time to check out Binondo and see what's going on there. We would have gone on Chinese New Year, but COVID numbers are still going up and down, so witnessing the Dragon Dance in person will have to wait.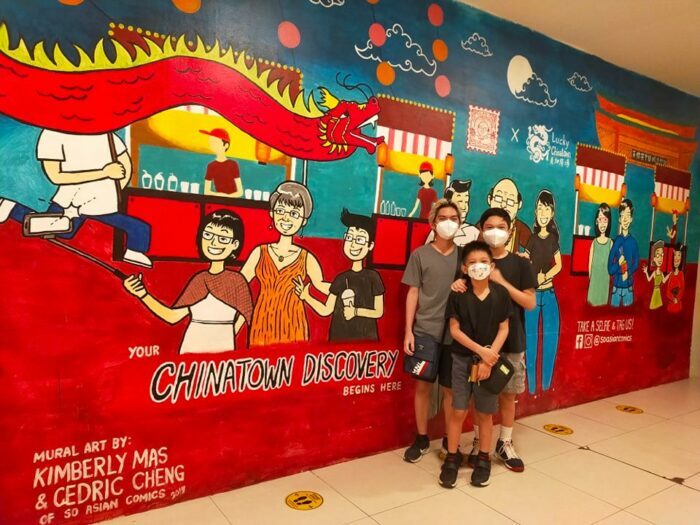 I browsed online and came up with a list of places we'd like to visit, which includes a museum, a buddhist temple, the newly restored Jones bridge, a church and a couple of places for food.
I thought of us going to Binondo as early as 9AM and have breakfast there, but since we are still living in an unusual time (and because he's been there before), Jay decided against it and said that 11AM arrival would be most practical.
We booked a TNV ride to drop us off at Lucky Chinatown Mall, which was a good call because Judah needed a pee break by the time we got there, and they have a decent, clean restroom at the mall. You just need to pay Php10/head to be able to use it. I don't know if the mall has other more public restrooms similar to other malls, but this one's right by UCC Coffee at the ground floor.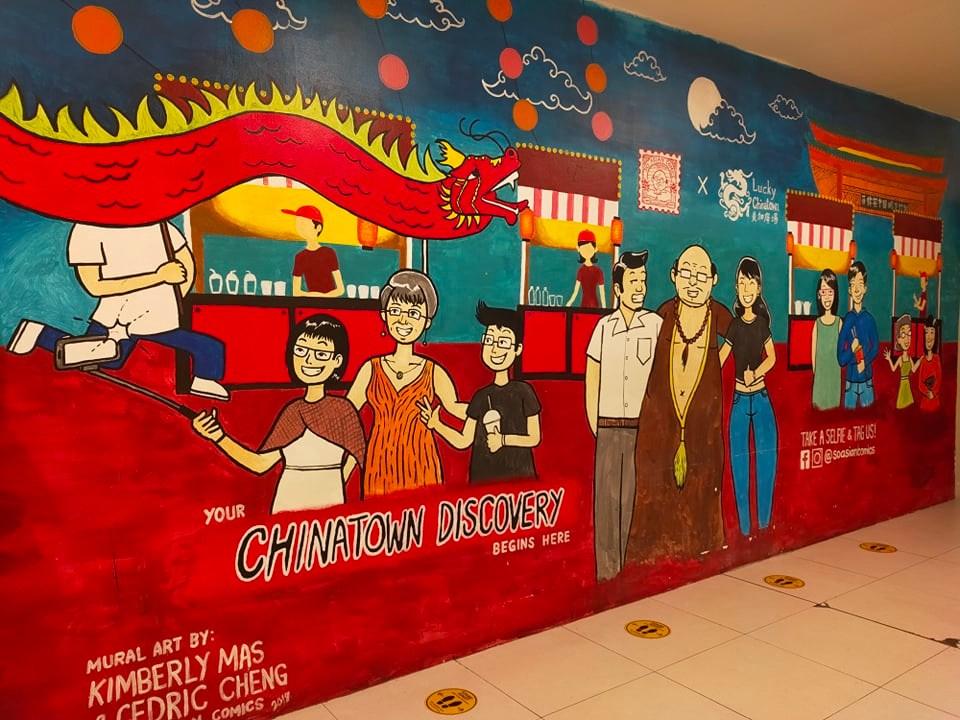 Chinatown Museum is at Lucky Chinatown Mall and we were supposed to visit it, but we were told that the museum is still closed and the girl at the concierge said they have not been notified when it will reopen yet. I did see a poster on the elevator that says it will open on January 8, though I'm not sure if it meant 2022 or an old poster from the previous years.
Since the museum was closed, we decided to proceed to get lunch at Sincerity Restaurant, one of the most recommended Chinese restaurants to eat at in Binondo. The mall had one, but we decided to go to the one along Quintin Paredes street which has been around for 65 years.
Sincerity Cafe & Restaurant
It looks small from the outside, but it actually has three floors. We were seated at the second floor, very near a buddhist altar, so we can inhale all the incense burning while we were eating, haha!
We wanted to try their famous fried chicken but it was unavailable. We ordered Kiampong rice, Beef Ampalaya, Sweet & Sour Lapu Lapu and Batchoy Bola Misua Soup.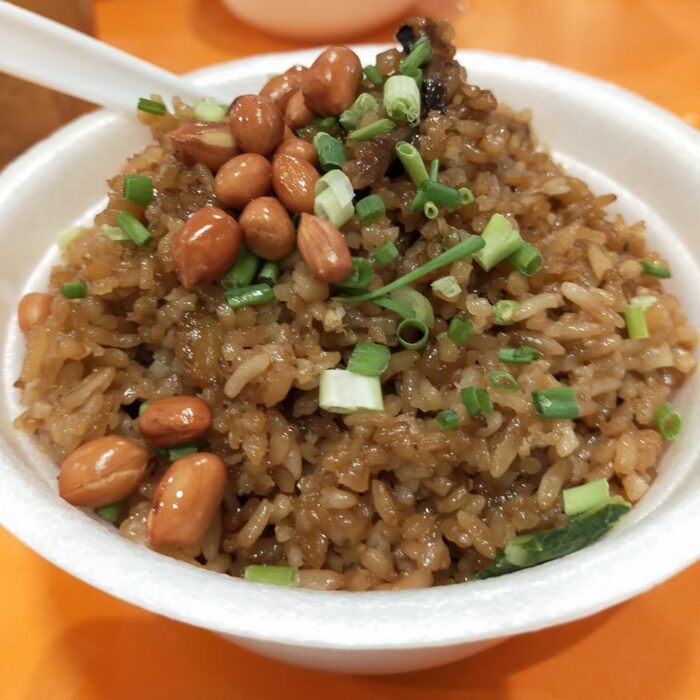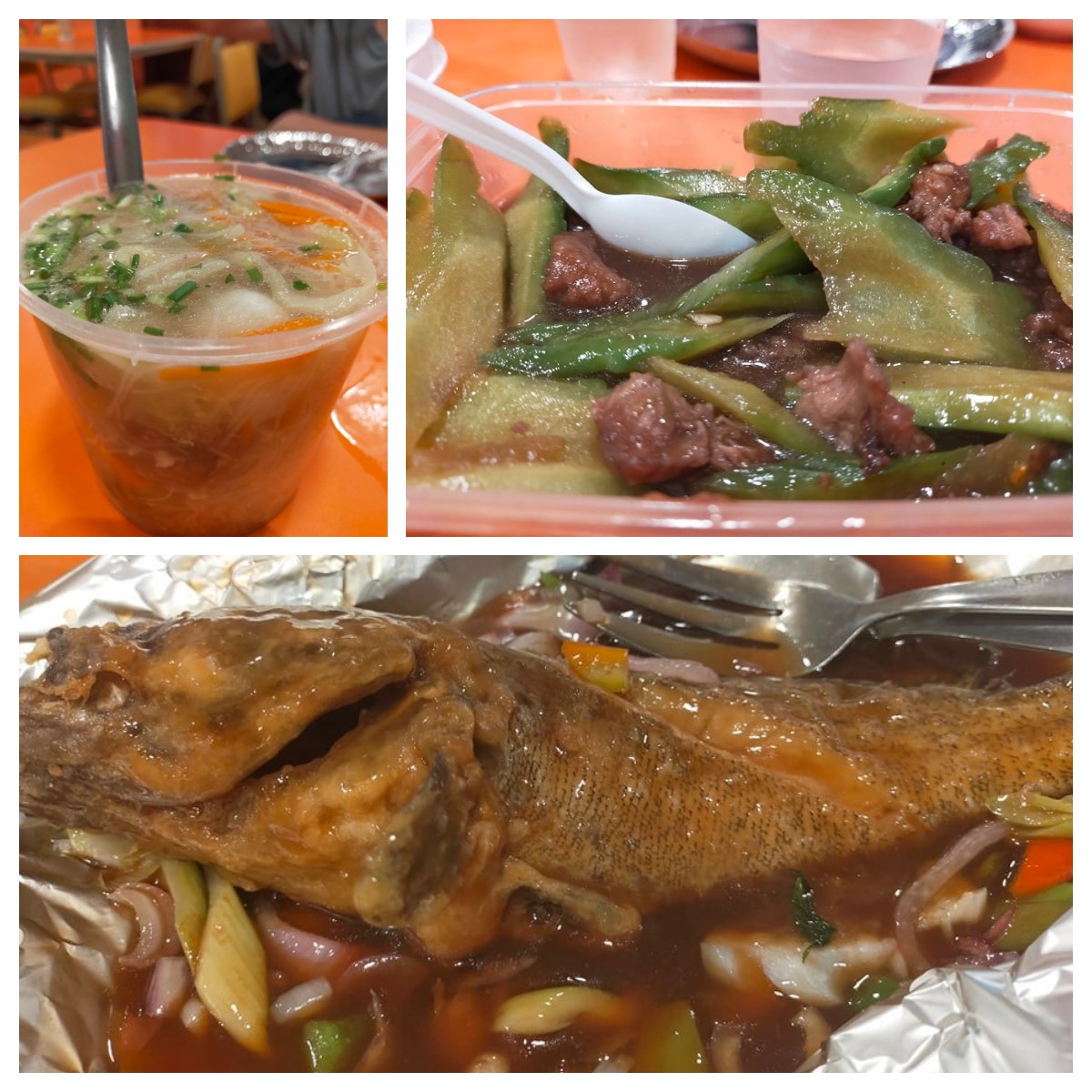 The food was okay. Beef Ampalaya was probably our favourite. Kiampong was interesting to taste for the first time! Who knew peanuts would mix well with rice and onion stalks? Sweet & Sour Lapu Lapu tasted just like my mom's, but the Misua soup was extremely bland.
They also served us the food in a styrofoam and plastic containers, and gave us paper plates and plastic utensils. I'm assuming they did so because of the pandemic and they plan to throw them out after use, but honestly, I was a tad disappointed by both the service and the food since the place came highly recommended in many blogs. Perhaps the crew was tired and they had to deal with many unruly customers before we came, like the man seated next to our table who was having a fit because chicken wasn't available for his bento and the crew couldn't provide a suitable alternative.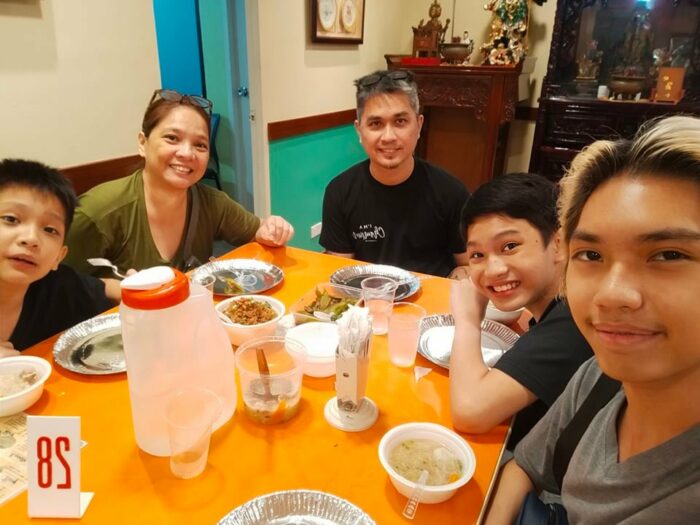 But hey, we're there to explore. I would probably just get their chicken from a mall branch nearer to us to taste, but would most likely try other Chinese restos when we go back to Binondo. There were tons of food places to go to, but none of us were built for food crawls, so we'll just have to go back when we can to try them.
I also forgot to get fresh lumpia from New Po Heng Lumpia house or try Shanghai Fried Siopao! There's also Cafe Mezzanine, which we passed by on our way to Ongpin, and Ying Ying Tea House. So many more to try that we missed!
My husband, who read the history of Sincerity Cafe & Restaurant, said that it started in 1956. The founders asked for help to start a mami house along Carvajal street. The restaurant has since been passed on to their children and children's children.
Binondo Church
Binondo church was founded by Dominican priests in 1959. It's made more important as it is the church where San Lorenzo Ruiz, who was born of a Chinese father and a Filipino mother, served and trained until he went on a mission in Japan. He, along with his companions, were executed for refusing to renounce their Christian faith.
Masses held at the Binondo church are in Hokkien, Mandarin, English and Filipino. When we came, the mass was in English. Lukas wanted to see inside the church because he liked the architectural style, but there were some restrictions and mass was ongoing, so we couldn't really explore.
View this post on Instagram
Ongpin Street and Salazar Bakeshop
Ongpin street was named after Roman Ongpin, a Chinese businessman and philanthropist who aided the Filipinos in the revolution against the Spanish and American colonisers, and financier of the Katipunan.
He was imprisoned by the Americans at one point, but even so, continued to oppose them and refused to sell his products to them. He died of a heart ailment and was buried wearing the Filipino's national costume, the Barong Tagalog, at his request.
One of the biggest revelations for me when we first visited Bahay Tsinoy and Lights & Sounds Museum is the relationship of the Filipinos and Chinese during the world wars. The Chinese came to trade and taught us business skills, they didn't come to conquer us.
They, in fact, fought alongside us, against the Spaniards who enslaved us and the Americans, who bought us from them. It's good to know our history and I'm glad I learned about this side of ours.
View this post on Instagram

Anyway, I know Ongpin street as one where you can get nice jewellery at a bargain price. My husband got me a bracelet there once, but he says buy there only if you know how to distinguish between real and fake gold, so he took his cousin with him that time.
The jewellery shops were all closed, so we just strolled around and visited Salazar Bakery, one of the oldest bake shops in the area (since 1947).
We got my husband's favourite cubed Hopia, then I got Barquillos and the Barquillos de polvoron to share with the kids. I told my children how I loved the one with polvoron and used to pretend it was a cigarette when I was a kid. I honestly have no idea why I told them that, haha!
I also got small, round tikoys with peanut butter inside for the kids to try.
Seng Guan Temple
Seng Guan Temple is located in Tondo, a bit farther from all other sites we came for. Because of the pandemic again, we were not allowed to go inside and can only peek in the lobby from the door. Apparently, this facility has many shrines, meditation rooms, a repository for urns, a stupa and shrines, but we didn't see any of those. Just a couple of shrines in the lobby.
You can still try lighting an incense at the door. They placed an incense burner, a couple of candles and some incense sticks on a table by the entrance for those who intend to offer one for their dead.
According to what I've read, red is for those whose loved ones died in less than three years, and yellow is for those beyond that. I didn't see any yellow, but there were a lot of reds. Coincidentally, it was my late brother Nelson's birthday that day, so it would have been appropriate to light one for him.
I did show my kids how to light one, though since it's a sacred ritual for Buddhists, I didn't let them light one for themselves anymore.
View this post on Instagram
Filipino-Chinese Friendship Arch
There is a newer arch that was built in 2018, but I prefer the older arches because of what they represented – the cultural ties between the Filipinos and the Chinese communities that go back a long time since the days of the cold wars.
The new arch is just a few steps away from the old arch. It has no english inscriptions on them, but they say that the inscription reads "China Town" instead of "Chinatown."
I've been reading some articles about it and I pretty much want to stay out of the controversial dispute in the South China sea, which is what the new arch is being attributed to, so not too many locals are happy about this one.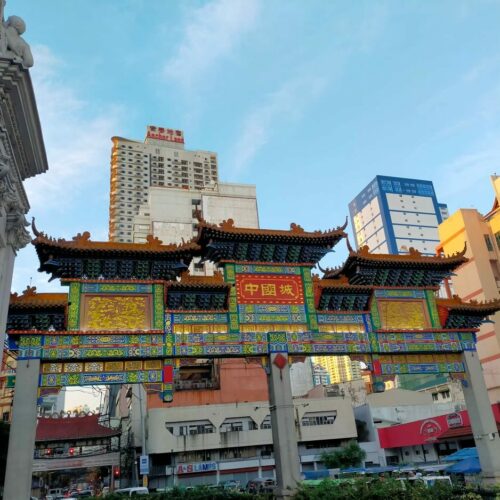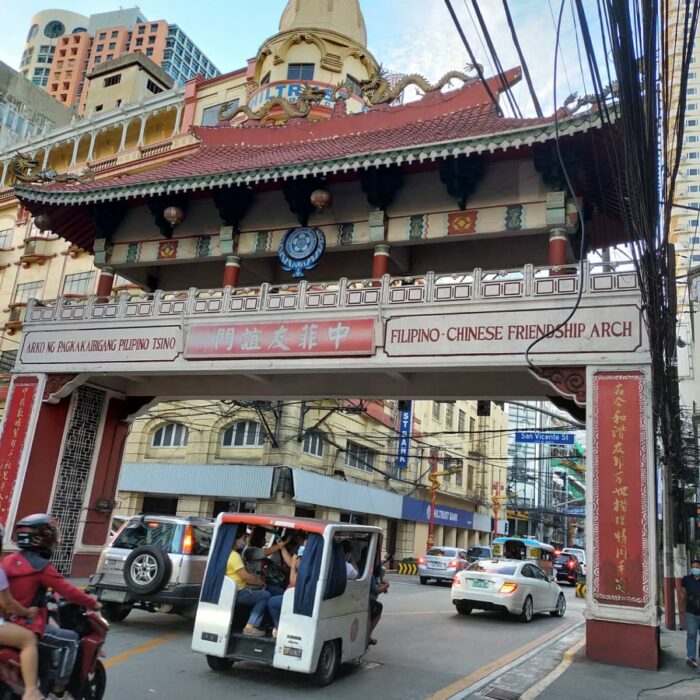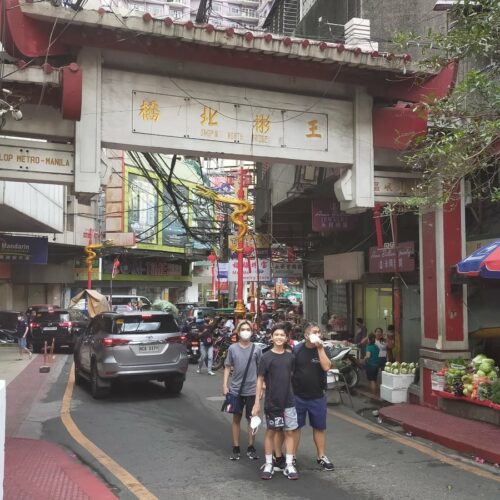 Jones Bridge
Jones Bridge was one of the reasons why I wanted to go back to the City of Manila again. The bridge was named after US legislator, William Atkinson Jones, who authored the Jones law that granted autonomy to the Philippines from the US.
The original bridge was destroyed in World War 2 and was partially restored sans many of the ornaments. Through the leadership of Manila Mayor, Isko Moreno, the bridge was restored near its original design, including the sculptures and the lamps. I wasn't able to take a good photo of the sculptures, La Madre Filipina, but you can see them up high at both end of the bridges.
It's a busy bridge as it connects Binondo to the road leading to Intramuros and Lawton.
I've seen photos of the grand view of the Manila Central Post Office, which has been there since 1902, but we had the privilege to see the beautiful sunset from the other side.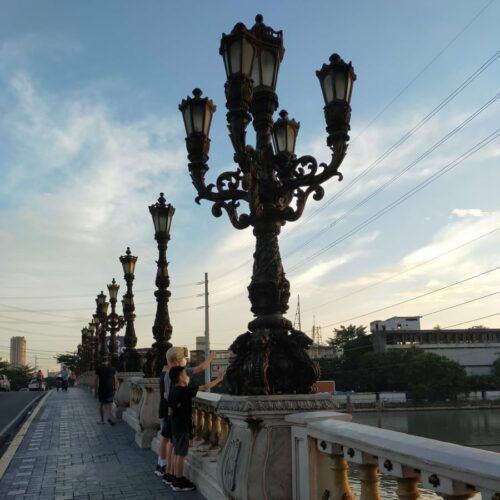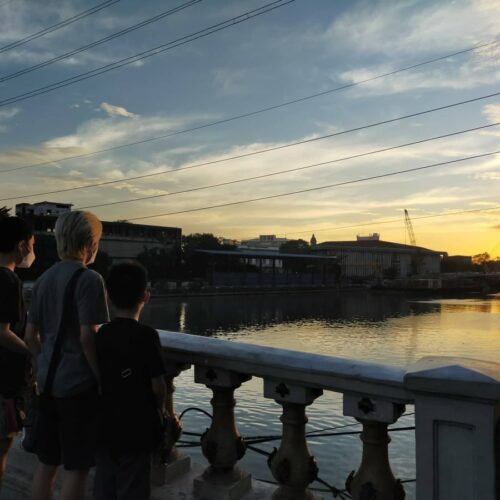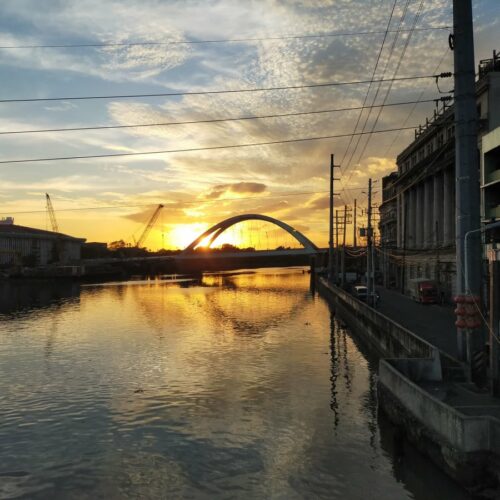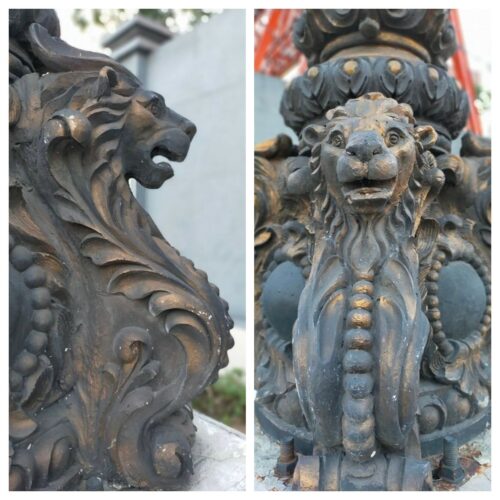 Capping our stroll at Plaza de Roma
Our trip to Binondo was quite nice. We ended it at Plaza de Roma in front of Manila Cathedral, which was beautiful and so alive at night. There was a cafe opened at the back where you can enjoy the cool, holiday air, sipping coffee under the stars. We decided not to stay because the restrooms were locked and it would be hard if anyone of us would need to use the lavatory.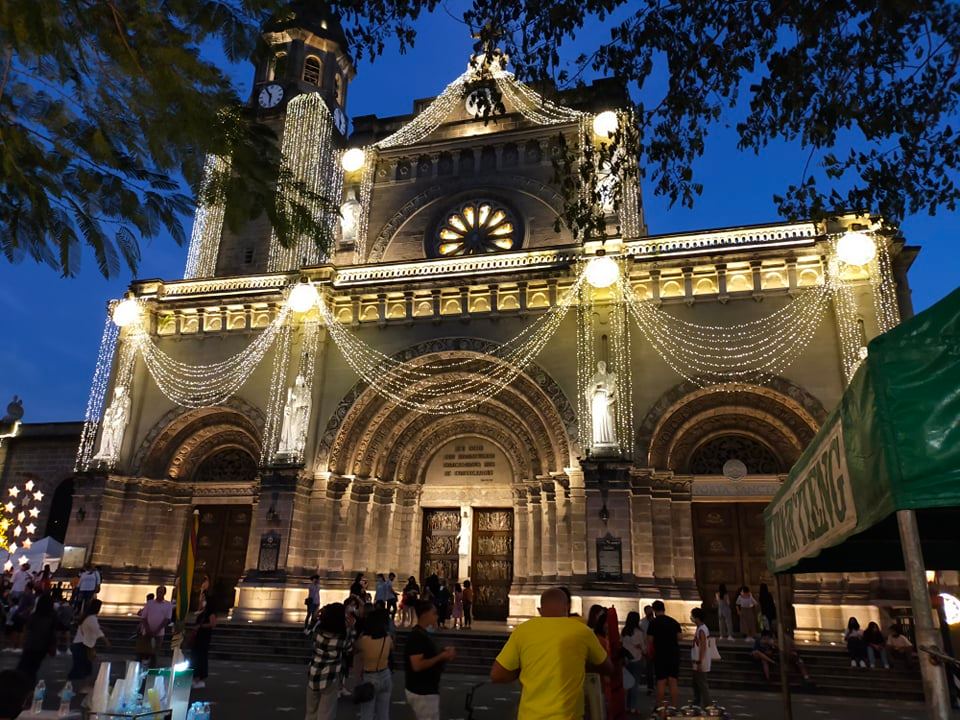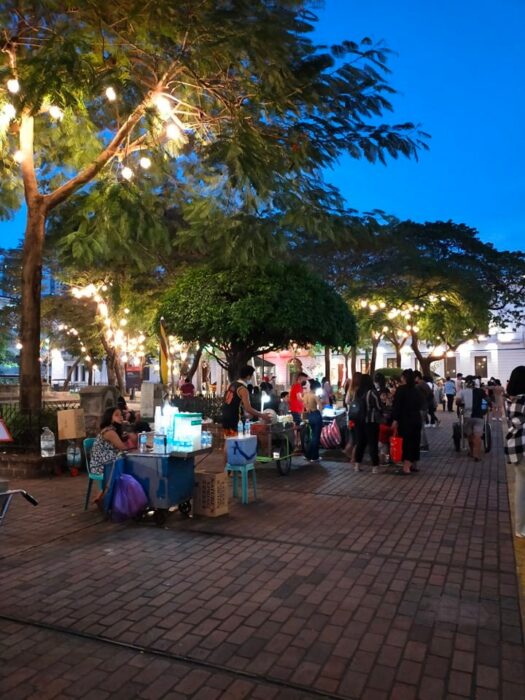 I like Manila and I love the richness of history that it provides, and though I don't see myself living there, it is still the kind of place I'd like to go back to over and over again. Personally, I think that the current mayor is doing such an amazing job with the restorations and infrastructures (we saw billboards featuring ongoing and upcoming projects for Manila), and I look forward to visiting Manila Zoo again when it reopens on the third quarter of 2022.
I'd love to check into a hotel one day with Jay and the kids and just hang out in the city. I can't wait for the pandemic to be over so we can see and do so much more!