How to order your Birth Certificate online via PSAHelpline.ph
Our family's always been big on online processes. From online banking, online bills payment, to online processing of our certificates from PSA (Philippine Statistics Authority), we've been doing it all even pre-pandemic. In fact, we've been using PSAHelpline.ph for quite some time now because the kids always need their birth certificates for many of their activities – such as when we applied for their WCPs (Working Child Permit), when we opened bank accounts for them, when we registered them with a Home School provider, and when we applied for their passports.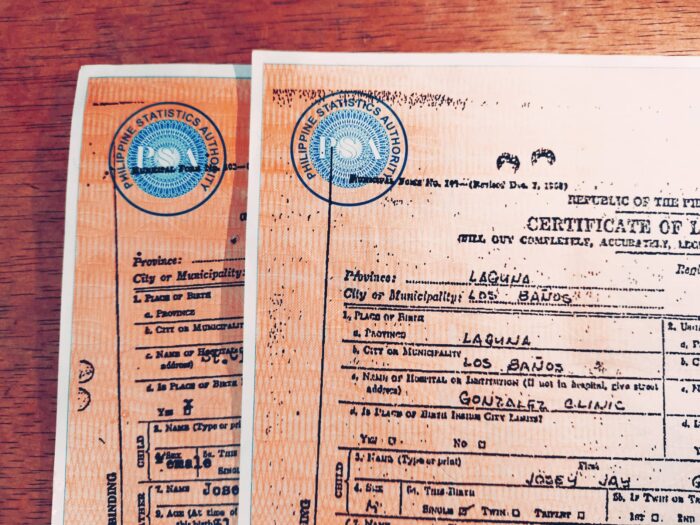 There was a time when Jay went to the PSA office in Makati to quickly secure a birth certificate for our son when he was supposed to play one of the kids in Rose Theater's Macbeth, but we find it much more convenient to apply for PSA copies online especially now that we are not yet completely COVID-free.
The boys are due to renew their passports, so we decided to visit PSAHelpline.ph again to request for PSA copies of their birth certificates and our marriage certificate, because only the four of them are due to renew so only Jay will be accompanying the boys at the DFA (Department of Foreign Affairs). Mine's not due until 5 years from now.
I was surprised to find an improved PSAHelpline.ph website. The one we used before had a somewhat clunky interface. Now, PSAHelpline.ph looks clean and updated, and so much easier to navigate. Way to go, PSA!
Anyway, we ordered 3 Birth Certificates – one for each of our sons, and one marriage certificate.
Here are the steps I took to order our kids' PSA Birth Certificates:
1. I went to the official website, PSAHelpline.ph
2. I clicked the "order now" button.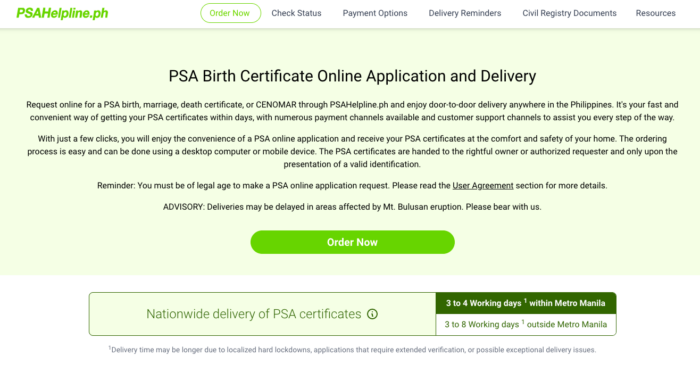 3. I chose the certificate I needed – in my case, I clicked "Birth" then ticked the box to indicate that I agree to the policies PSA has put in place for their members.
4. I clicked "For someone else," then "my son" to indicate that I'm ordering a certificate for my male child.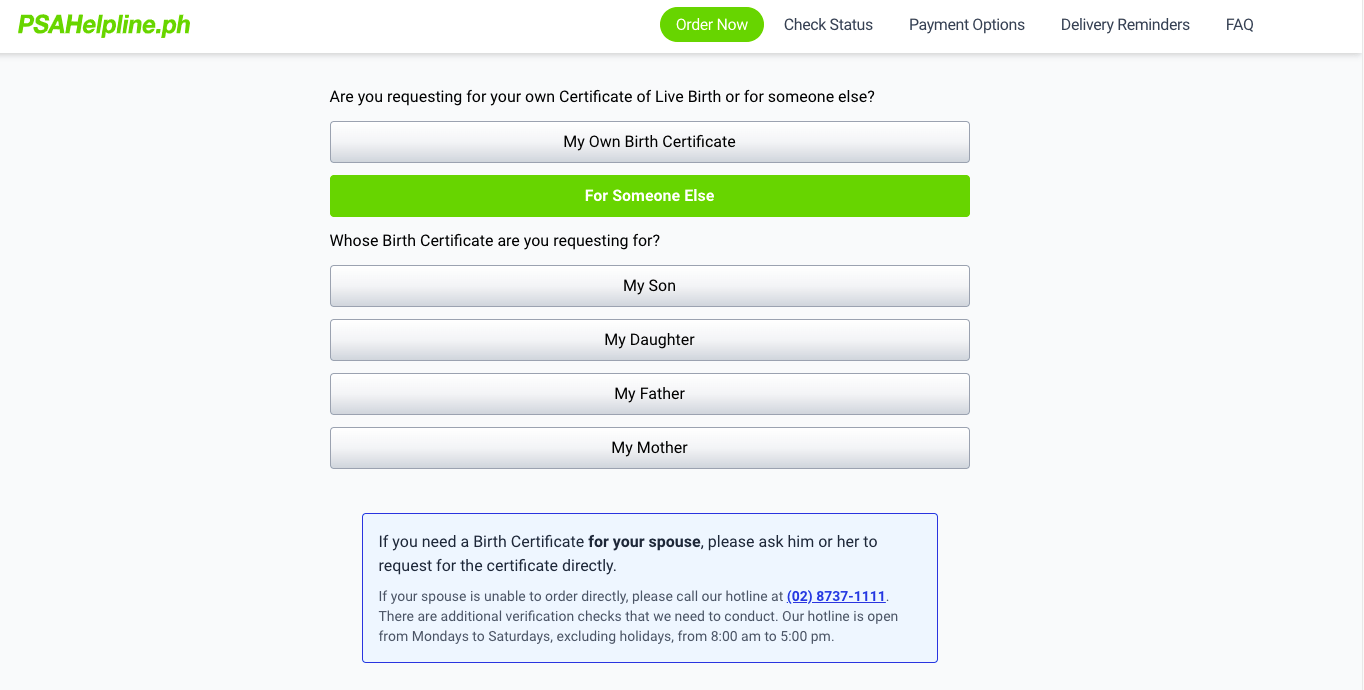 5. Before being asked to fill out some fields, the site showed a list of information that I will be asked to fill out. I clicked "continue" to indicate that I am comfortable in inputing my data in their app.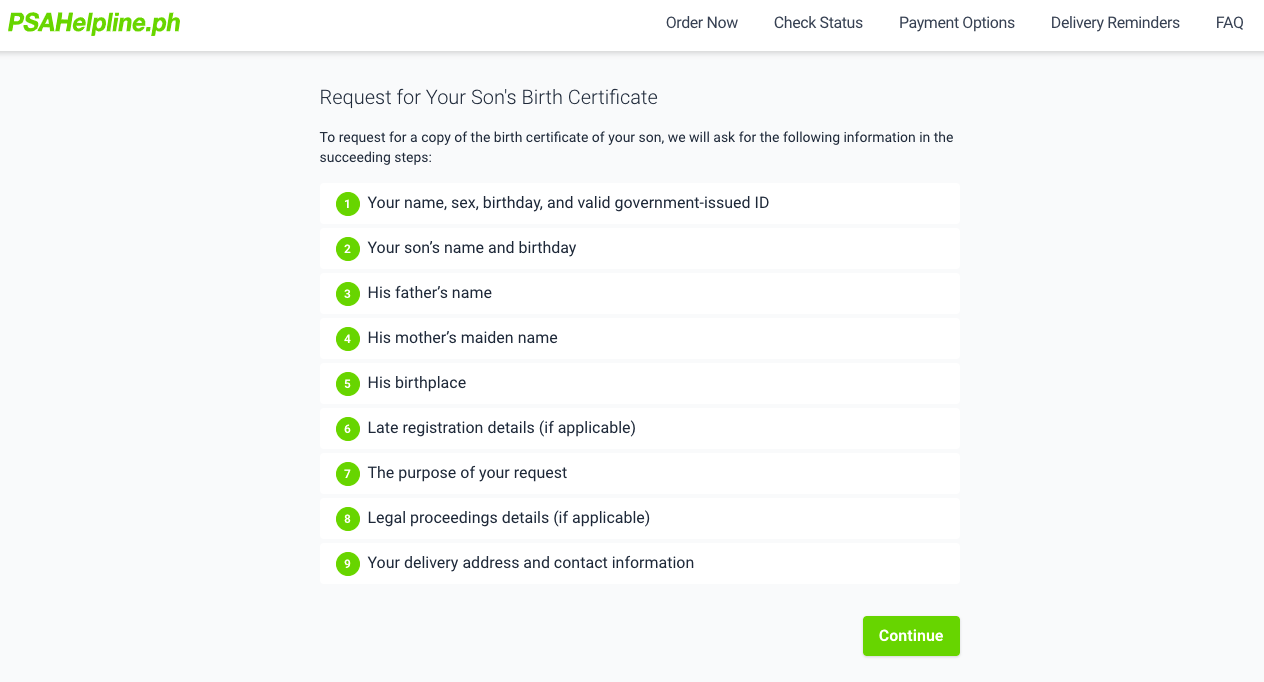 6. I filled out the form with my data. These are just the usual information asked of you when you fill out any form.
Because I applied for two more birth certificates and a marriage certificate, most of the fields were already filled out for me when I ordered the other three certificates.
Just be careful to check the field on civil status because I think it automatically selects "single." So if you're married, you need to change it to "married."
Also, since I was going to receive the documents when they will be delivered, I have to indicate what valid ID I have to show the authorized courier so he will release the certificates to me.
I wish I already have my National ID, but it hasn't been delivered yet, so this time, I chose my UMID.
7. The next page will be for filling out fields on your son's information.
8. Then, the next will be for filling out fields on the father's information. There is a box to tick to indicate if the father is not acknowledged in the birth certificate. This is for solo parents. I'm assuming this is because I am the mother and I'm the one ordering my sons' certificates, I'm not sure about fathers ordering their children's birth certificates because I didn't try it.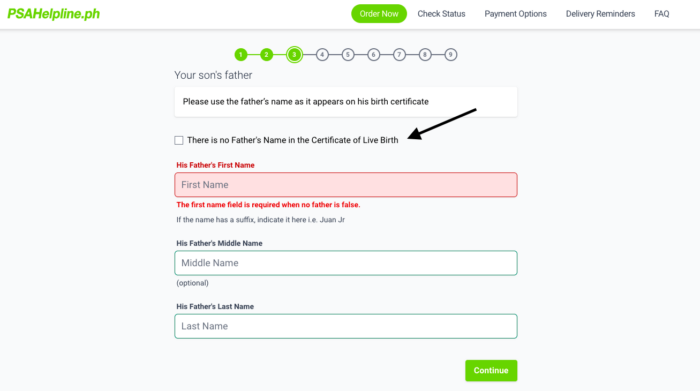 9. The next one will be for the mother's information.
10. Birth province and municipality came next, then the part where you indicate if there was a delay in the registration.
11. The next two fields would be to say what you need the certificate for and if it will be used in any legal proceedings. I'm thinking, perhaps, adoption, child custody cases, and the likes.
We don't have that issue, so I simply clicked "None."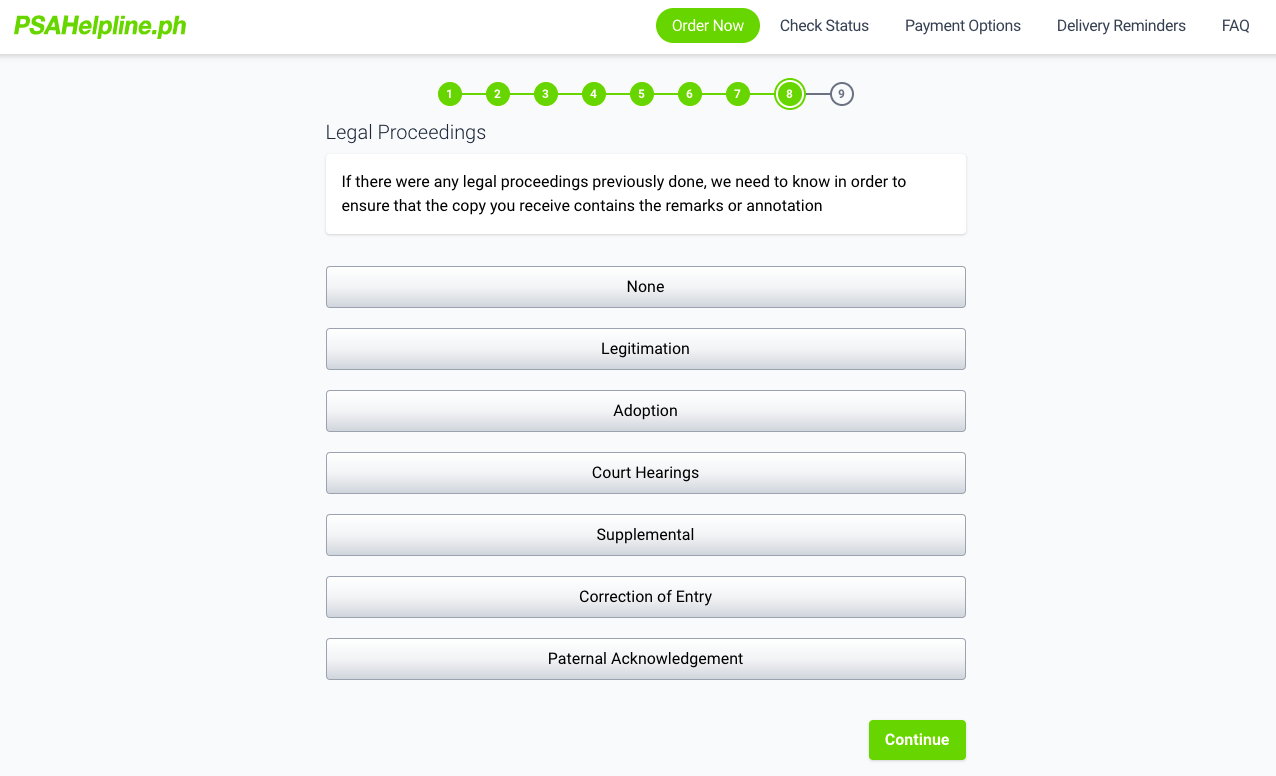 12. The next two pages were for me to review if the information I inputted in the fields were correct. It also showed me how much I was going to pay for each certificate.
Once I've reviewed my info and found no error, I ticked the box to confirm that I am who I say I am and that I understand that I must provide proof of identity for the delivery, then clicked "continue" to proceed to payment.
13. The last step is to choose my method of payment. There are many ways to pay for the certificates, both online and over-the-counter.
For online, I can choose to pay by credit card, GCash, Paymaya, Shopee pay, Dragonpay or Bayad Online.
For over-the-counter payments, there's 7-11, Palawan Pawnshop, Bancnet and Bayad.
I would normally pay via GCash, if it's an available option for payment, but this time, I opted for 7-11.
14. The app will provide the order number which you will indicate when you pay for your certificate.
For our marriage certificate, it's basically the same process, except that it only asks you to provide information of you and your husband.
And that's it!
I submitted my request forms on June 25, got them paid on June 28, and they were delivered on July 1. That's less than a week in total!
Get your PSA Certificates online!
Aside from Birth and Marriage certificates, you may also order copies of  your CENOMAR and Death certificates online. And did you know that you can also renew your driver's license online?  Just visit PSA's website: PSAHelpline.ph.
As a site user, I really found the new PSA online system seamless. I think that PSAHelpline.ph shows us that the country is finally starting to move forward in terms of technology. Although we still have a lot of areas to cover to be able to keep up with the E-times, finding one government website that is actually functional and easy to navigate shows there's hope for us yet.