Review: Alice Reyes' Rama Hari 2023
We were fortunate to secure seats for the entire family on the opening night of Alice Reyes Dance Philippines' "Rama Hari" at The Metropolitan Theatre on September 16th. As loyal patrons of MET are aware, the shows at this historic Manila theatre are all free, but you must act quickly to register before all the seats are claimed. Obtaining seats for ARDP shows is particularly challenging, as they tend to be snapped up within minutes of registration opening.
In fact, we've already purchased balcony tickets for the boys at the Samsung Performing Arts Theatre to ensure they can watch the show in case we're unable to secure seats at the MET. So, yeah, these lucky whippersnappers are going to see the show again on Saturday!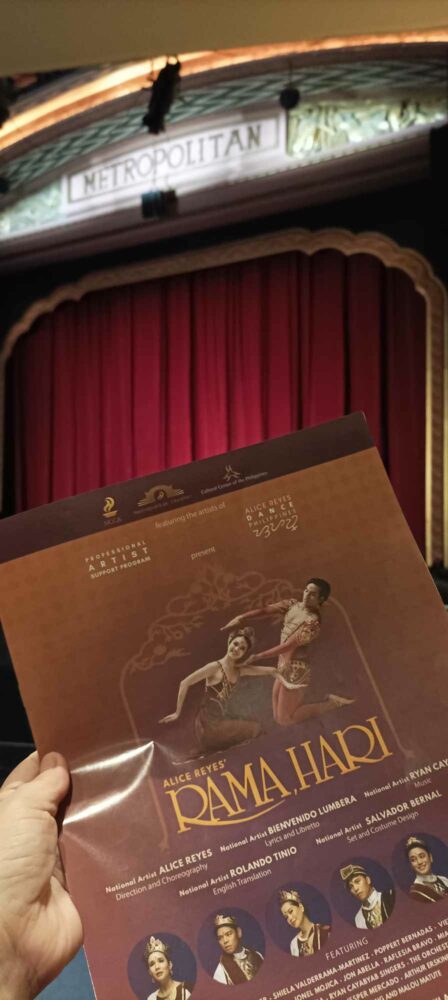 I don't know much about Rama Hari except that it is based on a Sanskrit epic, Ramayana.
The Story of Rama and Sita

Ayodha's prince, Rama (Ronelson Yadao), fell in love with the beautiful Mithila princess, Sita (Monica Gana). However, he was exiled from the kingdom due to a promise made by his father, King Dasaratha (Lester Reguindin), to his stepmother, Kaikeyi (Janine Arisola), who sought the throne for her son, Bharata (Dan Dayo).
Rama accepted his fate and departed for the forest, accompanied by Sita and his loyal brother, Laksmana (Erl Sorilla). While trying to lead a peaceful life in the forest, Soorpanakha (Celina Dofitas), the sister of a powerful demon named Ravana (Richardson Yadao), developed a liking for Rama. She attempted to lure Rama and deceive Sita, prompting Laksmana to protect Sita and inadvertently injure Soorpanakha.
Ravana sought vengeance for his sister and kidnapped Sita. Rama sought assistance from the Monkey King (Renzen Arboleda) and launched an attack on Ravana, ultimately defeating him and rescuing Sita.
With the 14-year exile now over, Rama returned to Ayodha. His brother, Bharata, willingly returned the crown to the rightful king.
Playing favourites!
It's been a while since I last saw Ronelson Yadao and Monica Gana dance together. Dang the lockdown!
I can't imagine anyone else playing Rama, to be honest, although I am fully aware that other talented dancers have played the role before. Ronelson is every inch a Rama, in my completely biased opinion, haha!
Lester Reguindin's portrayal of King Dasaratha ranks top among my favorites in the show. And just when I thought I've seen him at his very best in Encantada! In Filipino – mas may ibubuga pa pala! (He has even more to offer!)
Mind you, we were seated closer to the back, on the far right side of the orchestra, and as someone not very tall, I strained to see everything happening onstage. However, Reguindin's performance was so compelling that it still left me in awe from my vantage point. Just wow!
It later dawned on me why Lester's portrayal was so effective, and how he seemed as if he had an intimate understanding of the character. If you take a look at the top of the first page of the souvenir program, it reads "2023 Restaging by Lester Reguindin."
And that, my friends, is why.

Monica Gana is as beautiful as ever. However, one striking aspect of her performance in this show is her fearlessness and ease in leaping onto Ronelson's shoulders and into Erl's arms. She masterfully combines dancing with both sheer abandon and precise control, much to the delight of the audience.
And how can I forget Sarah Alejandrino who pranced and leapt as the golden deer?  Graceful, elegant and agile, Alejandrino will always be one of my favorite faces onstage.
The shadow play was splendidly done! It's like watching those movies where you get the feel of what an epic battle is like.
We thoroughly enjoyed Dofitas' comical portrayal of Soorpanakha. It provided a much-needed comic relief in a rather intense storytelling and, in a way, prepared us for… was that a rape scene between Ravana and Sita? (Insert my horrified face here!) I must admit, I was somewhat shaken by it, but as my son, Lukas, remarked, that's precisely why that scene was so effectively executed.
I also want to mention what a true masterpiece this adaptation is. It manages to promote Filipino culture without losing the essence of and whilst paying tribute to its original Indian roots. The trees, the sets, the scenes, the costumes, the music, the choreography  – it's incredible!

As always, ARDP's company does not disappoint. The movements are fluid and and the choreography, flawless. It is always a privilege to witness this extremely gifted group of dancers perform and make magic onstage. Every standing ovation is very well deserved!
I saw an interview with ARDP's Artistic Director, Ronelson Yadao, and he mentioned something about how the restaging of Rama Hari aims to communicate to today's generation. What, with top calibre theatre actors and vocalists — Arman Ferrer, Karylle Tatlonghari, Poppert Bernadas, Miah Canton, Jon Abella, Audie Gemora, and Katrine Sunga – performing alongside their dancer counterparts, I think that the goal has been achieved.
I have to admit, Karylle was one of the reasons I came to see the show. Let me tell you, though, that Arman Ferrer's vocals will take you to the heavens!
Rama Hari 2023 will continue at The Samsung Performing Arts Theater on September 22, 23 & 24, with shows at 2PM and 7:30PM.
Rama Hari is a masterpiece created and collaborated on by 5 National Artists: Alice Reyes, National Artist for Dance, Ryan Cayabyab, National Artist for music, Bienvenido Lumbera, National Artist for Literature, and Salvador Bernal, National Artist for Theater Design, and Rolando Tinio, National Artist for Theater and Literature.

Technical and Lighting Direction by Barbara Tan-Tiongco, Production Design Consultant, Ricardo Eric Cruz, Executive Producer, Aaron Veloso.
The show also features Antonio Maria P. Cayabyab, Conductor, Orchestra of the Filipino Youth, The Ryan Cayabyab singers, and first-rate young dancers from Guang Ming College Residency Program, Philippine High School for the Arts, and De La Salle – College of Saint Benilde, and independent dance artists, Gianna Hervas, Cheska Vasallo and James Galarpe.
Special congratulations to the daughter of one of our dearest friends — Kamille Bautista, on her first show with ARDP!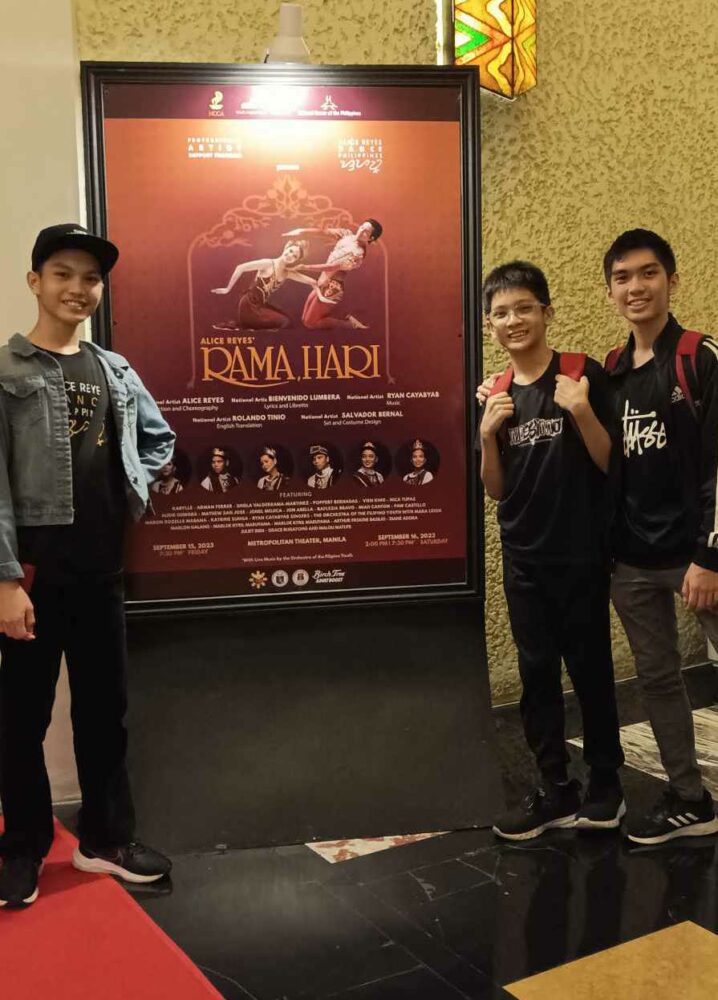 Get your tickets for Rama Hari at Ticketworld.