Philippine Ballet Theatre's Ibalon from a 300 View
It wasn't our first time at Samsung Performing Arts Theater. We were there only a few months ago to see another show, but we were privileged to have seats at the orchestra area at that time, so I didn't know then what it was like to watch from the balcony areas.
We were offered two seats for Philippine Ballet Theatre's Ibalon for their Friday show by a friend whose daughter was a company member, but we had to decline because Jay and I were both up to our necks with deadlines, and the three boys were coughing badly.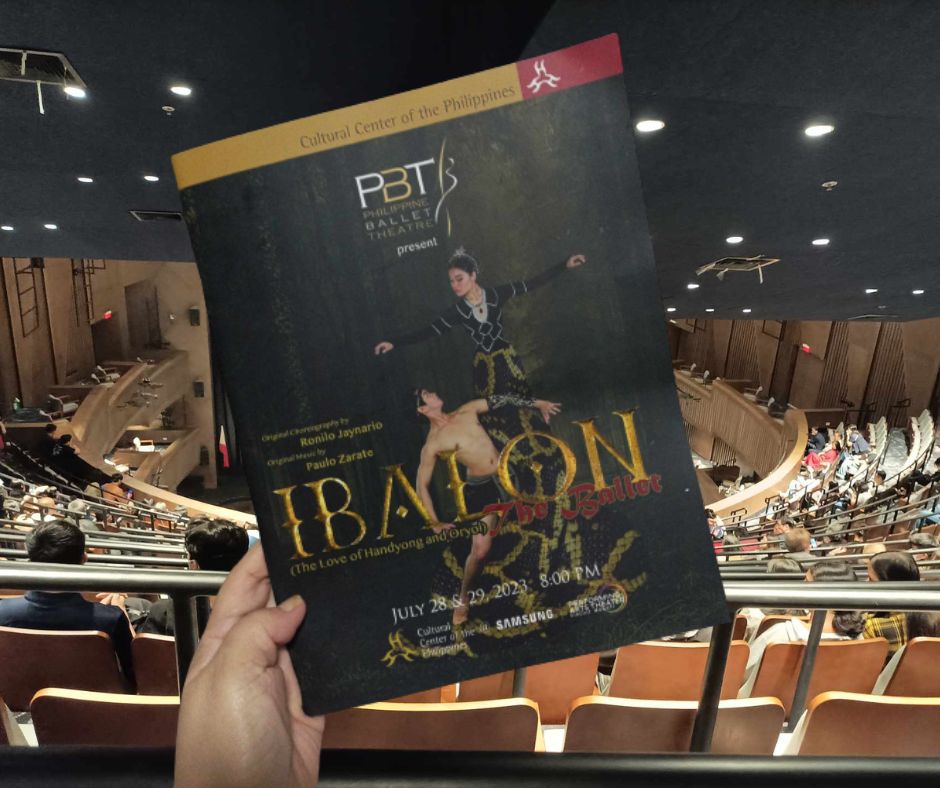 But we have always planned to see the show because of 4 things: Firstly, to show full support to Therese Riego, the boys' friend and the daughter I mentioned above, secondly, to cheer for Jessa Tangalin, the show's lead. She's one of my favorite dancers and was the boys' ballet teacher some time ago. Thirdly, PBT has always been one of my favorite companies to watch. I've always enjoyed the magic they do onstage, and Encore remains embedded in my mind (It was an outstanding show!).
And fourthly, because I want the boys to build a habit of supporting other artists and other companies. One thing that Jay and I learned through the years when performing was still our bread and butter, is that regardless of what group or company, or part of the industry you belong to, you are all in this together.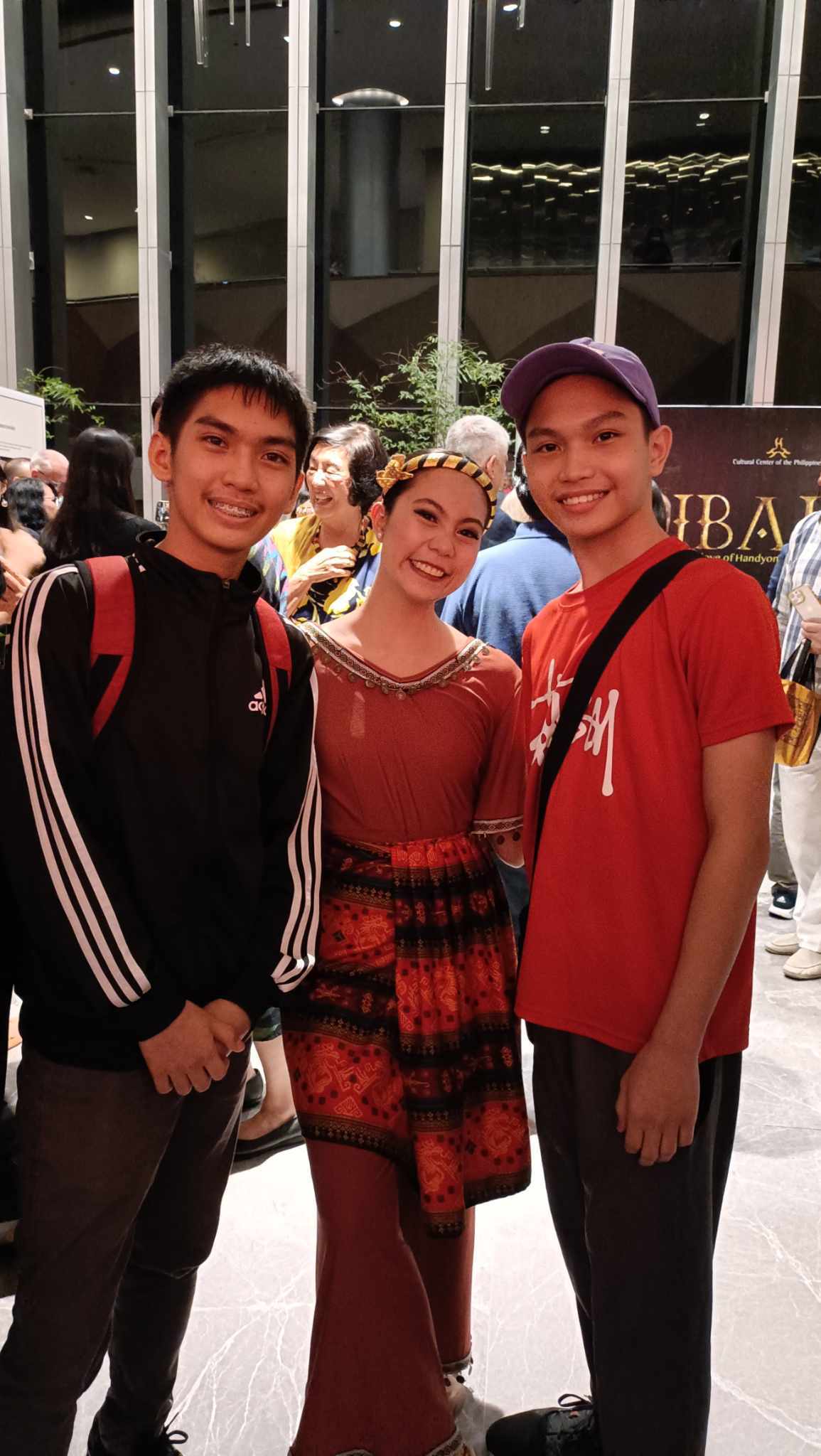 Besides, there's always something new to learn and so much to gain when you watch shows. It's a win-win for any student, if you ask me.
I ordered the tix online and got the most affordable ones — hey, we're a family of 5, don't judge us, haha! Anyway, we've sat at the farthest seats in theaters before and we still got to enjoy the shows, so in my head, I was thinking, how bad could it be?
And it really wasn't all that bad. We still feasted on every movement and every color on that stage. We had a fantastic view of the entire performance from where we were seated. I've always enjoyed balcony seats because you can really see everything that's going on, except that, this time, we could barely make out the faces from the distance, except for a few we're familiar with from their previous shows, like Matthew Davo, who gallantly played Handyong, the lead character in Ibalon, Dominador Delmo, who played one of Handyong's warrior friends, Gladys Baybayan and Julafer Fegarido, who danced lead in the Igorot dance, and a PBT scholar, Tory Cortez, who stood tall among the ensemble, wearing a bright red shirt. (Tory was a prominent theater kid who's performed in several shows — e.g. The Sound of Music, A Christmas Carol, Newsies – that's why we recognize him.)
Admittedly, it was harder to identify the women because there were more of them in the cast and they all sported similar do's. Fortunately, we spotted Therese Riego among the corps, and recognized Jessa Tangalin when she entered by her distinctive dance and incredible energy we know well enough.
That's how you know how strong a performer's presence is – it emanates all the way to the core walls of the theater. I give that to Jessa, she certainly didn't mince in star power.
The Epic Story of Ibalon
Ibalon is about how a mighty seafarer and warrior, Handyong, was sought by the King Gat Ibal, ruler of the kingdom of Ibalon, to find his daughter, Princess Bulanon, and rescue her from the Aswang.
The Aswang was the leader of the evil creatures that roamed the forests. She was jealous of Princess Bulanon's beauty, so she kidnapped her and put a curse on her. The curse turned her into a huge half-serpent Oryol at night. Bulanon can only transform into a beautiful woman, her real self, when she stays in the forest, and can only roam around freely as an old woman at day time.
Handyong headed to the forest to rescue the princess and came upon the Princess Bulanon in her true form. They fall in love, but as the sun was about to rise, Bulanon summoned the creatures to distract Handyong so he won't see her transform into Oryol. But the creatures were also ordered by Aswang to kill Handyong to curtail his mission.
Seeing that the evil creatures were about to overpower her beloved, Bulanon mustered up the courage to show herself in an attempt to save Handyong, but seeing her in her frightful form confused him, giving the monsters the opportunity to strike him down.
Bulanon screamed and killed all the evil creatures. She rushed to Handyong and held her warrior in her arms in grief. And true to any popular fairy tale, true love was the key to break the curse, and she transformed back into her real self.
The Aswang charged towards her to kill her but Handyong woke in time to thrust his sword onto her, and save his princess.
Review
It was quite beautiful story with lovely executions. I felt that I was transported back to my childhood when I would read hundreds of fairy tales and epic stories like this. The storytelling was simple and extremely entertaining, and the dancing was seamless. The leads were strong and the ensemble, dependable.
The movements were refined, the dancers were perfectly in sync and so highly coordinated which, for me, is telling of how much heart and hard work was put into this production. This was, after all, the company's first offering since the pandemic shut down all performances.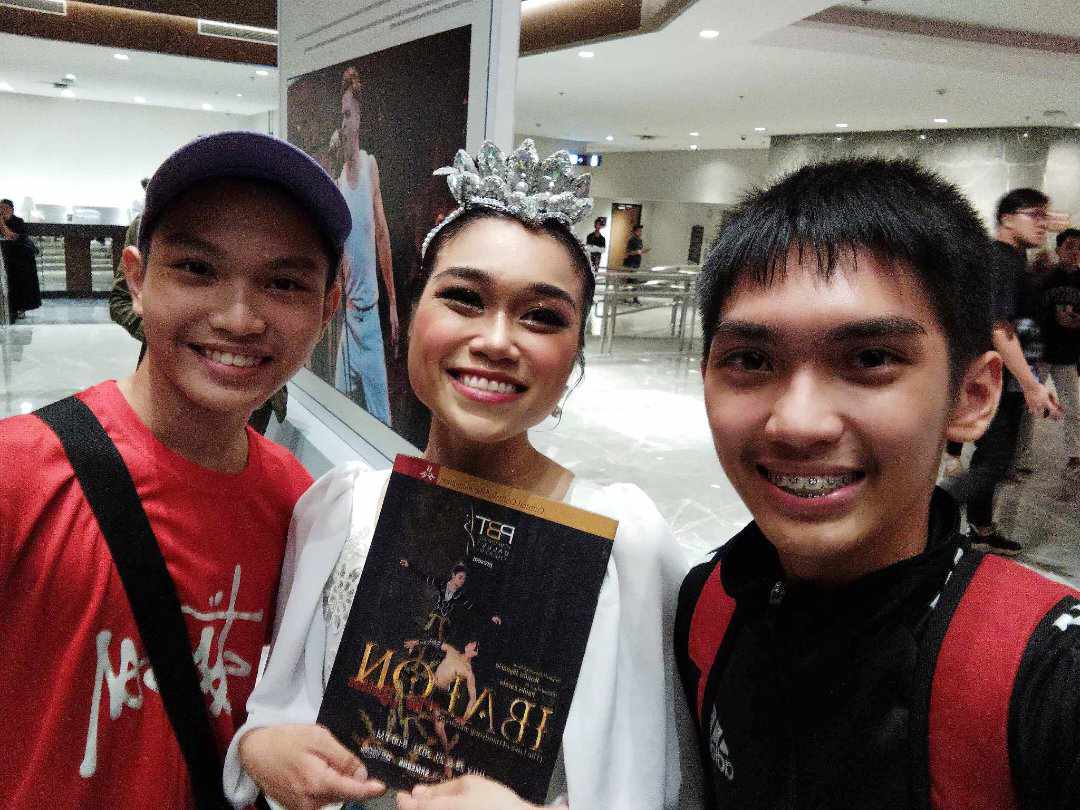 The main focus was on the storytelling which was quite refreshing. There weren't too many complicated stunts, just a few bursts of it here and there that displayed the level of skill and virtuosity of the leads, which the audience very much appreciated. You can tell from the cheers that rose from them each time.
One of the things I do remember about PBT is that they always seem to have the best costumes and Ibalon is no exception. The colors used for the costumes were sharp and the representations were perceptible.
We all agreed that the serpent costume was dang magnificent! Pablo specifically loved the effect that it made when Jessa, as Oryol, was moving around the mountain on the shoulders of another dancer to depict the serpent slithering high on its belly. Kudos to the costume mistress, Shena Dimapilis.
Lukas, on the other hand, liked how Jessa handled the transformation scenes, when she had to shed the costumes for the old woman or the serpent. The production didn't use technology like those used in bigger productions like Frozen, but Jessa did it so tenderly and delicately, and it was enough to satisfy our imagination.
The music by Paulo Zarate was probably one of my most favorite elements about this production. It was of neo-ethnic vibe, I suppose, but the best way for me to describe it is that my ears could relate to it and my heart was pleasured, especially by the music used for Handyong and Oryol's love dance. So romantic – I swooned!
I also loved each time the music crescendoed at significant parts of the scenes, I felt every intensity. Bravo!
My only issue non-issue is the platform used for the mountain top. We felt a bit anxious for the dancers, especially for Jessa, who had to dance on pointes at such a small platform. At one point, we even worried for the safety of the Aswang!
In true Filipino street lingo, buwis buhay!
We were also not able to enjoy the lights, visual effects and the graphics as much as we should have. I can see from the professional photos how amazing they are, but sadly, you don't get to see that from the top.

Other than that, we enjoyed the show and I look forward to what PBT has in store for the remainder of the year. The souvenir program didn't say anything about their next shows, but I do know that they're scheduled for a US tour some time soon. You can follow PBT on their official Facebook or Instagram socials on news of their upcoming performances.
Congratulations on the successful run of Ibalon (The Love of Handyong and Oryol), Philippine Ballet Theater. Bravo to PBT's Artistic Director and Choreographer, Ronilo Jaynario, and to the cast and crew of your production!