Kasambahay Bill is now a Law
Kasambahay

Bill is 2-way after all

So, I've heard that the Kasambahay bill has now been made into a law.

Many people have raised protests over the passing of the bill, seeing it as one-sided in favor of the helper (kasambahay). The truth is, there have been reports of abusive employers; you see it reported once in a while on the news. But the number of abusive helpers is bigger, as far as I have experienced.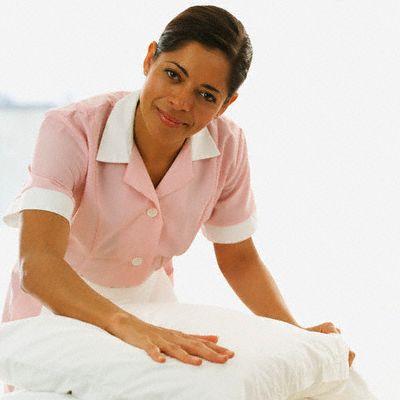 Just recently, a post has been circulating about a maid who pushed her employer down the stairs and smashed her head bloody with a wine bottle. Had the victim not been quick to run back up to her room, shut the door and call out for help from the window, she could've been killed.
We've had our own string of maids we wish we've never met.  The helpers nowadays are of a totally different breed from the ones I grew up with.
Maids then & now
Maids in the 80's were kind and efficient and have the initiative to do their tasks without any reminder from their employers.
They're willing to do all the house chores — cleaning, cooking, laundry, look after the kids, do errands, etc. They talked politely and loved the kids they were hired to take care of. They eat anything you serve them and are fiercely loyal.
Our nanny who was with us for more than 20 years would willingly stand up and fight anyone who'd say anything bad about any of us.
Nowadays, maids are unreasonably choosy. Many of the ones who came to us and left abruptly were giving us the option of either taking care of the kids or do the chores. They won't do both.
One helper quit as soon as she saw that she didn't have her own TV set in her room.
With the exception of our former gem of helpers, Cathy,  Sheila and Marilyn, every single one of the other maids had to be told of their basic duties. Many of them were rude and impolite. They had food preferences that we had to adjust to and there's one who was so careless, she had broken many of our stuff, ripped a lot of our clothes, created trouble with neighbors and spoke ill of us to the nannies of our children's friends.
Maids now don't know how to apologize and they cry buckets and threaten you that they will pack up and leave when you reprimand them.  With that kind of history on maids, I was easily taken aback by the insistence of the senators to push the signing of the bill into a law.
Here's where media failed us.
It's not all that bad
Seriously, if you listened to or read how they relayed about the bill,it really sounded as if the employers were really getting the ugly side of the deal.
If you're the type whose salary is at minimum, you'd really think that it's unfair for you. Not only will you be spending half your money paying the costs of maintaining a maid, you'll also be losing your rest hours because you'll have to give them theirs.
But I looked over the bill and realized, that's not really the case. It does stipulate the rights of the employers, as well.  Let me give you an example:
A few employer protection
The Kasambahay law requires the employer to not only pay the wages, but to also pay for government benefits such as Philhealth, SSS and PAG-IBIG. Food and lodging is provided at no cost and medical expenses are to be shouldered by the employer.
In protection of the employer, every helper must provide the following documents: NBI clearance, medical certificate and duly authenticated NSO copy of the birth certificate.  None was written about the employer paying for all these documents. If a maid wishes to work, she must invest on these documents.
Another right given to the employer is the right to fire the helper who is negligent of his/her duties and have breached the trust of his/her employers. This means that if the helper spoke against your family or revealed private information to others, they may be held liable.  They cannot talk against you.
It's not easy to be a maid
You know, the leaves, the 13th month pay, the paid 5-day vacation leaves and the right to 8-hours sleep everyday, if the helper does her duties well and keeps her attitude in check, I think she deserves to receive those benefits and more. She earned it.
But maids have to know their part too
So, it's really not that bad. The challenge now is to find a helper who understands that the Kasambahay Law works 2-ways. It's not only about what she can demand, it's also about what she should be delivering.
Here are the basics of the Kasambahay Bill according to Iamjammed.com:
Kasambahay

Bill ABCs
RA 10361 sets a standard salary and other social protection for domestic workers.

Here are some of the important points of the law:

Minimum wage: Employers shall follow the standardized pay set by the law.  The minimum wage for domestic workers is set at

P2

,

500 a month in the National Capital Region;
P2

,

000 a month in chartered cities and first class municipalities;
P1

,

500 a month for those employed in other municipalities.

Benefits:

A

kasambahay

is also entitled

of

benefits such as bonuses, health and insurance benefits and leave.  She/He shall receive a 13th Month Pay.
A

kasambahay

is also entitled of social government-mandated benefits like enrollment to the Social Security System (SSS), PhilHealth, and Pag-Ibig Fund, with premium payments shouldered by employers if the helpers receive a monthly salary below P5

,

000.
A

kasambahay

is also entitled of leave benefits such as an at least five days vacation leave with pay and 7 days

paternal

leave (for males).
A

kasambahay

is also entitled

of

a daily rest period of at least 8 hours and a weekly rest period of at least 24 consecutive hours (1 day) after six consecutive normal work days.

For me though, I think it's best you get yourself well-versed with the law itself. You can find it here: http://www.congress.gov.ph/download/basic_15/HB01140.pdf
It's high time Filipinos start educating ourselves with the laws of this country. Getting familiar with them and understanding them. It is our duty and they are never insignificant.
I just hope that the Kasambahay bill will really serve the purpose for which it has been originally penned, especially now that it's been made official.
We'll see…
Here's an update! A better way to understand the terms of the Kasambahay bill is through this infographic released by ABS CBN: