Homeschooling: Teaching your kids to appreciate their Filipino heritage (Homeschool conference 2014 Part 2)
This is part 2 of my series of blogs on the recently concluded Home school conference 2014.
If you have not read the first part wherein I shared about the roles of fathers in home schooling their children as I have picked up from the conference, click here.
This blog will focus on what I thought was one of the most important topics taken up that day: Introducing Filipino Arts, Heritage and Culture in your home school.
The speaker was Jen Bellosillo who coaches home schooling families enrolled at CFA or Catholic Filipino Academy.  Jen has been home schooling her three kids for six years and at the time of the conference, was due to go into labor with her fourth child any minute.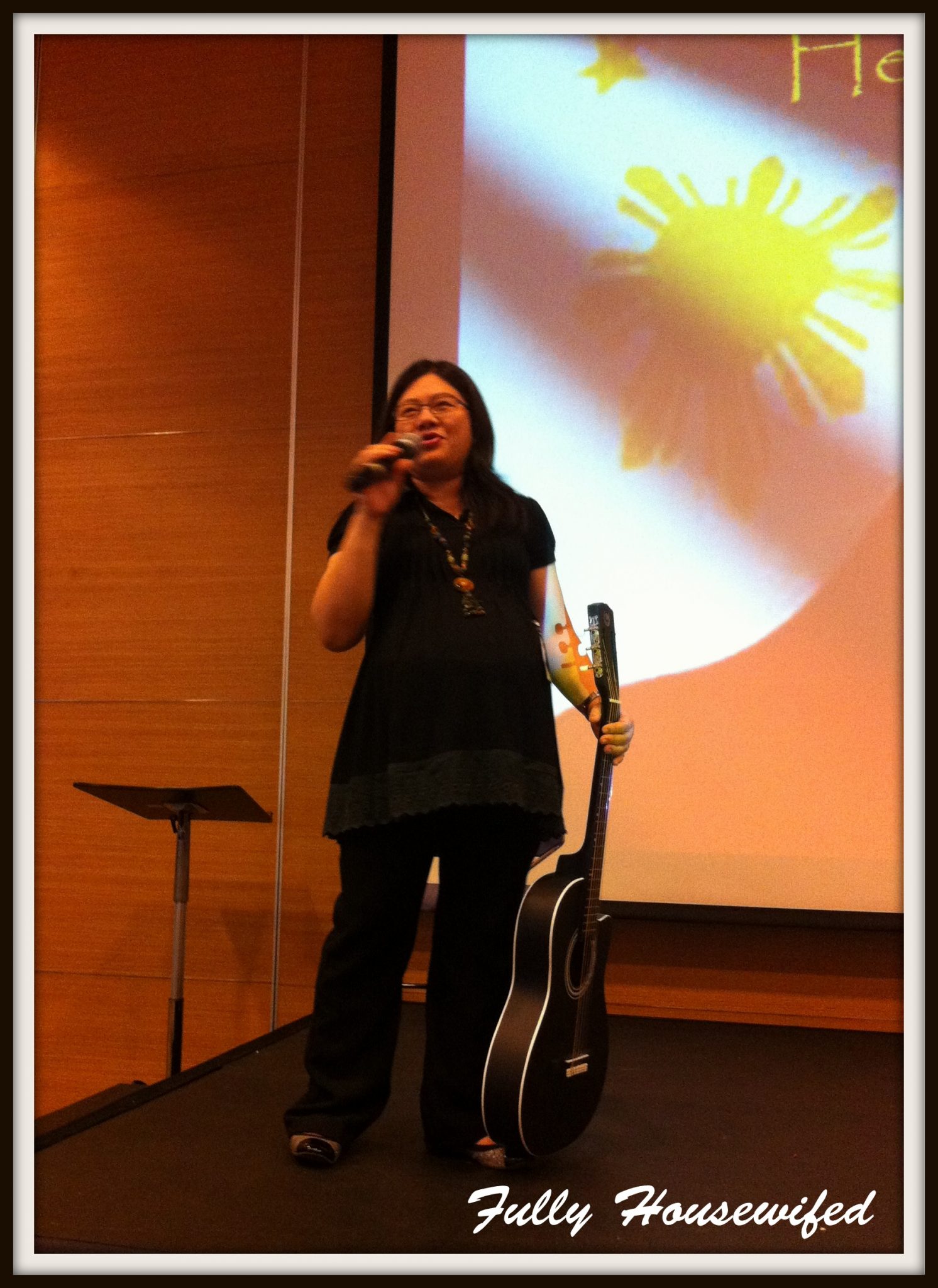 I think that it's an important topic because there are now so many home schooling children having difficulty, not only in learning the Filipino language, but also in connecting to our heritage and culture.
I thought that it was awesome that the organisers thought about including this, as many families, ours included, need help in this area.
Demonstrating techniques
Instead of launching into a boring lecture of 1, 2, 3s, Jen Bellosillo demonstrated the techniques that we can use to teach our kids.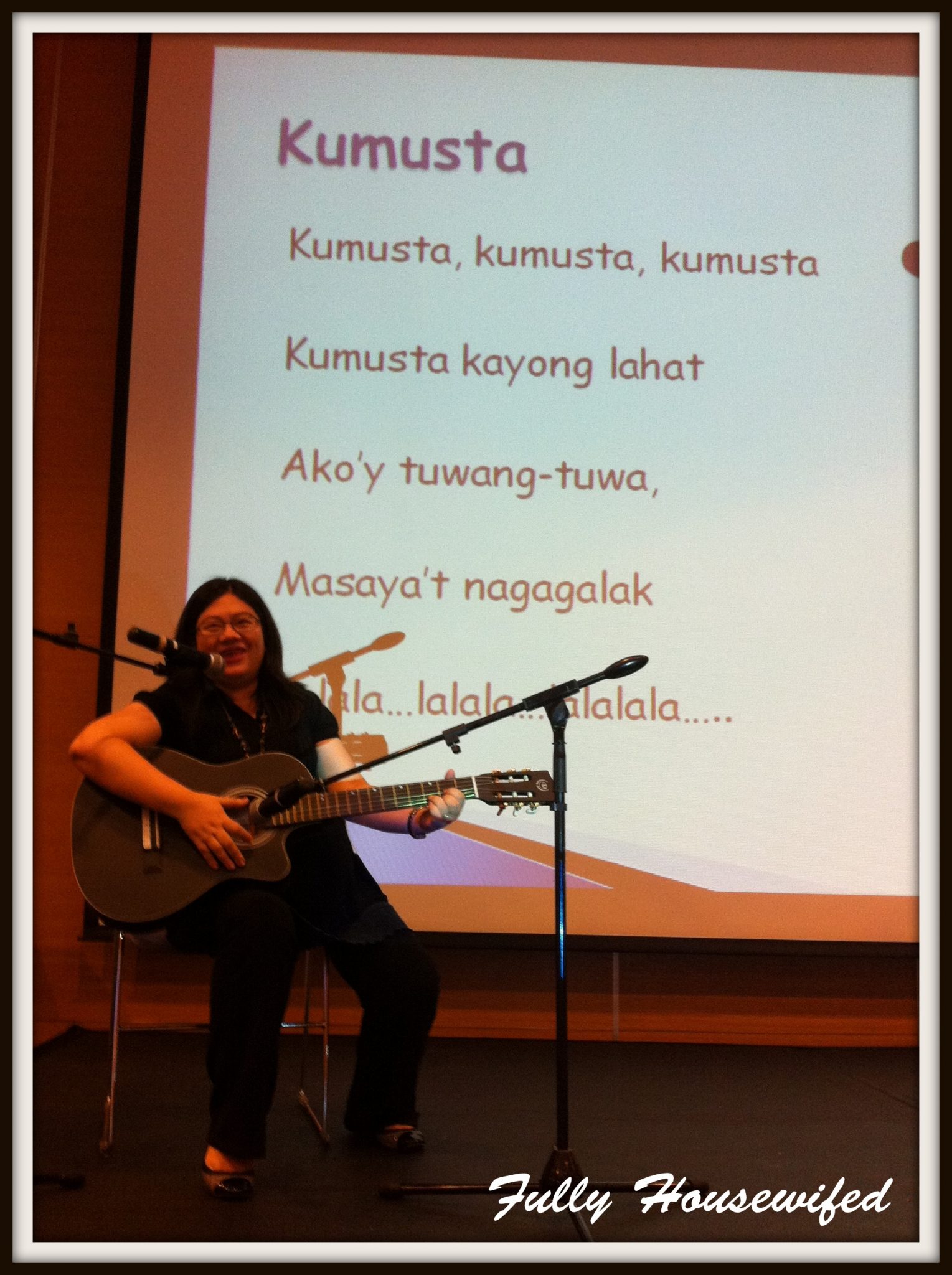 Strumming her guitar, she led a class of eager, wide-eyed parents in singing many different Filipino songs.
By the time we were singing "Tong Tong Tong Tong Pakitong kitong" in different syllables, we were all cracked up!
Games and costumes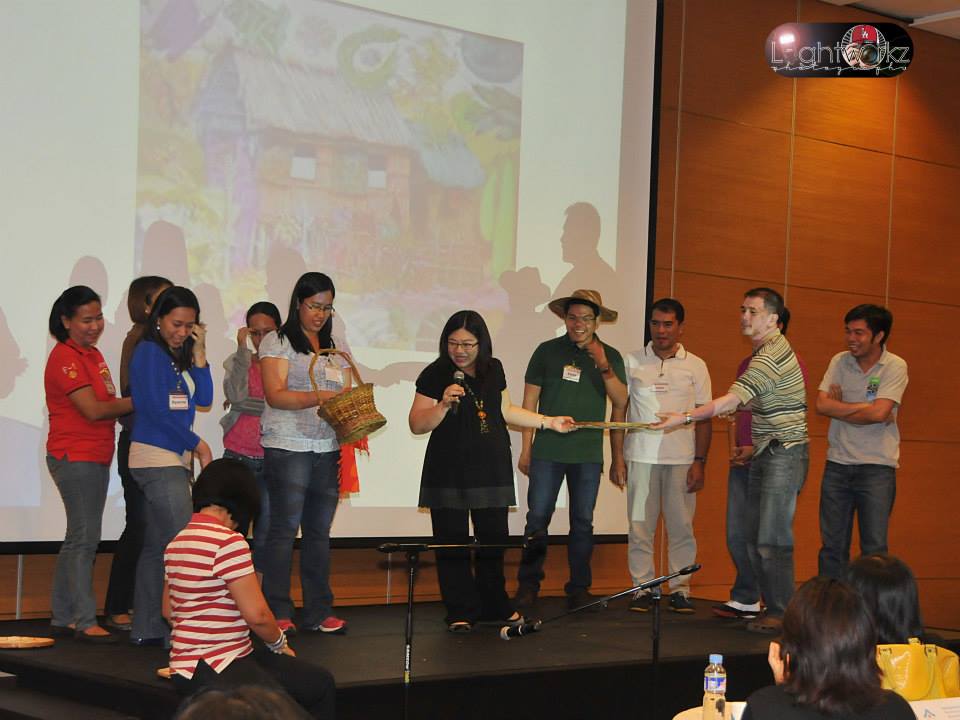 Jen also re-introduced us (I'm saying 're-introduce' because in my case, they were taught to me in my childhood) to a Filipino relay game that challenges participants to remember the lyrics to the Filipino folk song, "Magtanim ay di biro" (Planting rice is never fun). The main objective of this game is to be able to identify the vegetables included in the song.
She made the participants wear the traditional Filipino Salakot (traditional farmer's hat) and scarves, and made them carry a woven basket and a rice winnower.
The game was called Tinakad.
Tinakad is a relay wherein the participants have take off their shoes and walk on coconut shells tied to strings. In this version of Tinakad, though, the players each had to sort through pictures of vegetables at the other end of the stage and get one that's included in the song to bring back to their team.
The team with the most number of correct vegetables in the basket wins.
Using this method, you would have already taught a group of kids a Filipino game, a Filipino song, the names of the vegetables in Filipino, team work, and practiced their memory skills, on top of everything else they will learn from the activity.
It was also an example of Integrated home schooling, which Jen Bellosillo discussed in the session.
Integrated home schooling
Citing a locally produced story book, Haluhalo Espesyal by Yvette Ferreol, Jen showed us how you can use one book as your main material for a week's syllabus.
Here's the illustration she shared with us: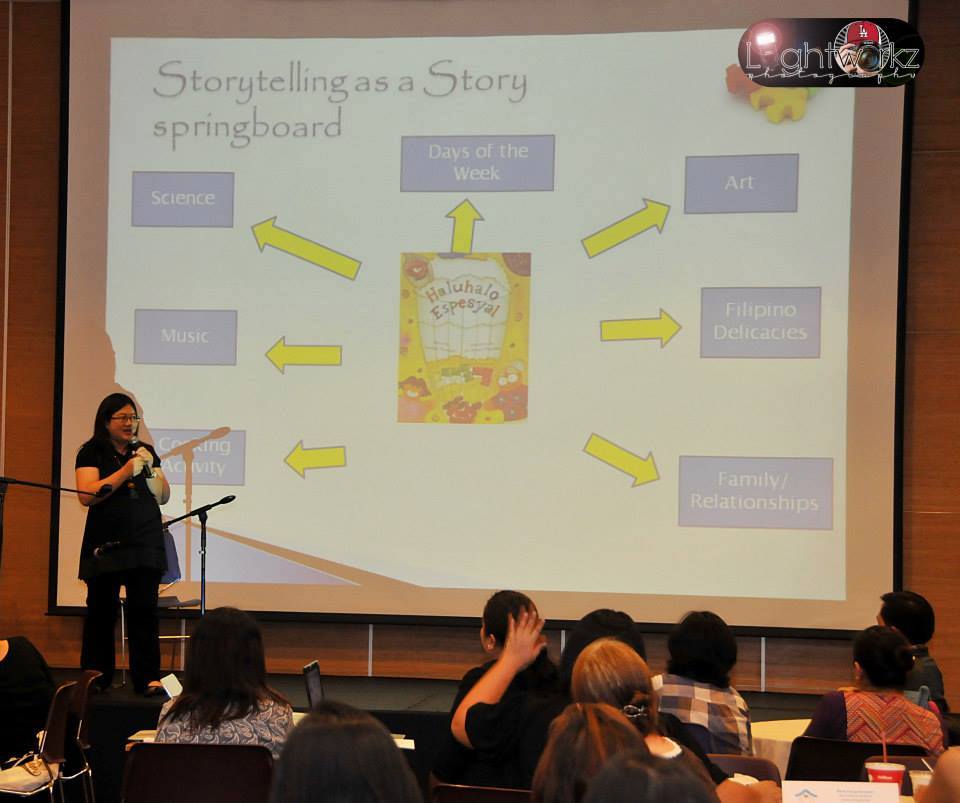 Make use of technology
Jen encouraged us to use technology to benefit our home schoolers. She reminded us of the wealth of Filipino songs for kids uploaded on Youtube.
She also mentioned the kiddie show, Batibot and other educational shows that you can find online.
Lessons from the session:
It was really a fun session! It was dynamic, too, Jen had all of our attention from the time she took the mic until we had to rush back to Jay's workplace (yeah, sadly, we had to go right after). In fact, I wasn't able to take notes because I was hanging on to everything she was saying and doing.
On top of my head, here are some of the things I learned from her:
1. Be fun
As the parent, you must initiate the fun factor. Play games, use instruments, wear costumes, cook, bake, and most importantly, SMILE AND HAVE FUN with your kids!
2. Integrate
Integrating everything from one material is a creative way of simplifying your home school. As a cliche goes, hit so many birds with just one stone.
3. Sing
Kids love music. The best way for them to remember anything is to teach it to them through songs.
I believe this! I sing my kids 3 lullabies from the time they were born- one of which is a tune I created for Proverbs 86:11-12, in the hope that my children will remember to live their lives with an undivided heart for God.
4. YouTube it!
This is one of the ways you can put technology into good use. And YouTube isn't the only tool you can use to teach your kids. CDs and DVDs can be of use too! Be resourceful!
Trying the method at home
The sessions were more directed to parents teaching younger kids which was so applicable to us.
A week later, I got my kids to gather around my lappie to learn the song "Sampung Malulusog na Bata" (10 Healthy kids). They seemed to have fun singing along.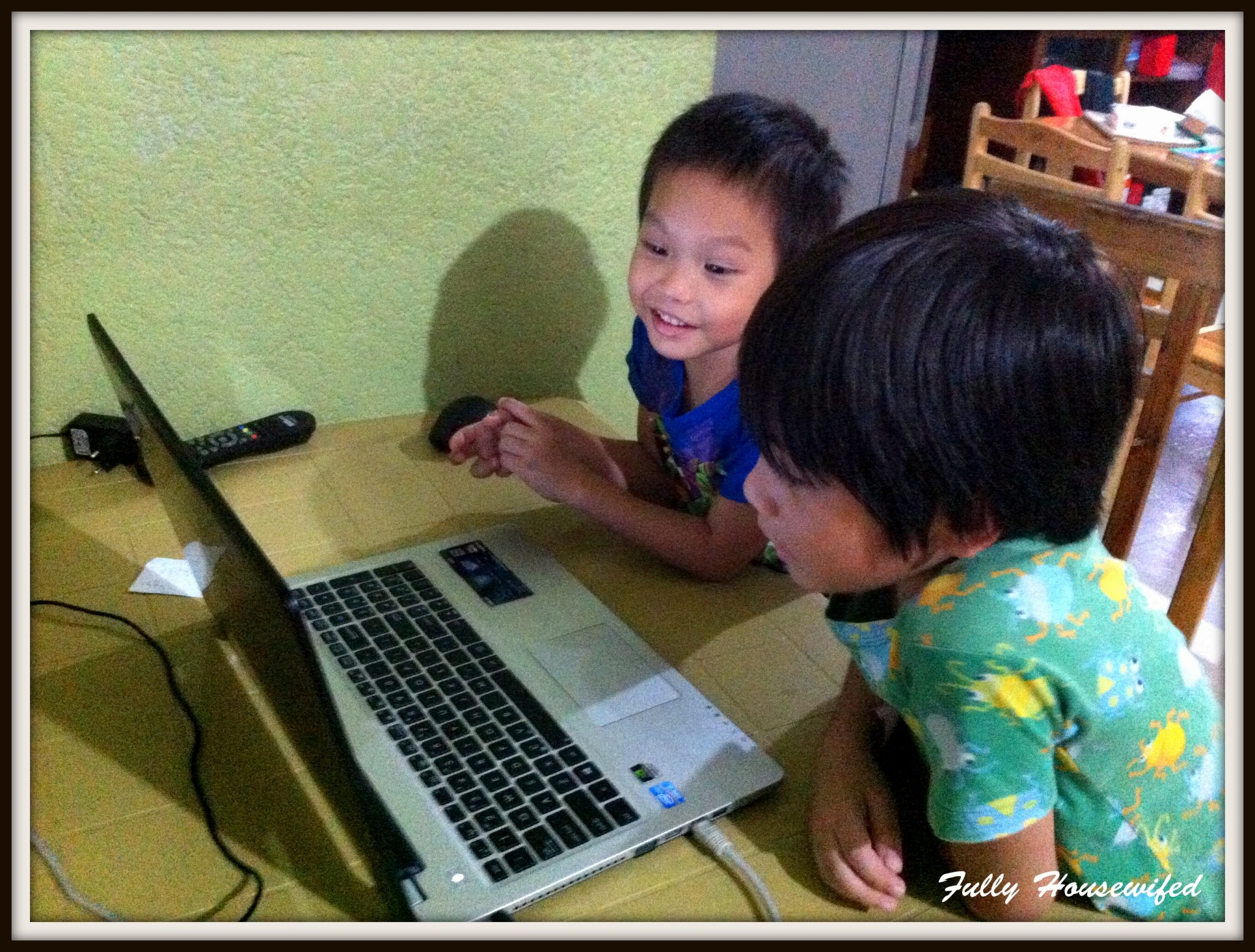 Lukas garbled the rest of the numbers after "lima" (five) and replaced the rest of the words with unintelligible syllables and Judah just danced along, but I think, in time, and with patience and determination, this could work for us!
Stay tuned for the last blog for this series!
The session with Jen Bellosillo was the last session we were able to attend. Jay had an emergency at work and we had to grab a cab soon after. We missed Ivy Marquez's talk about nurturing the love for learning. Ivy Marquez is a veteran home schooling mom with two kids in College and another already making waves in the web industry.
We also missed the session with Truly Rich Mom, Tina Rodriguez who discussed Homeschooling 101. You can read fellow Mommy blogger, Kat's account on it at Petite Momma's World.
Next week, I'll be blogging about the sessions with veteran home schooling parent, Irma Chua and home schooling momma with a rockin' hairstyle, Yen Galagnara, to conclude this blog series on the home school 2014 conference.
Until then…happy home schooling!