The tricky business of teaching kids Tagalog
We recently purchased a Tagalog for Kids teaching set for home school. This year, we felt that it's time to take teaching our children our language more seriously.
In the past few years, we've used a few books for Filipino (the school subject) and so far, PACES had been the most workable for us. However, after assessing our progress, I realized that my 8-year old can answer the exercises and ace the exams but he still cannot converse with it which makes all the studying, in my opinion, useless.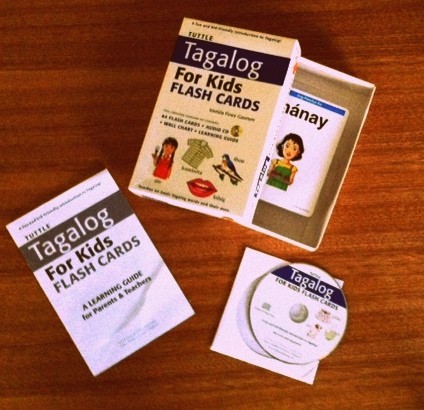 So this year, I decided to take a pause from our Filipino workbooks and concentrate on teaching them to learn how to communicate with it.
Dropping Filipino in College
Let me divert a little since we're somehow talking about Filipino in education.
I'm aware of the ongoing issue of CHED (Commission on Higher Education) pushing to drop Filipino as a mandatory subject in college levels. CHED argues that since the subject is already taken from grade school to high school levels, it no longer needs to be taken in College especially now that we have shifted to the K – 12 system of education.
Different Filipino-advocating organizations wouldn't have it.  They believe that it's a betrayal of nationalism.
Here's what I think.
I agree that our language is closely knitted to our identity. It is important for Filipino families to learn to communicate with it, to know how to use it and to practice it appropriately in our homes and among fellow Filipinos.
Personally, I believe that a person can choose to love his country and be nationalistic even if he doesn't speak the language, after all, love is an action word,  BUT there is a different emotion that surges from having a much deeper connection to the language.
Filipino sentiment is better expressed in Tagalog. Here's an example:
Sundan ang bahaghari sa kanyang hangganan
baka doon sakali ulap mo'y magpaalam
at pag napawi na ang sanhi ng kapanglawan
muling buksan ang pusong bihag ng karimlan
(Mahawi man ang ulap, George Canseco)
I, myself, tried my hand in writing lyrics in Filipino once:
Unti-unting nagliliwanag ang aking gabi
pumapatak ang mga ilaw sa ating mga ngiti
sama-sama nating ipagdiwang ang pasko
sa piling niyo ay tunay ang diwa ng Pasko

It may have taken a while for me since my first language is English – I think in it, too, but yes, I can speak and write the language. After all, I came from a proud line of Filipino poets, my father being the last "makata" of his line. One of my dreams is to publish a book I've written in Filipino.
Although we made a decision to teach our kids English first, I had every intention to teach them Filipino.
Filipino as a matter of identity is more appreciated by Filipinos abroad
In college, I found myself hanging out with a group of  students who were Filipinos by blood but grew up and spent most of their years in foreign countries. Many of them were children of Ambassadors and OFWs. Most of them do not speak Filipino very well, but a good number of them spoke other Filipino dialects fluently such as Visayan, Ilocano, Ilonggo and Pampangueno.
And they are all mighty proud to be Filipinos even though they felt displaced at times. It was the language that helped them appreciate and love their roots.
I don't think that Filipino should be a mandatory subject in College because I agree with CHED, it's already being taken up extensively in the K -12 curriculum; but I think that it should at least be offered as an optional course for people who want to dig deeper into it.
Nationalism and the love of language take root and flourish at home. Then it takes flight in practice.
I think the bigger issues are more on employment and budget. Some people cannot afford to lose their jobs or have the luxury of time to undergo training to qualify to teach other subjects.
Why English first?
To be honest, we didn't expect to still be living in the Philippines today. There…I said it.
When Pablo was born, we planned to be prepared to be sent out to other nations at any time to help reach those who do not know about Jesus yet. English was the most practical language to be armed with.
We were both musicians by profession too. Our hearts longed to go out and use this skill to teach people, both young and old, the gospel through music. We intended to go global.
But our ways are not always God's way.(Isaiah 55:8)
If you're wondering what happened to that, we are exactly where we need to be. Raising and training children in worship so that they will be ready to be sent out to different nations to share the gospel to those that need to hear it.
Going back to Tuttle
So at the recommendation of a friend, Pablo and I trooped to Powerbooks at Serendra to look for the Tagalog for Kids set.
I later found out that Tuttle has published other books that teach Filipino. Others came with workbooks and the packaging was really great although I wasn't able to open them because they were still sealed in plastic.
They had one thing in common: They were all pricey! The Tagalog for kids is already at Php 995. The other books were a thousand bucks up.
I was torn between buying this set or a thicker book that we would probably be able to use for several years but I decided that the flash cards and the poster are what we need at the moment.
Tuttle Tagalog for Kids come with a set of flashcards for different categories: Ang Pamilya ko (My Family), Mga Kulay (Colors), Mga Bilang (Numbers), Mga Hayop (Animals), Mga Pagkain (Food), Mga Damit (clothes), Ang Aking Katawan (My body), and Ang aking araw (My Day).  At the back of each flash card are suggested sentences for usage practice.
For example:
Nanay/Mom
Mahal ko ang Nanay ko.
I love my mom.
Titser ang Nanay ko.
My mom is a teacher.
Note that the language used is not Tagalog which now refers to the traditional, hardcore Filipino language used mostly in the Southern areas of the country, but the emergent Filipino language — which is a combination of Tagalog, Filipino slang, and foreign words that have been integrated into our language through the years.
I wouldn't say "Titser" is correct although it's a term used by many Pinoys…"teacher" is more appropriate if we're referring to the new Filipino rule. "Guro", of course, is Tagalog.
I also found this: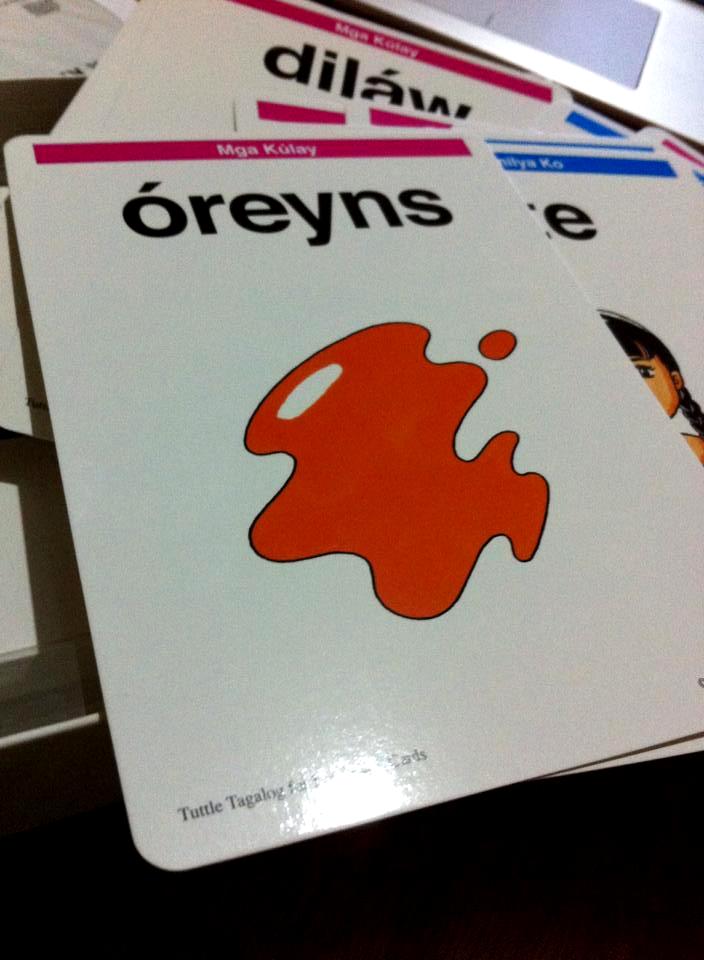 The Tagalog word for Orange is not Oreyns but Kahel. You can simply use "Orange" if Kahel is too deep for you.
I don't know where "Oreyns" was based on; in my mind, it would be  people who have pronunciation problems.
The CD
Regarding the CD,  do not expect a Sarah Geronimo-sounding singer with a Gerard Salonga orchestrated music in the background. It's more like a Kindergarten teacher who doesn't have much of a music background strumming on a slightly off tuned guitar and singing nursery rhymes to her class.
I would say that the kit is more like a teacher's reference.
The kit was not produced in the Philippines, but in Singapore, which probably means that it was created for other nationalities wanting to learn our language.
Which also explains why when I went looking for a good Filipino book for beginners several months ago, I found none. There were a lot of books that teach French, German, Spanish and even ESL (English as a second language) but there were no Filipino for beginners . Not until recently.
Why are there no Filipino for beginners in our bookstores?
I guess it's because local bookstores don't deem it necessary to have a Filipino for beginners on their shelves.
To be honest, I find it ridiculous that my kids have to learn their own language as any Korean or American student would, and using foreign-produced materials yet.
And just to clarify, I find nothing wrong with teaching children to communicate in English as it is very useful in most  industries and professions. Now whether we should be pressured to keep up with the tedious Filipino exams DepEd requires for our kids to take is a different matter altogether.
My point here is that Filipinos should be who would create and produce technically accurate materials for teaching  Filipino, and I don't mean the school textbooks, but tutorials for beginners since there is already a need for it.
Do I recommend this?
Yeah, sure, go ahead and get your kids one. Just make sure to correct the wrong words.
You can actually come up with your own sets of exercises at home or make your own flash cards and posters, but if you're too busy, it saves time to just get the kit and the books.