Remember Nelson
Last December 19, I received a very devastating news. My brother Nelson, who went to Batangas to act as guide to a group of amateur scuba divers, suffered a heart attack and died at sea.
On the last night of his wake, my father had asked me to represent our family in delivering a eulogy for him. I went back and forth with it, but in the end, my love for my brother ruled over the intense emotions that I felt and I stood in front of our family, relatives and friends to deliver it.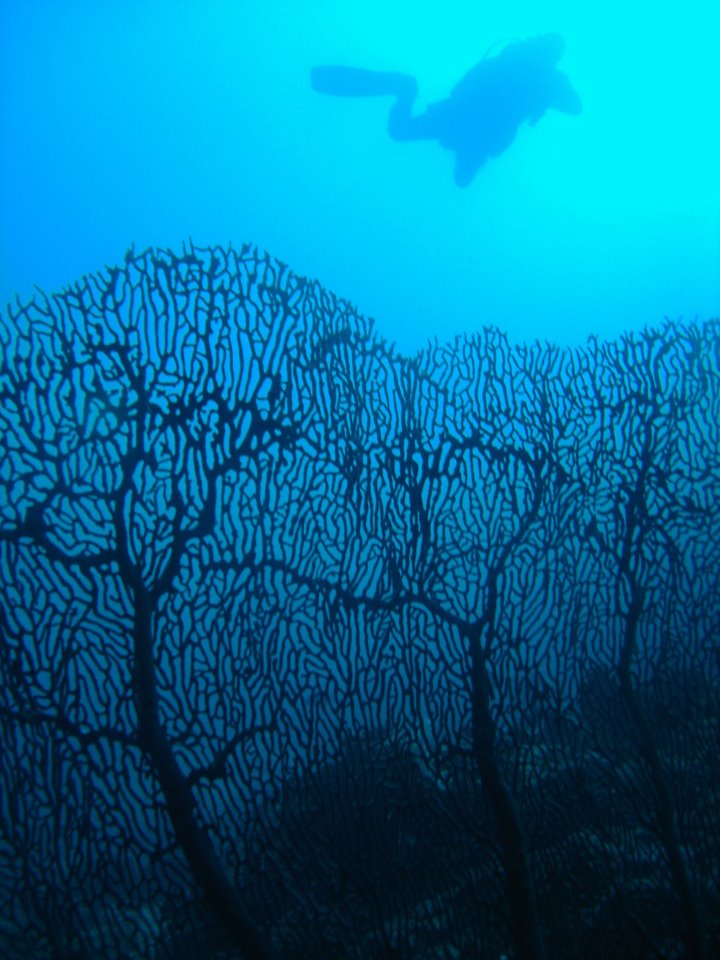 ______________________________________________________________________________
I have no illusions about Nelson. I know his strengths, but I am also very aware of his weaknesses. How could I not? I've known him for 39 years.
You all have your memories of him. A son, a husband, a father, a friend, fellow diver, fraternity brother, Ligaya brother, your lawyer, your accountant…your city administrator.
To me, he was simply my brother. He loved me.
Ours was a typical brother-sister relationship. We disagreed on a lot of things, but I am his sister. And in the end, I am glad that God gave me the chance to tell him that there is nothing that can ever change that. And he heard me.
I know because he responded.
Isn't that what family is about? Unconditional love.
Yesterday, it gave me comfort to see his childhood friends, our neighbors in Moonwalk village where we grew up.Their presence gave me comfort because they remember the two of us. They remember me and Nelson, together.
They were the ones who had seen me tagging along Nelson on all those Simbang gabi as he excitedly bought me puto bumbong, bibingka and hot cocoa every single time.
And I don't even like puto bumbong!
Nelson used a few terms of endearment for me back in the days.
He called me "Midas" because he said that everything that I touch around the house gets broken.
His favorite was "May-pot na may ipot" (May-pot with bird poop). He used it when he would holler for me when lunch was ready, or when we're about to leave.
Nelson was my ever-reliable driver who took me everywhere that I needed to go.
Even if he had to wake up very early to take me to my classes, or wait hours for me until my rehearsals were over, he would do so even on his only free day of the week. He doesn't say "I love you" that much, but his actions say it all.
I've been reading your posts on his Facebook page, and you all say that he was a generous person.
Yes, he was a generous person. Service and gifts were his love languages. He liked to shower people with gifts and would really give you his time, even if it meant postponing his own schedule.
He didn't like seeing me outdated. When he was still studying, he saved up on his allowance so he could buy me the latest shoes or whatever the fad was.
I was his constant date. He took me to movie premieres, to new food places, and to his parties with some of his friends. While everyone else had their pretty girlfriends along, Nelson had me – his bratty, outspoken, opinionated little sister, and he was fine with that.
And so dad and mom would let me go to my parties with my friends, he also tagged along with me and didn't mind being the oldest there. He got along with all of my friends. ALL OF THEM. He was my "cool" brother and I was proud of him.
Whenever he came home, he would go straight to my room, switch on the light and would start talking as if he didn't notice that he woke me.
When Jay and I had our first child, he couldn't bear that we didn't have an air conditioning unit. One early morning, he drove to our apartment, and walked straight into our bedroom with his driver carrying one of their old A/C units, and right then and there, with my husband and me still on the bed, had it installed.
Our relationship somehow changed when we had our own families, and I understood that in marriage, your spouse becomes your best friend. So I stepped back and took my place.
I will always be grateful for having been given the chance to talk to Nelson for the last time. For the first time in years, I felt that I had my brother back again. Even for a moment.
You know, our family's not really that affectionate, we were all raised to tough it out. It was an act of faith to let my brother know that I love him. I am thankful that I did.
Kuya Nelson, I will respect what you hold dear in your heart. I will choose peace over division. I will keep my silence.
I want to say thank you to all those who truly and genuinely love him. Who never gave up on him. Who stood by him in his most difficult year. Who made him feel he mattered, that he was significant and that all that he had done out of love have not gone unnoticed. Who spoke encouragement and affirmed him when he needed them the most.
To my sister-in-law, Jenny, thank you for giving him beautiful children and for the happiness you had brought him. I will never forget how his eyes lit up on your first date at Reasons when he reserved that table and prepared everything just for you. He loved you.
Thank you for being with us as we grieve our loss. Please remember Nelson.
__________________________________________________________________________________
I would like to share a screenshot of the honoring written by my brother's former pastoral leader: