I just blogged about my first time to cook lasagna, I didn't think anyone would be interested with the pizza, but a handful of people seemed to be. So, I decided to share how I prepared the chicken pizza I served the kids for our New Year's eve meal.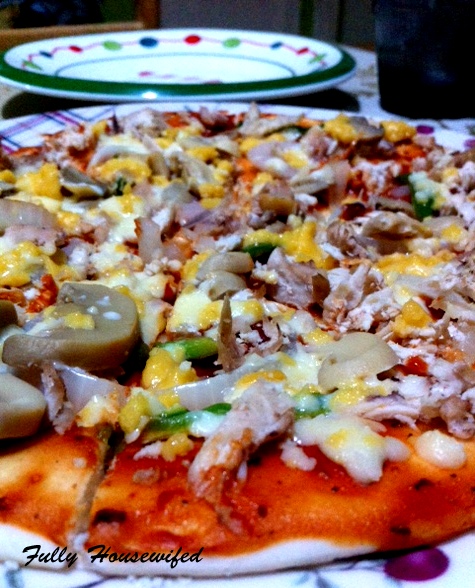 Using chicken for the pizza was actually accidental. I forgot to get pepperoni from the supermarket, and when I checked the refrigerator, I found chicken. Fortunately for me, the kids loved it!
So, enough of me blabbing, here's how you can make chicken pizza for your kids!
Chicken Pizza Recipe
Thin crust store-bought pizza dough (or you can make one if you know how. I plan to learn how to make dough from scratch soon)
White onions, sliced
Green bell peppers
Jolly pieces and stems mushrooms by Fly Ace Corporation
Quick-melt cheese, grated
Chicken, boiled and shredded (If you've got some leftover grilled chicken, that will do, too!)
Pizza sauce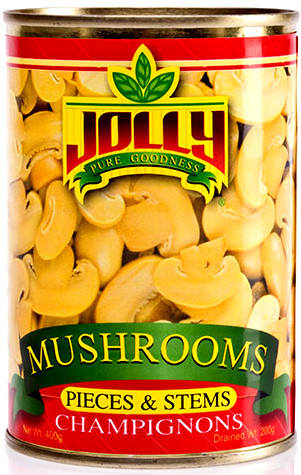 How to make the pizza:
1. Generously spread pizza sauce on the dough.
2. Add pieces of sliced onions and green bell pepper according to taste.
3. Scatter a generous amount of shredded chicken.
4.  Add mushrooms.
5. Top with a generous amount of grated cheese.
6. Bake in a 400 F preheated oven for 20 minutes or so.
7. Serve.
There you go. Easy peasy! My kids loved it and I'm sure yours will, too. And when you come to think of it, it's a healthier alternative.
They might take out the onions, but that's okay. I add the onions and the bell peppers for myself anyway.
Go ahead and enjoy a pizza meal with your kids!