Easy Recipes: Low sodium beef strips salad
My friend, Miel Maguigad, posted one of her salad dinners on Facebook a few days ago. She called it "TapSaLog" or tapa (beef strips), salad, and itlog (egg).
She must have known her foodie friends would most likely ask her for the recipe that she posted the ingredients along with the photo, and boy! Am I glad she did. She hit me right in the heart with two words — toasted garlic!
Here's how Miel's TapSaLog looks like: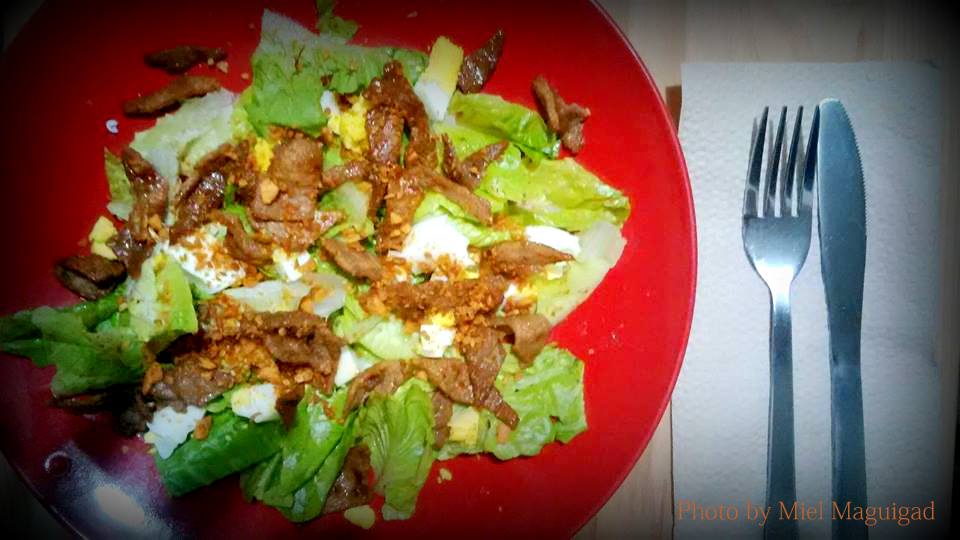 I don't normally feature my friends' food photos on my blog without a very good reason. You see, mine turned out to be really good. It was filling, too!
But my beef look so much different from Miel's. Mine's overdone a bit. I don't know if it's the beef or if it's because I had to use our butane stove. We ran out of gasul and the delivery guy says it'll take till Tuesday to deliver the new one.
What's this woman got to do, right?
Anyway, here's mine: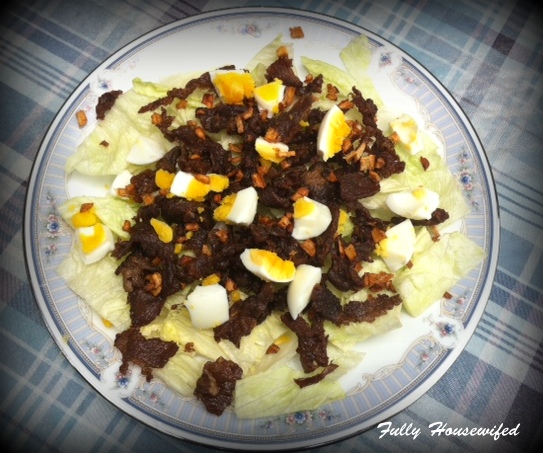 However way you want to cook your beef, here are the things that you need:
Ingredients:
Beef strips (Marinated)
Iceberg lettuce (chopped roughly)
1 whole garlic (minced)
2-3 eggs (boiled and sliced into small pieces) According to MasterChef, the cooking time for boiled eggs is 9 minutes)
Marinade:
Red wine vinegar
Braggs liquid aminos
Coconut-based cooking oil (All my health-loving friends say that coconut oil is the safest, healthiest cooking oil)
How to prepare:
1. Prepare the pan and heat the oil.
2. Toast the garlic on the oil, careful not to burn it. Set aside.
3. Fry the beef strips. Set aside.
4. Arrange the lettuce on the plate.
5. Add the beef strips on top of the bed of lettuce.
6. Add the eggs.
7. Sprinkle with toasted garlic.
I'm a typical Filipino who eats rice for most meals, but my palate didn't seek rice with this one. It was delicious and very satisfying.
Plus, it needs very little sodium, so it's pretty healthy.
Yes, even with beef overdone.
———————————————
Check out this recipe book for more healthy food!