Amino Fres-C and the stress-less child
We limit our kids' intake of instant juices because of the usual amount of sugar these instant juices have. We've been trying to go the healthy route since last year and have been encouraging our children to take water or fresh juices when we're out. Sustaining it is not easy though. We still get them iced tea or those instant juices sold by establishments when we eat out, especially when the budget is only good for a fast food treat.
I decided to sign up to try Amino Fres-C without knowing what's in it except for, well, "Amino" which supports muscle growth and repair. I've got me three little boys. They're active and they're growing. They need all the help in the growth as they can get.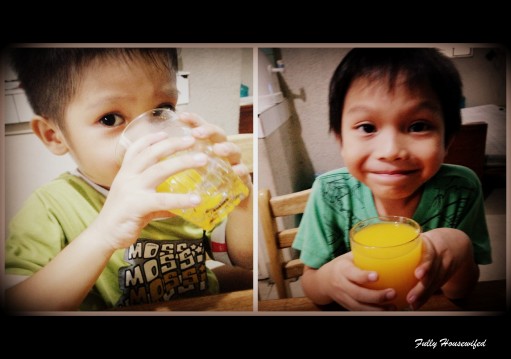 Anyway, I thought, why not? The juice can be a treat for the kids since they don't get to drink juices that much anyway.
For energy to keep up with school life
As it turns out, Amino Fres-C was created with young schoolers in mind. Amino Fres-C is said to be packed with BCAA or Branched Chain Amino Acids with Glutamine and Arganine, which not only supports muscle growth and repair, but also supply the much-needed energy to keep up with the demands of their young schoolers' lives.
The only one of its kind at the moment.
Well, I've got homeschoolers, and to be honest, my kids are less stressed because they don't have to go through 9 hours of school work and they have no home works except to read their storybooks and novels appropriate for their ages. In fact, we pretty much force our kids to run out and play in the yard or with their toys a lot.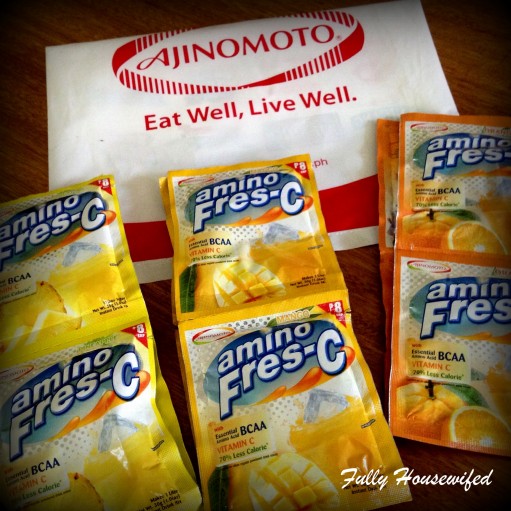 However, since we're still catching up on our eldest's third grade workbooks so he can move up to the 4th grade this September, he's been doing more hours than our usual four.  He's a bit more stressed than his younger brothers who are only in their first grade and preschool levels. I thought the juice just might give him the boost he needs.
Our kids love the juice. They love the mango flavor and my youngest always brings me a pack to make for them and I do give them at least three times a day. It's good to know that it's a healthier alternative for them all. There are two other flavors, Orange and Pineapple.
Diet matters!
Diet (and exercise!) has a lot to do with stress, too. Amino Fres-C is great for pairing with healthy meals such as Vegetable Siomai, Crunchy Cauliflower, Kiddie Sopas and Puso ng Saging Torta. You can find the recipes on Ajinomoto Recipes page.
Those actually work, you know. My kids are crazy about Torta, they devour Siomai, and they never say no to macaroni soup. The crunchy cauliflower would be a first for us, but since my kids are veggie eaters, I don't think I'll have much of a problem getting them to eat it.
One of the things I had to learn as a mom regarding my children's diet, is to really be deliberate about it. I learned to bake, saute, steam, blanche and boil our food which are all better than just serving them fried foods. You have to admit, though, it's tempting to just fry stuff because they usually like it and secondly, it's less preparation.
But it's really just a matter of putting it into practice and making it a habit. Once you're into it, things will be easier from there.
Don't stress your child!
Here's the deal: Child stress is real and it's a serious thing. As parents, we need to be aware that we can make or break our children. Yes, it is our mandate to teach them, but we can't control all their thoughts and actions.
Stress is oftentimes caused by suppressed emotions. Our kids don't want to deal with our anger or disappointment that they tend to keep things from us. We can get too much for them. We tend to push them or teach them beyond what they can bear.
We need to be careful not to be the cause of their stress. I'm guilty of this, admittedly. As many of you who are parents already now realize, it's not easy to be a parent. But as my BFF says, we didn't become parents because it was easy, did we?
Let's try to provide our children a healthy environment wherein they can feel loved, accepted and supported. Sometimes all they really need is a tight hug, a loving cuddle, some mommy kisses and an assurance that you see them for the blessing that they are, no matter what.
And we pray. After all, nothing is more powerful than God moving in our children's lives on our behalf.
————————————————————————————–
"Fathers, do not exasperate your children; instead, bring them up in the training and instruction of the Lord" Ephesians 6:4.
"Know this, my beloved brothers: let every person be quick to hear, slow to speak, slow to anger" James 1:19.
"Not by might nor by power, but by my Spirit,' says the LORD Almighty" Zechariah 4:6.
"For the battle is not yours, but God's" 2 Chronicles 20:15.