The Beauty that is Puerto Del Sol
I almost didn't go. I honestly didn't want to because of the major adjustment the family had to make to let me go on a 3-day team building trip at Puerto Del Sol with Spiralytics, a digital marketing company I write for on a freelance basis. But it was my husband who encouraged me to go and have my first ever "me time" away from my children and the family in years.
Those who know me really well, a.k.a. my best friend and a few confidantes, understand exactly how big of a challenge this was for me…..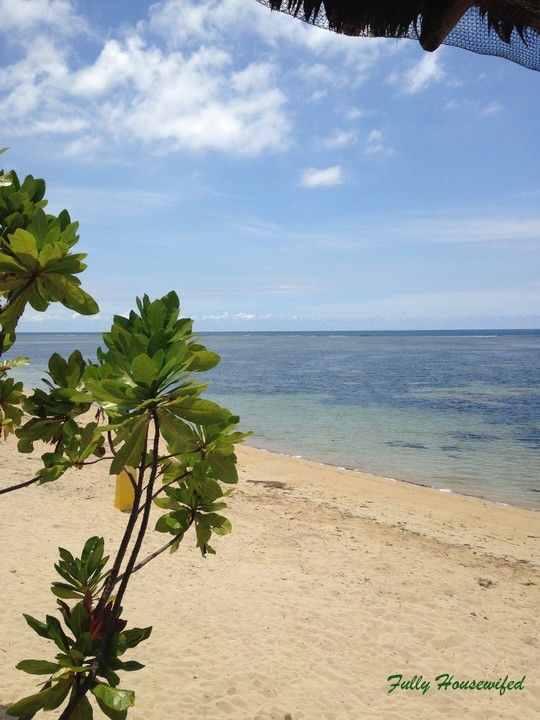 But there are a lot of good things I would rather focus on in this blog. After all, I'm forty. When you've gone through so many things in your life, you learn to eliminate the juvenile and open your eyes to the blessings in every experience.
Puerto Del Sol was a beauty
It was a six-hour bus trip which was hell for a Claustrophobic like me, but having lunch with the view of a gently rippling sea made the hours of fidgeting and shifting positions, and trying to keep yourself from throwing up on the bus worth it.
The rooms were very comfortable. I, with two other fellow freelance writers (who are also work-at-home moms like me), was assigned the lower room of a two-storey unit. I didn't really get to see the rest of the rooms, but ours had two comfortable medium-sized beds with two plump pillows each.
Since one of our fellow writers, our good friend Millie, wasn't able to join us because of health problems in the family, and Van opted to sleep with her family in a room they paid for, Janice and I ended up having the room all to ourselves at night.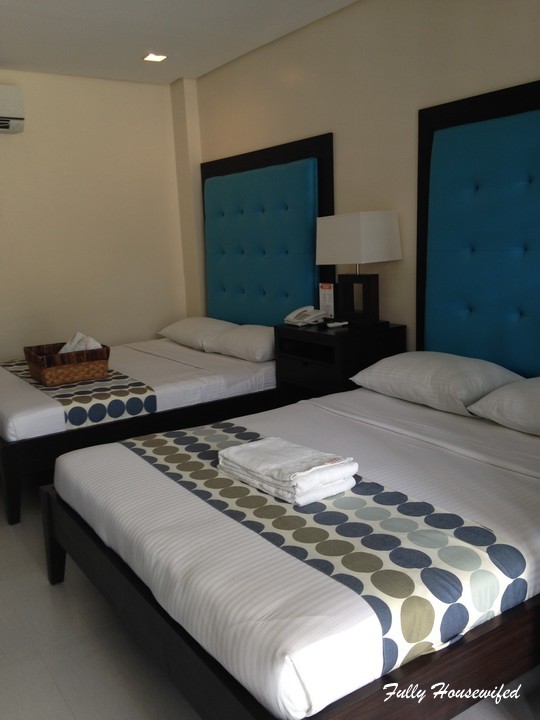 The units had glass doors. You can pull down the curtains if you'd like more privacy, but we pulled them back whenever we would have a few minutes to hang out in the room.
The members of the staff were very nice and accommodating. They greeted you every single time and smiled even towards the end of the day and they were already tired. We weren't the only people in the resort.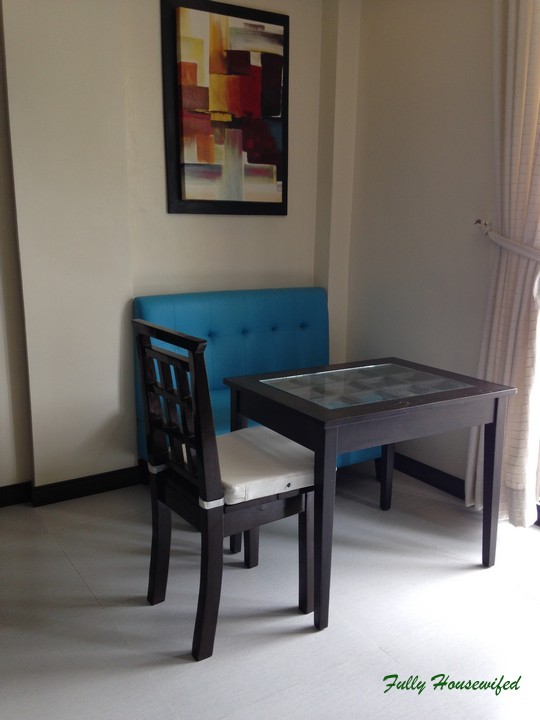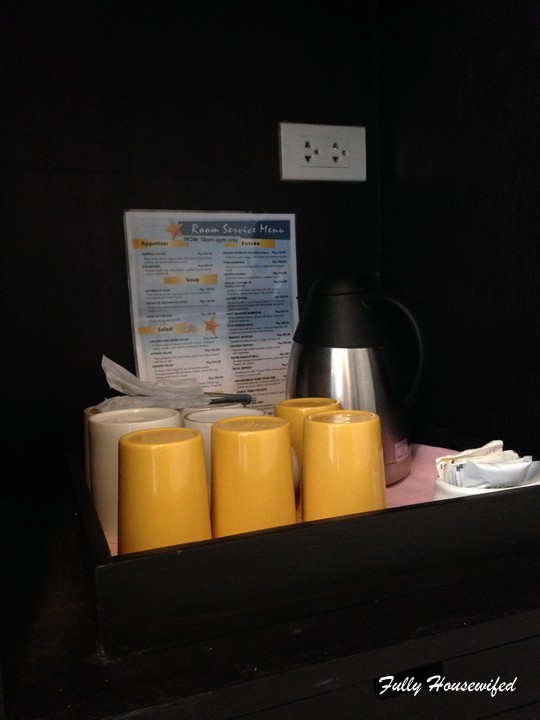 The menu was very Filipino. We were served buffet for all our meals. I ate a lot of Pinakbet and fish. I just wish that they served us more shellfishes but they were probably more costly to include in the package, so if you want them, you order them separately.
Since my family wasn't with me, I chose not to spend while I was there and feasted on the vegetables. There were many other types of food included in the menu like sliced meat and chicken dishes.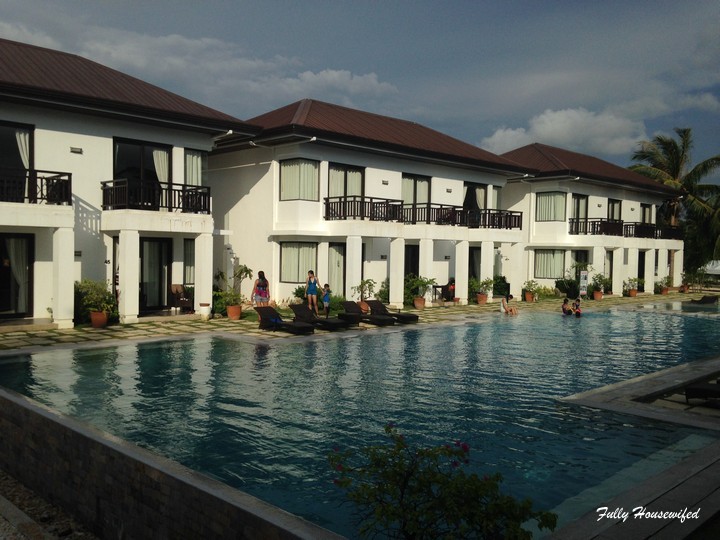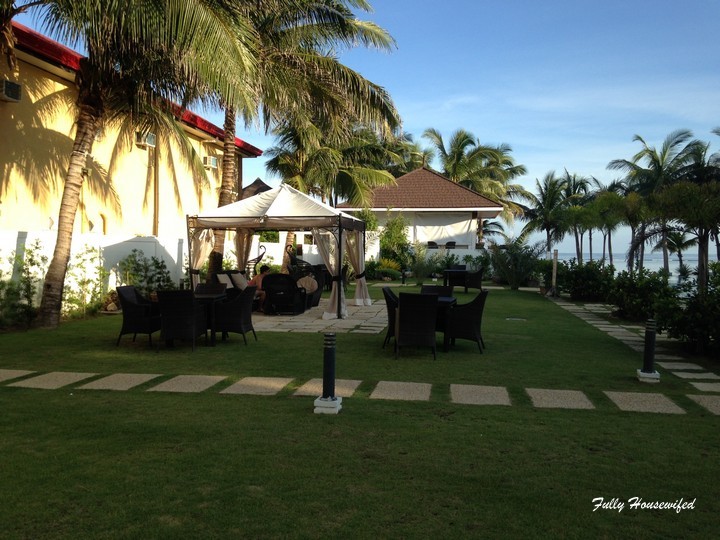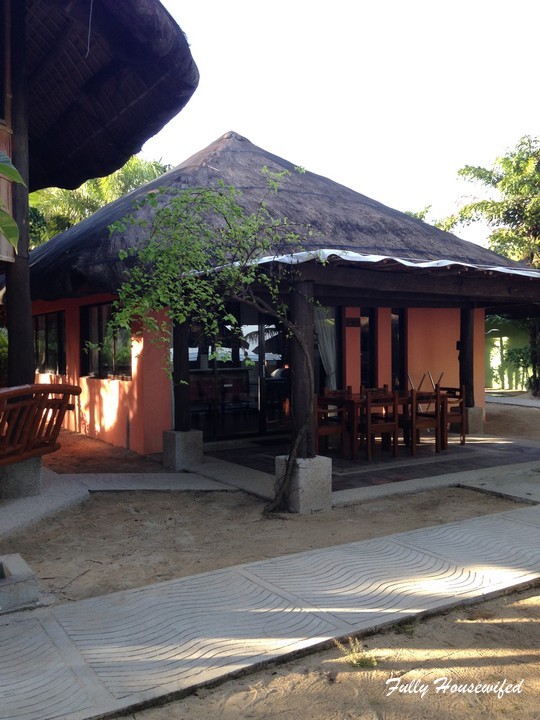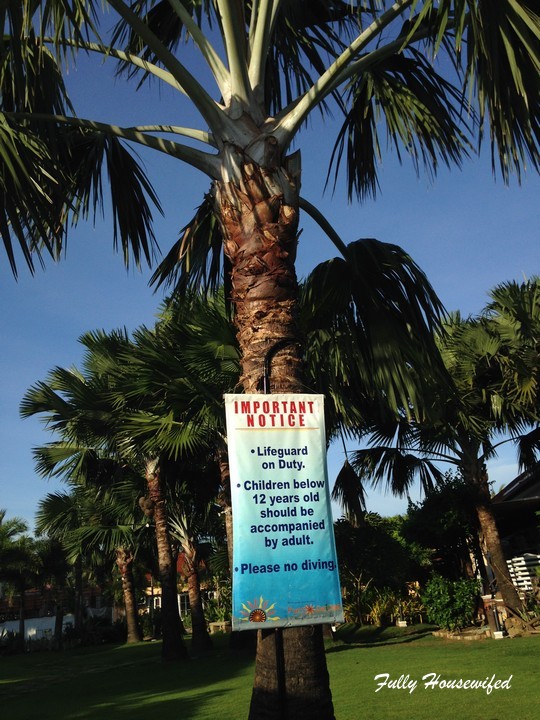 The swimming pools were large enough. There were two of them for each group of units. The water wasn't cold so it was nice to take a dip even when it was raining. I tried to do a few laps and succeeded with a couple, hahaha. I'm so out of shape, so it was a quite a miracle to complete even a lap.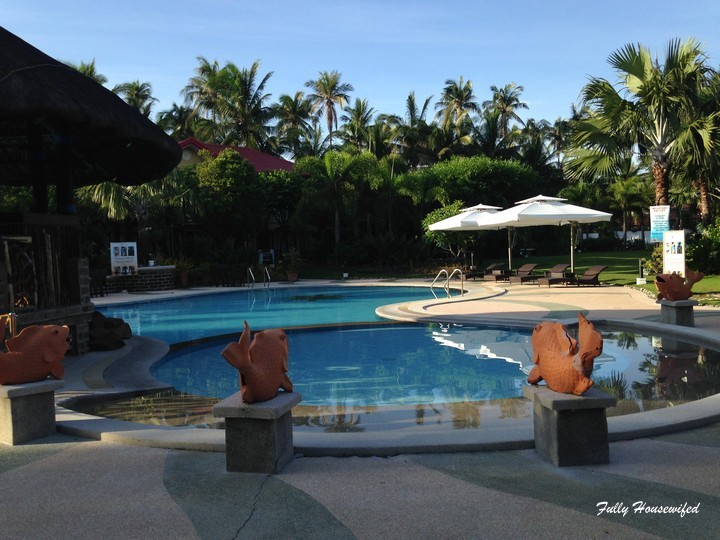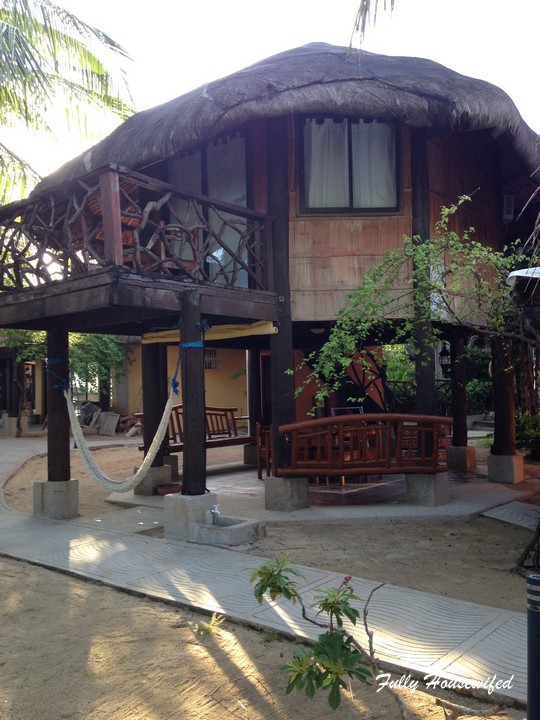 Hundred Islands, Alaminos
I've been to Hundred Islands before. We were newly married and one of our friends celebrated her birthday by treating a group of people, us included, to an overnight stay at one of smaller hotels in Alaminos and a tour of the islands. It's been ten years and I didn't mind seeing the place again.
One of the scheduled activities for the team building trip, aside from the games they've lined up, was a half a day tour to the Hundred Islands in Alaminos (where the yummy longganisas are!).
Alaminos was an hour trip from Puerto Del Sol and we left in good weather.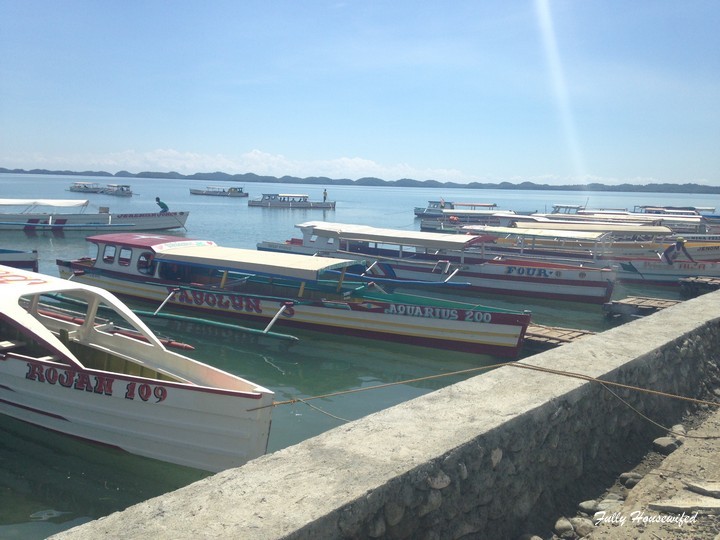 Puerto Del Sol has a beach, but I wouldn't recommend that you go swimming in it. It's a great view and a great spot to hang out and relax, but not for swimming. You have to include Hundred Islands in your itinerary if you want to swim in the sea.
There were twenty-six of us so we took two boats. The tour package only included three islands. The tour guide asked us to add an additional Php 700 if we would like to add more islands and rent the boat for the entire day, so we can do some snorkeling and enjoy swimming in one of the islands.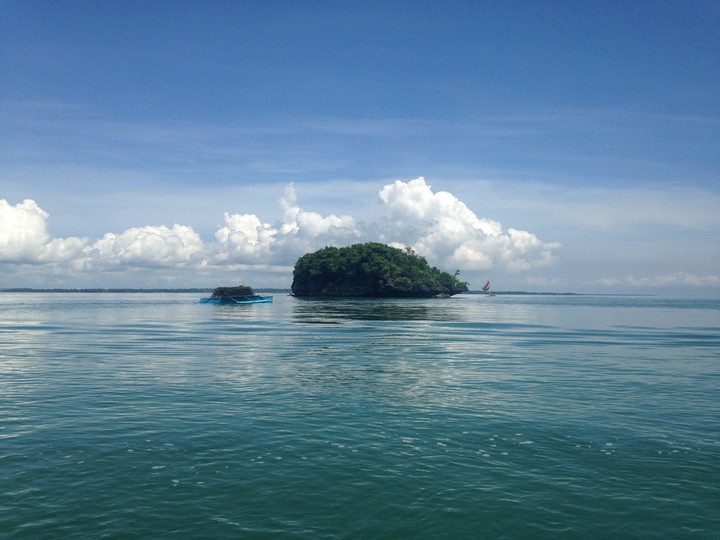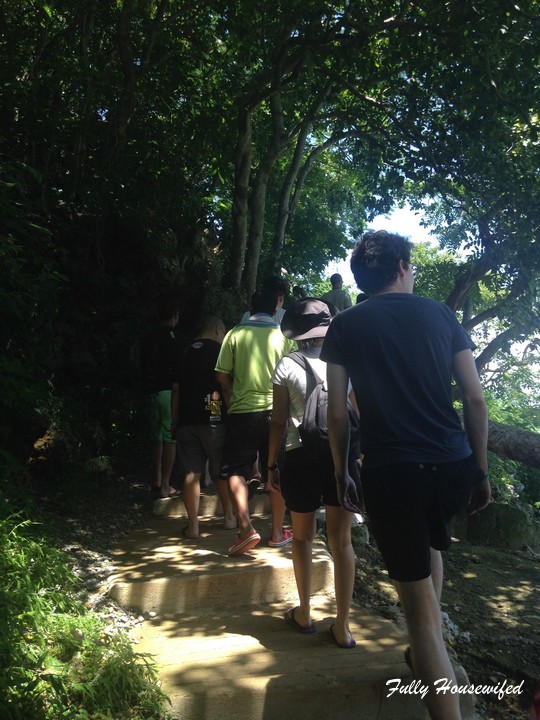 The activities you can do are climbing up a hundred steps at the Governor's island so you can have your photo taken with the spectacular view of the islands behind you and jumping off an 8-foot cliff. There's also a zipline where you zip down from the island to the next one. Looked fun but the line was too long.
We were also shown the crocodile and turtle-shaped islands, the bat island with a lot of sleeping bats hanging upside down the way they do when they sleep, an island with a cave and many others.
I saw the Children's island from the distance. According to Janice, the beach in that one is the best one for kids, hence, the name.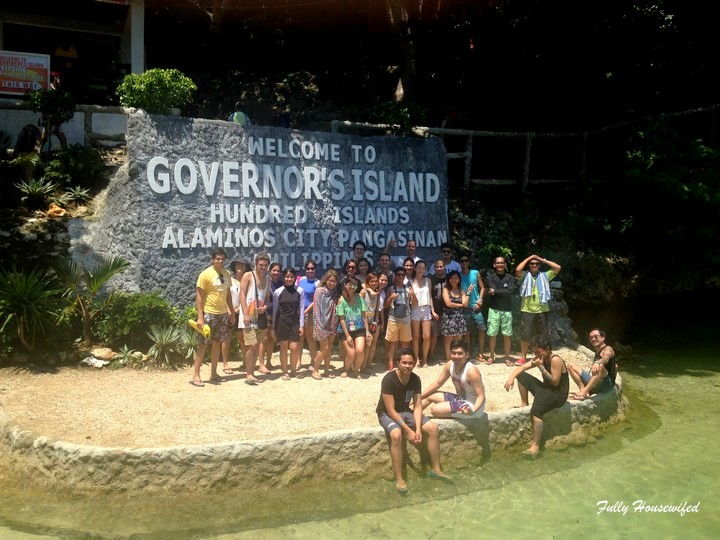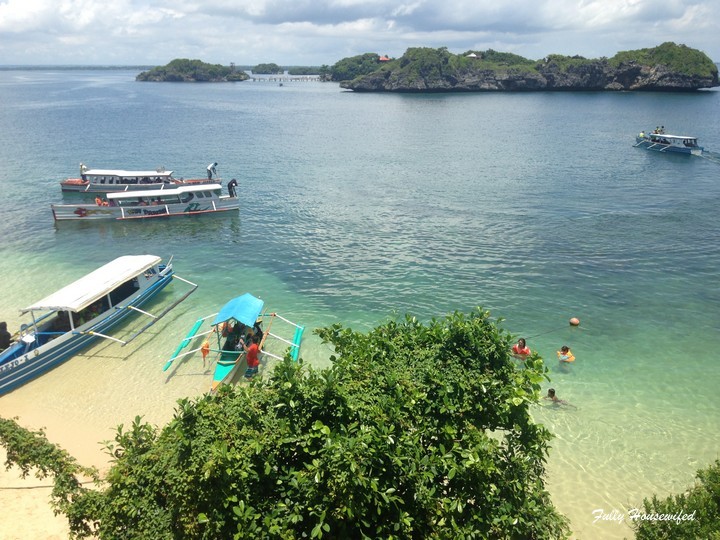 No snorkeling happened, but we stayed on an island for a while to let the others enjoy the beach and hang out by the clear waters. We WAHMs took the time to enjoy each other's company in one of the sheds.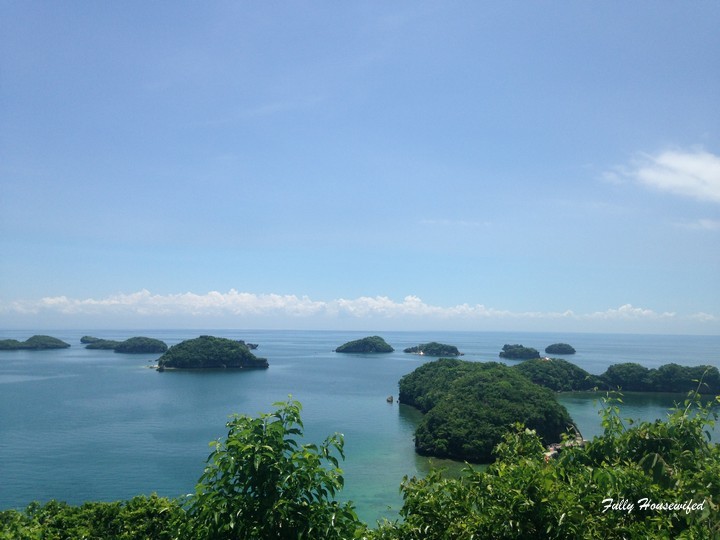 The "Adventure"
On our way back, the engine of the boat we were riding on sputtered out. It would have been okay except that we could see dark clouds up ahead, warning us of strong rains coming.
We laugh about it now, but at that moment, we three mommies understood that there was a remote possibility of trouble for our group. The boat had a little roof above it, but if it rained and we're stuck there, the boat was going to get filled with water fast.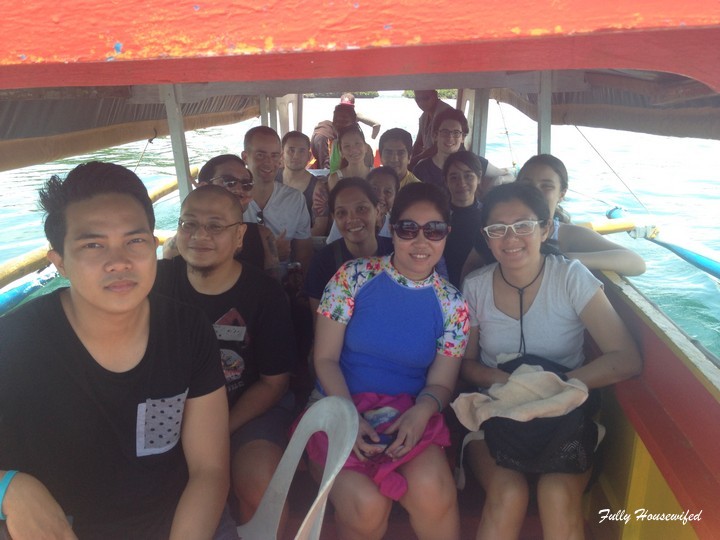 Janice and I were texting our husbands, I was asking Jay to pray for us. There were islands nearby, but they are still a long swim from where we were. Besides, we would have to figure out how to climb on the rocks.
The other boat came back for us, but it was full so they can't really do anything but speed back to the shore, get the people off the boat and come back for us.
After several minutes, the engine started running again but again stopped before we reached land. This time, the islands were far behind us and the dock was a pretty long swim ahead of us.
It also started to rain.
On a serious note
I was a little concerned because I knew not everyone in our group were strong swimmers. We weren't handed life vests, but there were some stashed at the side of the boat which I pointed out to Janice. I guess it's because we're moms that it's instinct for us to start planning far off any circumstances. Van even asked if there were sharks in the area.
I jokingly gave instructions on survival swimming, but in truth, I wasn't kidding. I wanted to make sure that if there's anyone who can't swim well in the group, that they know to go on their backs and float until help comes.
Reality is that when your boat capsizes in the middle of the sea, you need to know how to save yourself somehow and not rely on others to save you. Even when they want to, they will get tired eventually and may need to let you go for a while so they can survive, too.
In fact, they may not even be able to help you as the first rule in this kind of situation is to get away from anything and anyone right away so you won't get climbed on and pushed down the water by those who don't know how to swim, or get tangled among the ropes or whatever attached to the sinking boat.
I may seem a little paranoid, but sell me the same argument when you've got three little kids waiting for you back home.
Thankfully, the engine worked again long enough to bring us to shore. Whew!
Tourism suggestion
I would suggest that to improve the tourism in the area, the local government must provide proper training for the tour guides so they have more to say about the islands than just one being the location for the shooting for Claudine Barretto's telenovela or this other island is where Kim Chiu and fellow PBB finalists were housed for a few days.
Tourists don't care about that, honestly. They don't even know who these celebrities are.
For instance, explain why among the hundreds of islands in the area, the bats chose to inhabit that one particular island. Seriously, so many interesting information that need to be told.
And for pete' s sake, please distribute the life vests!
The company of fellow WAHMies
The team building allowed us to meet and say hi to the Who's who of Spiralytics. We also got to spend some time with those whom we work with only online like our managing editor, Gem whose effort to connect with us I appreciate, the content strategists and other members of the content team.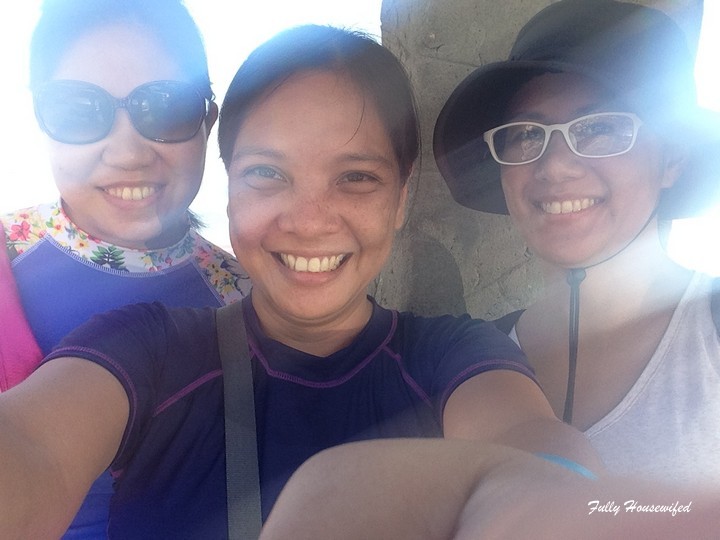 But we WAHMs mostly spent time with each other throughout the entire event. All three of us belong to the same community of WAHMs, bloggers and homeschoolers on Facebook and Janice is one of my closest friends among them, but it was nice to spend time together in person.
We missed Millie of notyourordinarymum.com, though. It would have been much more fun to have her in the boat with us, hahaha!
Recommendations on Puerto Del Sol and Hundred Islands tour
Puerto Del Sol is really nice to go to as a family. Van's family paid Php 8,000 for one of the regular units for a three-day, two-night stay. Not bad.
I suggest that you include the Hundred Islands tour, a meal at the floating restaurant, do the cliff jumping and add the zip line in your schedule to make the most of the six-hour trips to Pangasinan and back to Manila.
I believe you can arrange for the tour with the resort.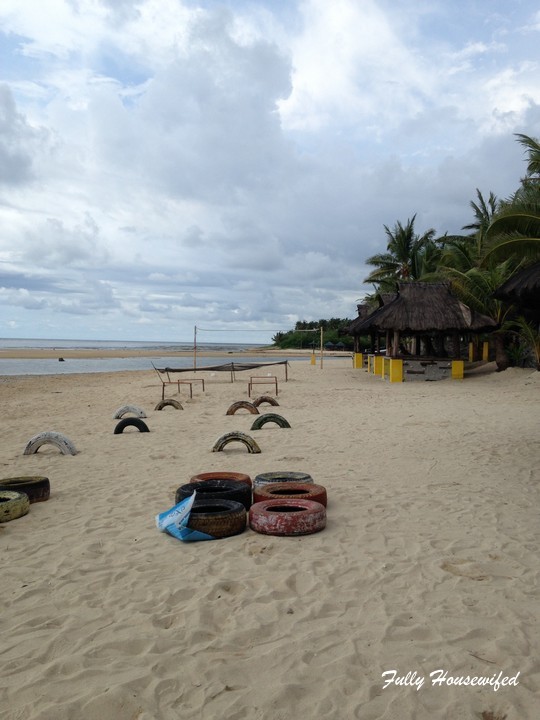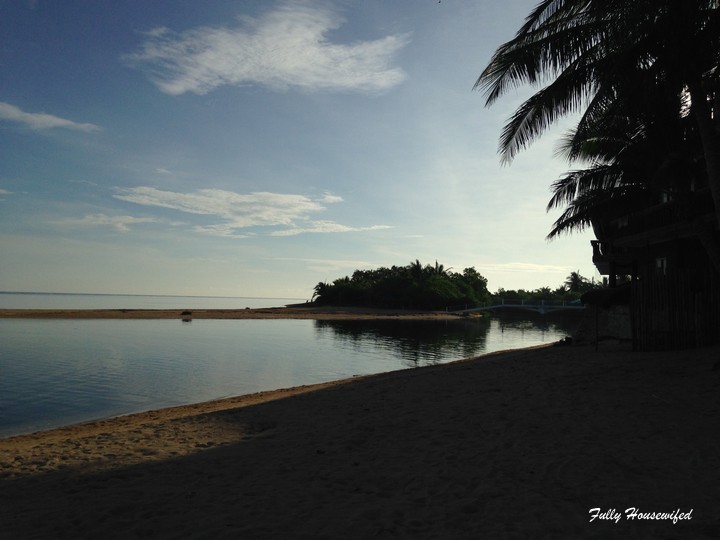 Don't forget to pass by the Animal World on your way back, as well, because if you're going all that way just for the swimming pool, I suggest you just go to La Traviesa in Cavite.
Or book a day tour to Camaya Resort if you want a resort with a beach. Otherwise, you're just wasting your opportunity.
(Read: Celebrating our son's 9th birthday at La Traviesa Hotel Resort)
(Read: Camaya Sands: The Beach and the Beautiful)
Also, make sure you're ready to unplug. Internet access is not really very good at the resort even if you use your own unit. I was only able to check my email on the boat to Hundred Islands.
Puerto Del Sol is located in Bolinao, Pangasinan. Its list of amenities includes an outdoor jacuzzi, a pool bar and a game room.
Thank you to Spiralytics and to Gem Muzones for including us in the team building event. We had fun!
Puerto Del Sol
Website: http://www.puertodelsol.com.ph/
Facebook: @puertodelsol.ph