The opportunity to be at the special screening of Kung Fu Panda 3 at Power Plant Mall couldn't have come at a better time. The kids' Musicale Theater and Dance Recitals which required a somewhat tedious week-long schedule of rehearsals had just finished and we were dying for some downtime as a family.
Okay, I'm downplaying it here. The truth is that we couldn't believe it! It was such a wonderful treat for the family and we have Krispy Kreme and fellow homeschooling mom, Maui Terrado Pilapil, to thank for it.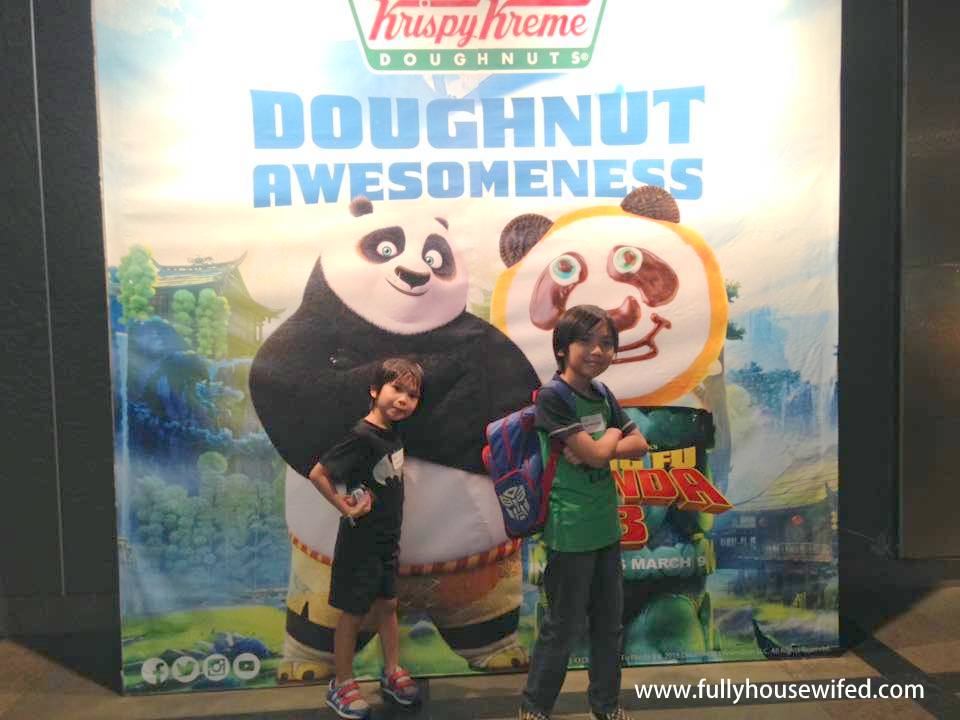 I've always enjoyed Kung Fu Panda movies, especially the first one. Perhaps it's because I'm one of those who pay really close attention to the dialogues, and Kung Fu Panda has some really rich ones to boot.
Who'd forget Master Oogway telling Master Shifu that "…today is a gift, that's why it's called present" in the first movie?
The one that hit close to heart, though, was when Master Oogway corrected Master Shifu's perspective on peaches. He said that perhaps peaches can defeat Tai Lung "…if you care for it, nurture it and believe in it."
Everybody needs someone to believe in their potential even when no one else does, don't you think so too?
Movie spoiler!
As Po fans know very well, Po was adopted by Mr. Ping when he was still a baby. In Kung Fu Panda 2, it was revealed how Po came to be with the simple and gentle village duck.
In Kung Fu Panda 3, Po was reunited with his biological father. He worked on coming into terms with his identity that would help him find his "chi." The chi is key to defeating the evil Kai who came back from the spirit realm to defeat the dragon warrior.
History records that it was the pandas that taught Master Oogway the art of chi.
But things didn't turn out as planned. The pandas did not remember how to "chi" and Kai was on his way to destroy the village which turned out to be part of his past – the cause of his downfall.
His former closest ally, Master Oogway, was forced to fight him and send him into the spirit realm to defend the very same village.
Po had to learn to be a teacher and teach the Pandas how to use their strengths to fight defeat Kai together.
The first line that I remember in Kung Fu Panda 3 is when Shifu told Po, "If you only do what you know how to do, you will never be more than you are now" after Po failed in teaching his friends. One of the things we try to teach our kids now is to be bold and to seize opportunities even when they are afraid.
My favorite in this one, though, was when the pandas, along with Tigress and Mr. Ping, did the "chi."  Mr. Ping adds his wing and says, "a family."
Kung Fu Panda's usual combo of humor and action, with dashes of tear jerking moments here and there, make for a moving piece on family and identity, and its connection to one's destiny.
Sana Maulit Muli…..
I had a really nice time. Because all our children love Po, Jay and I knew we could sit back and enjoy our boxes of popcorn and enjoy the event with our kids.
Our 5-year old only had to ask to go to the restroom twice and only because he really had to go. Unlike before that he would get restless in his seat and Jay would end up taking him out for a break.
Krispy Kreme prepared some games before the movie started and our kids got a furry Panda hat as a prize! Krispy Kreme also gave out donuts to munch on during the movie and gave us a box of 12's to take home. We feel so spoiled!
Once again, thank you Krispy Kreme and Maui for this treat. We had a really great time. Sa uulitin!