The wonders of saying "please" and "thank you (to your husband)
It's been three weeks since I've become intentional in saying "please" and "thank you" to my husband. I've  been reading this book called "The Peaceful Wife" by April Cassidy and using these words (on my husband) more often is my first course of action to grow in my marriage.
Just to give you a bit of a background, The Peaceful Wife is a book on marriage, mainly focusing on the relationship between wives with dominant personalities and husbands with passive personalities. It provides a biblical perspective on a wife's submission to her husband.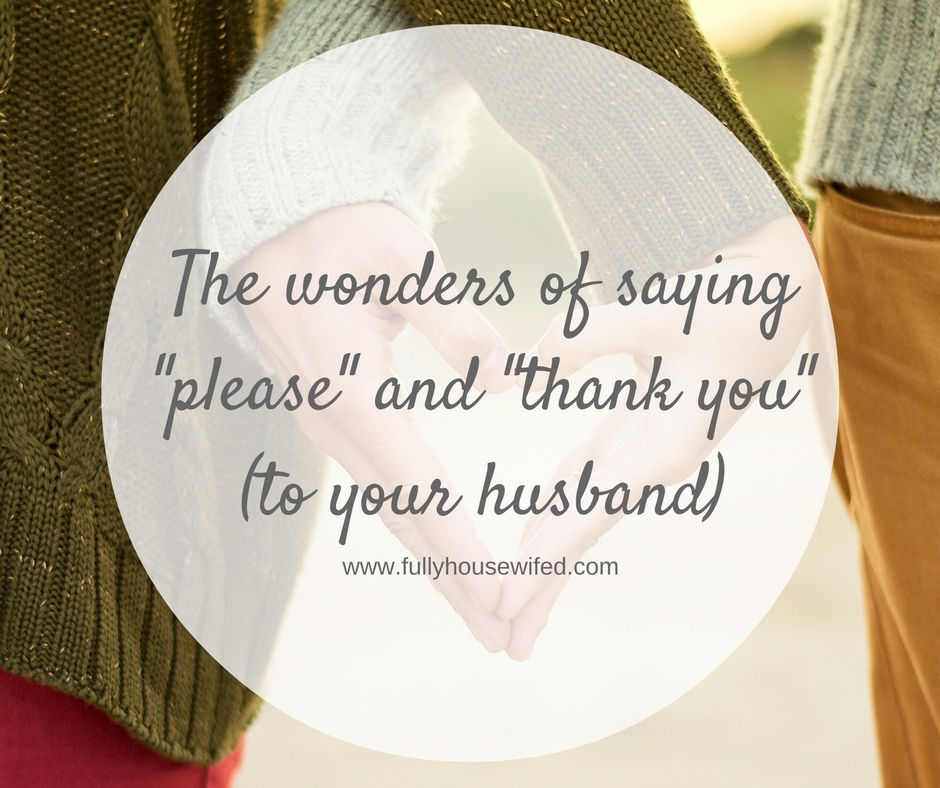 Jay and I have been married for 12 years and admittedly, it has become easy to take for granted the things that he does for me — from running to the store to buy us both coffee or mantika (cooking oil), to looking after the kids when I have meetings; or taking over homeschooling on days when I feel too beat to do it.
I felt that it was a good place to start – learning to appreciate my husband, because when you're married for over 10 years, the little things tend to go unnoticed. When the big things you hope for don't happen, the disappointment tends to override the little things.
Before I carry on, just a reminder. Saying please and thank you can do wonders to a marriage especially when they are uttered with sincerity and done from the heart, but it is certainly NOT THE ANSWER TO ALL MARITAL ISSUES.
Spousal kindness
The first thing I noticed two days into it is the change I felt in me.
It all started when I was chatting with Jay on Facebook. I had a mouthful to ask about the details of the errand he did for me but I made a choice to restrain myself (a rare occurrence) and instead typed "thank you."
I was met with awkward silence on the other end. Jay was not able to respond right away, most likely puzzled at my sudden display of kindness, haha, while I…I felt peace.
I continued to use the words and the days that followed were a revelation. We were laughing more often and there is a certain lightness when we're together that hasn't been there in a long time.
Jay said that he felt that I love him more. He says he appreciates my efforts to make him feel respected as my husband and as the man of the house.
I've seen the changes, too! He comes home earlier than he used to, he is more open to telling me about his day and his thoughts, and I looked forward to having him home every single time.
I'm tempted to tell you more but I'll be oversharing then, hihi!
The little things
We started talking about music again.
A couple of weeks ago, we were at Pancake House in High Street with the kids, the music streaming through the store's sound system got us talking about our old bands, the musicians we've worked with, our old friends and the music that we used to play. And we were laughing. We were enjoying each other's company so much that evening, you can feel Christmas in the air, haha!
The week after that, we  jammed, and it was without the tension that used to ruin the moments. We've not done that in a long time since we've left the circuit. Jay and I would always end up at each other's throats so often when we tried, so we just quit.  We had too many personal issues and musical differences. Walking out of the industry completely gave us some sort of relief.
So if you've seen that video of the two of us we posted on Facebook a couple of weeks ago, the one when we were laughing so hard about our silliness? That was it. That was our moment.
It wasn't a major showcase of talent for sure, haha, but that was a breakthrough for us. My husband even said, "I missed singing with you" in a manner that I knew he meant it.
Little things that mean the whole world to only two people — us.
Before I end my story, let me share with you an excerpt from The Peaceful Wife:
"As a husband feels the weight of his wife's beautiful feminine trust, faith, admiration, and cooperation with his leadership, he is most encouraged and motivated to become more and more the man God calls him to be….

I don't control my husband.I let God change me and allow the changes God makes in me inspire my husband. I trust God to change my husband. When one spouse begins to obey God, He often opens the door, in time, for the other spouse to begin to desire to obey Him as well, which eventually opens the door to healing for the marriage."
I have learned that the simple steps that we take can actually create a world of difference in our marriage. I have more to deal with in terms of my character for sure, but it's encouraging to see how God moves when we obey.
I have decided to trust God with my husband by letting go of my control and trusting my husband more. Baby steps.
The Bible says that faith as small as a mustard seed can uproot a deeply rooted tree (Luke 17:6).  So my action plan is to take it a day at a time, a Bible verse at a time, and believe that with God's mercy and grace, I will have more success stories to tell in the future.
——————————————————————–
"Love is patient and kind; love does not envy or boast; it is not arrogant or rude. It does not insist on its own way; it is not irritable or resentful; it does not rejoice at wrongdoing, but rejoices with the truth.  Love bears all things, believes all things, hopes all things, endures all things.
Love never ends" 1 Corinthians 13:1-13.
"Now as the church submits to Christ, so also wives should submit in everything to their husbands.Husbands, love your wives, as Christ loved the church and gave himself up for her.." Ephesians 5:24-25.