Watercolor Class at The Crafters Marketplace
I believe that art is a gift and that even though many people are doing it nowadays, there are those whose works will always stand out. Having said that, it doesn't mean that non-pros cannot do art nor find joy in doing it. That's me!
I was so thrilled to join the watercolor class at The Crafters Marketplace yesterday with some of the other mommies from Mommy Bloggers Philippines. What an opportunity!
Our instructor was Ian De Jesus. Just like Brush Lettering instructor, Margot Uy, he also graduated Magna Cum Laude in Fine Arts at The University of the East. And just like her, he also ventured into advertising and shirt designs.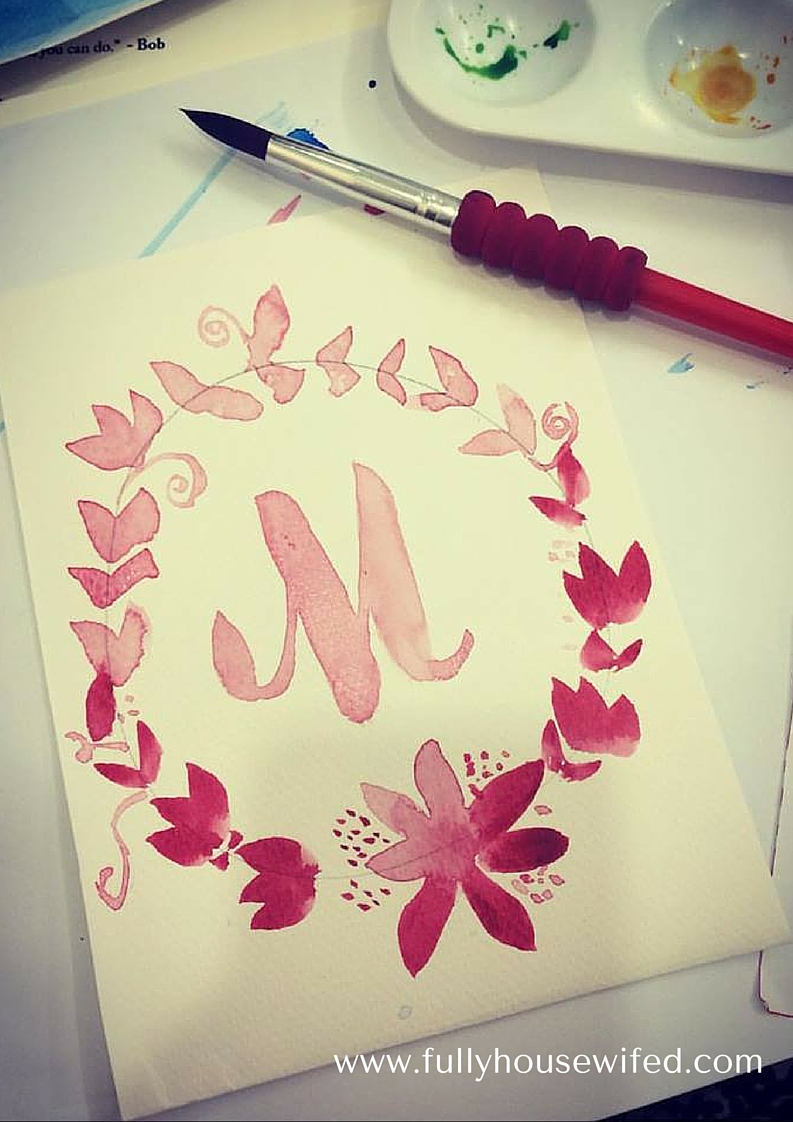 (READ: Learning something new…like brush lettering)
A bit of Art history
Ian De Jesus is a professor of Art theories and History which figures why the discussion was so interesting. Aside from teaching us about brushes and watercolor brands, he told us a bit of history about the colors used by renaissance artists.
He shared that back in the days, paint colors were hard to come by. Artists had to either create them out of leaves or cooking spices, and even use Cow pee, and that these were mixed in honey or oil, for them to have something to use.
He also explained to us that the more expensive paint colors have higher pigment in them.
Did you know that gold paint back then were actually made out of melted gold and that Cobalt blue actually had cobalt in them? No wonder paintings during those days have so much value!
Of course eventually synthetic colors were manufactured and sold which made it easier for artists to find what they need for their masterpieces.
We had a little laugh when he recalled the yellow watercolor set we used to bring in grade school art class. The one with the useless black brush, haha! That watercolor had been phased out because of its lead content.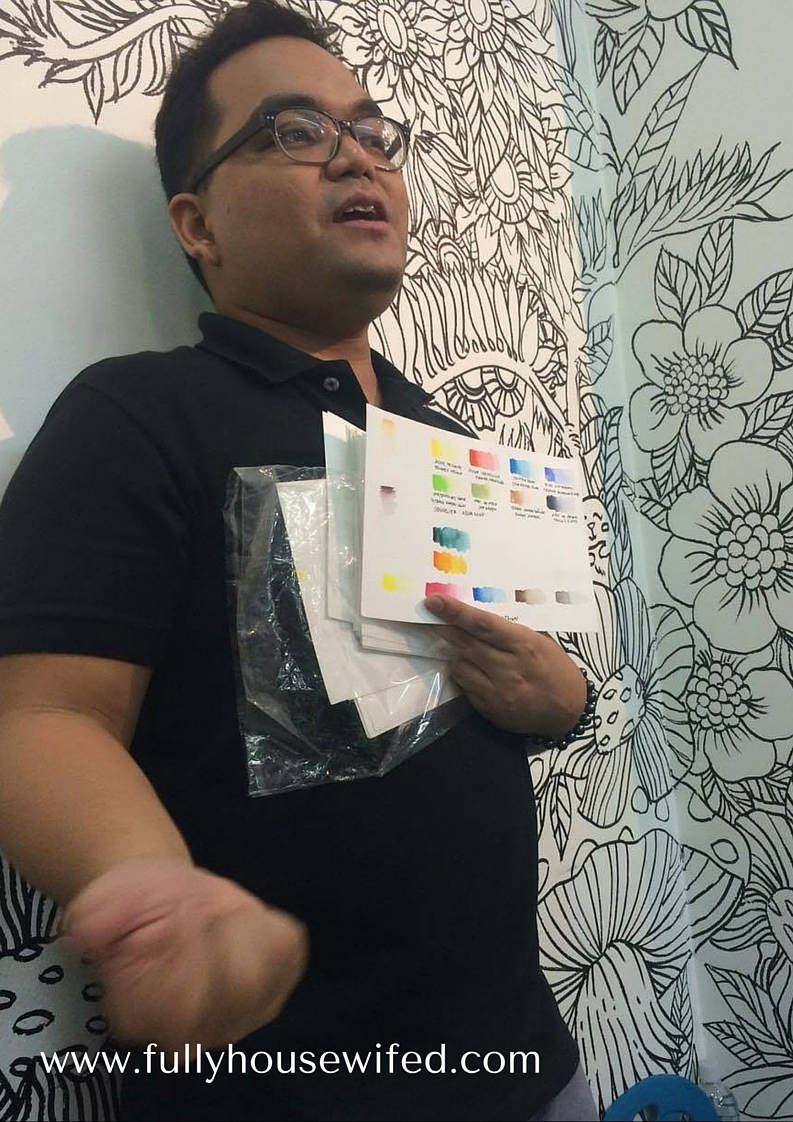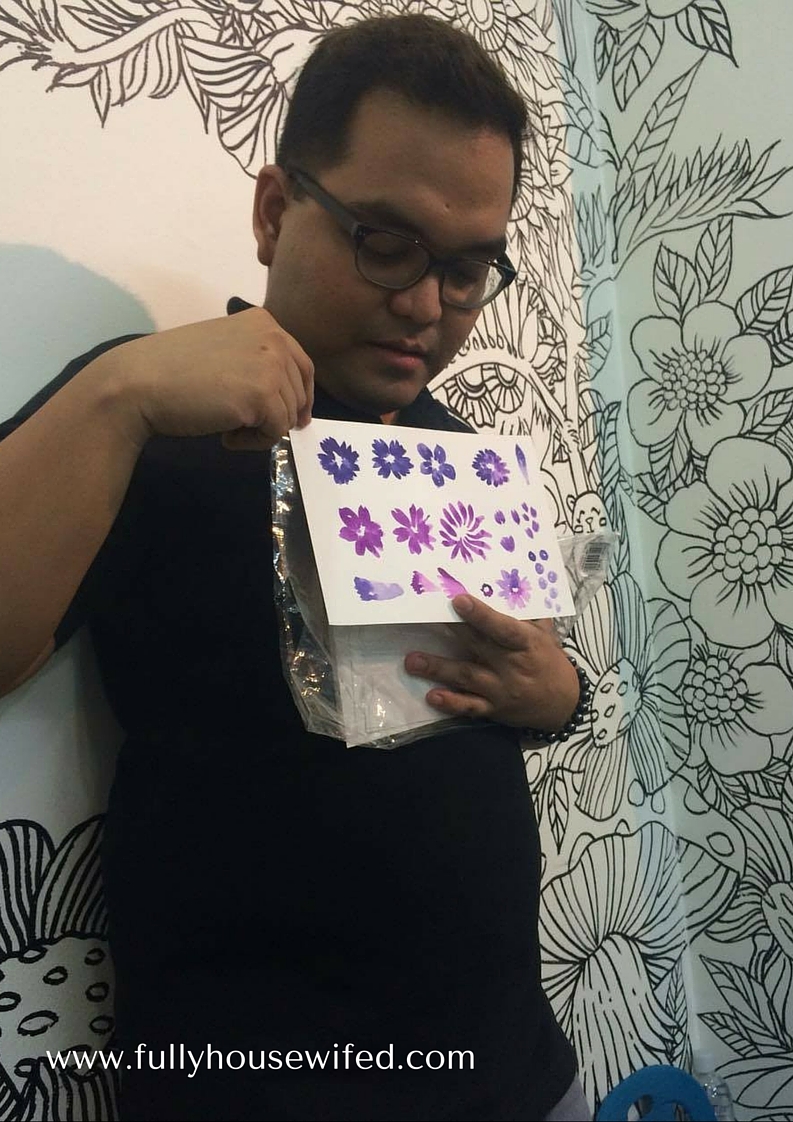 The Color Wheel
A few years go, I interviewed artist Frederick Agustin for When In Manila and I remember him telling me that the first thing he bought in pursuit of his art was a color wheel.
As a child, the color wheel was introduced in our art classes but I never really understood what it's for until now. Now I understand and appreciate the color wheel and I vow to keep my copy, look at it and study it until I cannot forget it.
What's a color wheel for? In my understanding, the color wheel helps you in the combination of colors – what color goes with what and what would look good with what. Much like progressions and chords are in music. There are notes that sound beautifully when played together.
In music, there are major and minor chords. The minor chords are usually in music that are sad and poignant, while the major chords are the vibrant and happy ones. The color wheel also has that. The warm colors make you feel happy, excited and passionate, the cool colors give you a sense of peace, quietness, solitude and even sadness.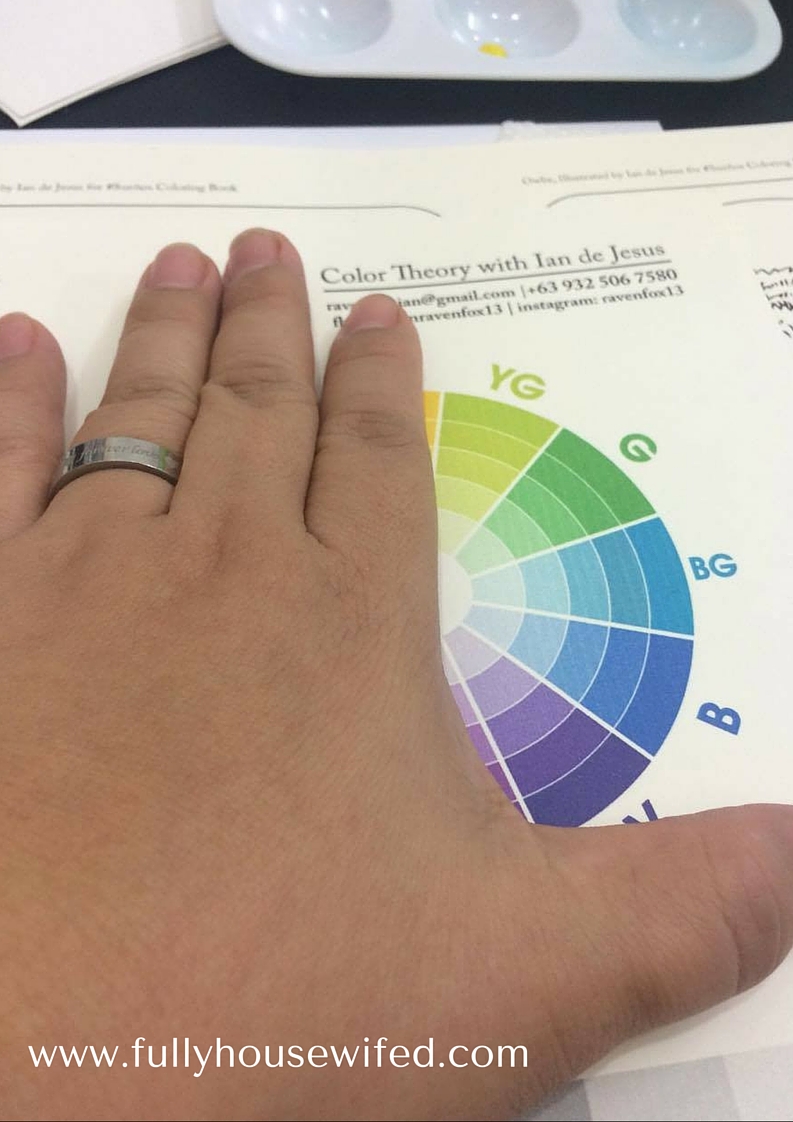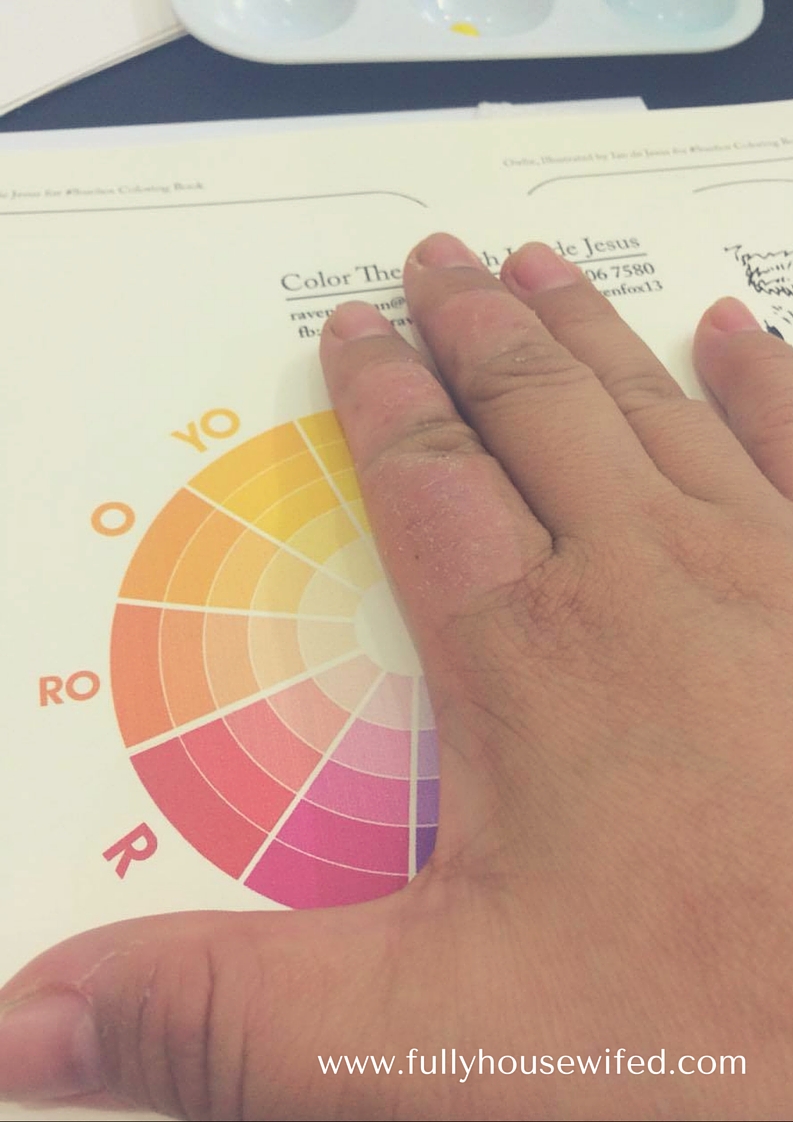 Practice exercises
We were given 6 exercises to do. First, we applied the principle of the color wheel. Using one of the small watercolor papers we were given, we painted the primary colors then combined them to see if the result will be close to that in our color wheel.
I made a mistake with mine so I'll just show you the first part of the color wheel exercise: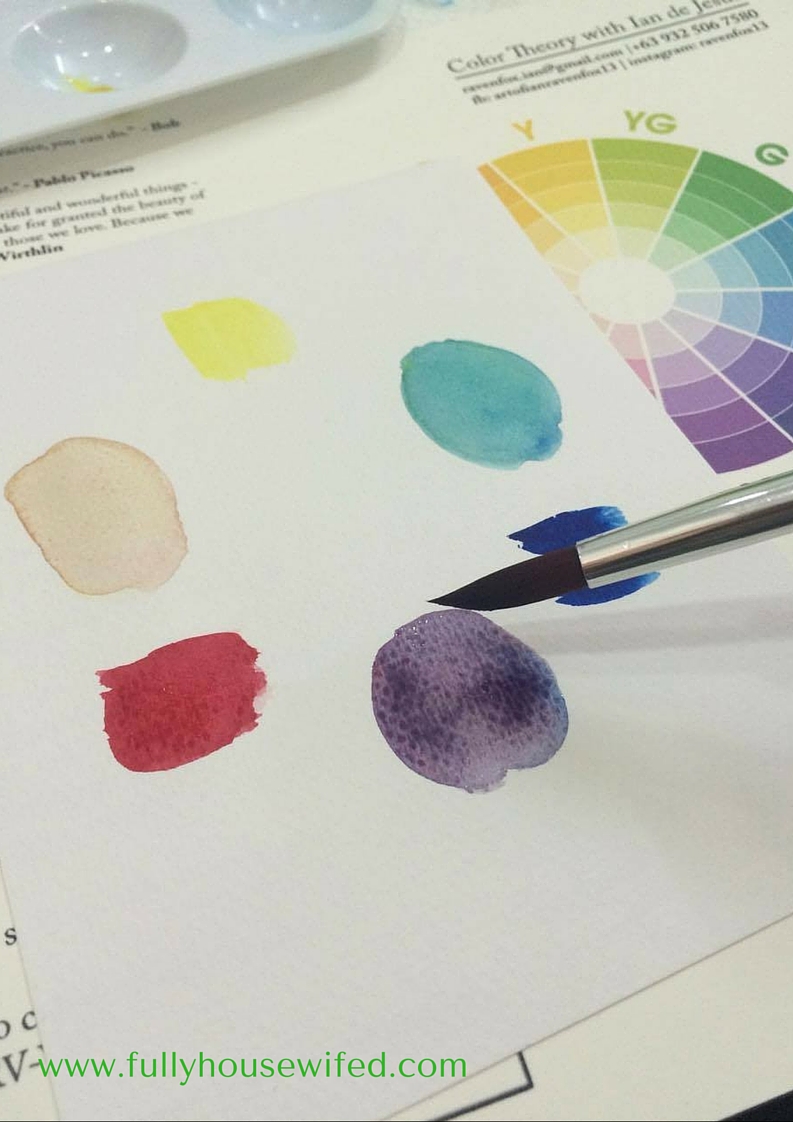 Ian also taught us some of the watercolor techniques. This part was a bit too fast for me, but I remember wet on wet, which I learned from my friend, Alelie, wet on dry,which is what everyone else is doing, graded and variegated washes, and basic wash.
We tried these techniques on paper first then Ian let us try them on Ian's printed art works. Then he taught us how to paint a simple picture using these techniques. We painted a picture of a sky, with a couple of islands and the sea. Ian helped me with my sky and the trees of one of my islands. I think I need to try doing it again.
Then we learned how to paint different types of flowers and leaves, then for our final practice, we did the floral lei (scroll up to first photo).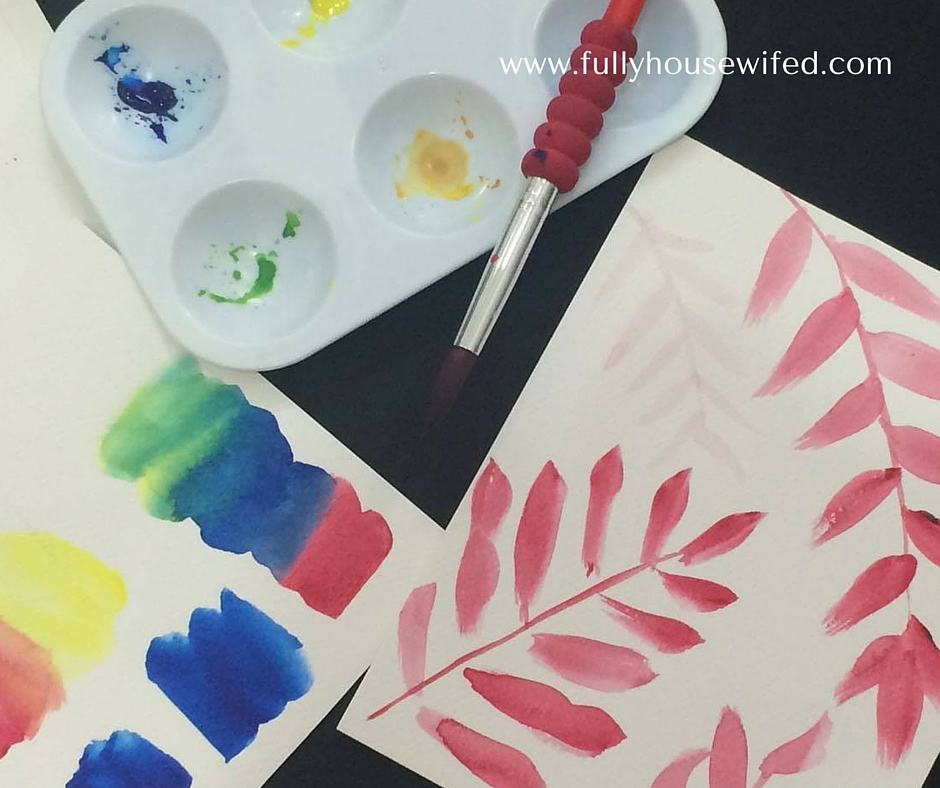 Bonding time with my friend Janice
One of the things I love about this workshop is that I got to bond with my good friend, Janice of therollercoasterride.com. We both got into brush lettering and it was so much fun learning how to do watercolor painting with her.
Just look at us: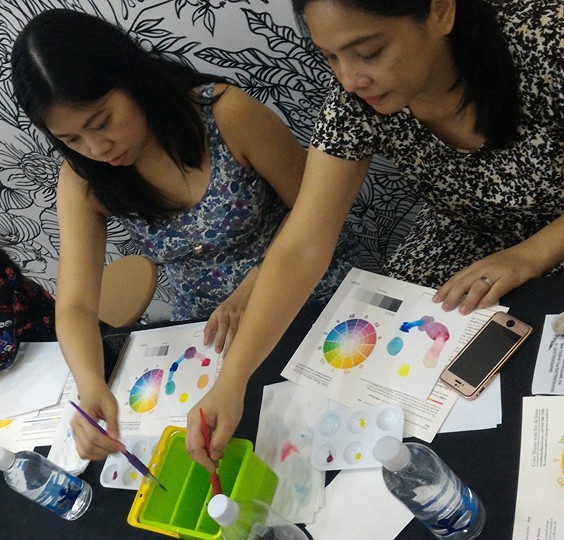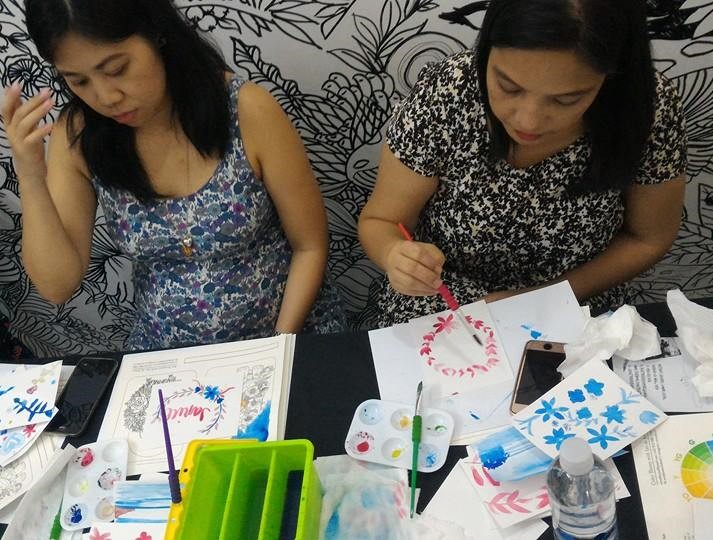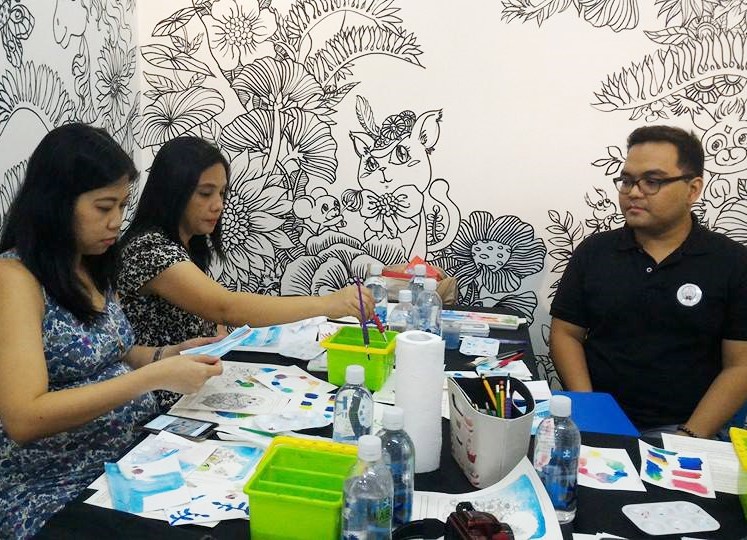 Janice was bolder with the use of the colors, while I played it safe with monochromes.
I know we look like we're not talking to each other at all, but believe me, we were and we were happy, haha!
What's next?
I need time to practice, absorb and think all the lessons through. I loved the class even though I was a bit bitin (short of time). I hope to come up with art works that would make both my art instructors proud and happy to have taught me.
According to Ian, if you want to be good at it, you have to practice. He said that many people who think they can't are those who did not practice or those who stopped doing it a long time ago.
I have no ambitions on turning into a Heart Evangelista in art but I do want to become good at this and be able to paint pictures and do calligraphy on them.
I'll practice the techniques and the mixing of colors and hopefully get to enjoy hours of art with my kids. My eldest son is starting on watercolor class on Tuesday at Legacy and I've been looking for a place for my artistic 7-year old to go to. I plan to look into The Crafters Marketplace's Art Playgroup for him.
The Crafters Marketplace offers several art classes. They have Calligraphy, Watercolour, Felt Crafts, Polymer Clay, Scrapbooking, Card Making, Sketching for Beginners, Sketching and Coloring with Markers, and Watercolor classes, Zen doodling, and Children's Art.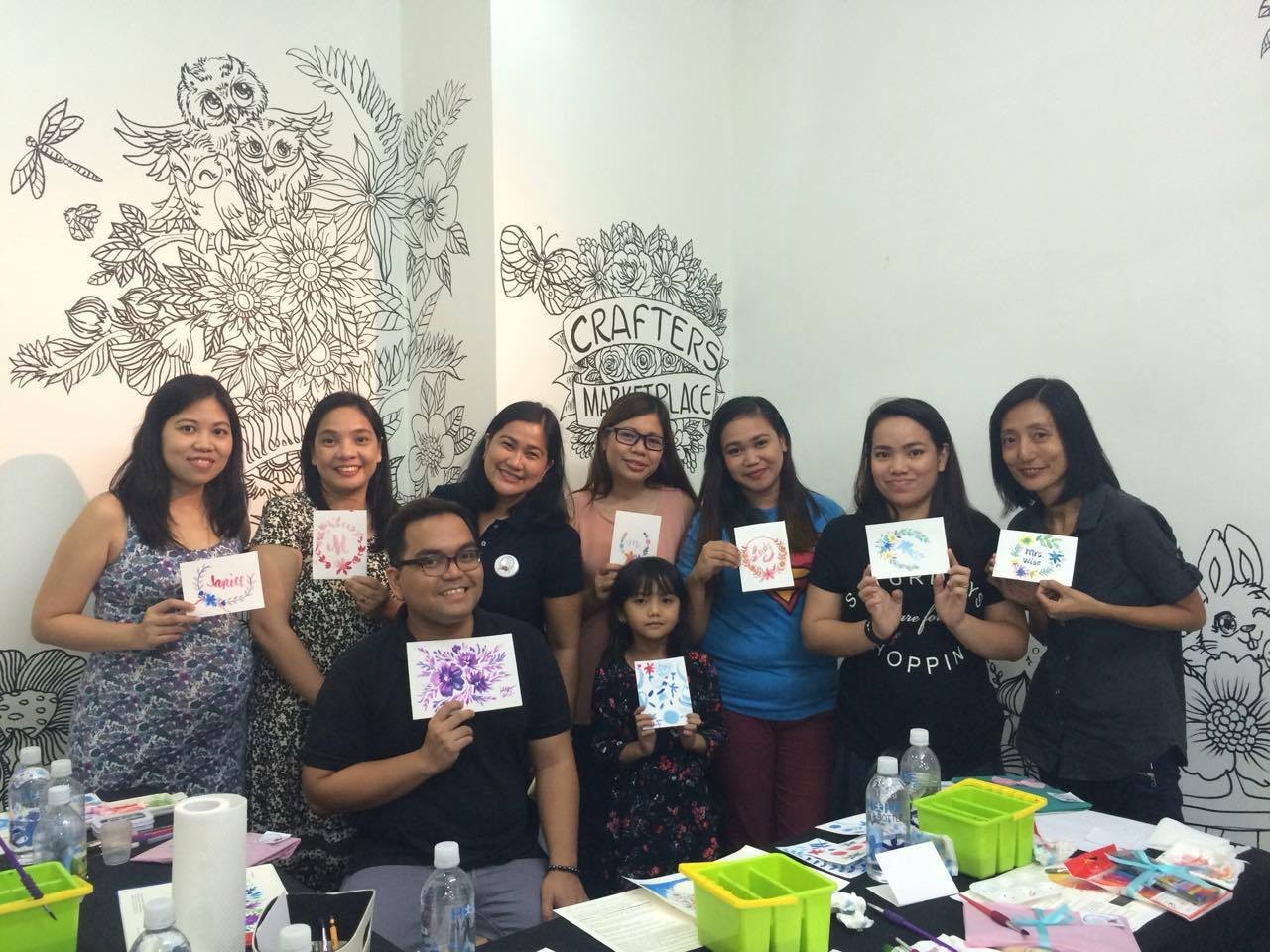 If you want to know  more about these classes, get in touch Sunshine or Alma:
The Crafters Marketplace
Rustan's Grocery, Lower Level, Shangri-la Mall, Edsa
Contact number: 0926-6231284
Email: [email protected]
Facebook: The Crafters Marketplace on Facebook
Instagram: The Crafters Marketplace on Instagram
Special thanks to Alma of The Crafters Marketplace and Mommy Bloggers Philippines for the wonderful opportunity to learn from Ian De Jesus.