Doing the laundry with Smart Steps
I wasn't sure at first why I said yes to trying out Smart Steps for our laundry. After all, my youngest is already 5 years old and I had the impression that the products were "only good for babies," which is silly, actually, because we always assume that anything "baby-friendly" are only for babies.
Other than the lovely powdery scent, I wasn't expecting much. But I decided to use it on my kids' laundry just to give it a chance, haha! Boy, was I in for a surprise.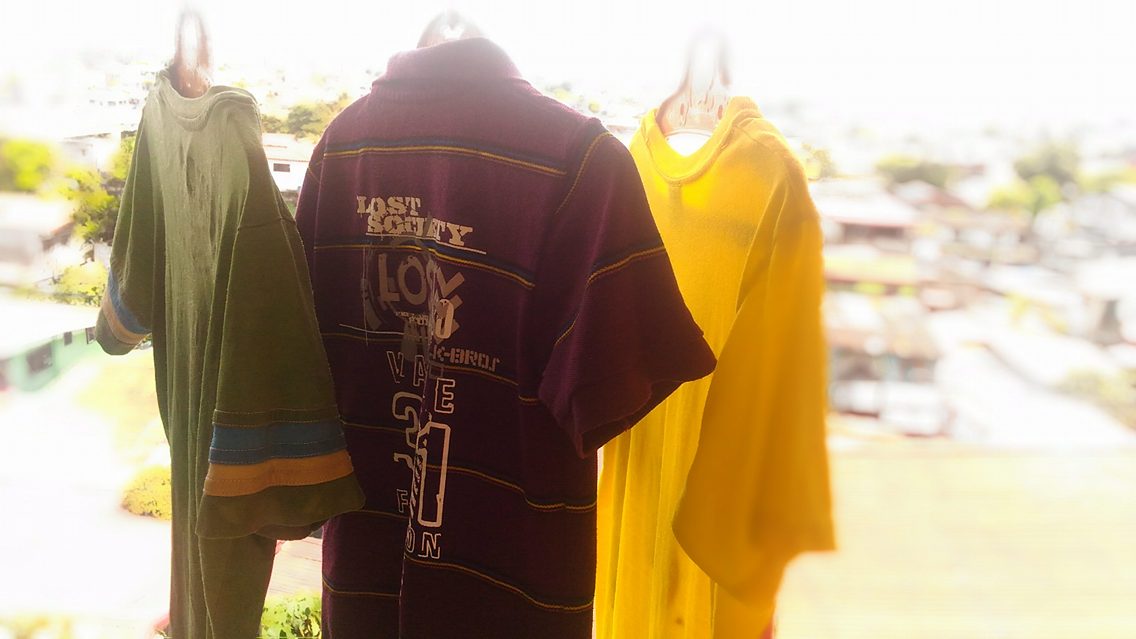 Let's get on with the results!
My kids clothes came out feeling, looking and smelling very clean. The best part was that the colors that I thought were already faded by wear popped right back after we used the powder detergent on them.
The powder easily dissolved in the water and even when I added a scoop when there were already clothes in the machine, I found no clumps of powder afterwards, something which is common when you use other brands.
And my fingers that had been suffering from the harsh chemicals from using the other leading laundry brands didn't feel a single sting even when I was dipping them into the washing machine to get the clothes out and when I was rinsing and wringing them for air drying.
Takes out the light stains, but heavy stains need more time
Doing the laundry with Smart Steps liquid detergent was just as effective. The minor stains were all gone, however, the chocolate ones and the ones made with markers lightened but didn't completely go away even when we tried to hand wash them with Smart Steps Detergent bar.
According to the product info, Smart Steps detergent products can take out stains from breast milk and baby poo, but says nothing about stains made by markers or paint.
I guess some stains just really require longer washing…. or better washers, haha!
You see, I'm one of those who rely heavily on a washing machine to do the washing. What I do is sort the clothes by color, dump them by pile on the soapy washing machine and wait to rinse them.
We used the Smart Steps detergent bar for the kids' underwear and just like its powder and liquid variants, the briefs turned out looking and smelling clean.
The fabric softener
I also noticed that my kids clothes were softer especially after we used Smart Steps fabric softener.
With the old brand of detergent we used, our clothes turn stiff they can almost stand on their own if we let them, haha, so we would use tons of softener in them. 
With Smart Steps, we didn't feel the need to put softener because the clothes turned out well after they were spun in detergent and rinsed, but I did, anyway, to try it. What I like about it is that the scent was mild.
What's in Smart Steps Laundry products?
As you may have guessed by now, Smart Steps laundry products were created with babies' safety in mind.  They are hypoallergenic and do not contain phosphates, dyes or any of those optical brighteners we usually hear advertised by popular brands.
If you want to protect your kids' young skin, then you can try Smart Steps. The formula has none of those harmful chemicals that we fear may irritate the baby's skin, but it's strong enough to get the job done.
Other products by Smart Steps
We also got to try Smart Steps anti-mosquito patches which the kids enjoyed sticking on their arms, under their shirts. 
They loved choosing among the robot and alien designs and it didn't smell weird. They didn't mind having them on when we went to the park and when they attended their MAPEH classes because they smelled great.
What a great way to ward off Dengue mosquitoes!
The only product we didn't get to use was the brand's baby bottle cleanser. But the product briefing says that it is made out of plant-based ingredients and can easily be rinsed off.
So I'm confident to give it to a friend of mine who plans to bottle-feed her baby soon because I know that her baby will be safe.
Smart Steps products are available at Rustan's Supermarket, Shopwise, Robinson's Supermarket, Landmark, Waltermart and other supermarket and department stores nationwide.
For a more complete list of stores that carry Smart Steps, check out their website. You may also like Smart Steps on Facebook or follow Smart Steps on Twitter.
Special thanks to Ren, Emily and Carlo of Smart Steps for sending me their wonderful products for review.