We call this recipe Chicken a la Chy after my friend, Phoebe a.k.a "Chy" to her childhood friends,  who introduced the dish to us. But in the cook book Cherished Traditions that was published by our South church a couple of years ago, they entitled it "Chicken a la King….and Phoebe."
What it actually is, is a creamy chicken & mushroom dish served with corn (and apparently, chips!) on the side. But you can call it any way you like.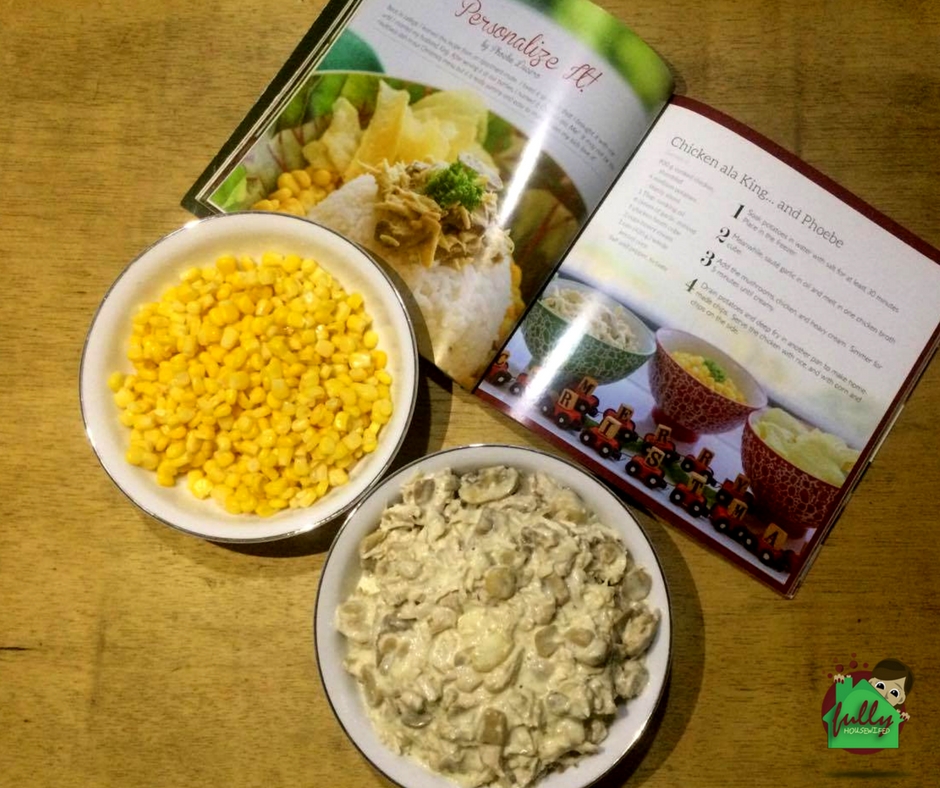 I realized that I haven't shared any recipes lately and since we cooked this tonight, I thought I'd share with you how it's done. If you're looking for something new to serve your hubby and kids, this is good to try.
(READ: Pork Cottage Pie for Picky Eaters)
Trust me, I wasn't a cream-based food fan but this became an exception for me not only because it was cooked by my friend, but because it was so good, we devoured most of it when she served it to us at a condo in Manila, haha!
Anyway, here's the recipe as published in the cook book, Cherished Traditions:
Ingredients:
900g cooked chicken, shredded
4 medium potatoes, thinly sliced (optional, mine)
1 Tbsp cooking oil (She said Canola oil, when she first taught me how to do it)
6 cloves of garlic, minced
1 chicken broth cube (optional, mine)
2 C heavy cream
1 can (420g) whole kernel corn
Salt and Pepper, to taste
How to cook:
1. Soak potatoes in water with salt for at least 30 minutes. Place in freezer
2. Meanwhile, saute garlic in oil and melt in one chicken broth cube.
3. Add the mushrooms, chicken and heavy cream. Simmer for 5 minutes until creamy.
4. Drain potatoes and deep fry in another pan to make homemade chips. Serve with corn and chips on the side.
Here are my kids cooking the dish:
Presentation is….everything!
Yup, that's all there is to it. But as I've learned about cooking through the years, presentation is everything. And when it comes to Phoebe, she can really create a masterpiece table setting for any dish at any given day.
I don't do the chips, by the way. But I do eat this dish with rice from time to time. My kids and my husband eat it with rice ALL THE TIME, haha!
I also stopped adding the chicken cubes because I get food coma every time I do. And we've been trying to eat healthy around here.
This dish goes with anything – potluck dinners, casual family dinners, or even fancy home dates. All you need are nice bowls and utensils to set it up.
(READ: Baked chicken breast with cheesy greens on the side)
So try it and see how you go with it. And if you're posting your version of it on Facebook or Instagram, you know the drill. Tag @fullyhousewifed so I can see.
Enjoy!