Homeschool Review: Creating a Masterpiece
Creating a Masterpiece came at a perfect time. I've been looking for art instruction online for my children to learn painting.
I've been trying to learn a bit of watercolor art myself the past few months and I was looking for tutorials that I could use to teach my kids basic techniques but couldn't find anything I could follow easily.  I was so happy to have been given the opportunity to review Creating a Masterpiece monthly plan. It is such a gem!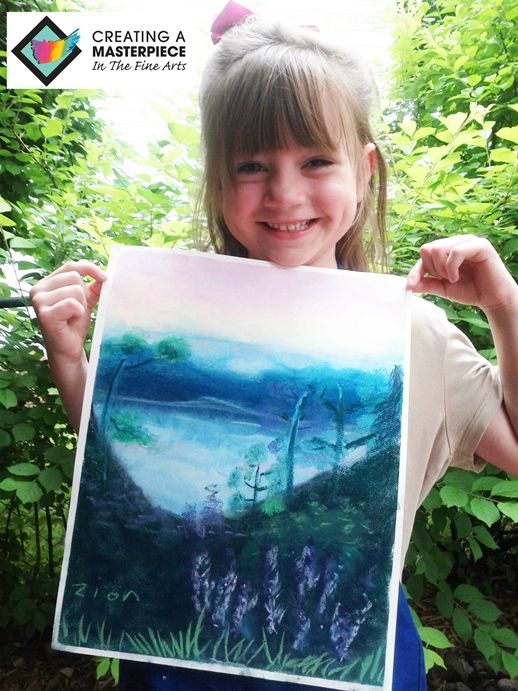 I tried to send them to an Art class last year, but the results turned up short of my expectations.
Not that I have illusions that my kids would be Picasso's and Michaelangelo's at the end of the year, but I was expecting so much more than just whatever it was that they did. Perhaps it was because the size of the class was too big and they were only given an hour for it.
Masterpiece Classes
Creating a Masterpiece offers classes in Acrylic painting, Block Printing, Watercolor painting, Charcoal drawing, Sculpture, Batik, Ink, Pastel and so much more! Artist Sharon Hofer guides the students through techniques and strokes and mixing of colors in the videos provided for each project.
Projects range from beginners' level to level 5 and there's a special line of history-themed projects that you can try as well.
Sharon Hofer provides a list of supplies that you need for each project so you can prepare them before you start working on them.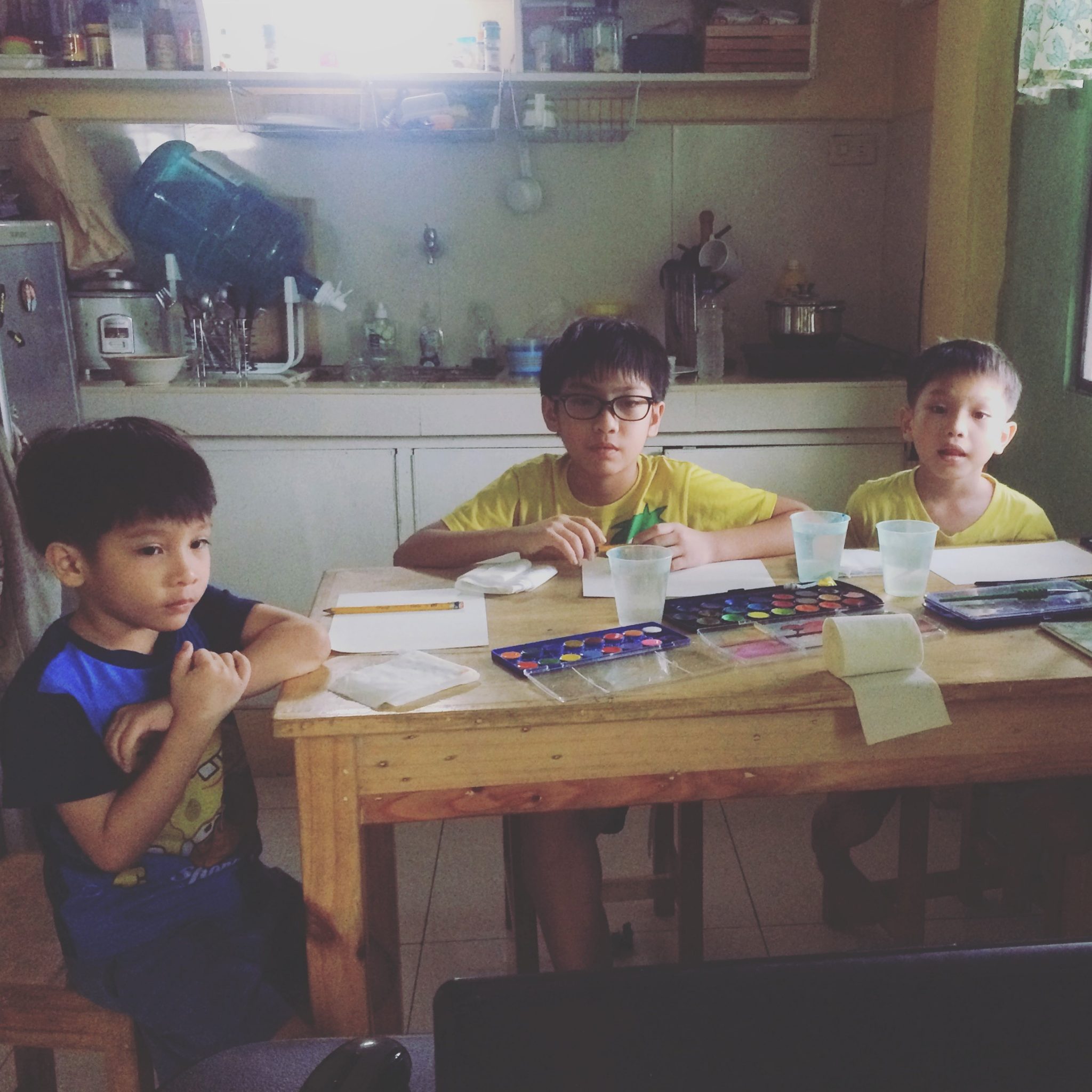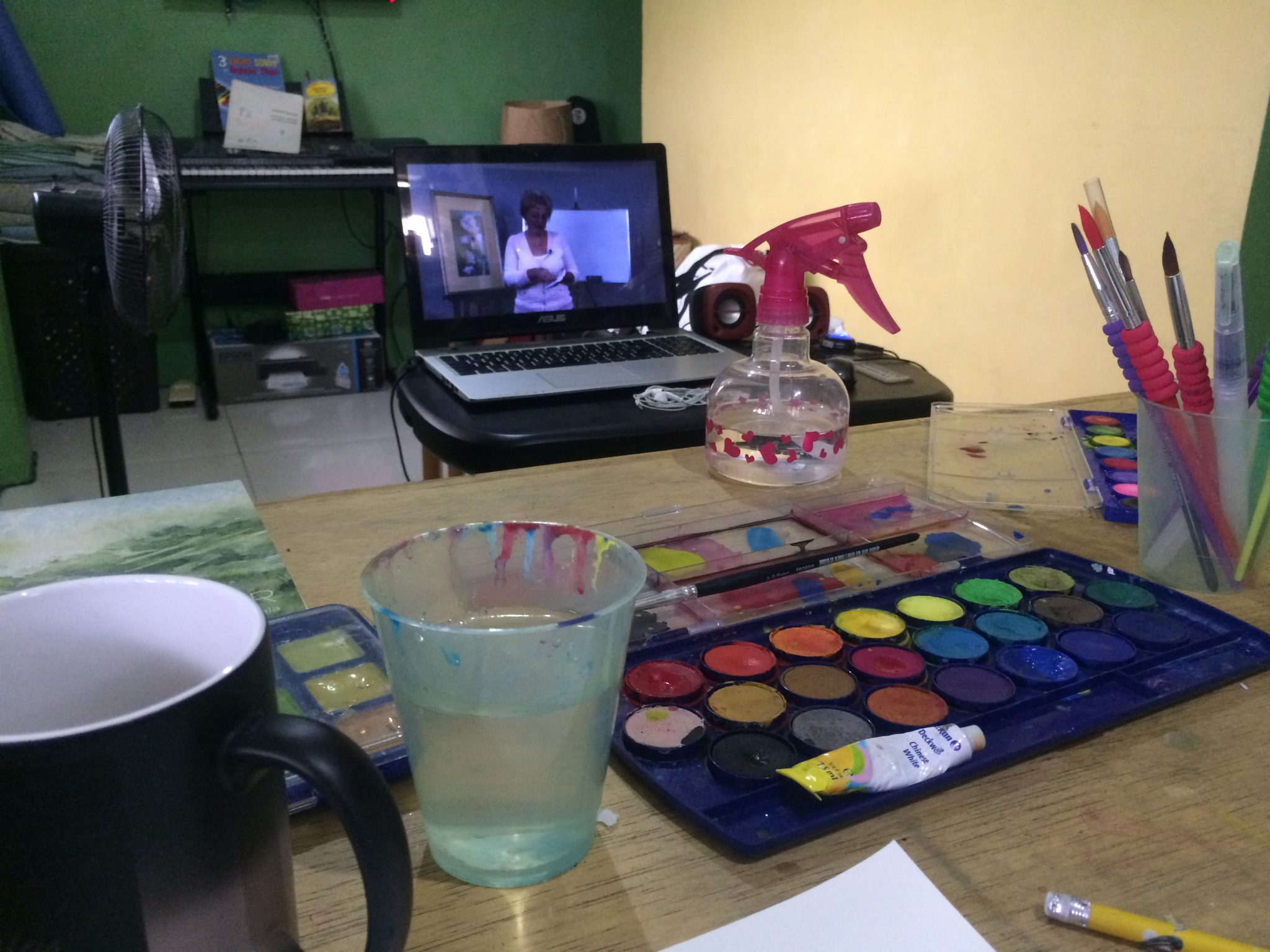 I was set on doing the Watercolor projects with my kids since I think they're simple enough for a child as young as my 6-year old can learn, plus I already have most of the supplies ready – from brushes to a semi-professional watercolor set, here at home.
However, the set I have is from my personal supplies, and since I wasn't sure I could keep Lukas (7 y/o) and Judah (6 y/o) from mixing the colors on the tray, I gave them a cheaper, non-professional brand just to train them first. I can't say it's close to the quality of my watercolor set, but it was good enough for a child to practice with.
I was actually looking for another cheap brand that was recommended by an artist friend but they ran out at the bookstore so I settled for the brand, Dong-A, instead.
Simple, easy-to-follow, kid friendly projects
I opted for my kids to do the watercolor projects. We did the African Sunset first which was surprisingly not as hard as it looks. Judah, who was doing watercolor for the first time ever, came up with a really good output.
In fact, many friends complimented his work and thought he has "potential" when I posted it on Facebook.
I don't really know much about potential when it comes to painting but what I love about the experience was that the videos were so easy for younger children to follow. Sharon Hofer has a way of simplifying things. My kids listened attentively as she discussed each step and followed along her instructions.
Each level offers different projects for different media. This is good in a way because it lets a child explore different media to use before he settles for one that he feels connected to.
I wasn't too excited about it though because I wanted to do a whole line-up of Watercolor projects for beginners.
But all's good, the videos are easy enough for young kids to follow, and when they couldn't, Jay and I helped them out.
Floral Medley
We did the project, Floral Medley, next. It's at beginners' level still, but it didn't seem as simple as the first one. I think context-wise, it was not as basic for the two younger kids to follow. Pablo's work stood out this time.
Judah, who's still developing his fine motor skills, had a bit of a hard time handling his brush and learning the techniques, especially the ones that need lighter touches. But he completed his picture and was happy with his output. That's good enough for me.
Parrots in a row
The third project, Parrots in a row, was Lukas' opportunity to shine. You see, this time, I allowed them to add personal touches and details to their pictures. As Sharon Hofer said in the videos, their pictures are not going to appear the same, so I thought, why not encourage them to get a bit more creative with their ideas, right?
Lukas' picture included a nest with eggs in them on the branch his birds were resting on. He also added leaves to his tree.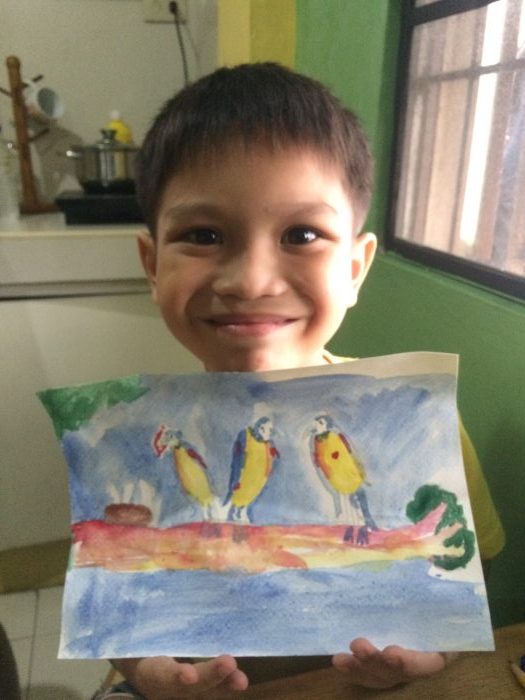 His birds were a bit small and I would imagine, hard to paint, but I think he pulled it off and came up with this eye candy.
This project was already in level 3 which makes some of the techniques taught a bit more advanced than the ones used in African Sunset. We helped Judah add finishing touches to his art work and it turned out nice, too.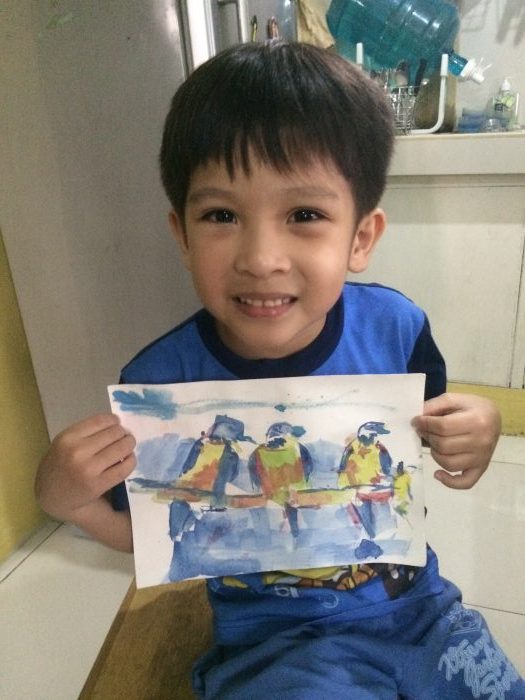 More to learn
Creating a Masterpiece Online Art Program are so much fun to do with family. Jay and I tried the projects and we learned so much!
I think that the monthly plan of $19.99 or roughly Php 1,100+ a month is a steal! By subscribing to Creating a Masterpiece Monthly plan, you and your children will have access to over 144 Art projects, plus additional videos and tips from the artist herself. You just need a good, stable internet connection.
Summer is happening soon and there'll be a lot of available workshops for children, including Art, but how much are they? I asked the one at the mall nearby and the artist quoted us Php 6,000.00 for 8 sessions. Imagine that!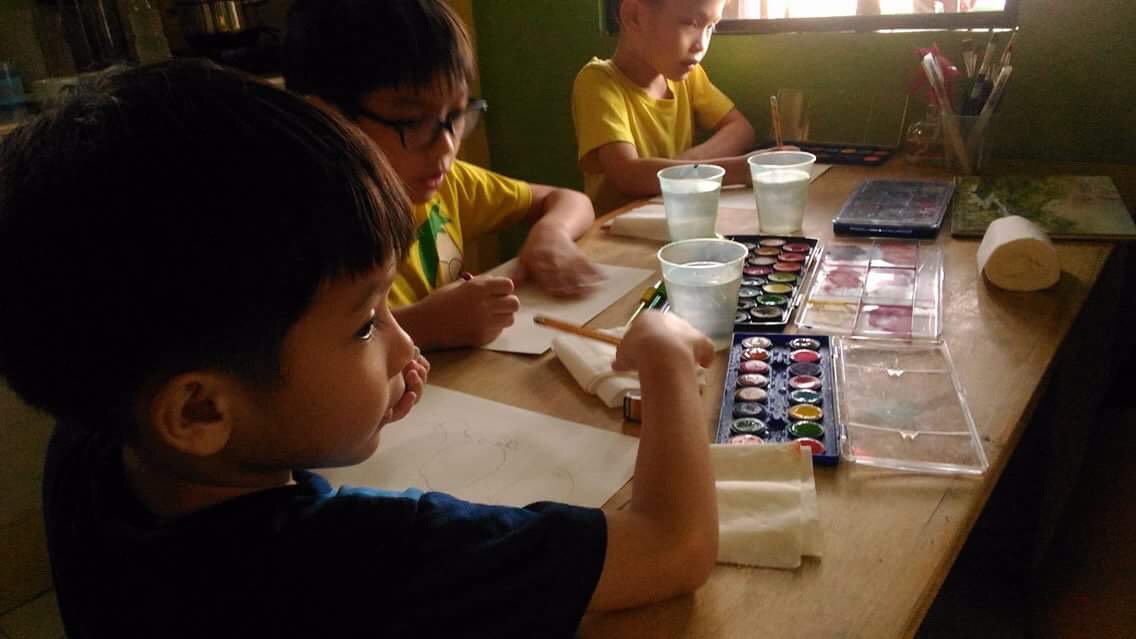 Think of it this way: If you have a chance to buy two good shoes for the price of one, would you take it? For the price of Creating a Masterpiece, you can still sign up your child for another workshop, let's say, Dance or Theater, if you want to, because the art class is not too heavy on the pocket.
Have a peek at our homeschool art class:
My favorite things
Two things that I love most about Creating a Masterpiece is that, one, you don't just learn to copy another person's work. For me, it was pretty clear when a technique is being taught. And as you level up in your projects, you will be introduced to new techniques, as well as practice the ones you've already learned.
And two, she guides you from scratch to masterpiece. Our little Judah learned to do simple drawings and outlines for his paintings. That's such a breakthrough for us considering his delay in hand coordination and fine motor skills development.
I also love that Sharon Hofer is open to hearing from her online students. In the site, it says that you can send her an email about the projects you did from her site or anything on Creating a Masterpiece that you would like to ask her about.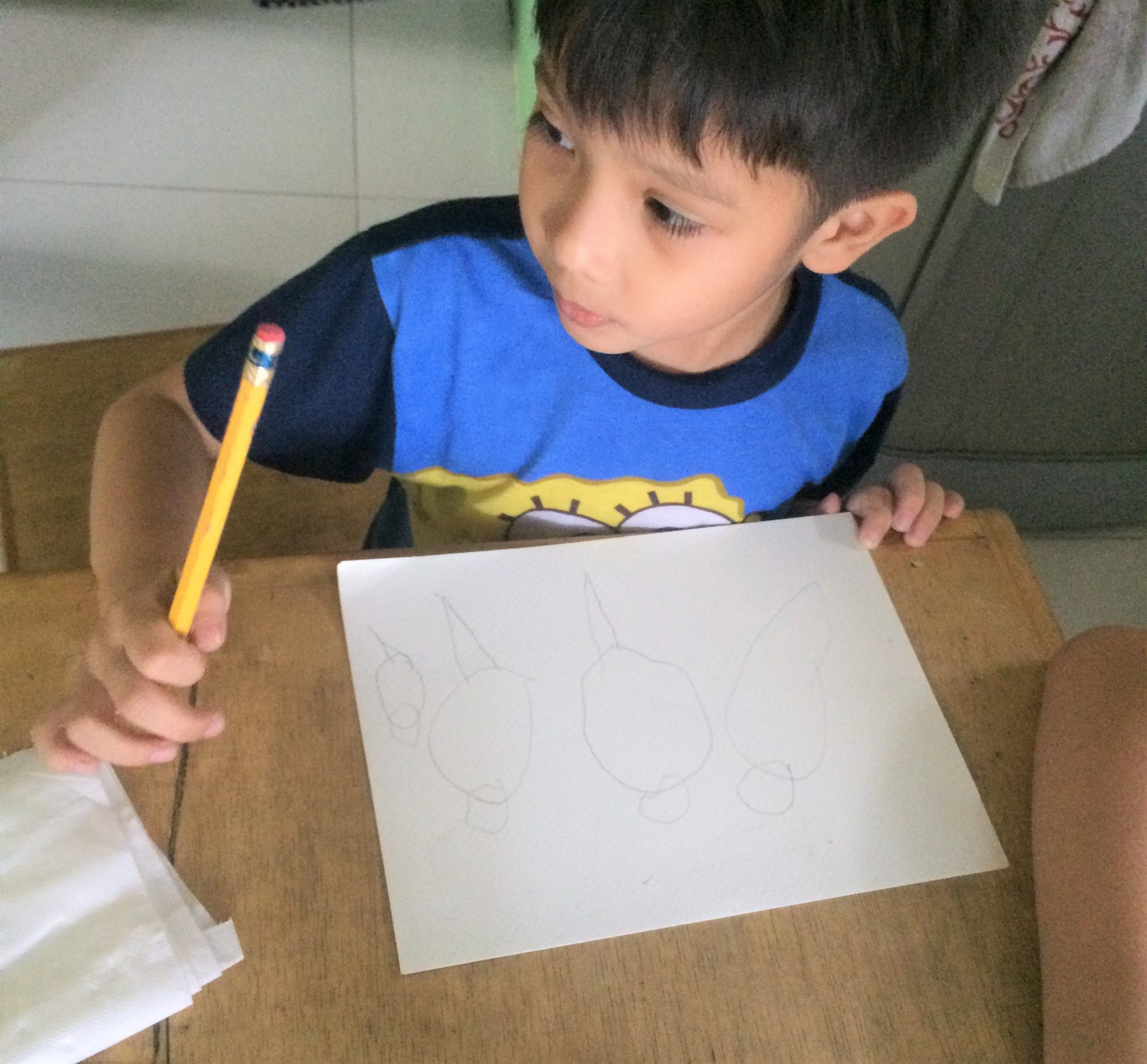 Creating a Masterpiece is an extremely wonderful Homeschool Art Curriculum, but it's not only for homeschoolers, but for kids who aren't homeschooling and adults, too; for both aspiring artists and for art enthusiasts. We had an amazing time with it as a family and our kids enjoyed it so much. I'm pretty sure you will, too!
If you'd like to try a project first before you subscribe, Creating a Masterpiece has a free trial project for you to sample. All you need to do is to create an account. Don't worry, since it's free, you won't need a credit card for it.
You can also check out Creating a Masterpiece on Facebook.