Our 11-year old son collapsed on the morning of Good Friday.
It was around 9 AM in the morning. I was on my laptop checking to make sure that the programs at work I'm in charge with were running smoothly before I log off to spend the rest of the day with the family. My husband Jay was in the kitchen attending to our two younger boys who were eating their breakfast.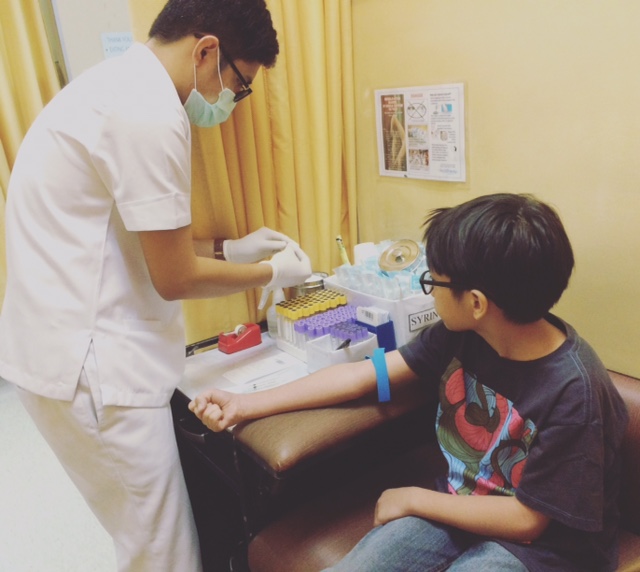 Pablo, our eldest son, came to me for a hug. I still tease him from time to time about kissing his belly even though he's already eleven, and I hugged him and gave him kisses before releasing him to walk over to his dad.
I sensed something was wrong but couldn't point out what it was. I didn't have time to think it through because before I knew it, I heard a loud thud and saw our son sprawled on the floor, his arms and head caught on the large toy box we pushed beside the refrigerator the night before.
His face was turned towards me. I could see his eyes were open but blank, as was his whole face. It took me a few seconds to process what was going on but Jay was quick to pick him up and put him back on his feet. He looked dazed and disoriented, his lips were drained of color and his whole face was pale.
Panic mom
I rushed to get him water while my husband carried him to the bed. His lips regained color after taking a few sips and a few bites of pastry. We asked him what happened but he doesn't even remember coming to me for a hug.
We thought that perhaps it was a form of heat stroke, the heat's been quite unbearable the past few days. Or maybe he was hungry since all he remembers is the pastry his dad had in his hand.
We didn't really know and thought it was best to take him to see a pediatrician. Our pediatrician was on vacation and the nearest clinic was closed so we had to wait the next morning to take him.  I doted on him the whole day and he kept assuring me he was feeling fine.
Thankfully he was active the rest of the day and was even able to play with his brothers at the park.
Faster metabolism
We took him to a pediatrician at Healthway the next day and was told to take a blood test to rule out Anemia. His blood test came out normal. The pedia says he could have been low in sugar that morning and was advised to feed him more frequently because boys his age have faster metabolism.
Pablo is also extremely underweight. For his age and height, the normal weight must be 85 lbs. He's only 60 lbs.
The underweight issue is not new to us. His regular pediatrician, Dra. Jocelyn Bondoc of St. Luke's Medical Center, already told us a couple of years ago that she finds Pablo malnourished. At that time, we thought it was because we gave him more vegetables than meat and fish during our financially-troubled years in the South.
We've improved our diet since then and he's been eating no less than a plateful of rice and he eats the most viands around here, but I think we should see a nutritionist. Something needs to be done.
The workshop idea
I'm not usually big on extra-curricular activities over the summer since my kids are home schooled and have a lot of opportunities for those during the school year. But this summer, I was fighting to get our two older sons into a musicale theater workshop nearby to get some training because they've shown so much interest in performing onstage this year.
I didn't ask them. I just informed them a few days ago. Being the obedient kids that they are, they just said "okay" and went on with whatever it was they were doing that day.
It didn't occur to me that they wanted to kick back and take a break from doing activities this summer.
I mean, announcements of their final day of MAPEH classes always bum them out. I assumed they want more activities and felt that signing them up for musicale theater makes sense, aside from swimming classes.
I was determined to pay for those summer workshops this year, even if it meant accepting more sponsored posts on my blog to increase income, and juggling my work hours with their schedule; maybe even taking my laptop with me to their workshop venue so I can continue doing  my tasks while waiting for them.
Maybe not…
But I had second thoughts soon after my eldest collapsed.
He's a strong, active kid. He loves to dance, he loves volleyball, he likes to play. And he helps me with his brothers when we're out without their dad.
We had some drastic changes this school year since we re-registered with a homeschool provider and we've been working on their academics a bit more than we did in the previous years.
On top of it all, they had to practice for their school musicale and other school programs for their MAPEH classes.
They must be exhausted and eager to rest it out for the next two months!
When Pablo seemed better, I asked him if he really wants to do the musicale theater workshop this summer. He told me that he's okay with the workshop but would really much rather go on an overnight stay-cation with the family.
He also said that he wants to use the time to work on his YouTube channel and his animation shorts.
I decided to talk to our 8-year old Lukas, too, to find out what he thinks and he told me that he loves to sing but would rather do that during the school year. He says that he wants to try McDonald's Kiddie Crew with his younger brother, Judah, instead. He also reminded us that we promised to take him and his brothers to Kidzania this summer.
They didn't want to disappoint mom
Both kids said that they didn't want to say anything because they didn't want to disappoint me.
My kids know that I love theater and that I take their training seriously.
Maybe a bit too seriously.

(Above photo: Pablo doing vocalization with me)
They love theater, too, and they love the stage. But maybe because of what I've gone through as a performer, I've been pushing them too hard to train. As with any mom, I want to give them a strong fighting chance at their dreams.
My 11-year old understands the need for training if he wants to do this on a long term.
"You can still teach me, right?" My eldest is referring to the vocal practices we have here at home. I nodded, hesitantly.
I've always been vigilant on who trains my kids in singing and for years I thought I would personally handle their vocal training when they show interest. I'm very much aware of the existence of ill-equipped voice teachers and the good ones are expensive! On my end, I just their vocal training handled properly to preserve the natural quality of their voices, protect their vocal chords and give them room for personal style.
However lately, I've been having doubts about my ability to help them. I think I am more affected by how tough the competition is in the industry more than my kids.
But my eldest has not lost his faith in me.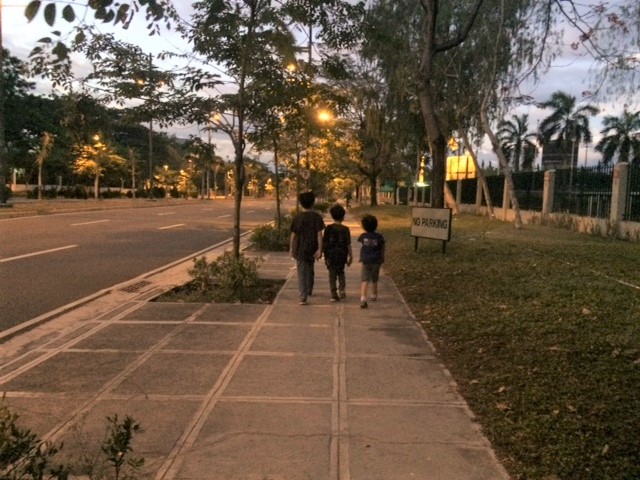 This summer, my kids want to take a break, so that's what we're going to give them. Summer, after all, should be fun. Yes I know summer workshops are also fun, but my kids are asking for their summer break. I am their mom, for heaven's sake, I will not deny them that.
The training can wait.
————————————————
"Do not be anxious about anything, but in every situation, by prayer and petition, with thanksgiving, present your requests to God. And the peace of God, which transcends all understanding, will guard your hearts and your minds in Christ Jesus" Philippians 4:6-9.